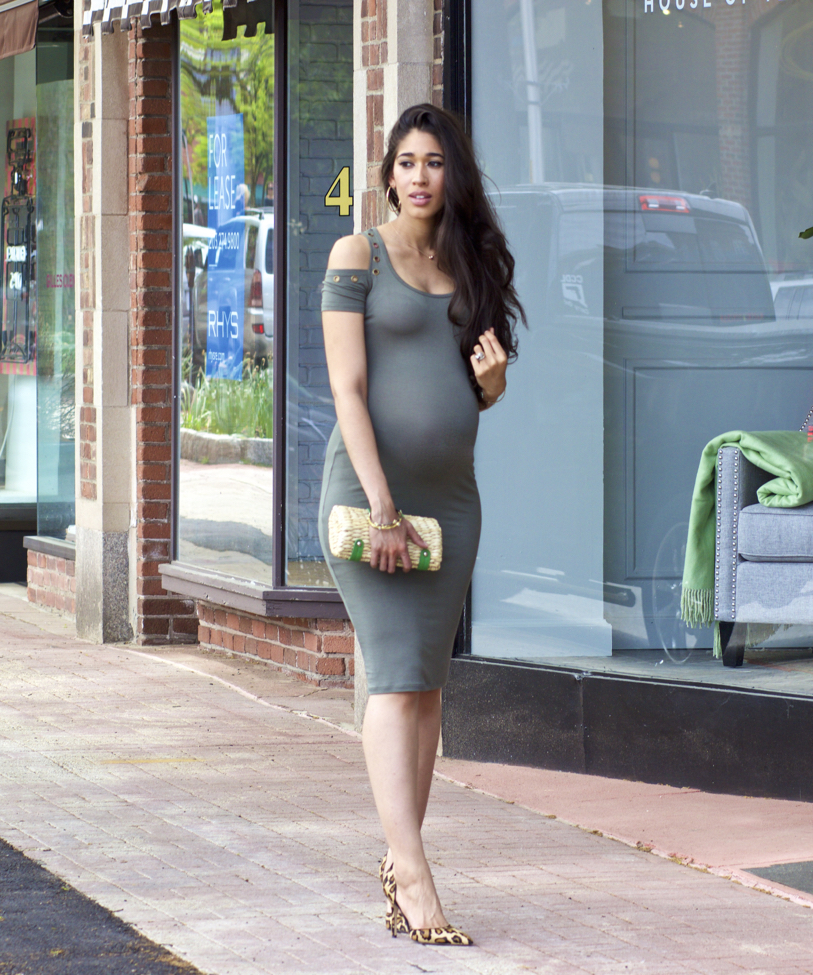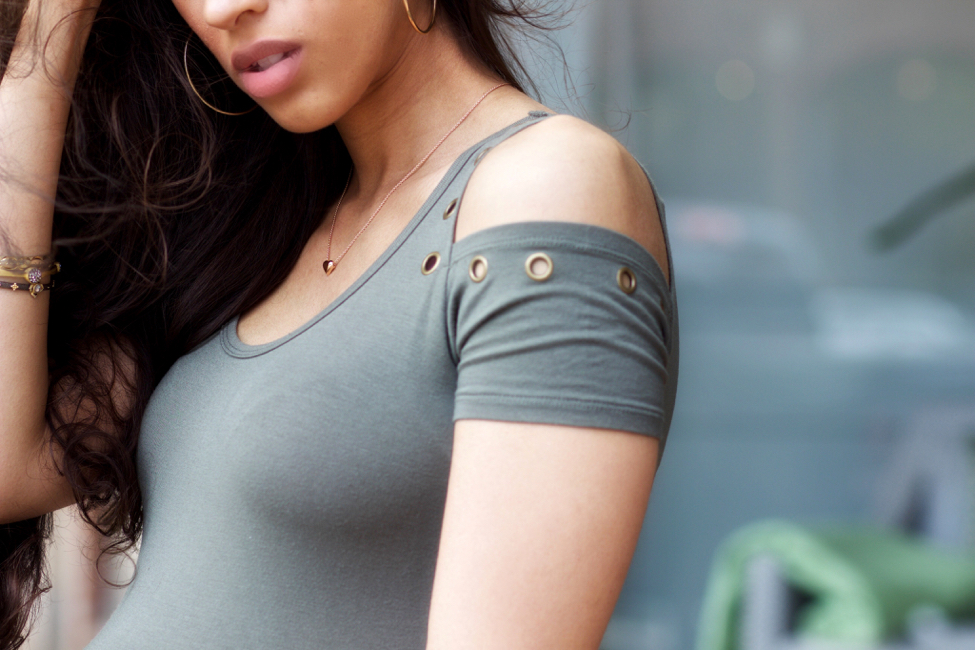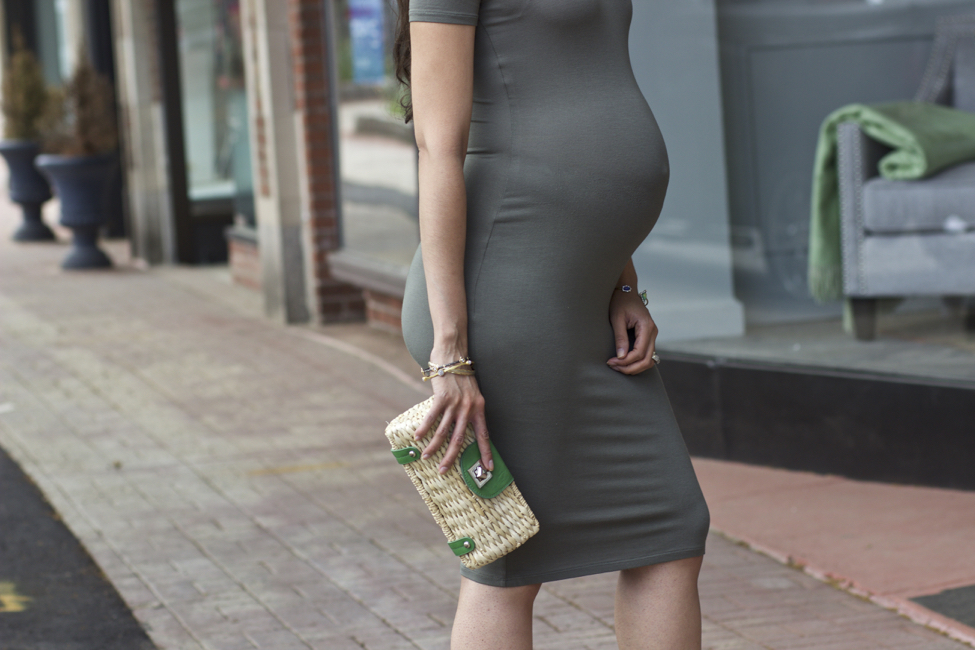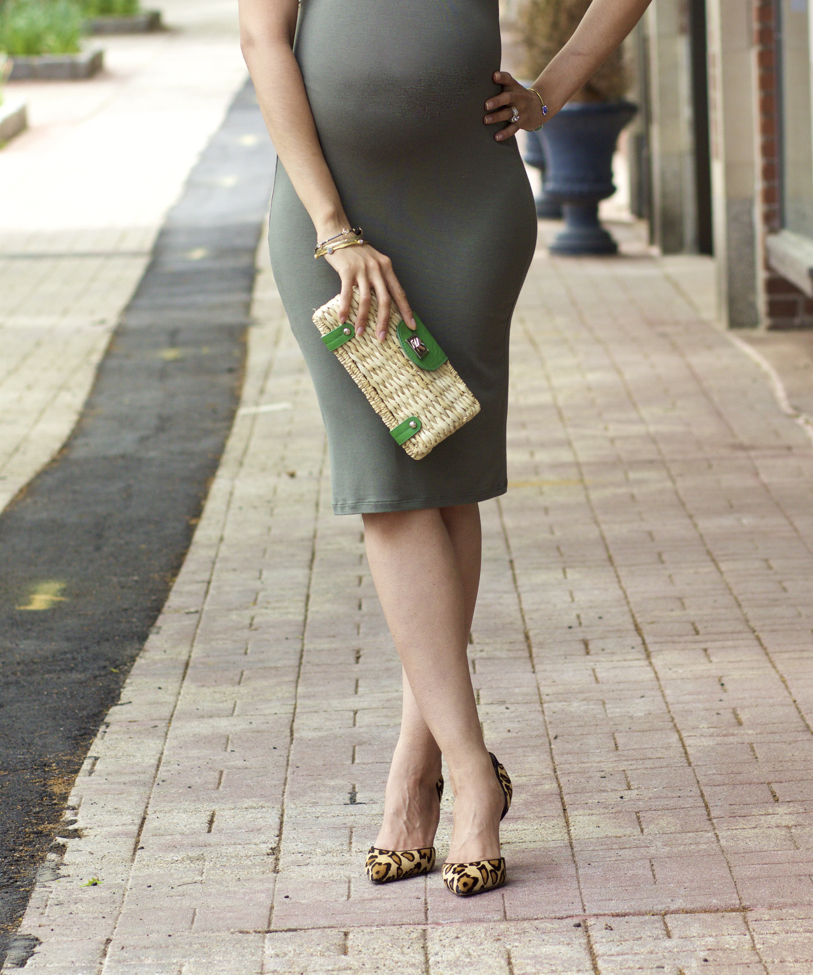 Dress: Similar | Necklace c/o | Clutch: Similar | Shoes: Sam Edelman (similar)
---

---
Happy Memorial Day Monday my dear friends!
Hopefully you're enjoying your extended weekend and have some yummy BBQ's lined up for today! Eddie had to work, but will be getting out early, so we have some plans to grill, which I'm so looking forward to :)
Today's outfit is not what I'd call patriotic, lol, though chic! If you're looking for some Memorial Day themed outfits, feel free to check out some of my recent and previous outfits from years past here, here, here, & here!
As mentioned in other posts, there are few trends I can explore right now in this stage of my pregnancy (35 weeks!) so the ones I can, I eagerly embrace. Thankfully, cold shoulders are still going strong this season, which allowed for me to wear this dress I wore last year again, though with a different and notable accessory, a baby bump, haha! I still kept a neutral, earthy color palette going this time, I just mixed up the accessories. I'm also loving the fact that straw purses are HUGE this season (this one is leading the trend and on my radar) because I've had this clutch in my bag collection for what seems like forever. They're just the perfect way to add a spring or summer vibe to any outfit, making a look more seasonable, especially when wearing neutrals or basics.
Shifting back to the cold shoulder dress, what I love about it is that it's a style I feel everyBODY can wear. There's no other part of the body that all women will agree, for the most part, is a safe zone in terms of exposing, regardless of age, size, or shape other than the shoulders. It's one part of the body I'm sure not many feel self conscious about, so they're a perfect area to show off. Depending on how conservative you are when it comes to exposing your shoulders, this particular style is certainly doable, especially if you don't feel comfortable wearing a full on off the shoulder piece. You still get some coverage, while showing just a little skin in a way that still translates as classy.
Again, I hope all my fellow American friends are enjoying the holiday weekend! Thanks so much for stopping by my beauties and I look forward to seeing you all in tomorrow's post!
XO,