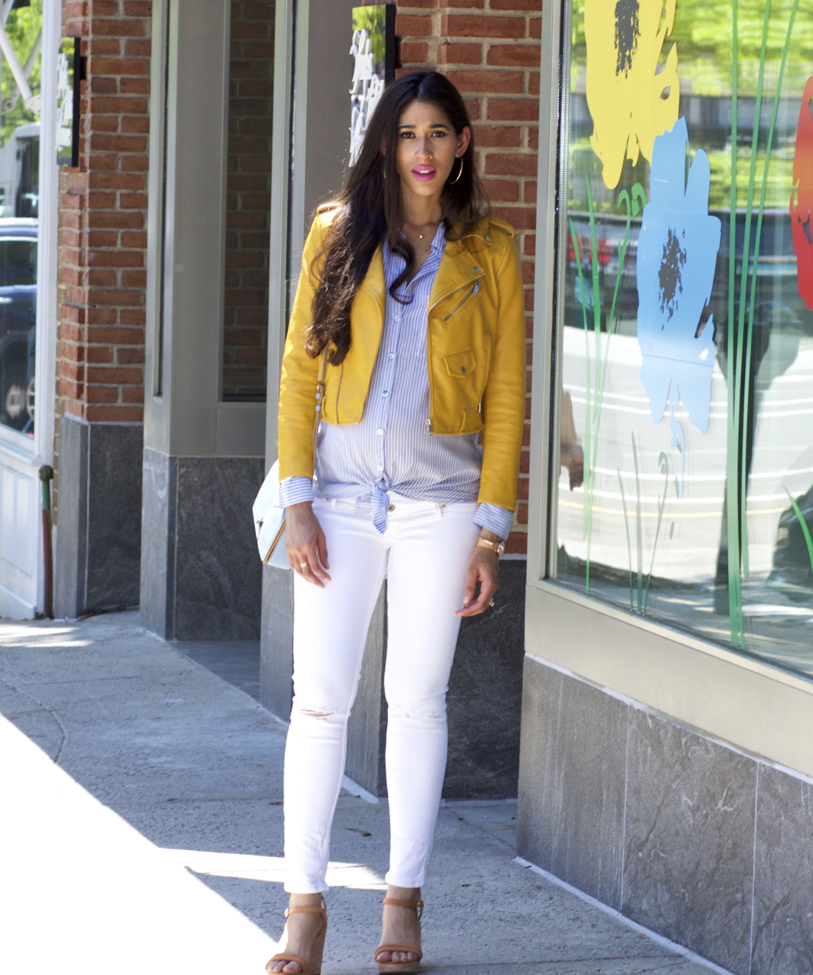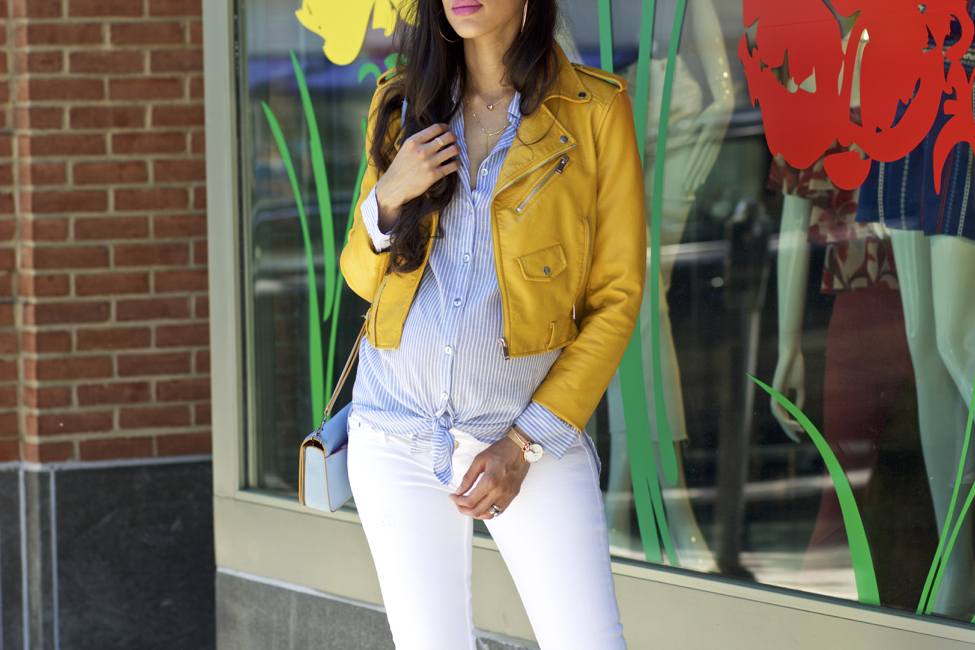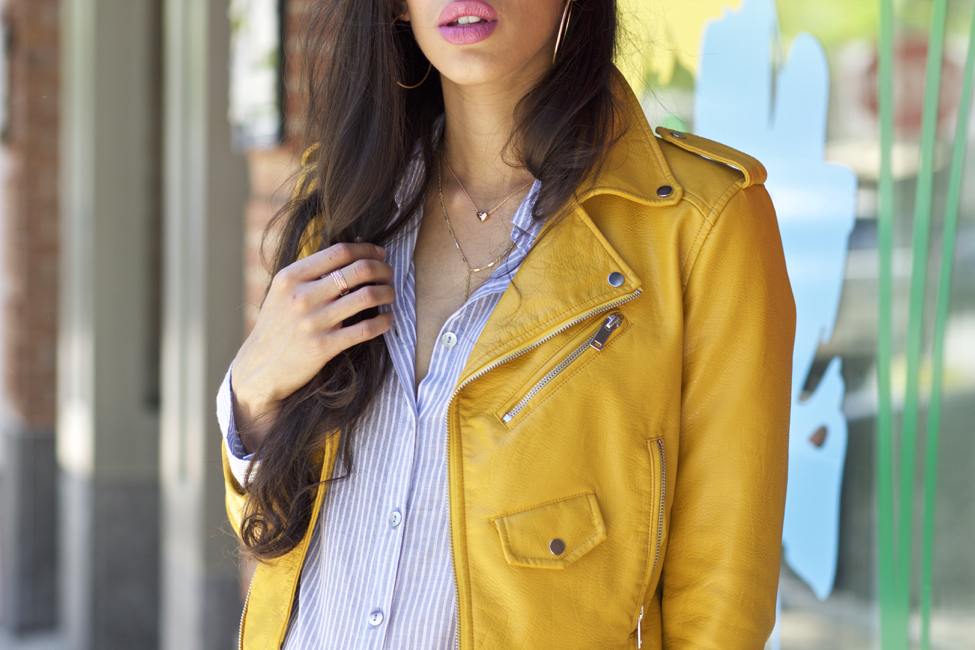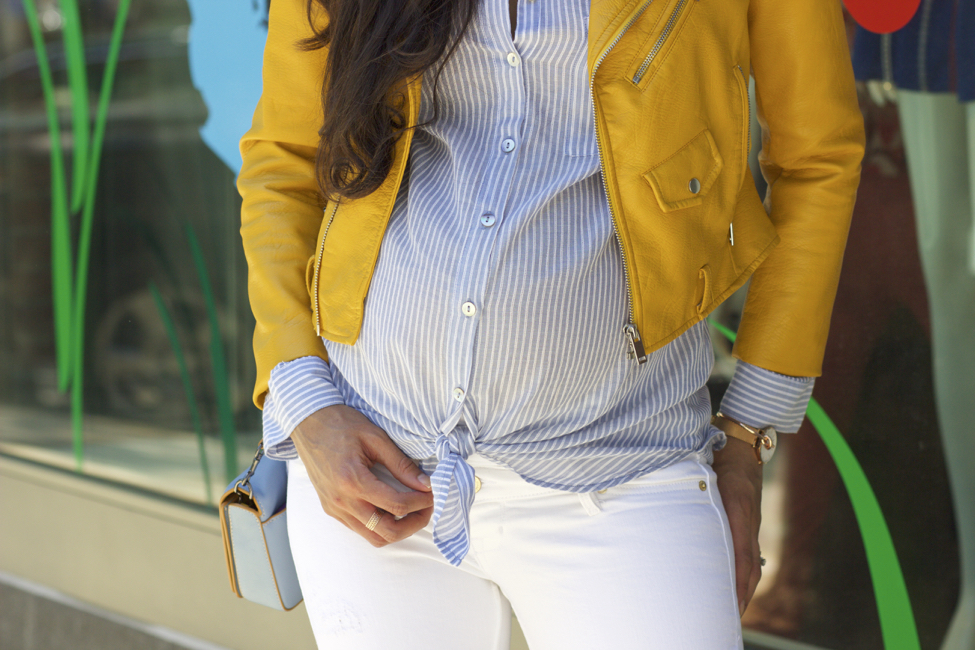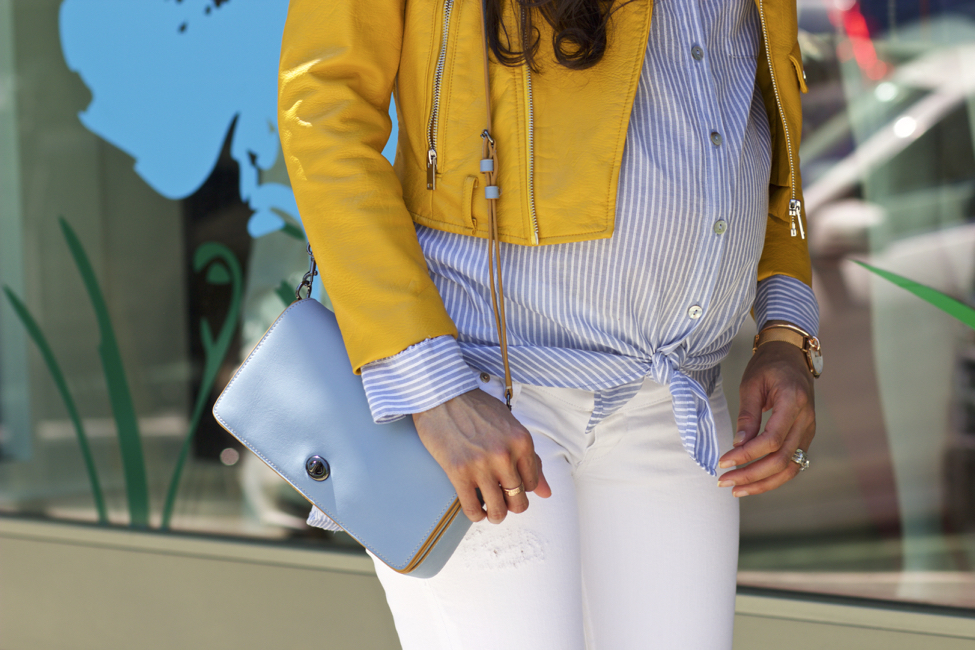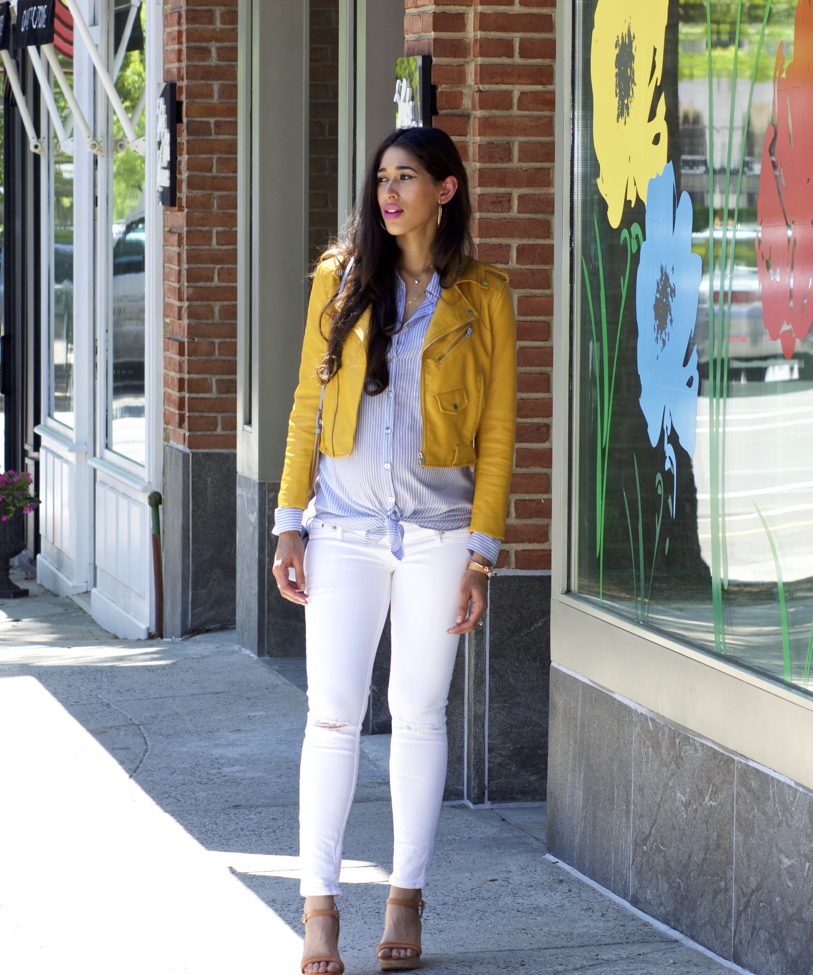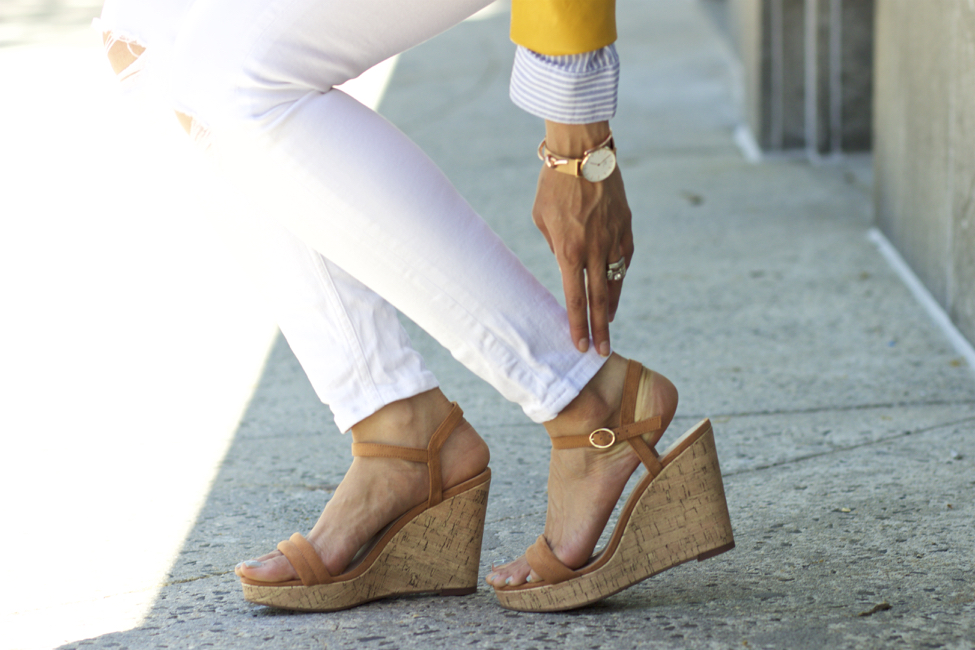 Jacket: Zara (similar) | Shirt: Similar | Jeans (non-maternity here) | Purse c/o | Shoes | Heart Necklace c/o | Y-Necklace c/o | Watch c/o use code STYLECONTOUR for 15% your order
---

---
Happy Friday my gorgeous friends!
In case you missed it, yesterday we talked all about the blue striped trend, aka the banker stripes. I shared some of my favorite pieces, as well as explained just how figure flattering they are and why. Well, today is a visual example of how they can be just so flattering. If you're new to The Style Contour (welcome!) I'm 34 weeks pregnant and I'm sure at first glance some of you may have not realized, well at least in some of these shots or perhaps I look smaller. It's all due to the effects of the stripes I can assure you because this mama's belly is HUGE, haha, just see this recent blog post and those side shots.
I, of course, wasn't looking to make my bump appear smaller because why would I want to do that?! Baby bumps are to be embraced not concealed. What I do want to point out is that if it makes my belly at eight months pregnant look this small, can you imagine what it can do for other parts of the body you may wish to slim down. Pretty cool, right?!
Anyway, I won't go much into the slimming effects, since we did talk about that yesterday, so in case you want to know more, do check it out!
So, now that we know that this is a trend, which to be honest I think it's more of a classic gone trendy because any type of stripe will always be in style, how do we style it, particularly a top? The easiest, most chic, and seasonal way would be with a pair of white denim or white pants, depending on where you'll be wearing your top to. It creates a nice fresh feel, pulling out the white in the stripes and allowing the light blue to pop. I mean, does it not also give you major Grecian vibes?
You can then team it up with a pair of nude or brown shoes, as I've done here. I went for a pair that has a cork wedge heel (so comfy, especially for those of you who find walking in heels uncomfortable) but you can also opt for a pair of espadrilles, which would exude the same vibe; I'm loving and wanting these.
If after your first time styling your blue striped top, you want a new and more exciting way to style it, then I suggest you inject some color, perhaps just one piece to maintain that light and refreshing vibe. I love the way light blue and yellow look paired together, which is why I've added a yellow leather jacket. You can of course add in any type of yellow piece you have. Red (perfect for this Memorial Day weekend and the 4th of July) and shades of pink would also look great.
You can also go full on monochrome and style it with a pair of blue denim, either a skirt, shorts, or jeans would do.
I hope you feel inspired in some way by this post, perhaps in giving banker stripes a try this season or styling them in a different way! Thanks so much for stopping by and I hope you have the most amazing weekend ahead!
::SHOP BLUE STRIPED TOPS I'M LOVING::
---

---
XO,