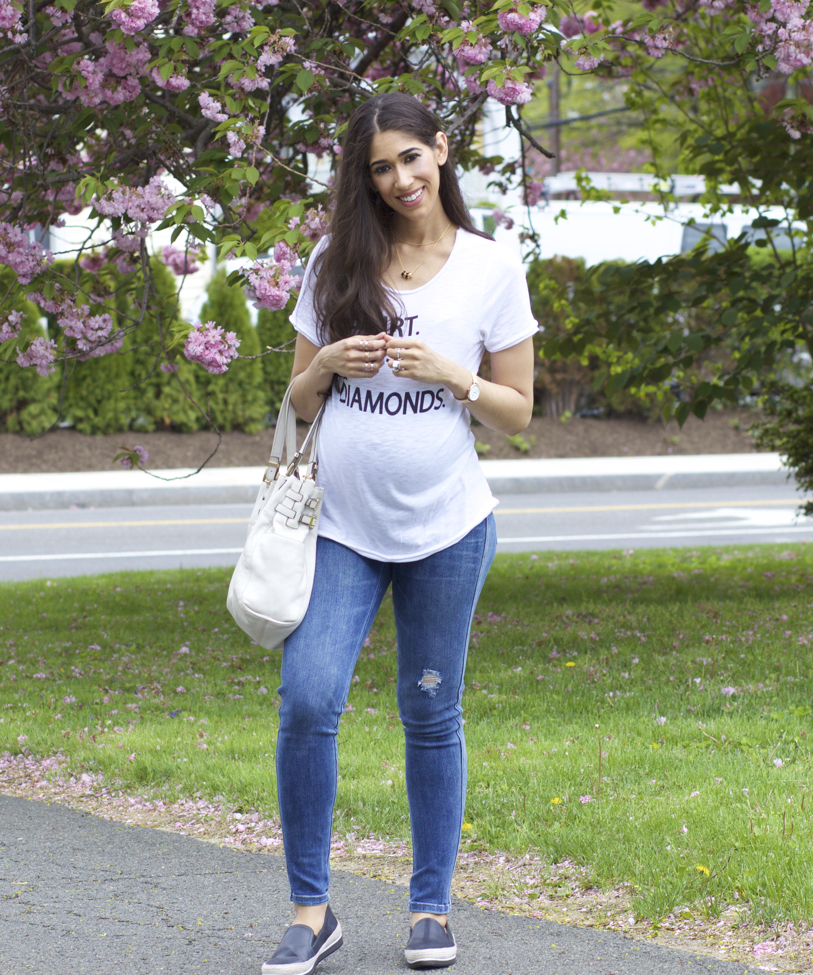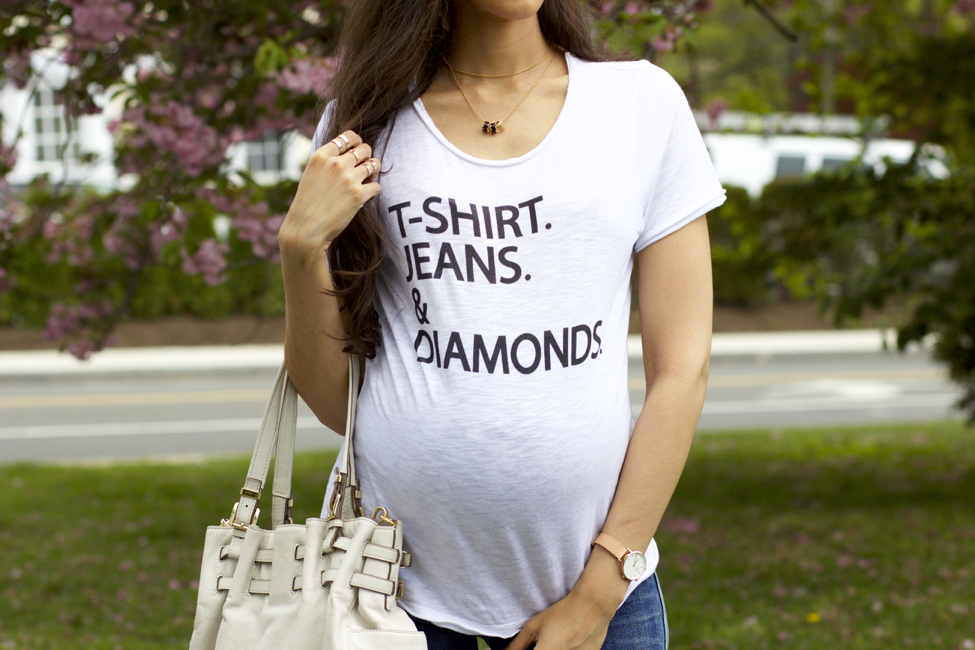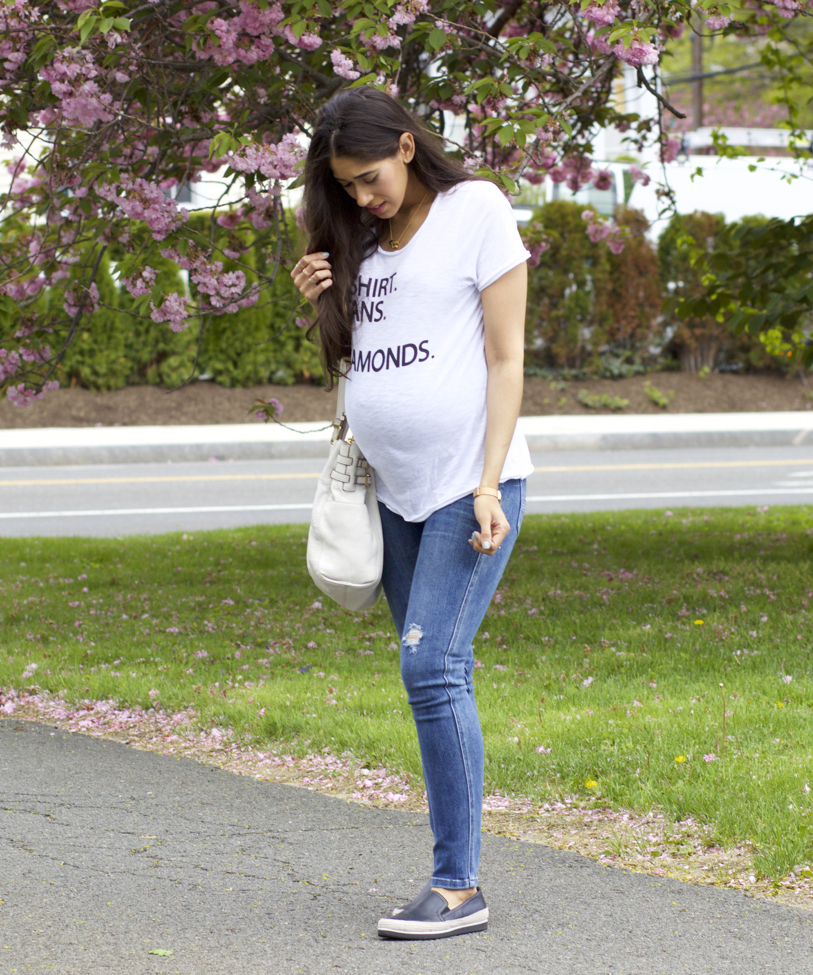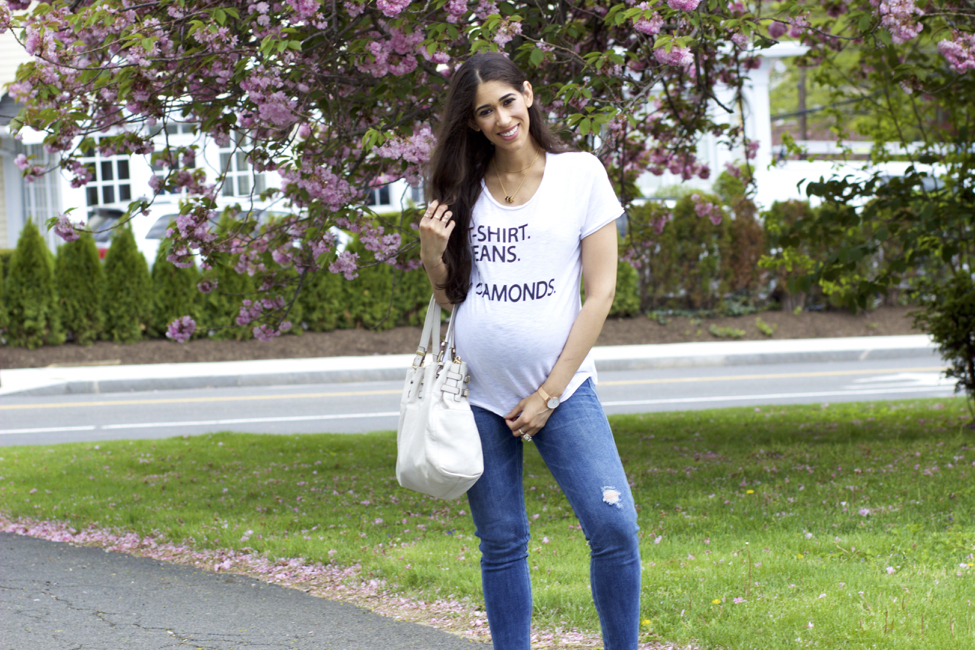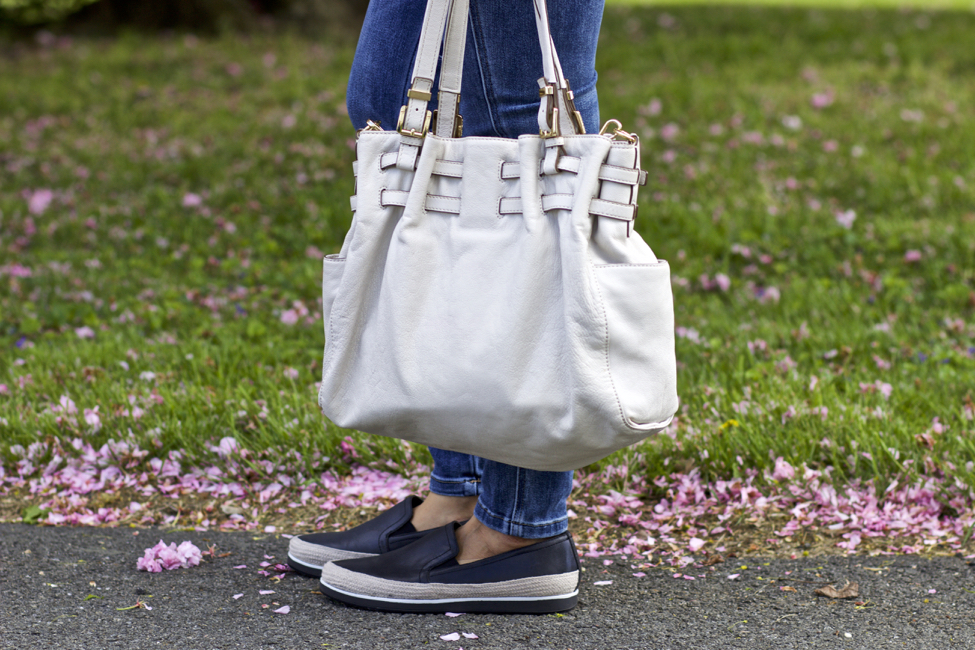 Tee: Chaser (similar) | Jeans | Watch c/o use code STYLECONTOUR for 15% off your order | Shoes: Lulu*s (similar) | Bag: Michael Kors (similar)
---

---
Happy Wednesday my dear friends!
I hope you're all having a great week so far! As mentioned on Monday, I'm in my 33 week and I'm feeling all types of emotions. I'm overjoyed about meeting our little girl, but sometimes I'm just not in the mood to get dressed or do much of anything. On days like this, I typically turn to a simple tee, maybe one with a cute slogan like this tee shirt; I have to say I'm slightly obsessed with this fabric, it's so stretchy and comfy, paired with jeans and a pair of flats. I've mentioned many times why love slogan tees so much, so I won't go into much detail other than it makes up for an otherwise really boring and basic outfit. It adds a little humor and personality, which I love. Don't shy away from slogan or statement tees because you're insecure with your upper body or midsection, just opt of a style that has a v-neckline and it will help to elongate your neck and visually slim the areas, easy peasy :)
I'm also loving espadrilles this season and I love that they seem to be trending even more this year, so I've been wearing these sneaks (similar here) I've had for a couple of years now, as well as the slides I wore in last week's post (similar here). I feel it adds a cool spring texture to an outfit and makes for a nice contrast to the material of the shoe.
Aside from just feeling like doing absolute nothing, I've been getting some stretch marks on the side of my stomach despite the application of the Bio Oil I discussed in this post twice a day, bummer! So, right now, I'm not too happy with this product anymore, lol, though I've still been using it twice a day, but have added in shea butter into the mix mid day, so I'm moisturizing three times a day now, let's see how that works. At the end of the day, Baby A is beyond worth it, but why not try and prevent something if you can, right?!
I've still been going to the gym, walking on an incline for about 20-25 minutes and about a 30min weight training. This has really helped balance out my hormones, which have sometimes been all over the place, up one day and down the next. I eat a healthy balanced diet Mon-Fri and allow myself to indulge during the weekends; it's all about balance and it's really helped. All of this has helped me with my self-esteem because I feel okay about the weight gain and how my body looks overall, which I think is very important because your body is going through so many changes throughout this amazing journey, and if you can do things to help yourself feel good to embrace those changes more mentally, emotionally, and physically, I think that's awesome and I'm all for it!
If you have any other (specific) questions for me regarding my pregnancy so far, don't hesitate to ask, whatever your question is! You can either ask in the comment's section or shoot my an e-mail at connect@thestylecontour.com :)
Thanks so much for stopping by, my dear friends, and I hope you're having a great day so far!
XO,