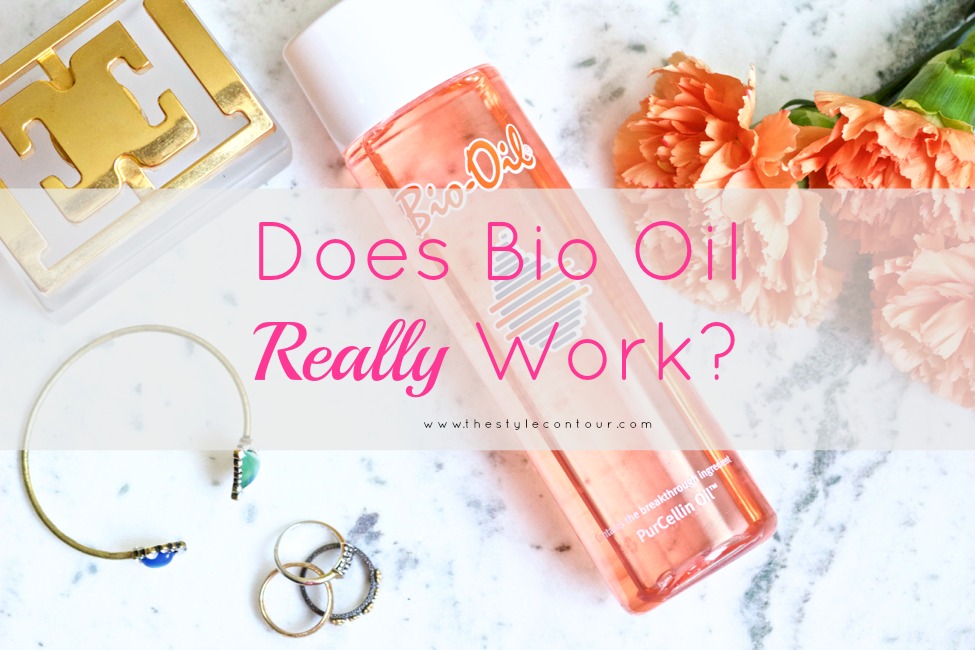 Happy Tuesday my dear friends!
If you've been following my blog for some time now, you'd know that I don't typically share beauty related posts or product reviews. The reason is not that I'm not informed in those areas, I actually don't know the reason to be entirely honest. I've been giving it much thought lately and moving forward, I'll be sharing more of what I love with you and hopefully you'll find my blog a trusted source for both fashion and beauty alike, since they often go hand-in-hand.
Today, I'll be sharing my thoughts and experience with Bio-Oil. This is not a sponsored post, I've just been using it daily throughout my pregnancy so far; I'm now 6mths and have been so pleased with my experience. My mom was actually the one who purchased my first bottle as part of her Christmas gifts to me. She's very big on moisturizing and after having two kids of her own and stretch marks from each (love you, mom!), she's been teaching me the importance of preventive care so that I won't get them myself.
I actually do have stretch marks on various parts of my body from years of weight loss and gain prior to pregnancy. Prior to becoming pregnant, I lost 25lbs and kept it off for 11 straight years. I didn't think there was a way to prevent them and to be honest, I've never given them much thought. To some, stretch marks may not be a big deal or concern and I'm not trying to convince you that you should be ashamed if you have them; again, I've had them for years. Now that I'm pregnant, though, and I am and will continue to gain necessary weight for the health and development of my baby, I like the idea of preventing more from appearing, if at all possible and that's where Bio-Oil comes in.
I started using the Bio-Oil as soon as I entered into my second trimester (from week 13 and I'm now 23 weeks), which is suggested on the bottle. Prior to that, I was using organic extra virgin coconut oil; my mom emphasized that it's best to start early to develop the habit of applying and to consistently moisturize the skin, so I listened. It's been 6mths into my pregnancy and I have no new stretch marks at all.
I apply the Bio-Oil as soon as I wake up and right before bed everyday on my bust, stomach, hips, lower back and even those areas I had stretch marks prior to pregnancy to see if it would make a difference to their appearance and I feel they have slightly lightened, nothing too drastic though. I did, however, notice that it helped clear up my stubborn chest acne entirely, as a result of me applying it on my bust, which is pretty awesome! With that, Bio-Oil is not just for those who are pregnant, according to Bio-Oil's claims, it can be used to treat: uneven skin tone, aging skin, dehydrated skin, and can be used as an after-sun treatment.
I'd definitely suggest this product to those of you who are in process of a weight loss/gain journey because when we gain or loose weight is when the stretch marks start to form as a result of the the skin literally stretching. As you begin your regimen and lifestyle changes, incorporate this into your skincare routine as a preventative treatment. I'd also suggest it if you are of course pregnant (do follow suggested use and apply at the start of your second trimester though) and perhaps it won't be a bad idea to test it out on acne scars and burns (I'd try the smallest 2oz size in this case, since you won't be applying it larger to sections of your body).
That said, I will note that it's relatively pricey, especially if you plan on using it for an extended period of time like throughout a pregnancy or are treating and using it on large sections of the body (I apply a generous amount all over the areas I mentioned above) but it's very much worth it. I'm on my 3rd bottle, the first of which was gifted and the other two I've purchased myself. The good news is that it can be found at most drugstores, on Amazon, Target, and Ulta, so if you have a rewards or membership program that you can gain points and coupons with, it'll help with saving a few bucks!
*I do plan on doing an updated post after pregnancy to see how its use has benefited me throughout the remainder of my pregnancy.
I hope you found this post helpful, my beautiful friends, and feel free to let me know of any skincare products you love to help prevent stretch marks or treat acne scars and marks! Thanks so much for stopping by and I hope your day is as beautiful as YOU!

XO,