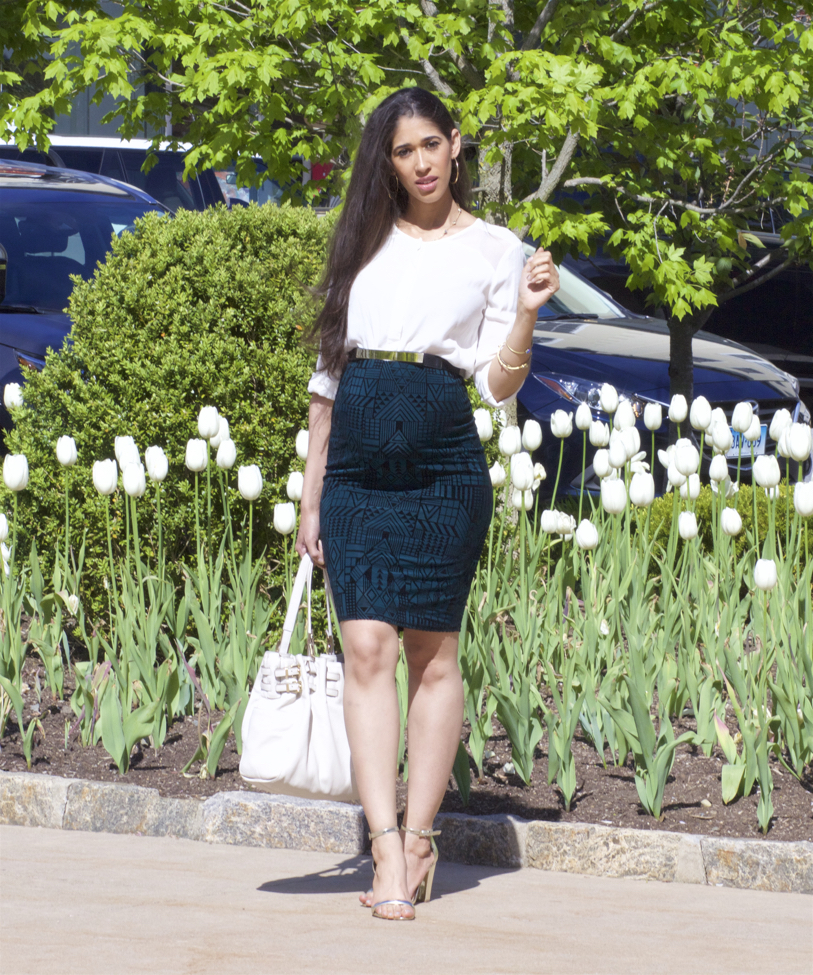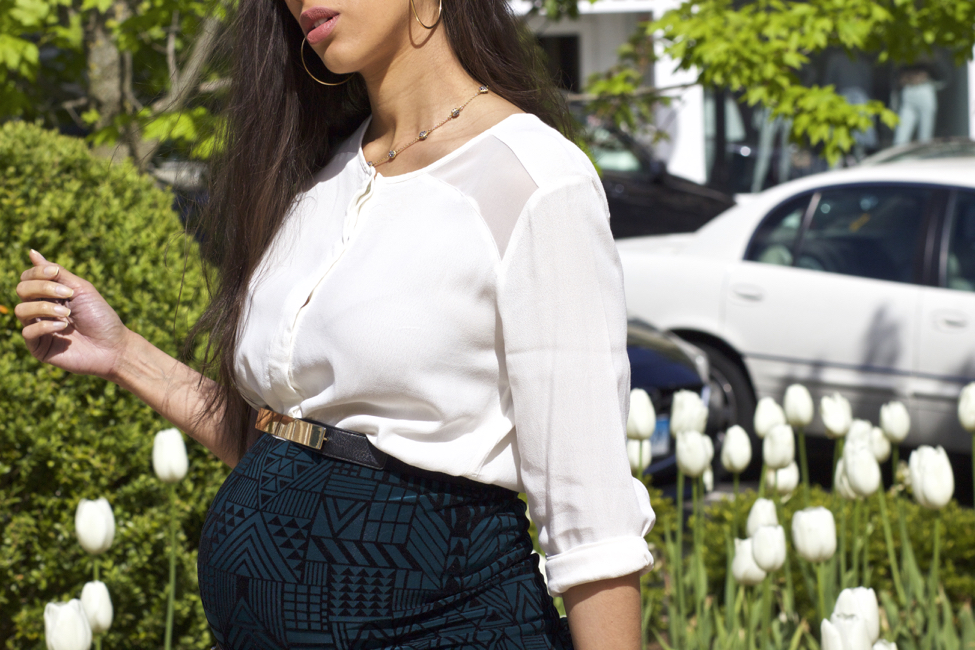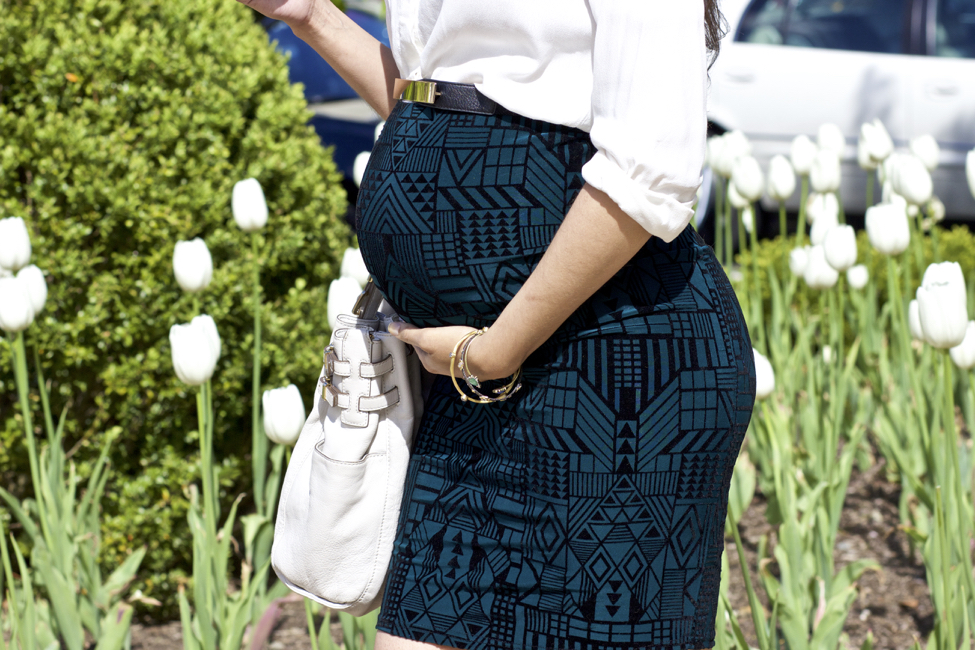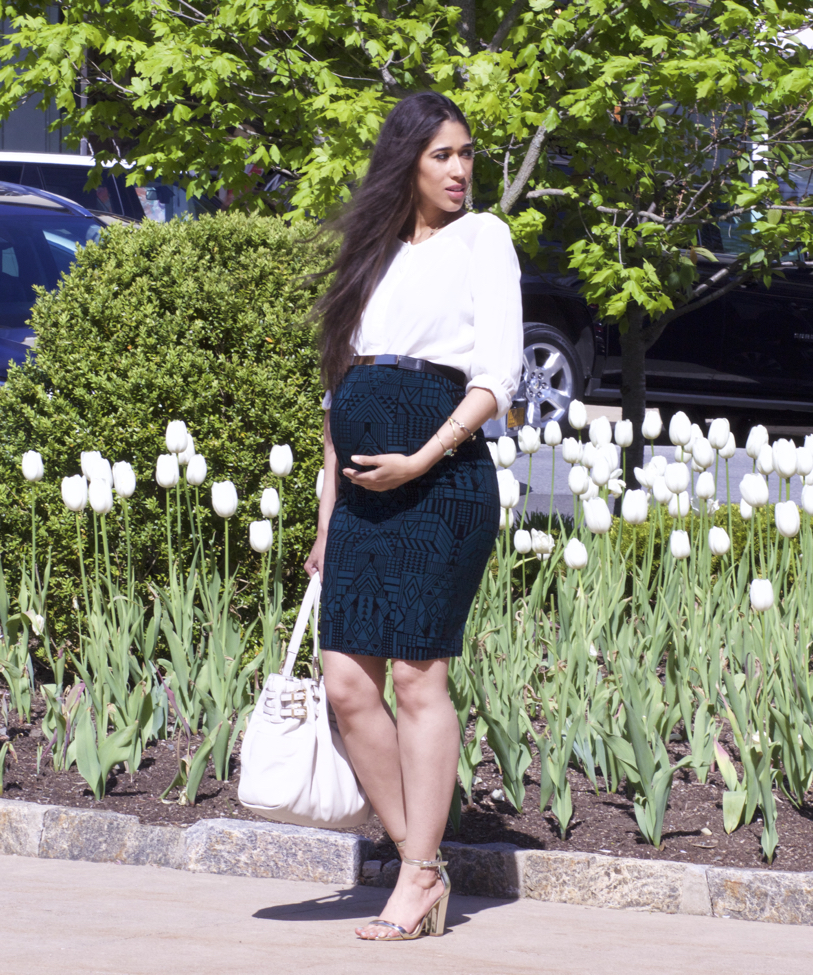 Blouse: Similar | Belt: Similar | Skirt: Similar | Shoes: Aldo (similar) | Bag: Michael Kors (similar)
---

---
Happy Monday my gorgeous friends!
How was everyone's weekend and Mother's Day?! Eddie was absolutely amazing and made both my mother and I brunch and dinner, aren't I lucky? Haha! He's such a great cook, but due to his crazy schedule and work hours, he's only able to ever really cook when there's a holiday, so it's always a nice little treat. In fact, for most holidays, I'd rather just have him make dinner instead of going out to eat at a restaurant.
Anyway, we're nearing the end of my pregnancy with me being 33 weeks, which I still can't believe. This is the time where getting dressed sometimes can post a challenge and you have to avoid purchasing new pieces and figure out ways to re-work what you already have in your wardrobe, especially since we've been having such unseasonably chilly weather here in Connecticut, so I haven't been able to wear dresses as much as I'd like, which are so much easier to work with.
Today's outfit is comprised of a bunch of old favorites, but I've styled them all together for the first time. You know, as much as I love shopping and wearing new clothes, it's just as good of a feeling when I'm able to create fresh outfits with pieces I've had for years. I feel that's where we can get the most creative and reflect our personal styles the most, would you agree?
When I woke up, I knew I wanted to wear a pencil skirt, but of course I was very limited in my selection because I can only fit into ones that have a decent stretch, like this jewel toned one I typically wear during the fall and early winter. The deep jewel toned color is usually associated with the fall season, so I was thinking of a way to lighten it up a bit to make it more seasonable. I've already styled pieces in this color with pink (seen here), so this time around I decided to pair it with a a white blouse and some gold accents, which I feel did the trick. So, my advice to you would be, if you too want to get the most wear out of some of your pieces that you feel exude a specific season, try and pair them with colors and fabrics that are most common with your current season to help counteract the effect and make it work.
I also want to note how flattering a pencil skirt, again one that stretches, is on a baby bump, especially when paired with a flowy top you can pull out a bit. This outfit would look just as great on anyone isn't sporting a baby bump as well. If you have a larger midsection, pulling the skirt up higher on the waist, while pulling out the blouse (preferably a v-neck) and finished with a belt would balance out everything perfectly ;)
I hope this post inspired you in reworking some pieces in your wardrobe, as well as inspired you create an outfit with a pencil skirt for an ultra sophisticated and feminine look! Thanks so much for stopping by, my dear friends, and I hope you have the most amazing week ahead!
XO,