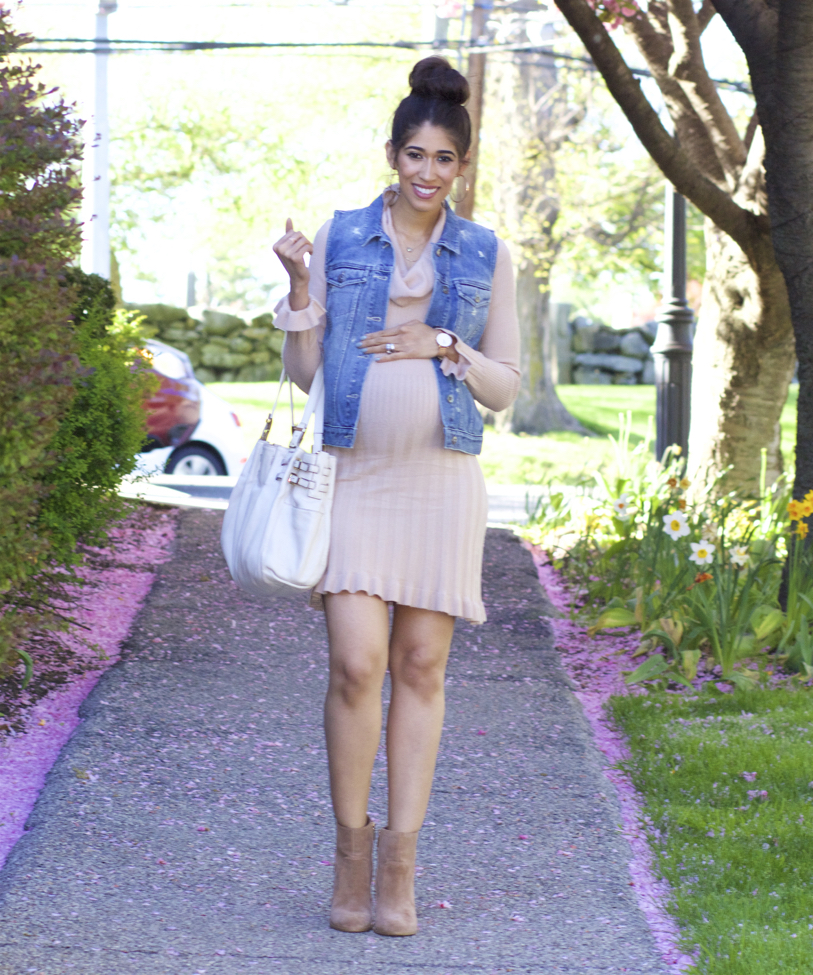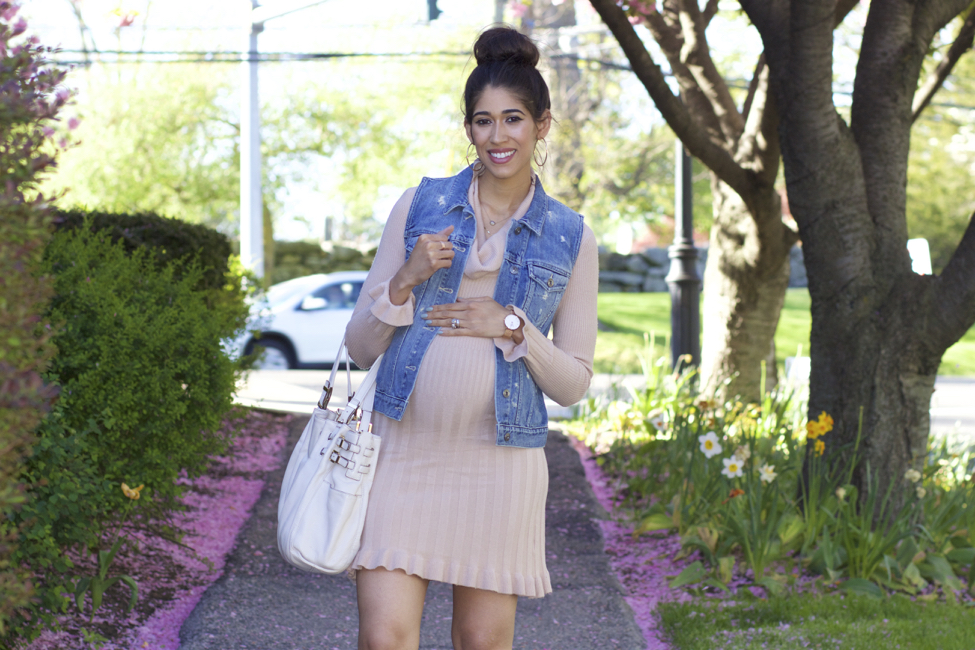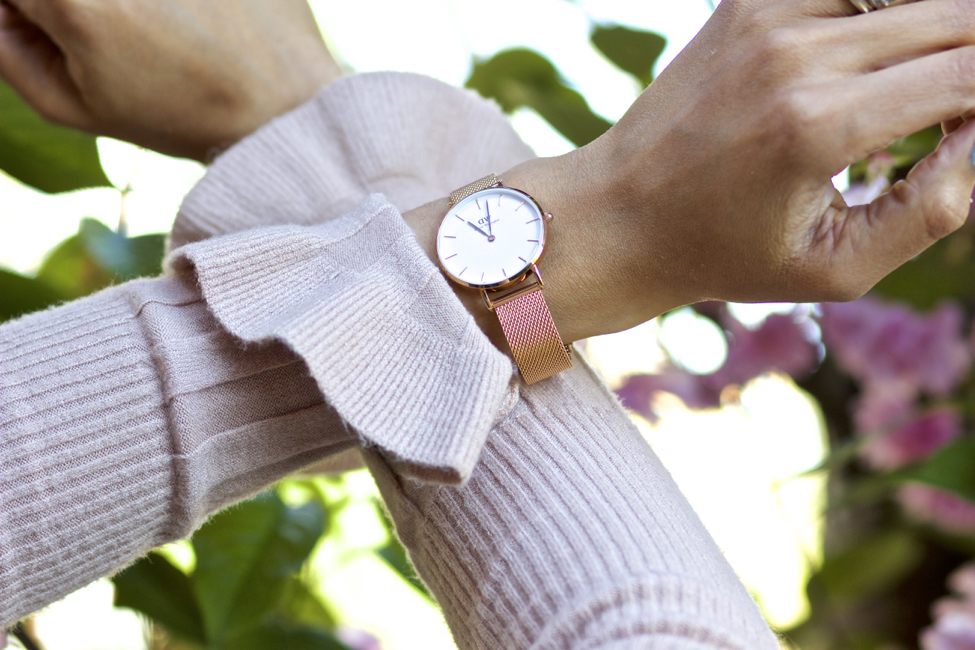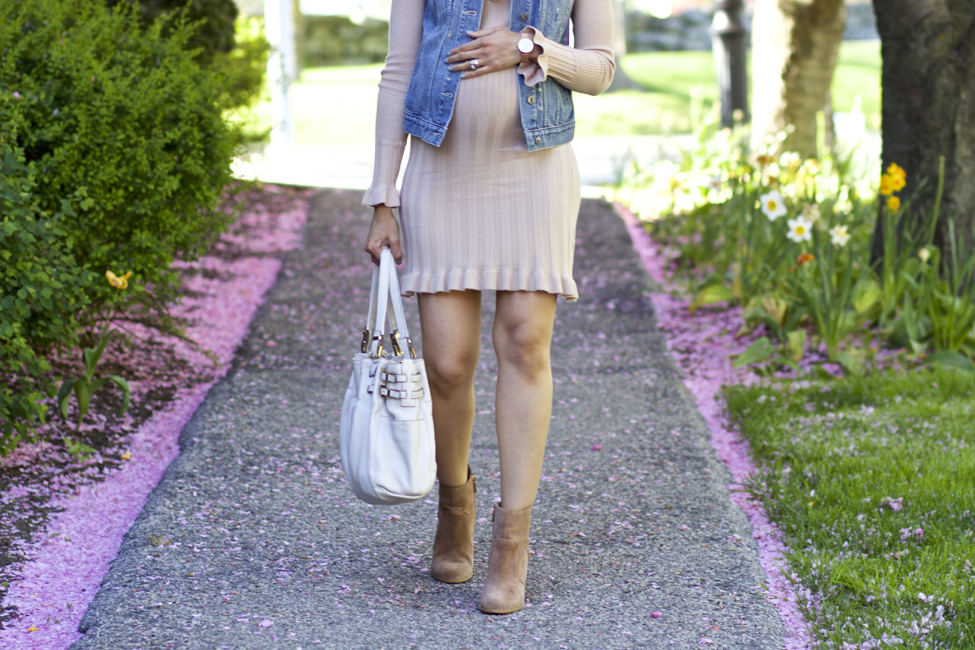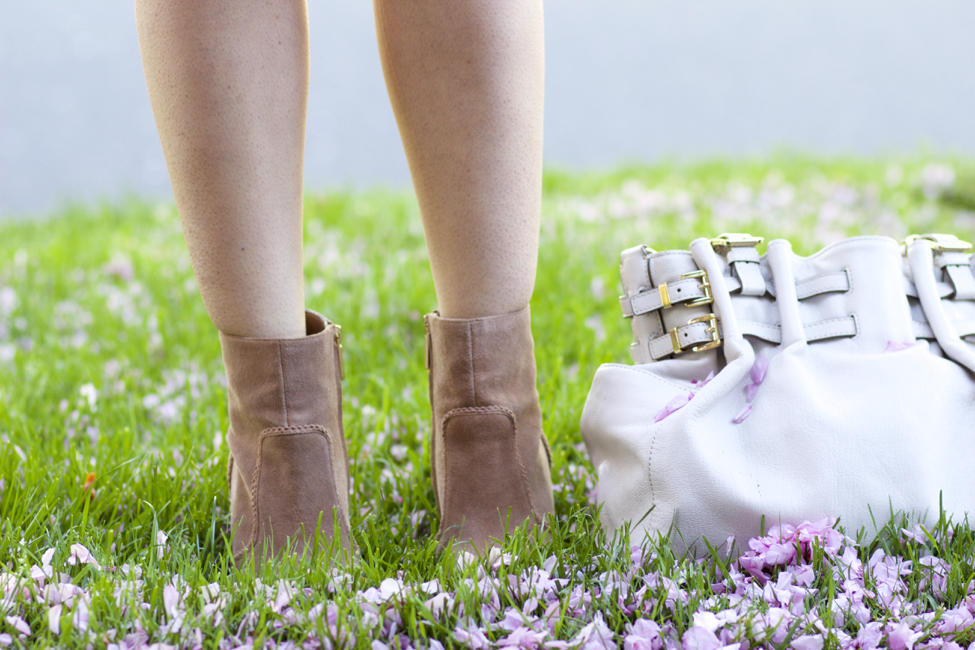 Vest: Vince Camuto (similar here) | Dress: BCBGMAXAZRIA (similar here) | Watch c/o use code STYLECONTOUR for 15% off your order) | Boots: Nine West (similar) | Bag: Michael Kors (similar here)
---

---
Happy Friday my dear friends!
It's been one crazy week over here and I'm so glad it's finally Friday, anyone else?! I just felt like the whole week dragged on yet the days themselves went by way too fast that I had to try and do so many things in such a short period of time, have you ever felt that way?
Anyhoo, moving right along. Like much of the U.S., we've yet to experience actual spring weather here in Connecticut. We've had some warm teasers, but nothing stood around long enough, which means I'm still rocking some long sleeves and layers. On Monday, I shared some tips on wearing denim on denim featuring a beloved denim jacket I've had for a while and today, I'm sharing an outfit I've put together that features a denim vest.
I've had this vest in my wardrobe for about 2 years now and I can probably count on one hand the amount of times I've worn it and I honestly don't know why. It was one of those items I fell in love with in store, but for some reason, felt uninspired to wear it enough. Well, I've been challenging myself to hold off on my spring leather jackets because it's so typical of me and you'd probably get bored of seeing that as my only spring outerwear....common, yes you would!
I have to say, I really do like the way it looks paired with the ruffle accented blush dress, the contrast is so pretty, yet the distressed details and overall denim material add a certain roughness to the look, which I like. I'm also feeling inspired to create more looks wearing the vest, though some of the shirts I have in mind to pair it with no longer fit, lol, so that will have to wait. But, that doesn't mean you can't wear it on my behalf!
I think a denim vest would be a great option for an outfit that you'd typically wear a regular denim jacket with, just keep in mind that the vest does have more of an edgier twist to the classic jacket version. That said, I think it would be great to pair with a statement ruffle shirt, while adding an extra layer for warmth or to just add some more texture to your look, while the cooler weather allows for it. You can show off those sleeves, which you wouldn't otherwise be able to with any other jacket.
Along with the edgier vibes, one should also keep in mind that it can have a bit of a juvenile vibe as well, so pay mind to the pieces you're pairing it with, especially if you're petite. If you are petite, perhaps you can pair it with a white button up, skinny jeans, and a pair of laced up sandals? It'll create a nice lengthening effect, which we discussed in Monday's post, and counteract that juvenile vibe that none of us want.
I hope you all found this post helpful and that it gave you some inspiration for styling a denim vest this season. Is there a particular outerwear you're loving most this season?
Thanks so much for stopping by, my dear friends, and I look forward to seeing you all again on Monday; have a great weekend and Happy Mother's Day to all you amazing mamas out there!
XO,