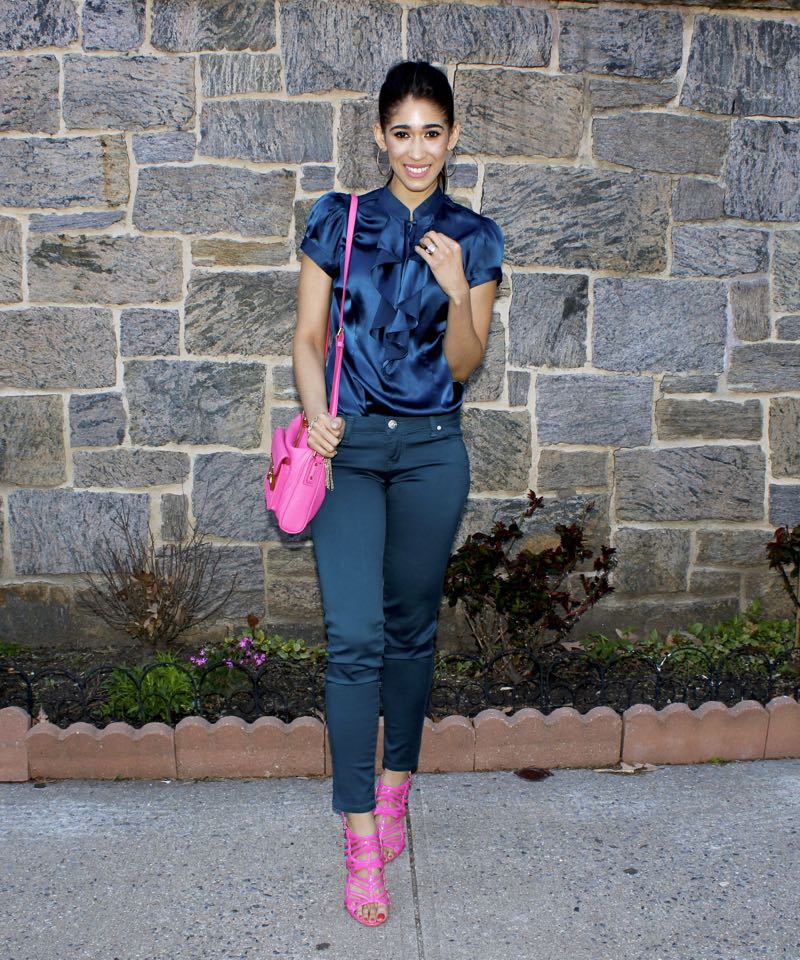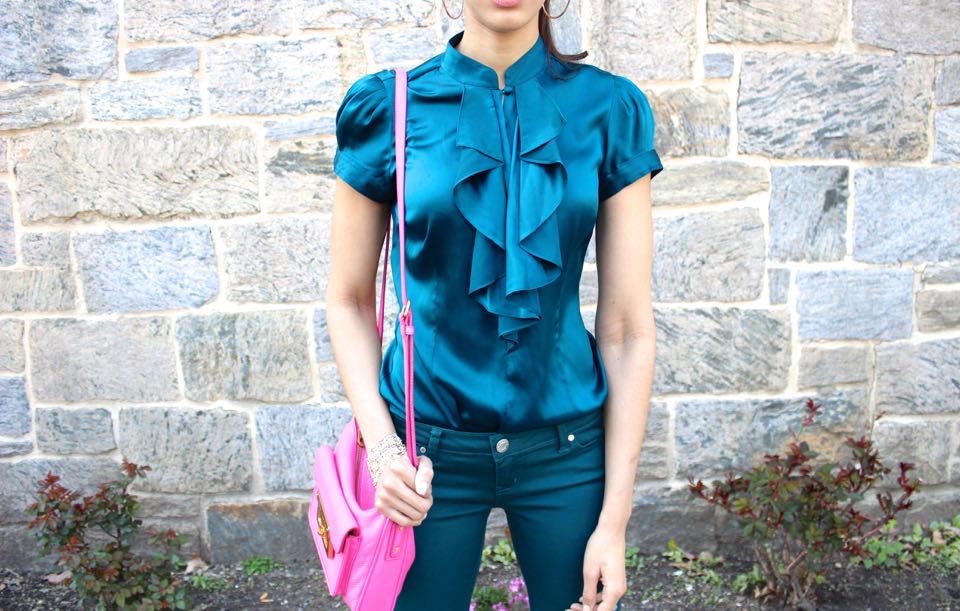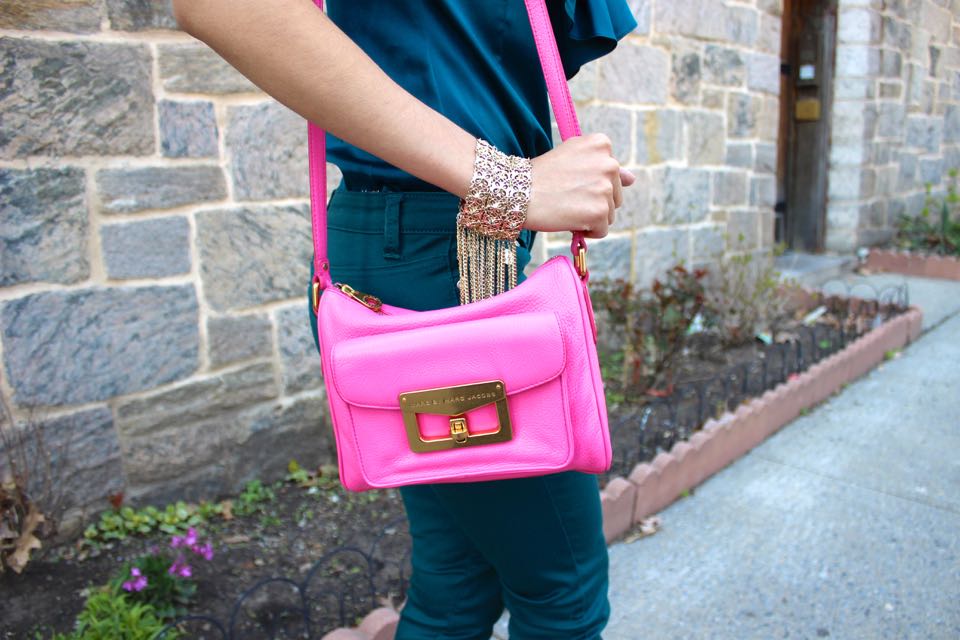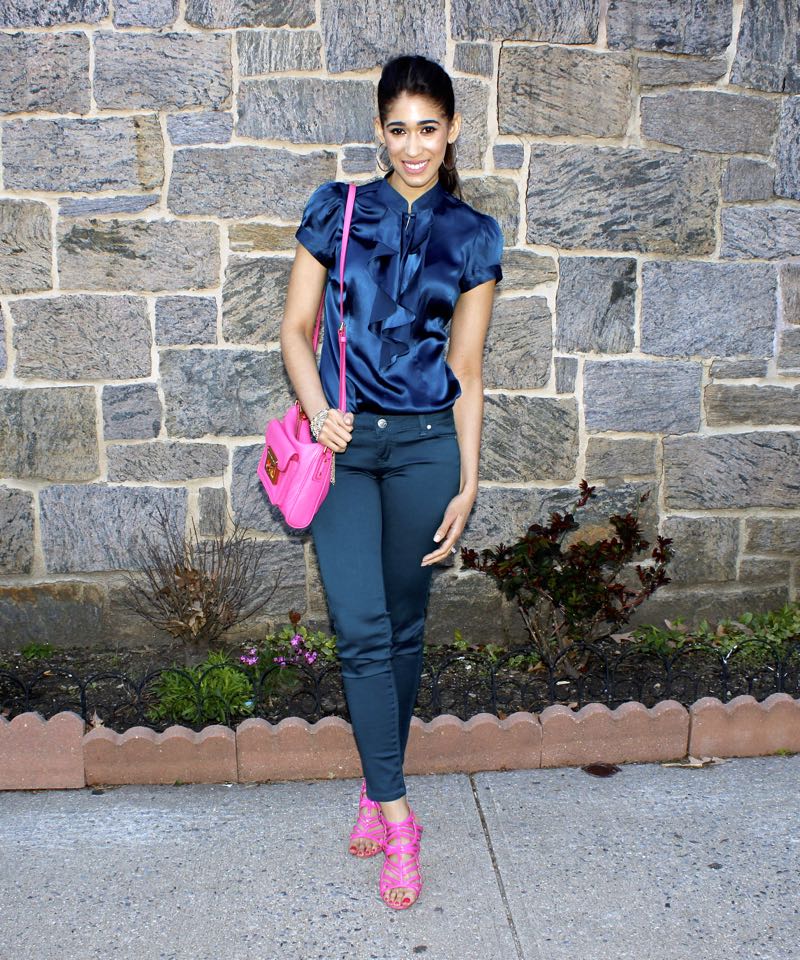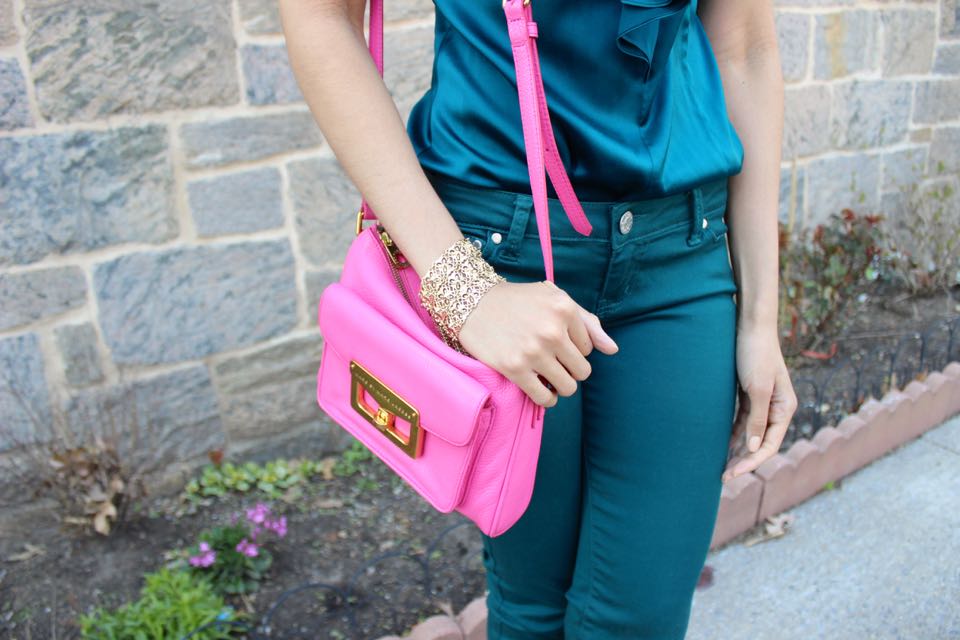 GET THE LOOK!
Top: Express (similar ON SALE 60% OFF HERE) // Pants: Arden B. (similar ON SALE HERE) // Purse: Marc Jacobs (similar HERE) // Bracelet: c/o Kendra Scott (similar HERE) // Sandals: GUESS (similar HERE)

Happy Hump Day, beautiful friends!
I hope your week is going great so far! Today's look combines a color I've been a tad bit obsessed with this season, to say the least, pink. If you've ever doubted how versatile pink can really be, I hope these past few weeks have inspired you both here and on Instagram because I've been pairing it with so many different colors lately, it really is the color of the season, at least in my book, haha! Anyway, I absolutely adore the way it looks paired with teal, I feel the two create a very rich, unique contrast, perfect for spring and it's a duo that would look great on every single skin tone. A question I get asked a lot is, "what color works best for me?" especially from viewers who have watched my YouTube video, The Best Colors to Wear for Your Skin & Hair Tone, and I think it's because it can be a bit confusing to identify which colors work not only for your skin, but for your hair color and its undertones as well, especially if you've colored your hair. A category of colors that I personally feel flatters every skin and hair tone are deep, rich, jewel toned colors. I feel they look amazing on everyone and just add so much vibrancy to the skin, since the colors are so deep, the contrast causes the skin to glow and hair to look healthier.
I'm also wearing a ruffled top, which is a huge trend this season. Remember, if you're uncertain about how to wear the ruffle trend, you can refer to my, Trend Report: Romantic Ruffles & How to Wear Them post for some ideas, as well as explanations for what you may want to avoid when selecting the most flattering styles for your body shape. I decided to add this top to the teal pants because I wanted to bring the monochrome outfit to life. When wearing monochrome, it's important to add pieces with texture, print or dimension to prevent the look from appearing flat, boring and one dimensional. As many of you know, wearing a single or dominant color in an outfit has an elongating and slimming effect, which is pretty awesome! What I often like to do, depending on the style of my top, is tuck it into my bottom to re-establish my waistline, which would otherwise get lost, especially when the top is more loose fitting, something I definitely suggest you consider to help showcase your shape, whatever it may be. Tucking it in is not only flattering, but it also makes your outfit appear more polished and put together. If your outfit is a bit more relaxed, then of course you could skip this step.
I hope you enjoyed this post, but most importantly found it helpful and inspiring! Thank you so much for stopping by my dear friends and I hope your day is as beautiful as YOU!
XO,