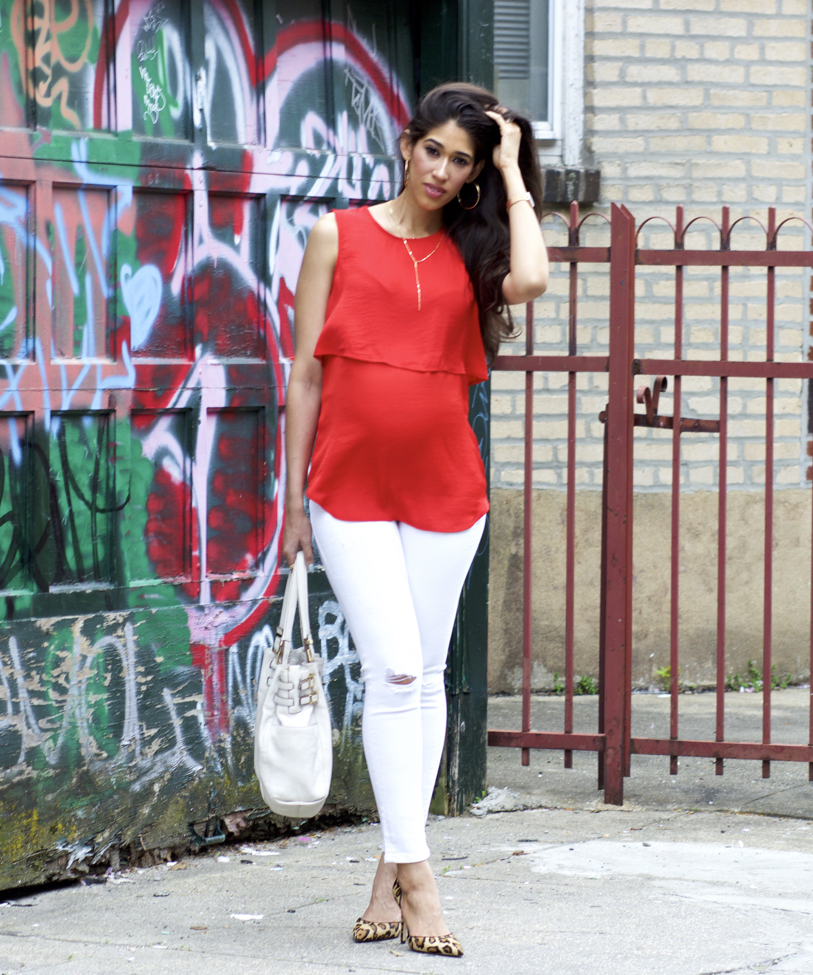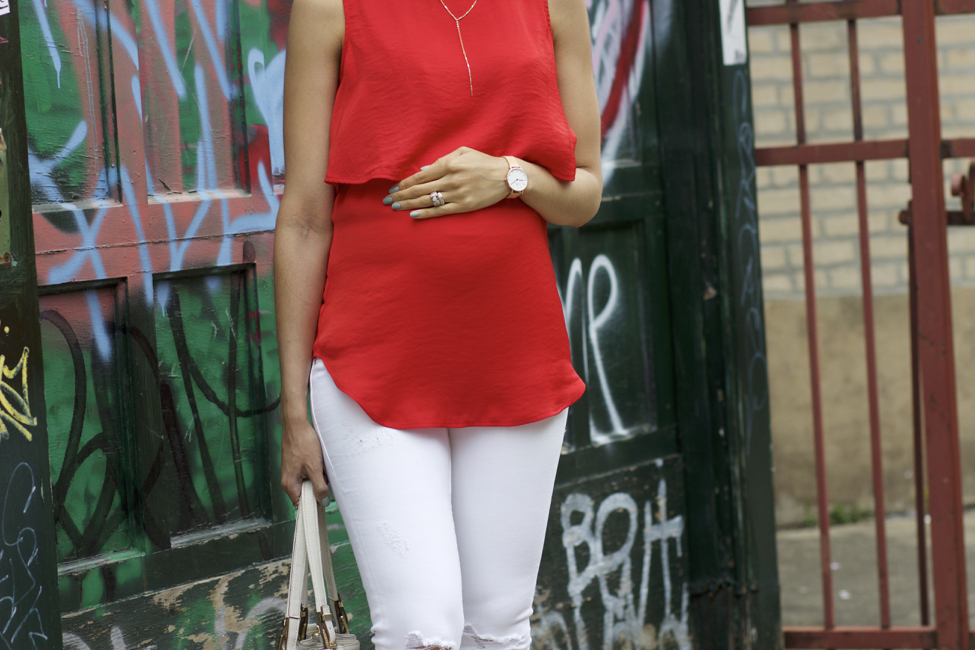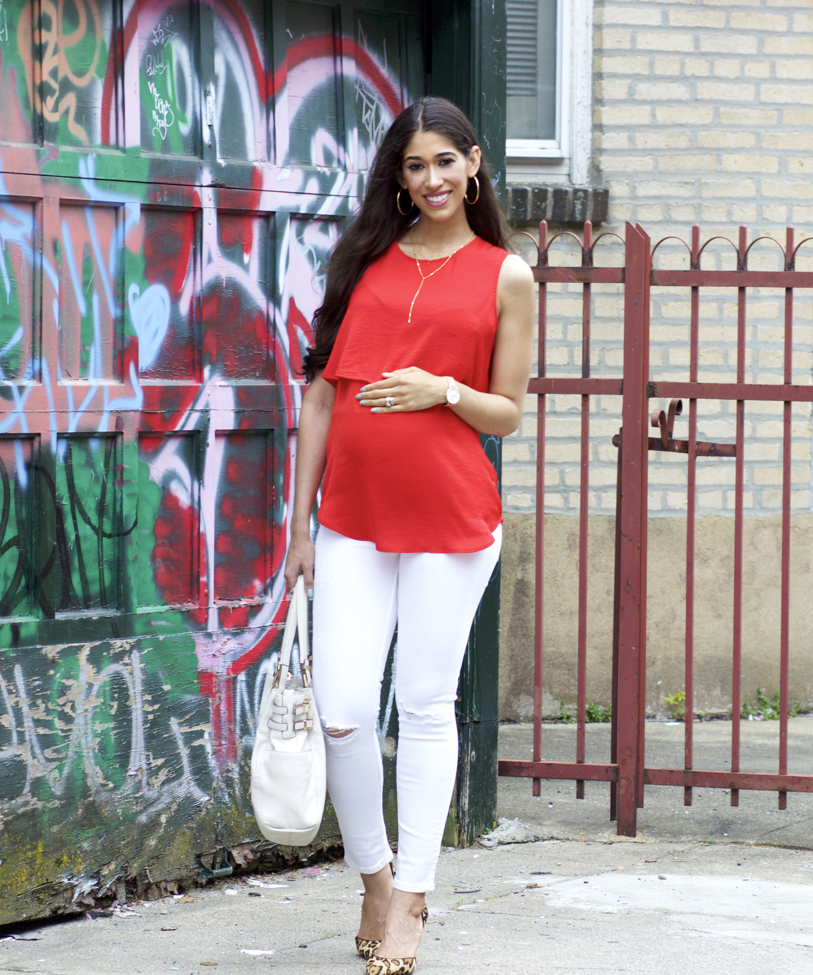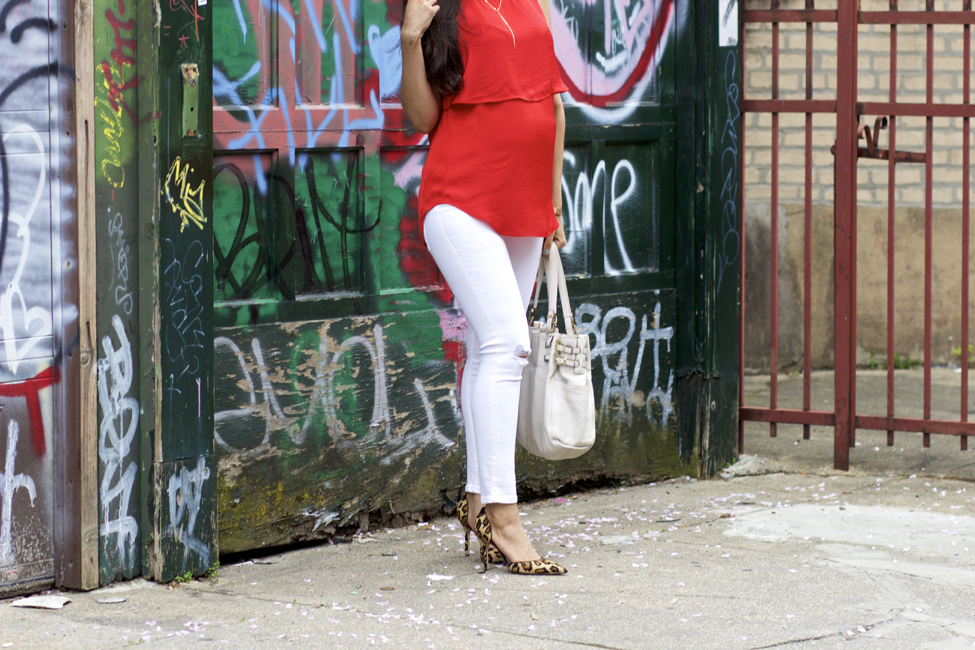 Top (non maternity, I just sized up) | Jeans (similar non-maternity) | Necklace c/o | Watch c/o (USE CODE STYLECONTOUR TO SAVE 15% OFF YOUR ORDER) | Purse: Michael Kors (Loving this one) | Shoes (similar)
---

---
Happy Wednesday my gorgeous friends!
One comment I receive often, both in person and here on the blog is, "you can't even tell your pregnant from the front!" Now, I don't intentionally try to conceal my baby bump because I personally feel as though it's something to be embraced, you're carrying around a human that's apart of you and being made in you, what's there to be ashamed of?!
However, I've noticed that this is all a result of the clothing pieces I've been wearing and the effects I've actually learned they can have. You see, prior to sporting this baby bump, I've always been a classic pear shape, which means that I'm more bottom curvy and it's my hips, thighs, and butt that gain that signal any weight gain. This of course varies from each woman, depending on her particular body type.
So, learning to style a baby bump was a whole new territory for me, though I'm knowledgeable in styling tips that can help conceal a larger midsection and such, as I mentioned, that's never what the effect I've wished to achieve, yet I of course don't want to wear clothing that make me look like I'm wearing a tent either. I'm all for flattering options that showcase the best features of one's body type and well all have them, can I get an amen?! Amen!
When it comes to flattering a baby bump, it basically comes down to not wearing clothing that will make you appear larger overall as a result of trying to conceal the bump or not knowing what to do with it in terms of styling. It's all about selecting options that fit and highlight your overall figure. In the midst of me learning how to master all of this for the very first time, which I thank all you who have applauded me thus far, I've learned some additional tricks that I would've never thought of that can flatter a fuller midsection.
Now, I want to throw out a little disclaimer, mainly for those who may be new to The Style Contour and aren't familiar with my style approach on body types (welcome by the way and I'm SO glad you stopped by and I hope it's not the last!). I'm not trying to body shame nor say if you have a large or wide midsection, you have to conceal it. What I'm simply doing is sharing tips for those of you who feel insecure about your stomach and usually opt for large oversized pieces and call it a day because you feel there are no other options. I'm here to show you today that there are, specifically with this particular top.
On Monday, we discussed the "pop over" detail that's found on this same top I'm wearing today. I thought I'd highlight how it flatters a midsection when working with a top as opposed to a dress, which create two different effects, though they're both flattering. The natural fit of this top is light and flowy (it feels so good on the skin, too!) and it skims the surface of the body in a way that's not clingy and graces the top of the midsection in a way that you can't even notice. Again, I wasn't seeking to conceal my baby bump, but in some of the shots above, it's rather tricky to note if I'm pregnant or not, right?! That's all due to the pop over detail. It also distinguishes my waistline in a way a regular top wouldn't, which is also flattering.
I hope this post inspired you and boosted your confidence if you've ever felt self conscious about your midsection. If there are any specific questions you may have, please feel free to leave them in the comments and I'd be more than happy to help provide some suggestions! Thanks so much for stopping by, my dear friends, and I hope you're having a great week so far!
XO,