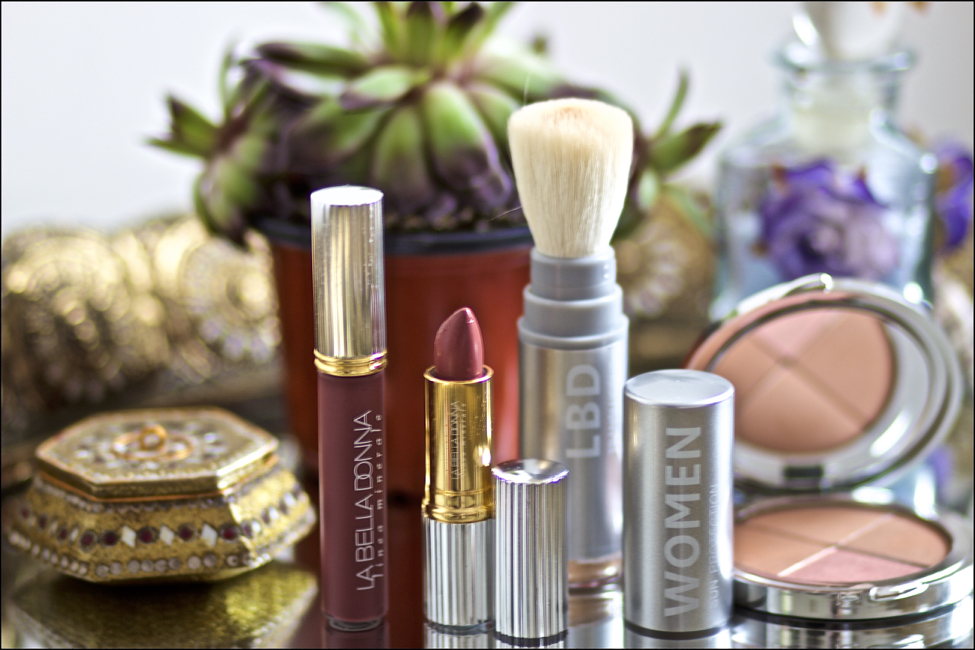 Happy Thursday my beautiful friends!
A couple of months ago, La Bella Donna reached out to me to review some of the products in their line. I never heard of the brand before, so I was a bit apprehensive. What sparked my interest and willingness to test it out is that they claim to be chemical free and contain mineral based ingredients that are said to be beneficial for the skin. I made sure to ask if the products were safe to use during pregnancy and I was assured that it is, as once again, they don't contain harmful chemicals and are free of FD&C dyes. This is not to say that I only wear chemical free, organic, or all natural makeup, though 85% of my makeup collection is either vegan or all natural.
I was given the option to select a few items for testing purposes and I chose all of the products shown above, the bronzer palette, SPF, lipstick and lipgloss. Below are my honest thoughts on each.
:: L'unico Sole Bronzer ::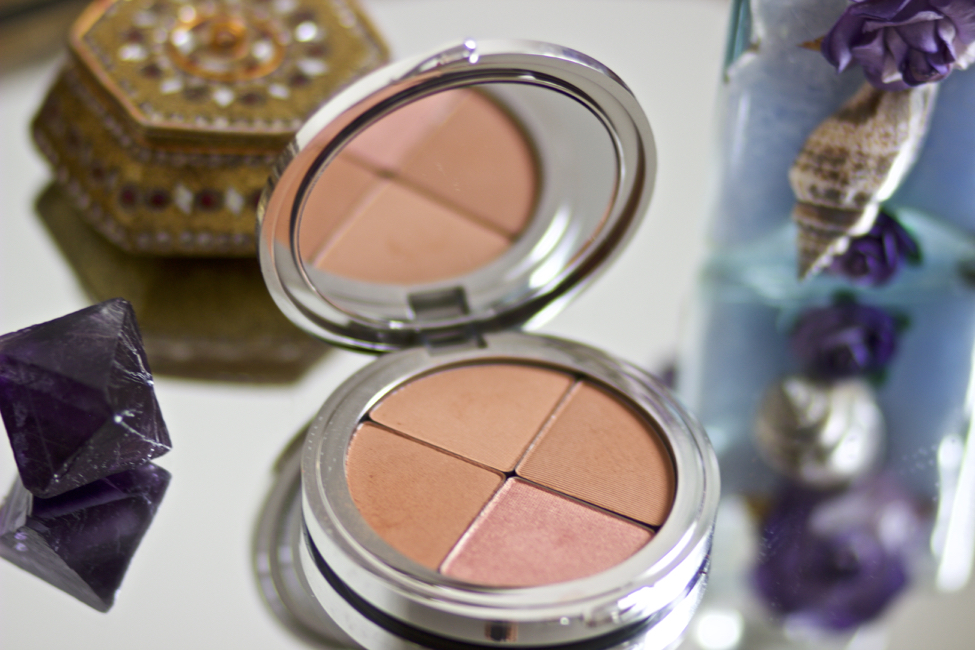 The shades are really pretty, but the bronzers didn't work on my skin tone at all, unfortunately. The highlight, however, does show up nice, but more for a subtle lit within glow. It doesn't produce the intense highlight effect I typically look for, so I may use this on my body (collar bone and shoulders) come summer when I'm a bit tan. Overall, I feel it has more of a drugstore feel to it. For $55, I would expect a more durable compact and the makeup itself can look a bit chalky and doesn't have a smooth finish. It's also the only product of it's kind, which I feel limits the skin tones this would look good on, which includes myself. If you're fair skinned, I feel the bronzer would be too harsh and for someone of my skin tone, it can get a little lost. If you're even darker than me, I think the same would be true for you, which. I believe more color selections need to be added to flatter all skin tones.
::LBD-Women SPF 50::
This is a good SPF for touching up. I've always wanted to try something like this after seeing my mom with one because I would always have it in the back of my head that after the SPF protection time wore off from my moisturizer and/or foundation, my skin was no longer protected and it's not like I could re-apply with my makeup already done. There are three color selections, I chose shade 2, but apparently it's a tad too light for my skin, but I really can't imagine using shade 3, which is more of a bronzy shade, it would be too dark. I was fine if I applied a light dusting, but if I applied more than that, I looked ghostly, so you really need to pay mind to the dial settings on the side of the top part of the applicator and set it on a lower setting. A major plus for this one is that it can be used on sensitive allergy prone skin, such as eczema or rashes and is formulated to prevent clogged pores while mattifying the skin. In terms of packing, once again, for the price ($65), I would expect the packaging to be a bit more durable, it has that same plastic like feel of the compact.
::Mineral Light Lip Colour & Lip Sheer::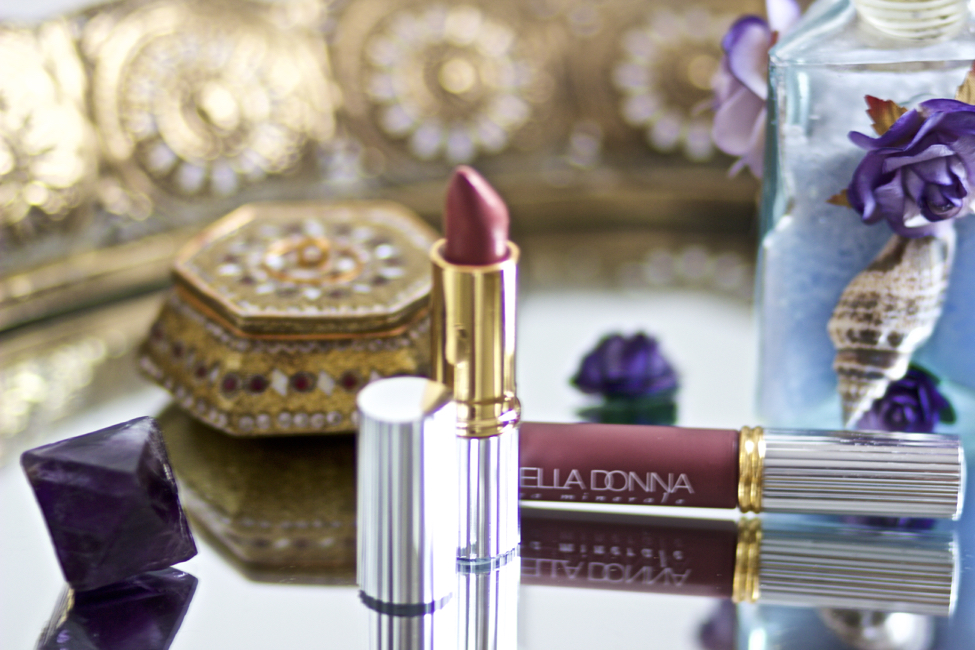 Okay, so the mineral light lip colour (I chose the color 'Shell') is my favorite product of all! Since the start of my pregnancy, my lips have been extremely chapped. No matter what I've tried, nothing has been able to help keep them smooth except for this lipstick. I typically wear Nude by Milani as my everyday color, but haven't been able to because it would show every single line in my lip, as well as the patches of dried flaky skin that looked down right disgusting. You know it's bad when both your mom and husband have to keep telling you to apply lip balm, it was reallllly bad. I've been applying this lipstick every single day since receiving it and it's helped my lips tremendously; I believe it's because it contains vitamin C.
I also really like the lip sheer, sometimes I apply it on top of the lipstick, for a more intense color effect, since the lipstick is rather sheer. I chose the shade 'Assunta' since it was the closest to the 'Shell' color, since I knew I wanted to pair the two together.
Out of the two, I'd personally suggest the lip colour. The lipstick isn't super pigmented, so if you're one who loves intense color payoff, this isn't the lipstick for you. However, if you're one who likes a bit of a sheer color, this one is worth a try, especially if you suffer from chapped lips. I also feel it's a great option for the summer for days when you want a more natural makeup look and it also boasts some sun protection, too, since it contains Cermaide 2. Though this isn't a form of SPF per se, it helps to sooth and prevent the effects of damaging UV rays.
For $24 each, I do feel both products are worth the price and the packaging on both seems up to par with the cost.
Overall, I think La Bella Donna is a great option for those who are more health conscious when it comes to cosmetics and who seek alternative options to common brands that contain harmful or irritating ingredients. If you are interested in trying out the brand, you can use code SPRING20 for 20% off + free shipping.
I hope you found this post helpful in not only introducing you to a brand that may be new to you, but what products may be worth trying out yourself for the first time. Thanks so m much for stopping by, my dear friends, and I hope you're having a great day so far!
XO,