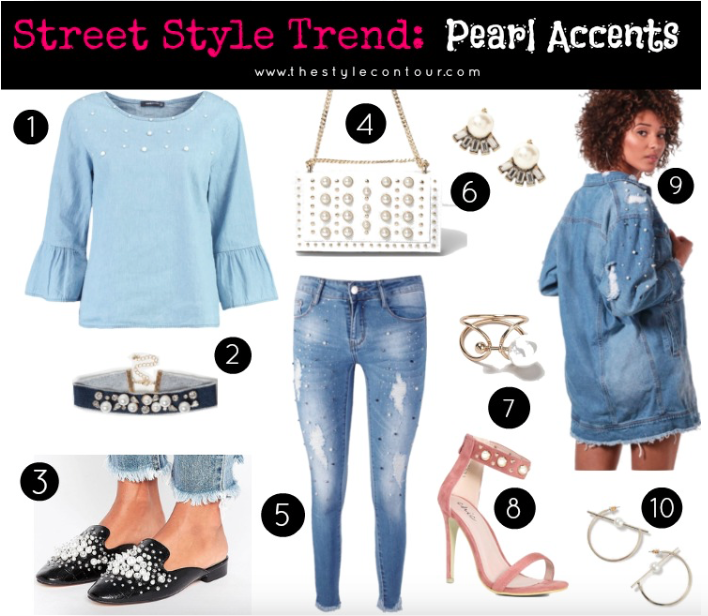 :SHOP THE SET:
Happy Tuesday my gorgeous friends!
I hope you're all having a great start to your week and new month so far!
There are SO many amazing trends this season; I feel like for the past few seasons, the trends have been so practical haven't you?! One of the many that I'm loving is the pearl accent trend. Pearls are having a huge moment this season and you can find them on nearly every type of clothing piece or accessory. What I love about it is that, for the most part, it can be quite timeless because pearls are classic and elegant and can be worn regardless of age and never appear dated when combined with more modern or contemporary pieces.
The most youthful and perhaps the most likely to not be as trendy in a few years is the denim embellished version. I absolutely adore it and you can imagine how saddened i am that I can't partake in this one at the moment. Fingers crossed that this one will stay around long enough after having Baby A because you better believe I'll be getting a pair, haha!
When it comes to denim, the pearl details will instantly dress up your outfit, allowing for you to go basic if you'd like with the other elements in your look or you can enhance the elegance by adding a flowy feminine blouse or blazer atop your basic tee.
As with anything that's a statement, you want to ensure that you select a piece that's going to make you feel confident because it is a statement, therefore people's eyes will gravitate to the item and area wear it's worn, making fit key. For example, if you choose to opt for a pair of pearl embellished jeans, I'd suggest you opt for your favorite fit, be it mom jeans or skinny jeans, you want to feel confident in what you're wearing!
If you're not sure if bringing attention to specific areas of the body is what you'd want, opt for shoes! I mean, ankles along with the collar bone on every woman, regardless of size or body shape, is flattering, so opt for a pair that shows or brings attention to a little ankle, either some trendy slides or ankle straps!
If you feel pearl embellished pieces are a bit too risky for you, there's of course the option to reach for jewelry, such as a pair of earrings, instead. Again, they're timeless and add such a lady-like touch to any and every outfit imaginable.
So, what are YOUR thoughts on this trend? Is it something you've noticed popping up all over social media and most importantly, is it something you'd experiment with? What be the first place you'd start?
Thanks so much for sharing, my dear friends, and I hope you're having the most amazing day so far!
XO,