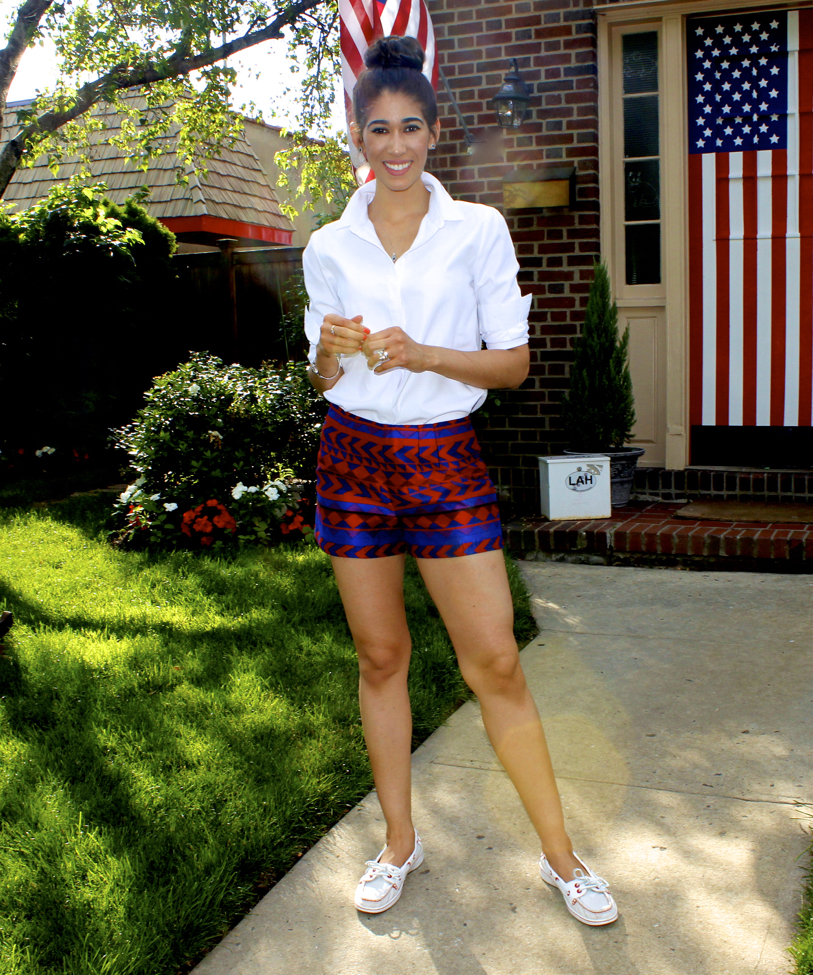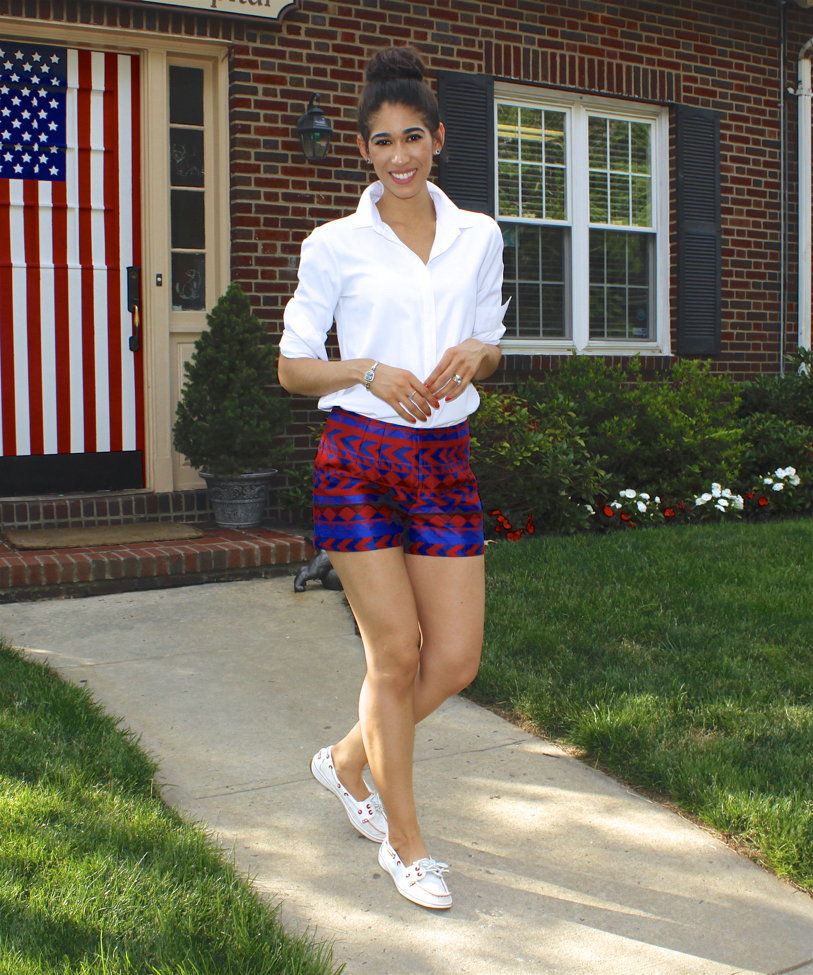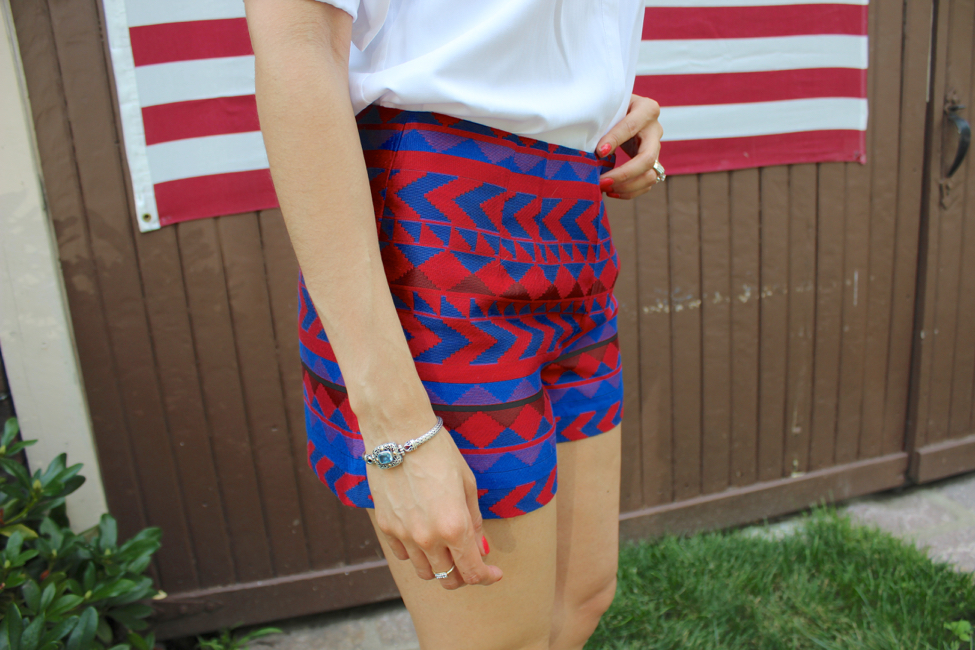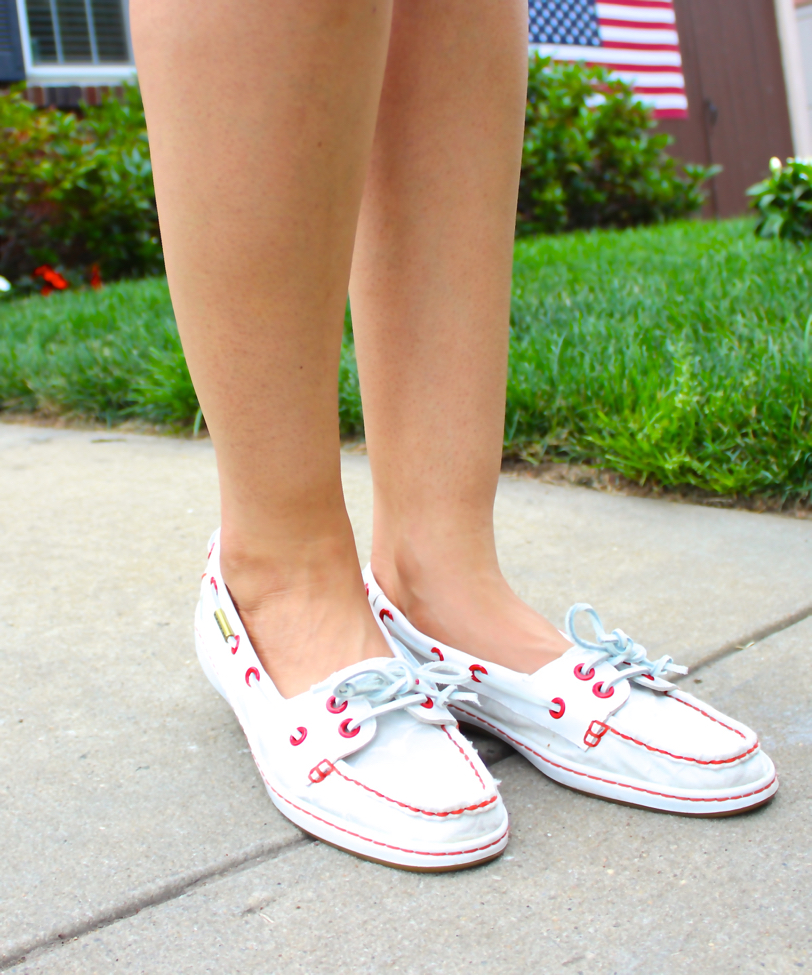 GET THE LOOK!
Shirt: UDI (similar ON SALE HERE) // Shorts: Forever 21 (similar HERE & HERE) // Boat Shoes: Coach (similar HERE)

Happy 4th of July, my gorgeous girlies!
For all of my non US readers, the 4th of July is our Independence Day, so it's one of the biggest holidays here in the States and of the summer! Most of us celebrate by spending time with friends and family at BBQs, the beach, or pool during the day and end the celebration at night with a fire works show, big or small; it's really fun!
As mentioned in Friday's post, I'm currently in Brooklyn with my family and will most likely be heading to Coney Island for the day and either return for the show there or head to Williamsburg to see the Macy's show by the water, we're not sure yet!
I also want to remind you that my next post will be on Wednesday, followed by another on Friday. This schedule is just for this week, since like I shared on Friday, things have been really hectic for me lately, with so much going on! Thank you for all of your kind, supportive words on that post, it really meant a lot to me! You guys are seriously the best and made me feel more at ease, since I just tend to overwork myself by nature, something I definitely need to work on!
Anyway, back to the look!
When it comes to 4th of July style, there really are so many options and it's fairy simple to create a festive look by working with the three colors of our flag: red, white, and blue or with pieces that have the flag on it or have that patriotic feel with stars, which is trending huge this season (more on that next week!).
This year, I'm sharing a look that's more preppy, as it features a white button down shirt. I rolled up the sleeves to create a more casual feel, but a short sleeved version would be great, no fuss option! I also added red and white boat shoes to tie in with the color scheme. The statement of the look, however, are these jacquard shorts that are red and blue, making them a perfect option for the holiday.
I know many of us may equate red and blue pieces with Memorial Day or the 4th, but they can certainly be worn all year long without giving off patriotic vibes every time, it all depends on how you style them, as shown here! So, don't let that deter you from not purchasing something! Lastly, you can some more outfit inspiration in one of my previous posts here, which I created 3 different outfits for various settings.
Thanks so much for taking the time to stop by, my gorgeous friends, and I hope you're enjoying your long 3 day weekend! I'll be responding to comments and visiting blogs (for all my fellow bloggers) tomorrow and will see you back here again on Wednesday!
XO,