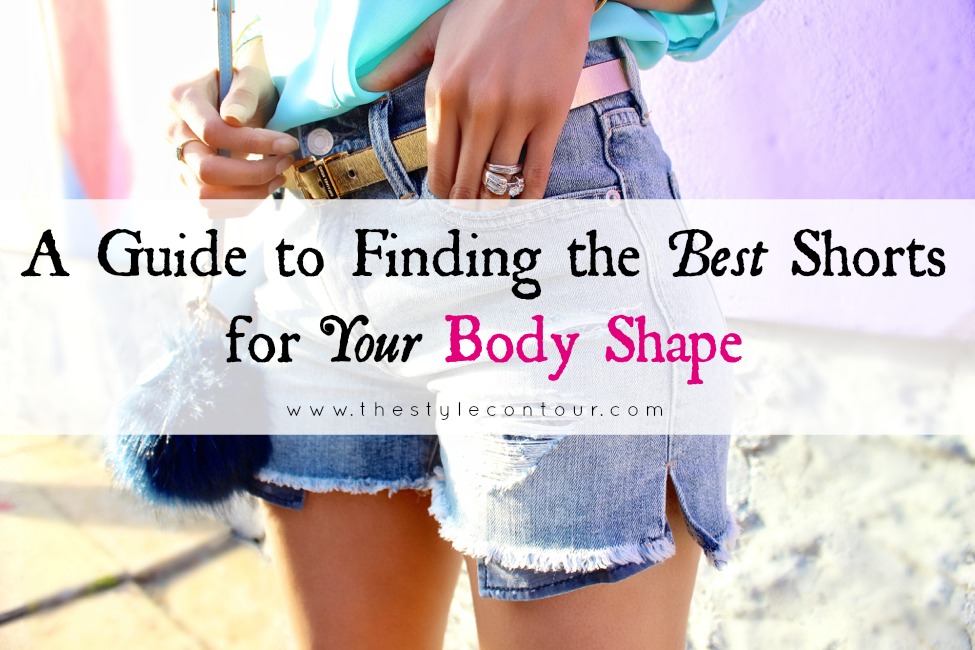 Happy Tuesday my beautiful friends!
As the weather begins or continues to (it's been rather inconsistent for us here in Connecticut) warm up, we find ourselves reaching for our easy breezy pieces, though some aren't so easy to reach for, one of which are shorts. Finding a great pair shorts should be easy though, right?! Unfortunately, that's not often the case, like with jeans, there are things to consider when shopping to ensure a flattering fit and I'm sure you're nodding with agreement having had a struggle in finding the perfect pair, I'm with you in that and because I know a thing or two about works and what doesn't, I figured I'd share some, what I'd like to believe, helpful tips with you to make the search that much easier.
KNOW YOUR BODY TYPE!
When it comes to finding the perfect fit in anything it's super important that you are aware of the body type you have. Sure you can wear whatever the heck you want, BUT there are certain styles and details that will further enhance your natural figure and then there are those that don't do it justice. Most women are self conscious about their arms, midsection, and thighs, which, unfortunately, hinders them from wearing clothing that exposes those areas, even in the heat of summer. You may be one of those women and if you are I'm here to encourage you to wear the shorts! I have cellulite and stretch marks (pre-pregnancy) on my inner thighs and knees and have worked out rigorously for nearly 11 years now and still have cellulite and I still wear shorts because it's actually quite common, so don't beat yourself up about it.
If you don't know what body type you have, I have a video (and oldie, but goodie, which you can watch here) which you can help you determine it. If after watching you're still stumped, message me those numbers and I'll help you figure it out!
LOOK FOR SPECIFIC DETAILS
Now that you've already watched my YouTube video and have identified which body type you have, let's make note of the details to look for that will help flatter your body and make it that much easier to step outside the house in those shorts!
APPLE SHAPE
You've got legs, girl, so embrace them and show them off in styles that draw attention to them! That means short shorts are okay, of course going along with what you feel is most comfortable and appropriate for you. Do keep in mind that if you do have a fuller midsection, which is one of the characteristics of this shape, that the shorter you go, not only is attention drawn to your legs, but to your midsection, too. So, my advice would be to avoid styles there up high around the upper thigh area. Styles that have cuffs, distressed details, and any sort of design that draw attention to the shorts is what you want to go for, as they're the most flattering for your legs.
---

---
PEAR SHAPE
This is actually my body shape, so I'm all too familiar with trying to find the perfect pair that flatter my hips and legs without having my booty popping out of the back of the shorts, lol. What I've found to be flattering are styles that have exposed pockets, like the one I'm wearing in the thumbnail above. They provide some additional coverage to the legs without making them appear much larger than they are. Styles that have cuffs are doable, but I'd suggest avoiding those that have this detail and are tight because it can make the legs appear thicker and if that's not what you want then avoid it, if that is, go for it at least you know now what emphasizes it! Also, styles that flare out a bit into an a-line style are also flattering, as they can help draw attention away from saddle bags, if once again that's something you're self conscious about. Bermuda styles are also quite flattering and have become so much more fashionable in recent years thanks to Kim Kardashian who's notorious for wearing them and understandably so, she's a pear shape and her stylist, I'm sure, considers how flattering they are for her curves.
---

---
RECTANGULAR SHAPE
This shape isn't bottom heavy or curvy, which allows for the use and experimentation of so many different styles without worrying about appearing larger or not flattering the hips, thighs, and butt. If you wish to make your butt look fuller and more sculpted, you can opt for styles that have washed out effect around the butt, which highlights the area, creating the same effects highlighting with make does.
---

---
HOURGLASS SHAPE
You've got curves so deep, you make the ocean jealous, girl! Lol, I know that was corny, but I had to, lol! Shorts that show off your notable waist and full legs and hips are the way to go, so I'd suggested high waisted as well as paperbag styles that draw attention to both, as they're super flattering. You can also explore the same styles as the pear shape, since both have lower curves.
---

---
Hopefully after reading my tips and seeing some suggestions for your body type, you feel more inspired and encouraged to wear shorts if you were self conscious before reading or it gave you some new styles to try out this spring and summer! I really hate the fact that there are so many women out there who refuse to wear shorts because they're ashamed of their bodies when there are so may different styles that can help conceal certain areas you may be insecure about, while highlighting and embracing the other parts you love. If you have a friend who'd find this helpful, do pass this post along because you know the saying, sharing is caring ;)
Thanks so much for stopping by, my dear friends, and I hope your day is as amazing as YOU!
XO,