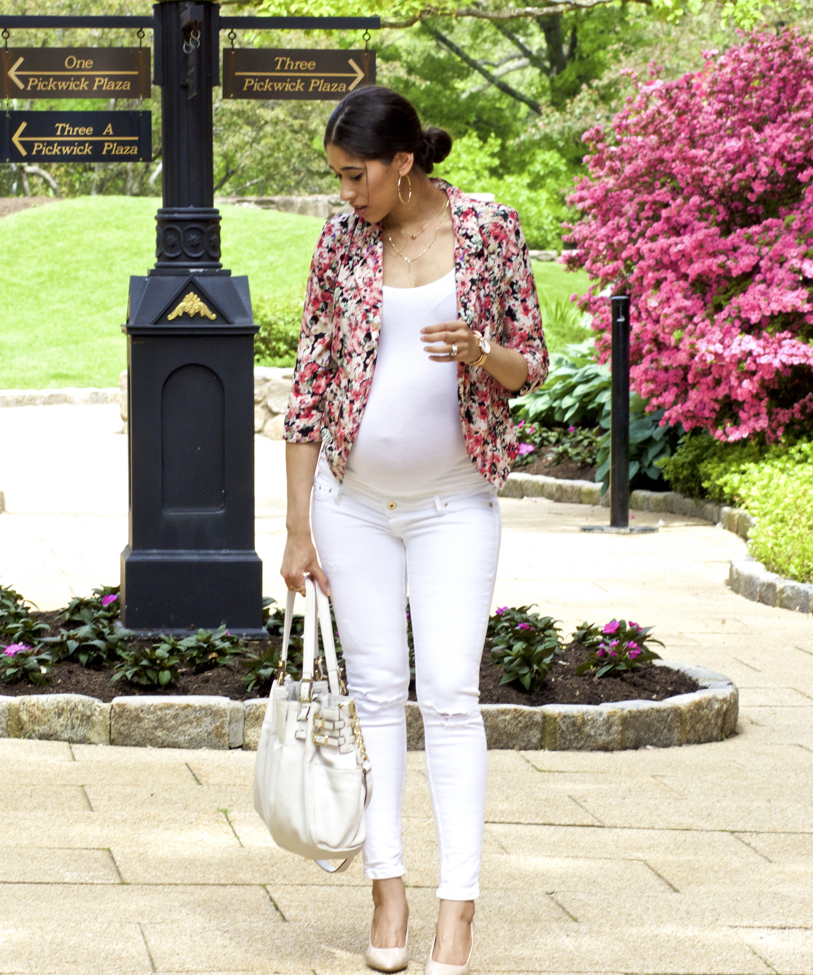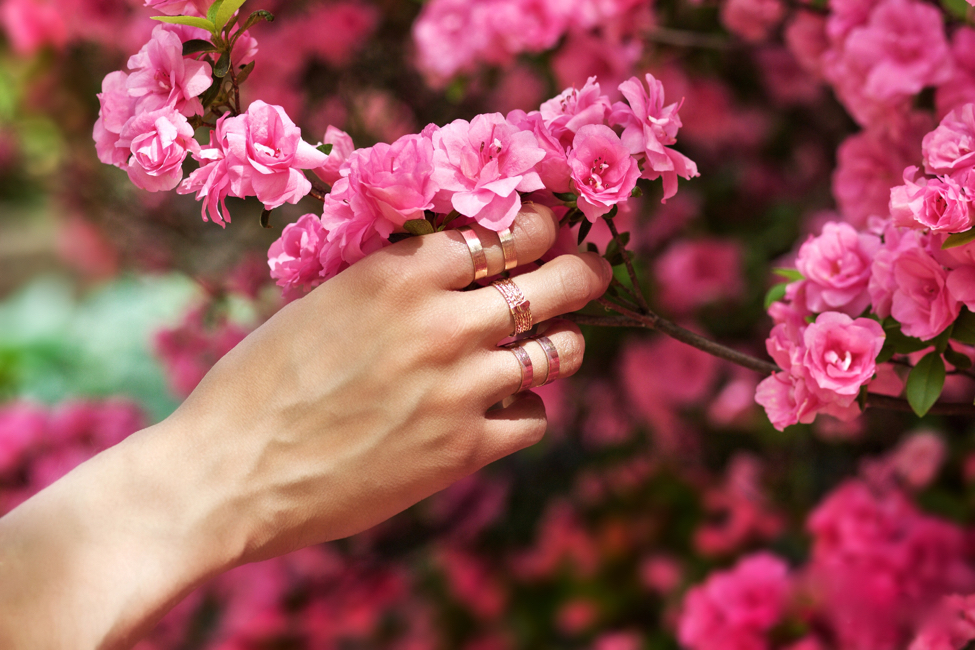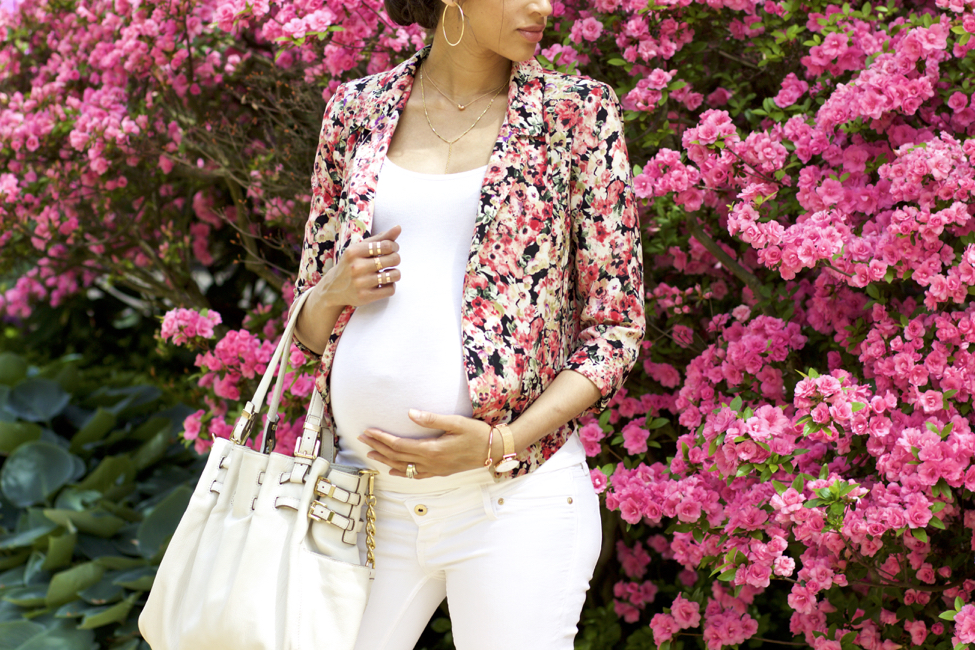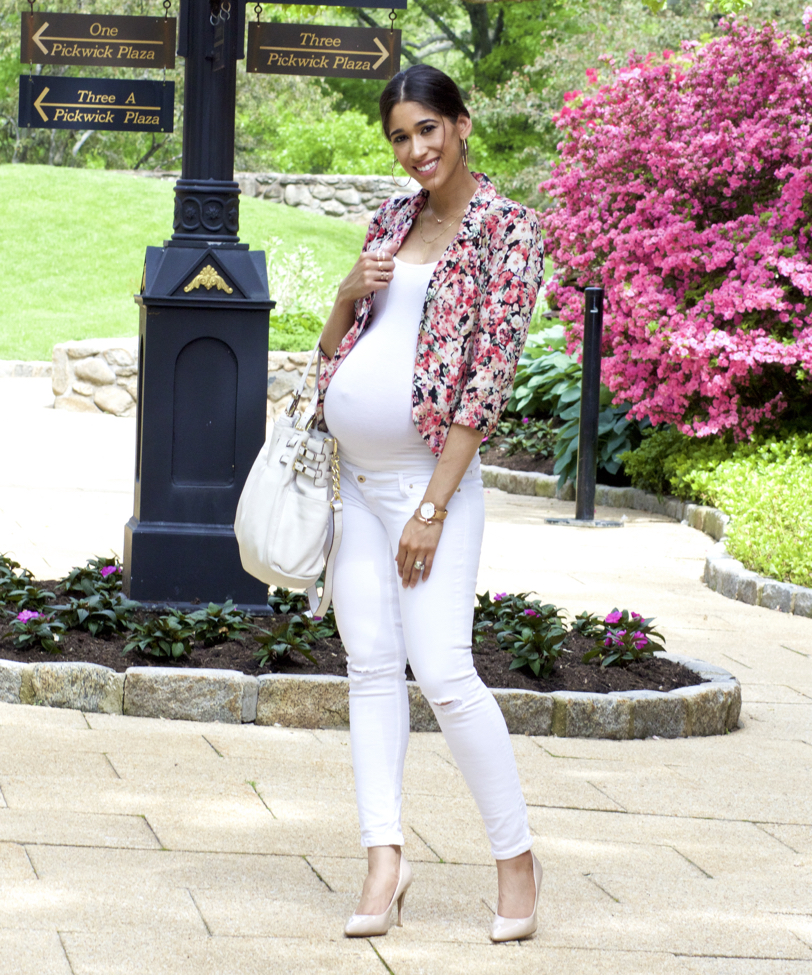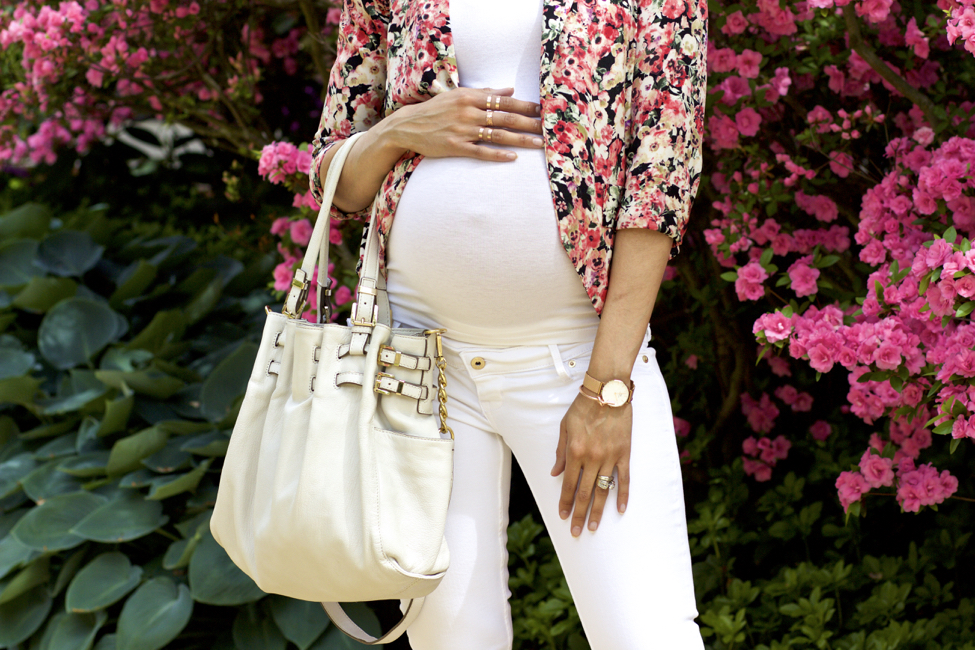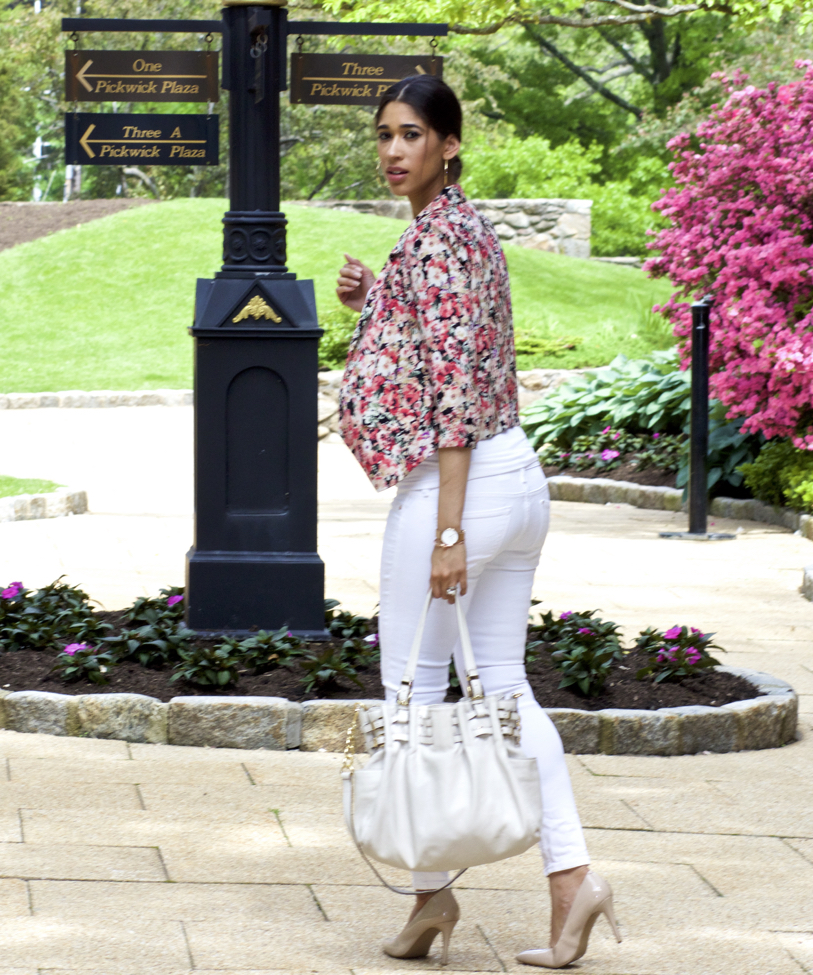 Blazer: Similar | Tank: Similar | Jeans (non-maternity here) | Stacked Set & Buckle Ring c/o | Heart Necklace c/o |Y-Nekclace c/o | Watch c/o use code STYLECONTOUR for 15% off your order | Bracelet c/o | Bag: Michael Kors (similar) | Shoes: BCBGeneration (similar)
---

---
Happy Wednesday my gorgeous friends!
White, all white, white outfit, this can all put panic in the minds and faces of many of us, lol, and I totally understand why because it can be quite intimidating to wear white for a number of reasons.
First, white jeans have the reputation of being unflattering, showing every little lump, bump, and valley on our legs and butt and what woman likes that? NONE! Regardless of your body shape or size, often times white jeans have a different fit and feel than regular blue denim because of the dye used, which makes finding the perfect pair that much more difficult, as if finding regular blue jeans that fit amazing isn't hard enough! The challenge doesn't often stop with jeans either, any other form of white clothing can be challenge because if not lined, we risk showing everything underneath, so many of us resolve to just skipping white all together.
Another reason many of us dread white is because well, it highlights everything and even if we find a piece of clothing that isn't see through and fits right, it brings attention to the entire area worn. There's no safety, unlike our beloved black.
With all that said, I still encourage you to have high hopes in finding the right white pieces and seek to wear them! It's such a light and refreshing canvas to work with, allowing any and every print or color to truly pop and it instantly brightens the skin, too! The key to feeling confident in white is paying close attention to the style, fit, and other elements you add into your outfit to tie everything together.
For example, if you're self conscious about your legs, you most likely would feel tempted to avoid white jeans. This shouldn't be so! I challenge you to find a pair that fits your body well and style it with tops and/or blazers that will also add interest to your outfit, balancing out where attention is being placed.
If the opposite is true for you and your self conscious about your midsection, babe, try wearing a light and airy white blouse that's not tight, giving off all the chic vibes, like this one. You see, there are options ;)
For a full break down on how wear all white for your body shape, check out this blog post from the archives, as well as this post on selecting a flattering LWD (little white dress) for your body shape as well.
Today, I decided to add my favorite floral printed blazer to dress up the outfit a bit more and exude spring and added in a blend of rose gold and gold accessories for a soft touch of daytime glam.
I hope this post inspired you to embrace white this summer! You may need to start off slow with just a white top or pair of jeans and as you begin to feel more comfortable, you can try a full on white outfit ;)
Thanks so much for stopping by, my dear friends; I hope your day is as amazing as YOU!
*I've linked up with Straight A Style, Rosy Outlook, & Elegance and Mommyhood. Stop by their blogs to join the linkup, too!
XO,