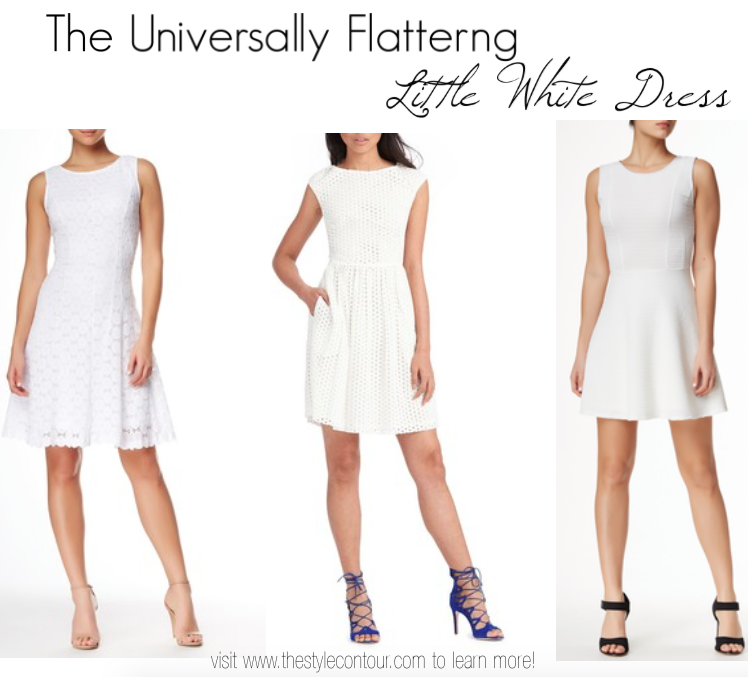 Happy Tuesday, beauties!
As we all know, there are basics that are needed in every woman's wardrobe, making them essentials and today, I'm sharing with you what to look for in selecting the most figure flattering option for one of those essentials, the little white dress (LWD)! Just with the LBD and LBJ, this piece is extremely versatile, especially during the spring and summer months, just don't wear it at a wedding, unless you are the bride, #goodvibesonly! What I've learned through personal experience and frustration, if I may add, is that brand stores don't tend to carry a wide enough selection of white dress styles, which can make finding the perfect one that much more challenging than with its contrasted counterpart. So, I want to share one particular style that will make the whole process that much easier for you, I'm confident of it! This particular shape and style will flatter every.single.body shape and there's only two things you need to look for: a crew neckline and an a-line cut. An a-line hem will look like the shape of an a, meaning that it will have a very slight flare just under the widest part of the hips and is generally found in fit and flare or shift dress styles. The overall style is feminine and figure flattering, all of which are my favorite and only F words, haha!
I hope you found this post helpful in selecting the best no fuss LWD option out there. Hopefully this will make ordering online a much easier option for you, if you just can't seem to find what you're looking for in stores or will at least give you an idea of what to look for, so you don't waist time trying on a bunch of styles that just don't fit right! Thanks so much for stopping by, my beautiful friends, and I hope your day is as fabulous as YOU!
SHOP THE LWD!

XO,