Happy Tuesday, my dear friends!
With spring weather somewhere on the horizon, at least for those of us on the East Coast, who've yet to really experience true spring weather, I thought I'd share some LBJ (Little Black Jumpsuit) styles that I'd suggest for your body shape. I really love how jumpsuits have become a modern supplement to wearing a LBD (Little Black Dress). You'd be able to wear them in the same settings and scenarios you would a LBD, such as a wedding; you're guaranteed to look stylish and classy. Plus, they're great options for those of you who don't like wearing dresses. If you do enjoy wearing a dress, on the other hand, be sure to check out my "Tips to Find the Best LBD for Your Body Shape" guide. Please note that you can apply the same tips to various styles of jumpsuits, these tips are not limited to black OR solid colors.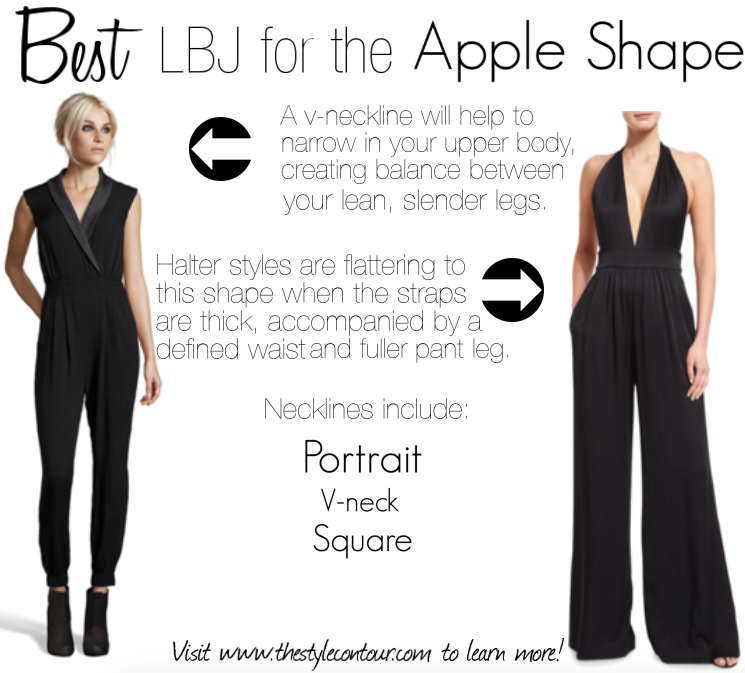 Now, I know what some of you may be thinking, especially those of you who have been following my blog for some time now, "I thought halter styles aren't flattering for apple shapes?" The answer is yes and no, which is why I'm always sharing new content and ways of styling specific pieces for the different body shapes because there's always an exception to the "rule" and such is the case with the LBJ. Since this is a one piece, which includes a pant, there is an option for a fuller pant leg and more details within the piece that can make it work with the apple shape. When the straps are thick, it further emphasizes the narrowing effect of the accompanying v-neck, allowing one to embrace her fuller chest if she so chooses, in a more figure flattering way. What makes it even more flattering is when the suit has a distinguished waistline, as the one above to the right, which will create the appearance of a more refined waist area, which tapers in. When the pant legs are wider, it helps to visually balance out the more exposed shoulder and upper chest area.
When going for less exposure, like the one pictured on the left, with a more concealed shoulder area, the pant leg should then be more slim, as it will flatter your naturally slender legs. You'll also notice that the waist area tapers in, the hip area is more relaxed and then tapers in again around the thighs down. All of these contours within the fabric create the illusion of curves where this shape generally lacks them, which is in the waist and hips.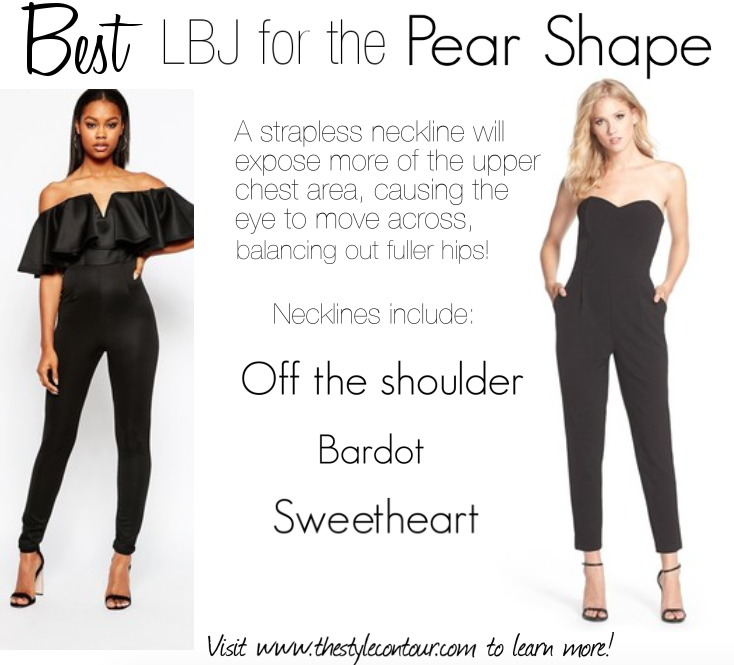 If you wish to create a more sculpted effect to the bust line, i.e. create the illusion of a fuller chest, I'd suggest you opt for a sweetheart neckline, as opposed to a basic square. The heart slope outlines the natural contours of the breast and causes it to appear larger. If you just simply want to create dimension to the entire upper portion, without focusing primarily on the bust, then I'd suggest a romantic ruffle off the shoulder style, like the one shown on the left.
I'd suggest you avoid styles that have thick belts that would tie and fall around the hip area, which will create an effect that will not flatter the hips. Keep the hip area clean and sleek, free from additional fabric; leave all the added detail for the waist up! Both of the suits included in the set above have skinny pant legs, this will help to showcase and embrace your lower curves with the one piece, which works in this case, since there's added detail on top to balance out the bottom. I would not suggest a style that has both fullness on the top and bottom, as it will overwhelm your entire shape.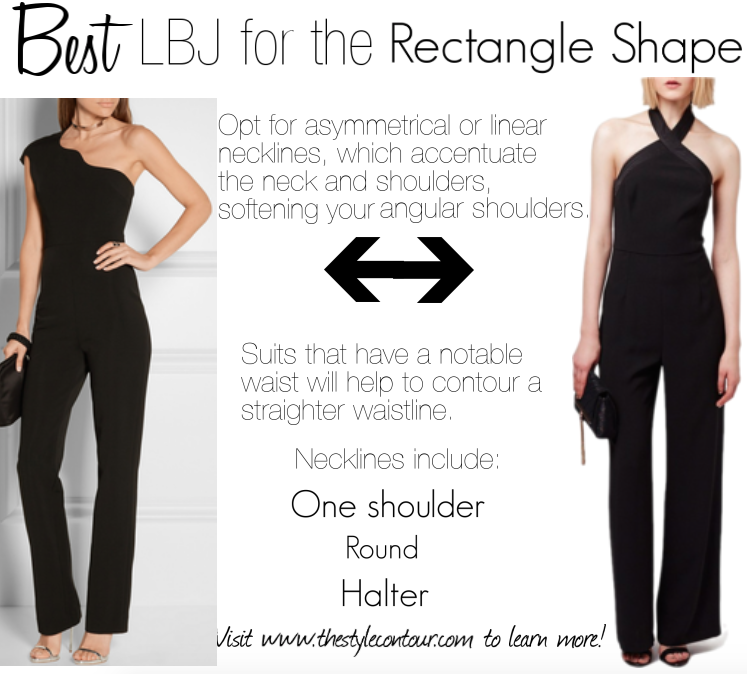 This shape can experiment with an array of styles, however, keep in mind that square necklines will further enhance the sharper angles of the chest and shoulder area. If you happen to really love a suit that has this neckline, then I'd suggest adding a statement collar necklace. The slopes in the circular style of the piece, will add a flattering contrast to the neckline. In terms of pant legs, straighter styles tend to flatter this shape best, as opposed to exaggerated legs, which can appear overwhelming to the leg area for this particular shape.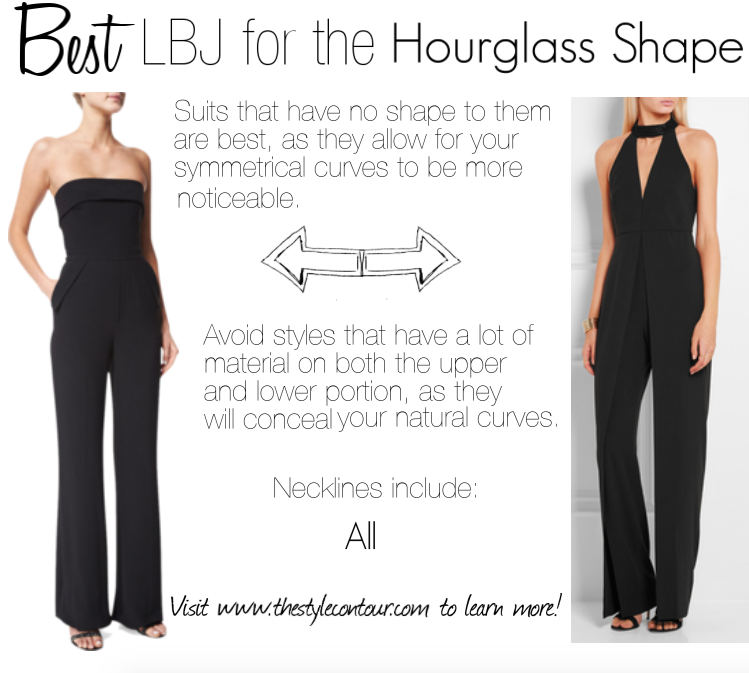 You can, of course, wear other styles of jumpsuits that have either more detailed top or lower portions, however, I'd suggest you select one area where you'd choose to enhance or play up, otherwise your shape will get lost in all of the access fabric and details.
As you can see, I shared jumpsuits that were free of embellishes and other details apart from the fabric because as with a LBD, you'd want to get as much wear out of your piece, and the more added details, the less you're able to experiment with and wear it. Although I did include a ruffled off the shoulder style for the pear shape, you can still wear an a-line maxi skirt over the pant portion to create a "dress", creating an entirely different look, which can also be done with much of the other styles I showed; try layering a button up shirt underneath the suit for work or a more causal setting. As always, these are only suggestions, at the end of the day, I desire that you wear what YOU feel most comfortable and confident in!
Do you have any special occasions that you'll be attending this season? Thanks so much for stopping by my dear friends and I hope your day is as fabulous as YOU!
XO,