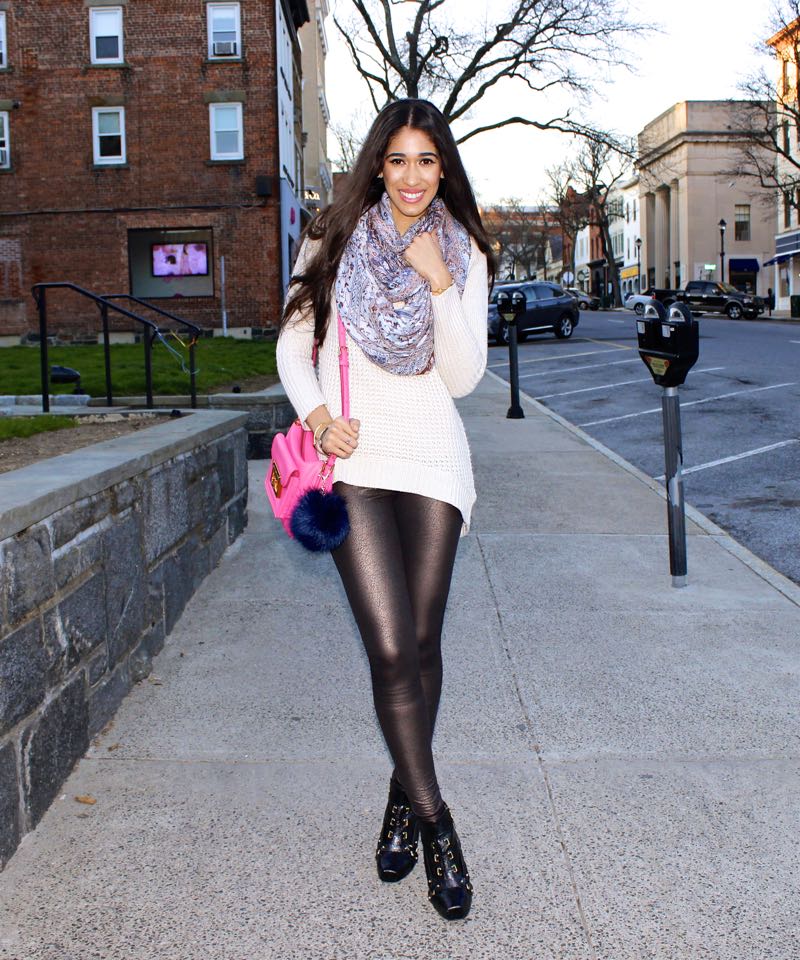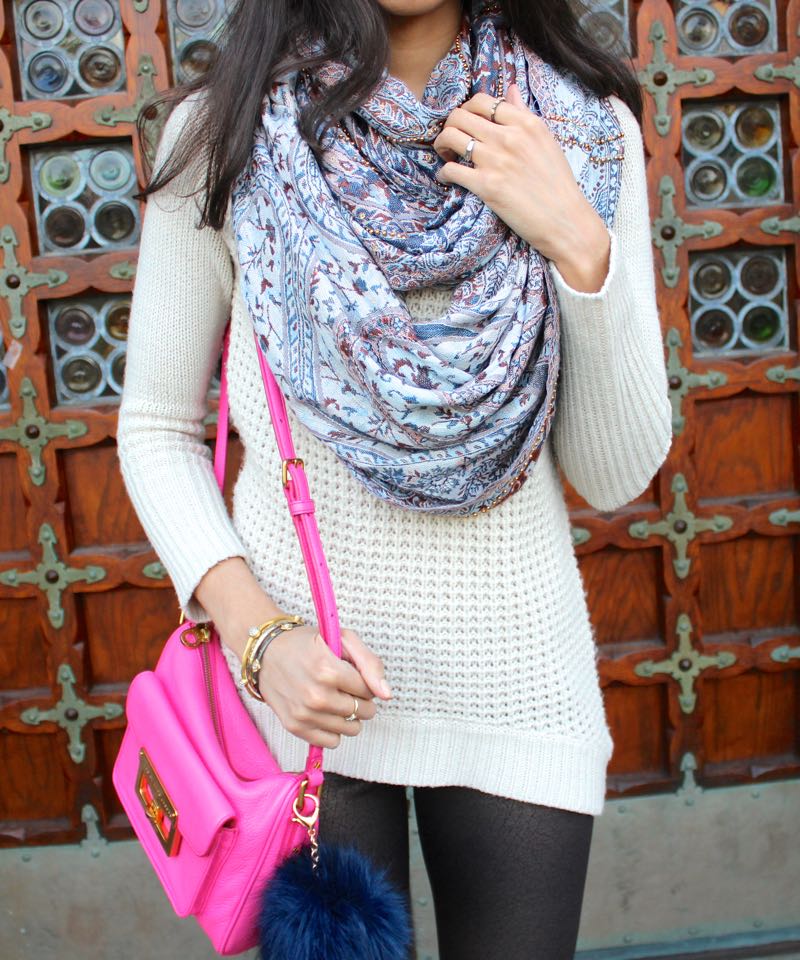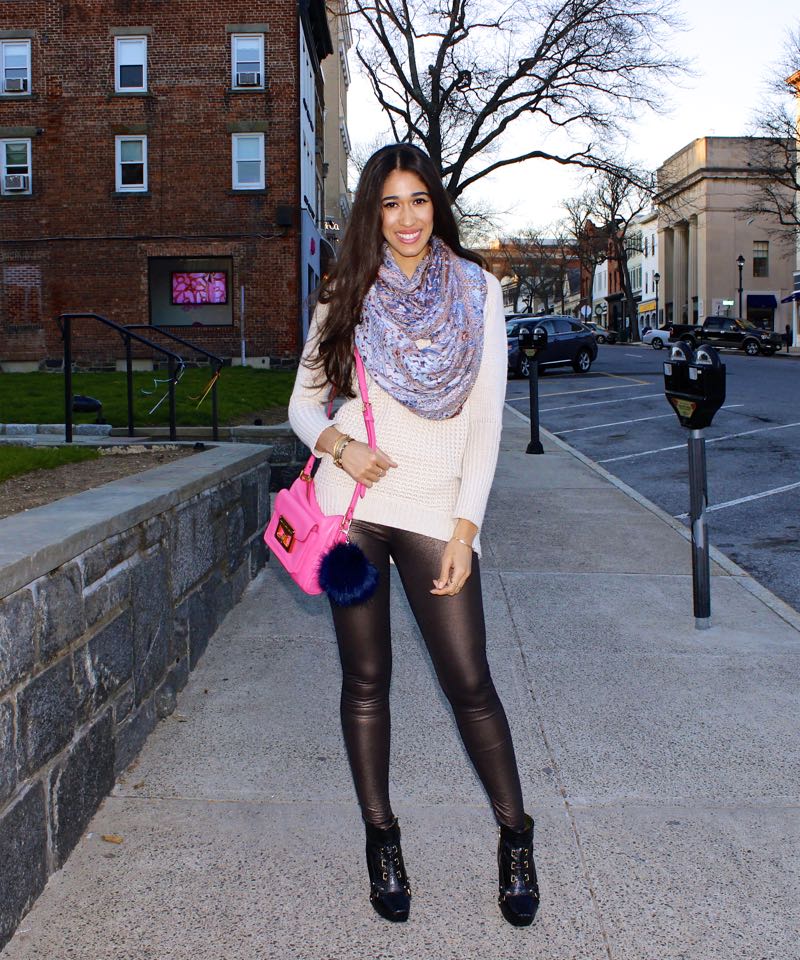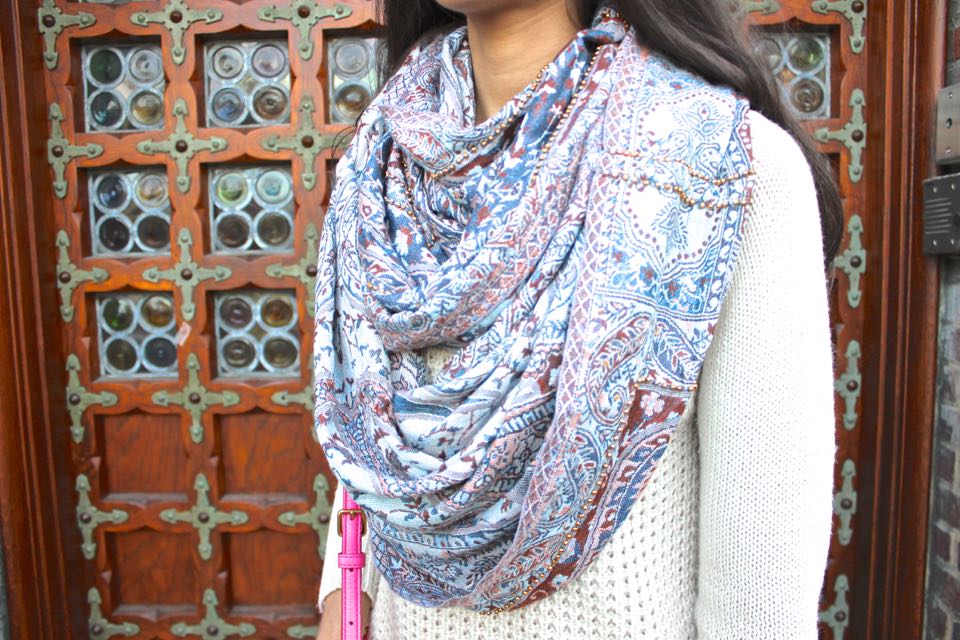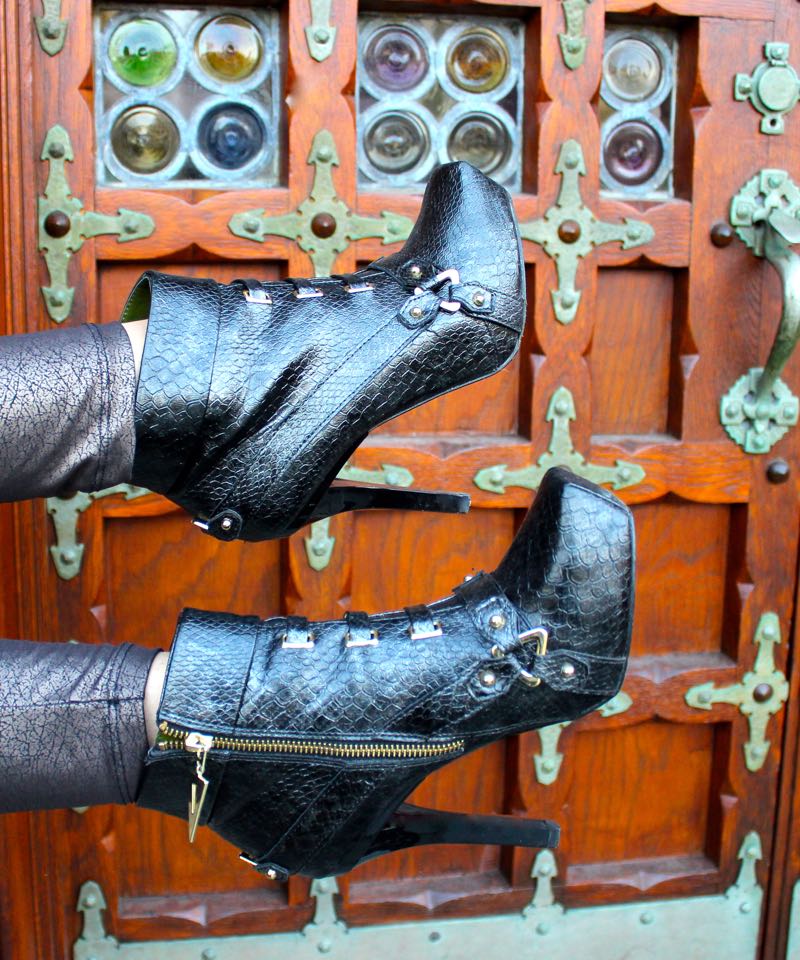 GET THE LOOK!

Jumper: c/o RD Style (similar HERE) // Scarf: Marshalls // Leggings: Nordstrom Rack (similar HERE) // Purse: Marc Jacos (similar HERE) // Faux Fur Pom Pom: Marshalls (similar HERE) // Bracelets: c/o Athra Luxe (HERE) & c/o Joey J. Jewelry (HERE) // Boots: Christian Siriano for Payless (similar ON SALE HERE)

Happy Monday, beauties!
I hope you all had a great weekend! Mine was a bit busier than I honestly would've liked because I did a lot of tedious errands and things around and for the house, but they had to get done; there's always next weekend, right?! You all know how much I love to relax and just chill. My definition of chill is doing some fun things, but with no pressure at all, at my own pace. During the week, I follow a very set schedule that during the weekends, I like to really unwind and enjoy every minute of not having to rush. Any of you like that as well?
Anyway, today's look features one of my favorite leggings that has a wet finish and in a copper color, a combination I find to be quite unique, which is why I was drawn to them. I absolutely love leggings that have a wet or leather finish in colors other than black because they're a bit more hard to come by, which makes them so unique. Don't get me wrong, I love black leather leggings (I wore a pair in Friday's post) and I have more pairs than I probably really need, haha, but I love a bit of the unexpected.
To down play the dressier feel of the leggings, I added some cozy pieces, since we've been having a taste of spring these past couple of days (finally) in New York, so the weather has been a bit chilly. I love this particular jumper because it's a high low style, making it perfect to wear with leggings! A style tip I'd suggest is when you don't really want to put too much thought and time in your look, say you're in rush, reach for a pair of coated leggings and jumper and you're guaranteed to look chic and polished with little to know effort ;) I added this beaded infinity paisley scarf, which was made in India, and it's my all time favorite scarf because of the beaded details. I highly suggest that whenever you're in TjMaxx or Marshalls you take a peek in the scarf section because they often have really unique scarves that are handmade in India with such gorgeous, intricate details for a great bargain; I know for a fact I didn't pay more than $30 for this scarf!
While the scarf and jumper add a cozy element to the look, I completed the rest with these pair of blue and gold accented ankle boots, which I felt added a hint of edginess that compliments the wet leggings. To tie in with the color of the boots and scarf, I added a faux fur blue pom pom key chain to a bubblegum pink cross body purse. I loved the way the brassy accents on the purse looked against the copper leggings, as well as the unexpected addition of the pink, which is why I added it.
I hope you found some inspiration in this look, my dear and beautiful friends! Thanks so much for stopping by and I hope your day is as beautiful as YOU!
XO,