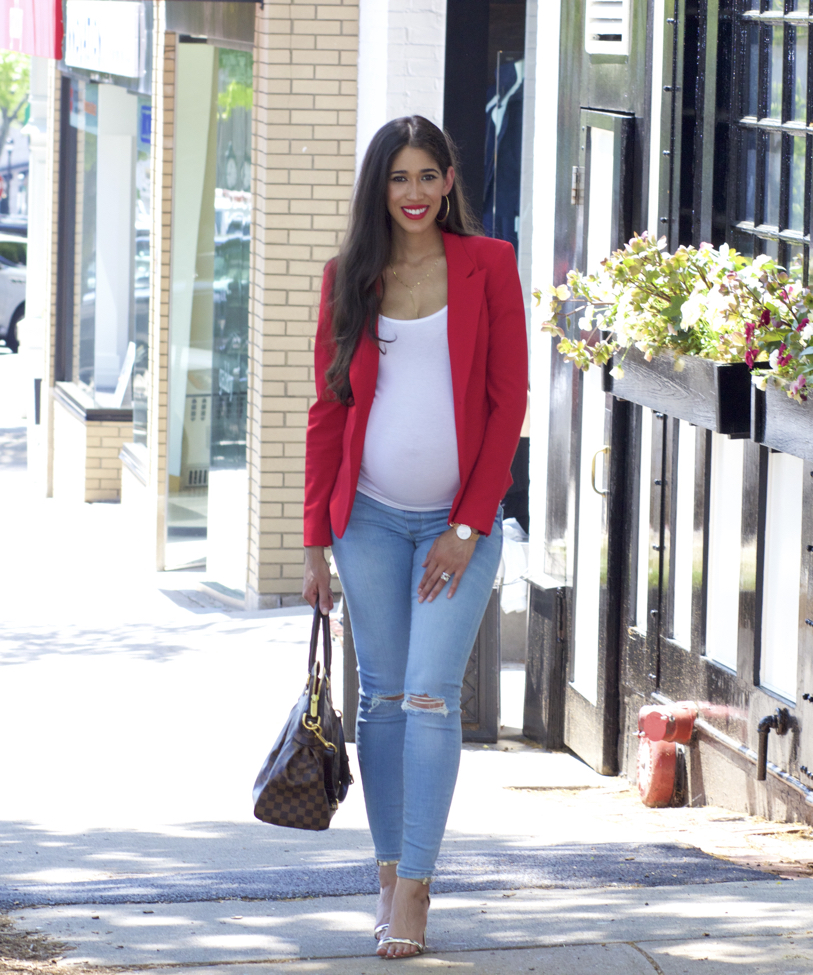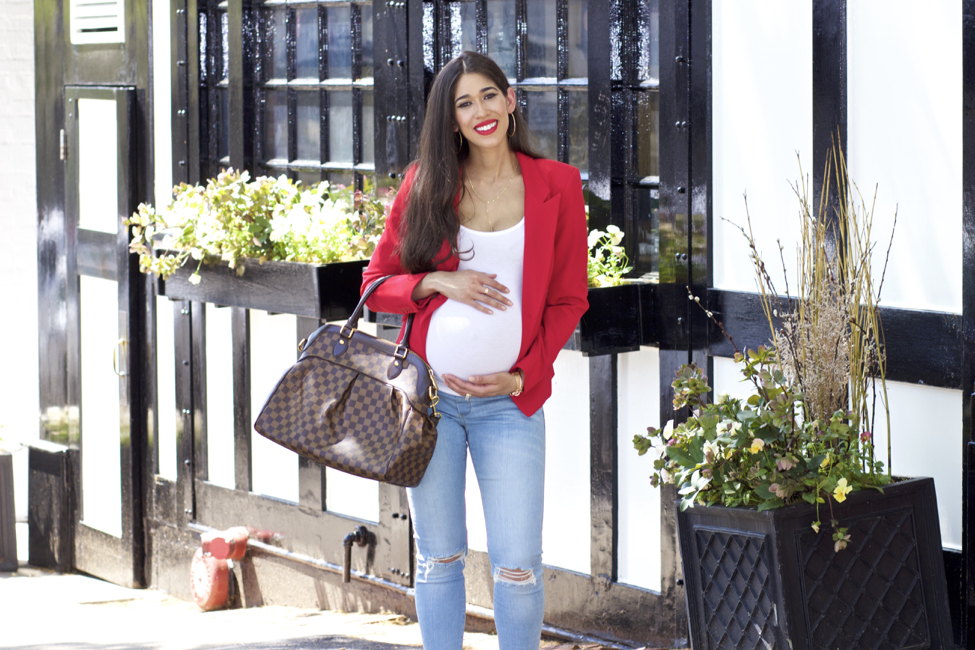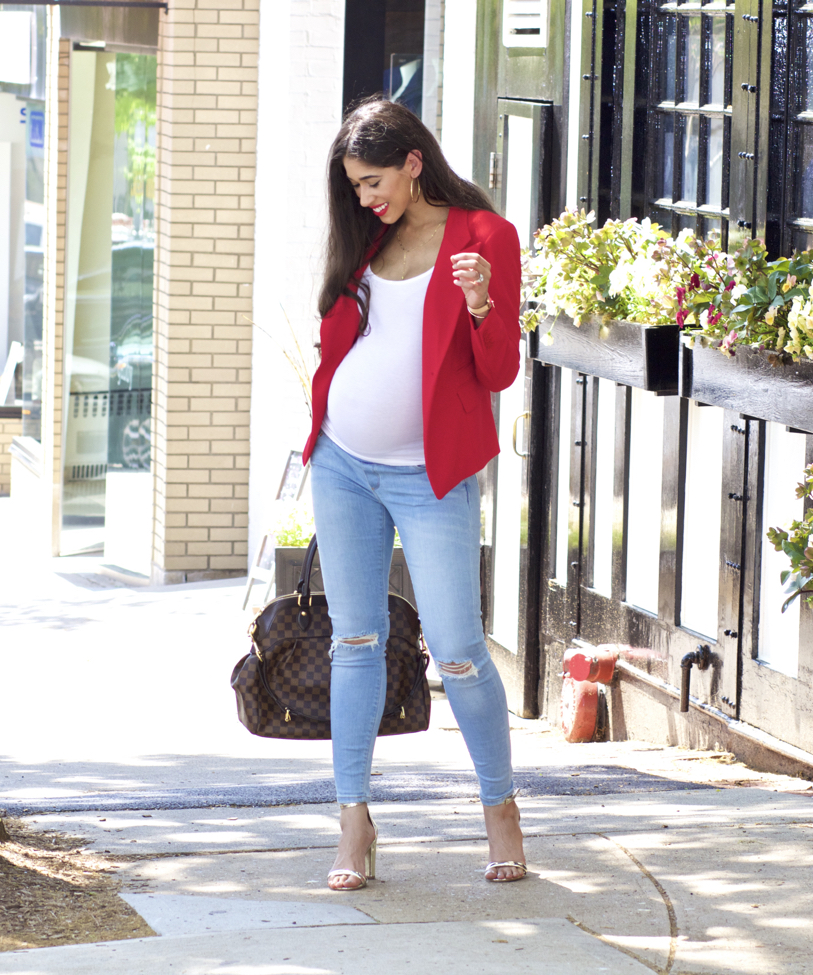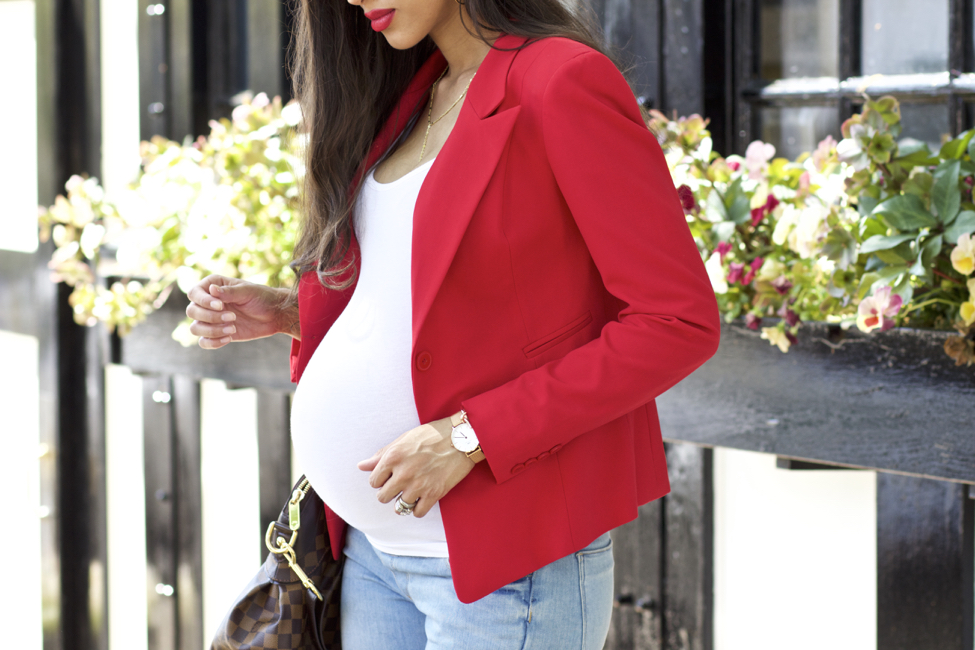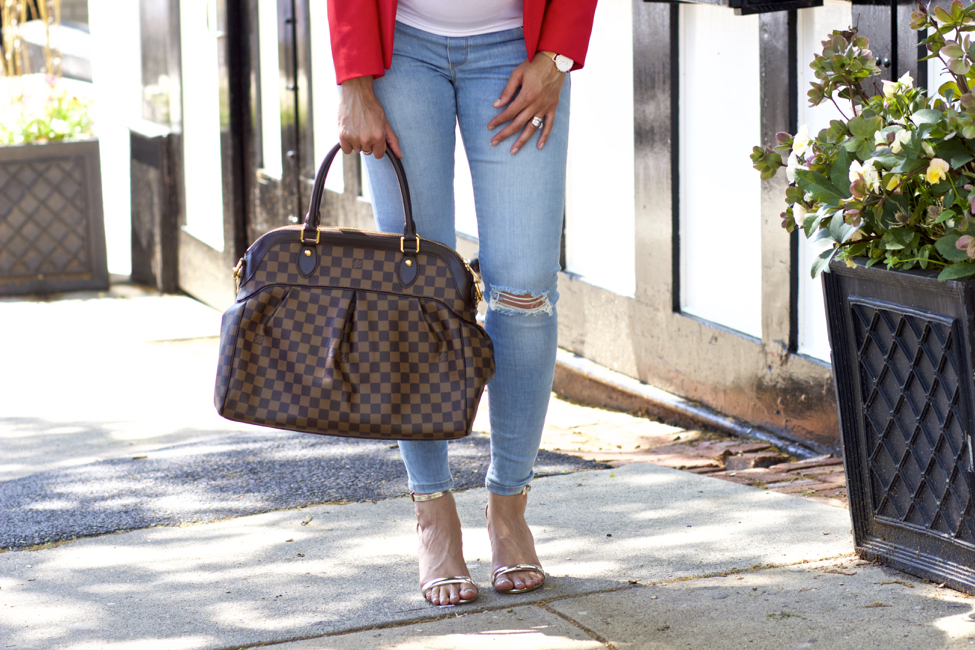 Blazer: New York & Company (similar) | Tank: Similar | Jeans: Maternity (non-maternity) | Necklace c/o | Watch c/o use code STYLECONTOUR for 15% off | Sandals: Aldo (similar) | Purse: Louis Vuitton Trevi GM
---

---
Happy Hump Day my dear friends!
Yesterday we talked about pink, today is all about red! You know, when I was in high school red was my favorite color, I literally had everything in the color. You know how some are with black, often asking, "does it come in black?" Well, I always asked, "does it come in red?" I loved it. Then I hit college and out went all my red clothing, as my style began to change. Fast forward to now and would you believe that I've only have a few pieces in the vibrant color in my wardrobe?! Yup! That's certainly going to change though as time goes on. I think the reason for my limited selection is that I'm quite picky with the pieces that are in this vibrant color because well, it's vibrant! When I know something has the potential to be eye catching in either color or design, I tend to be very particular.
As the temps continue to heighten, I think red is the perfect color to embrace. I mean, we have two patriotic holidays that encourage the use of it, Memorial Day and the 4th of July, which by the way is Baby A's due date, would you believe that?! And so, we tend to see more pieces in the color as we get closer and closer to those holidays, with Memorial Day, which is next week. That said, there are two particular shades of red that are best worn for summer because they exude that fire-y vibe and that's true red, with no undertones at all, and orang-y red, like my blazer.
Cooler red shades are beautiful and of course can be worn all year long, but they don't have that much of a powerful impact as the other two, so I suggest opting for a true red shade if you have a cool undertone, which the blue red shades tend to flatter most and work best with silver jewelry. You can also wear those with an orange undertone, but I'd suggest pairing them with white to help visually brighten the skin.
Are YOU a lover of red and if so, what's your favorite red piece in your wardrobe?
Thanks so much for stopping by, my beautiful friends, and I hope your day is as amazing as you!
*I've linked up with Straight A Style, Rosy Outlook, & Doused in Pink so be sure to stop by their blogs to join their weekly linkups!*
XO,