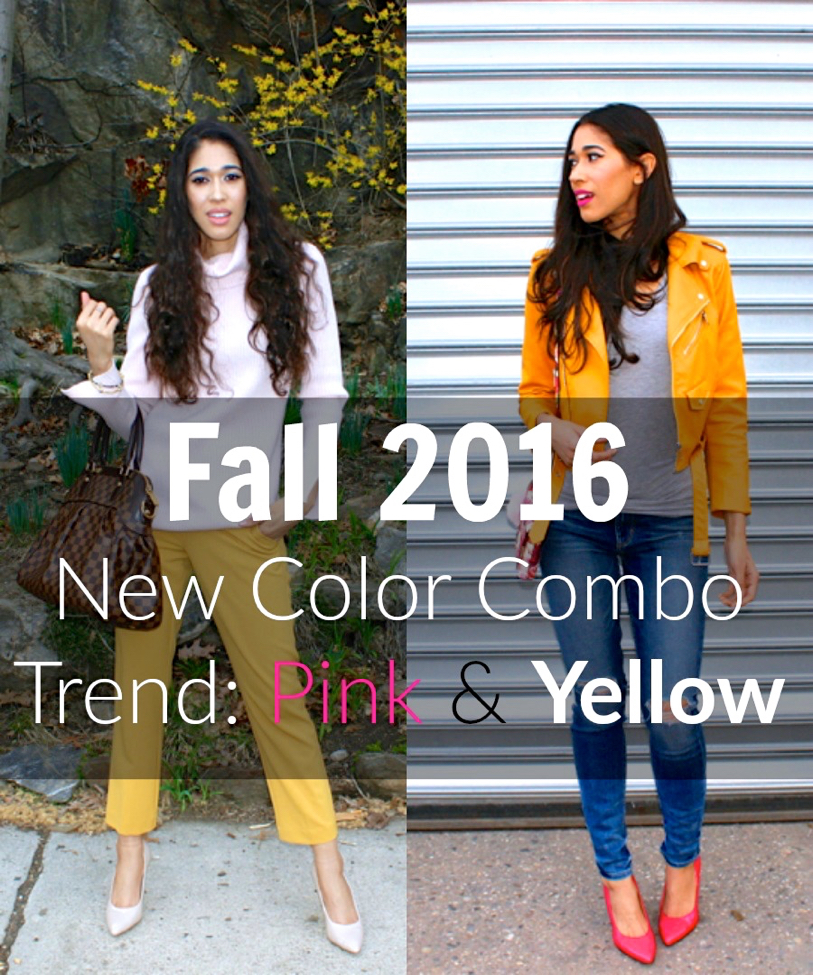 GET THE LOOK!

Happy Tuesday, friends!
As we're nearing the start of September (my birthday month, woohoo!) we're beginning to look towards fall fashion inspiration. Perhaps some of you may have already started, like me. I can't help it, it's my favorite season! I often look to Pinterest and online magazine sites for my source of inspiration on what's trending, to see if anything resonates with my personal taste and style.
An on going theme I've noticed for the season, is that all things pink seems to be dominating, in terms of color trends, and there has been one color in particular that I've been seeing combined with it quite a bit and that's yellow!
I know, I know, some of you may be tilting your head a bit or just looking blankly into the screen out of mere confusion. Pink and yellow, huh? An unlikely duo, but one that just somehow works!
If you remember, back in March I first experimented with the combination myself, without any knowledge of it being a trend for this fall at the time. I'm not gunna lie, I feel pretty awesome about that, haha. Then, I tried it again a month later, but that time around, with a more vibrant pink hue.
I honestly think this combination is one that's suitable for all skin tones, simply because you don't have to restrict yourself to wearing one specific shade of the two, wear the hues that works best for YOU (that totally unintentionally rhymed, haha) !
For example, if you're cool toned and feel as though yellow washes you out, try going for a darker mustard shade, like the color of my jacket in the second look. Mustard yellow has a cool, bluish undertone that will be a perfect match for yours. Or, you could opt for a pink top and wear the true yellow color on the bottom, the contrast won't be as noticeable, since it's furthest from your face.
If you have warm undertones, various shades of yellow can be flattering, including the lighter ones. Don't be hesitant to wear a light yellow number because it feels too springy. Get creative and add fall, warmer pieces into your look to enhance the seasonal vibe, like a pink turtleneck sweater, like I did in the first look.
Okay, so say you're not really feeling the color pink, as talked about in this post, but love the shade we discussed there. Guess what?! It'll totally work with yellow, too! I'm actually pretty excited to wear them both this fall and hopefully share some other color combinations with it throughout the season!
I'm not an advocate of following every single trend that hits the runway, but I'm all for collecting as much inspiration as possible and trying something new as much as I can, while making it work for ME. My body shape, my height, my skin tone, ME! I think by trying new styles that feel perhaps a little outside the norm for us, combined with other elements that are 100% reflective of our style and aesthetic, can make for a unique and interesting outfit each time and help prevent us from feeling as though we're in a style rut. Who's been there before? I know I have!
Is this trending color combo for you or is it one you'll pass on? Hey, if it's not your cup of tea, that's 100% okay, beautiful! But do let me know what color combinations you love to wear come fall, as well as those you like the idea of, but perhaps never tried; let's inspire each other!
Thanks so much for stopping by, my dear friends, and I hope your day is as amazing as YOU!
XO,