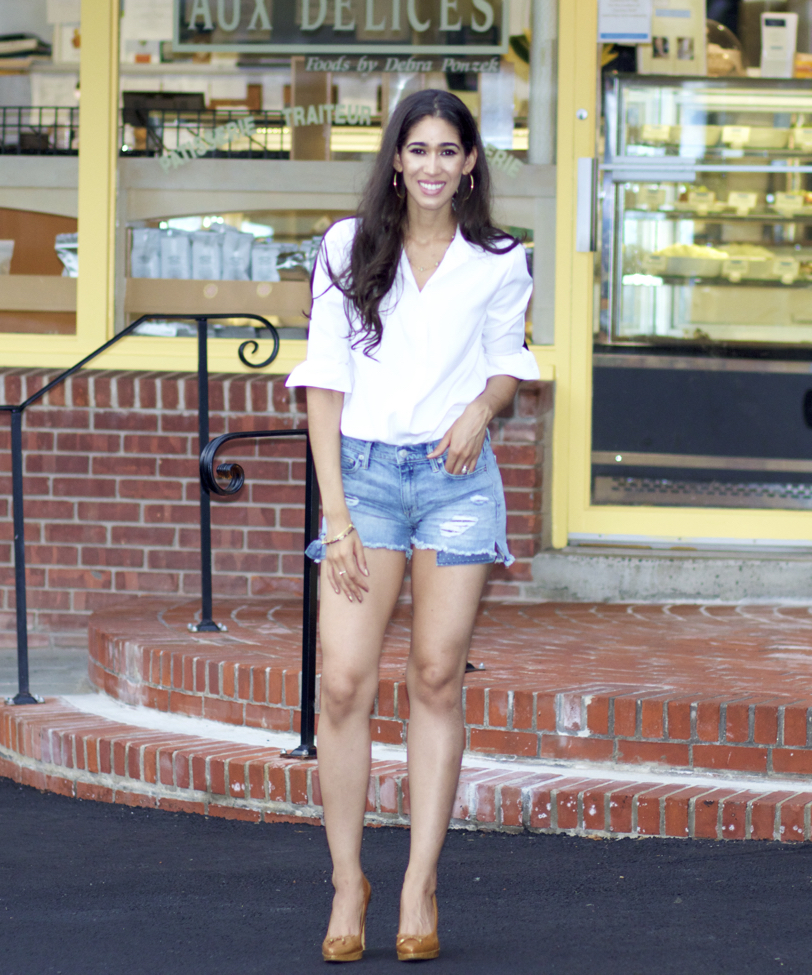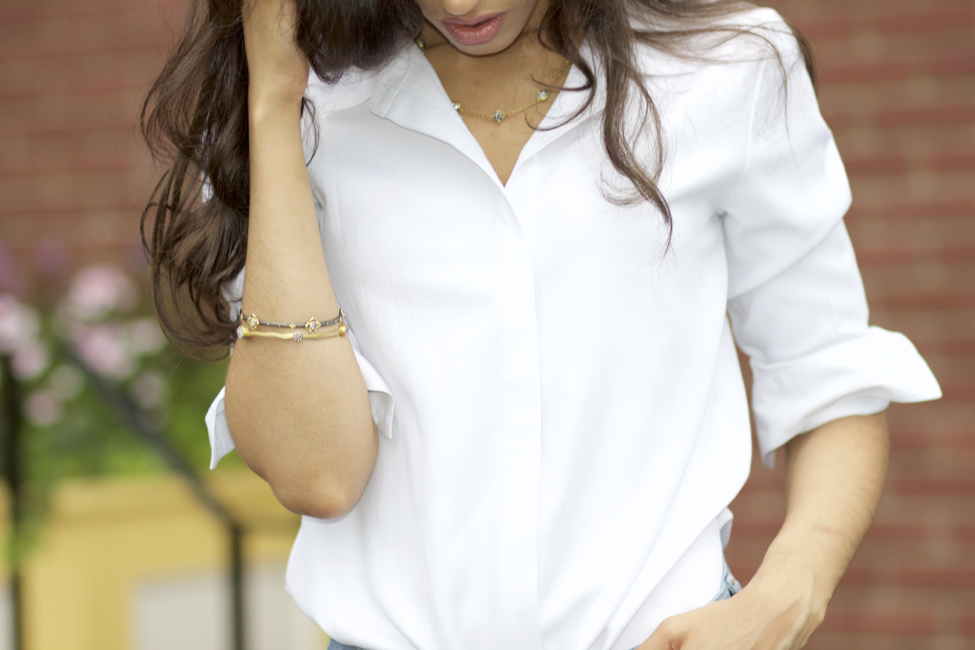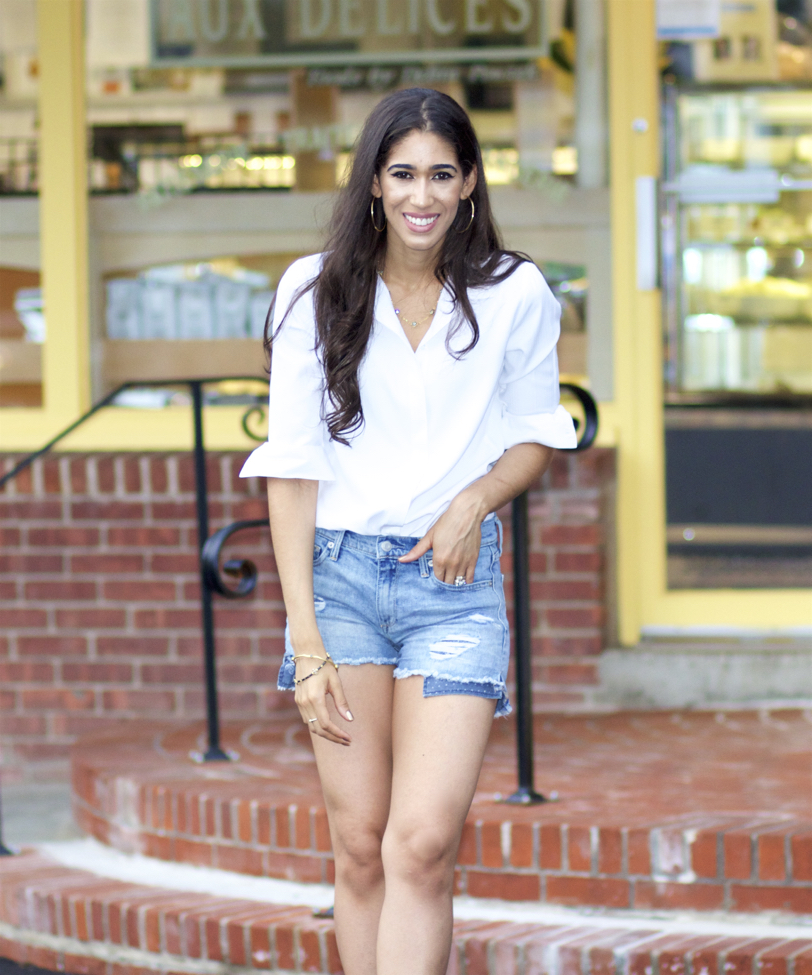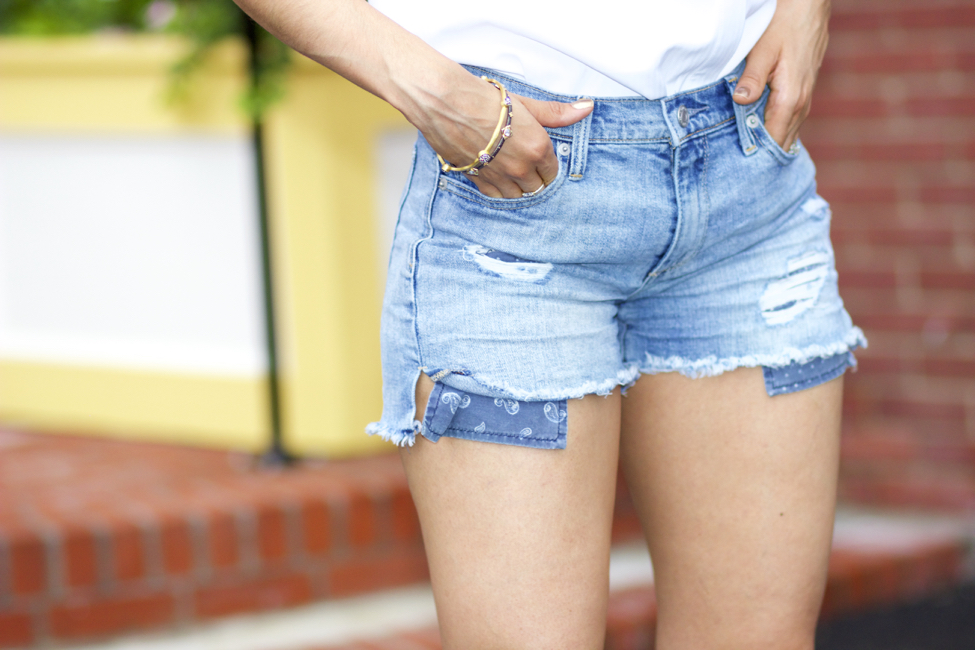 GET THE LOOK!
Shirt: Nordstrom (similar 40% off HERE) // Necklace: c/o Athra Luxe (HERE) // Shorts: GAP (similar ON SALE HERE) // Bracelets: c/o Athra Luxe & Joey J. Jewelry (HERE & HERE) // Shoes: Nine West (similar HERE)

Happy Hump Day, my dear friends!
I hope you're all having a great week so far! I truly believe that regardless of personal style, age, size, and shape, there are certain pieces that should be found in every woman's wardrobe, one of which is the classic white button down shirt.
The reason is that you can do SO much with it and it instantly adds a polished, put together feel to the most simplest of outfits, like the one I'm wearing today. Let's face it, I've been pretty basic this whole summer because when it's hot and humid, less is really more, don't you agree?
Since we'll be transitioning into fall shortly, a white shirt makes for such a great layering piece. You can extend the wear of some of your favorite summer dresses by adding it underneath or even layering it under a crop top, paired with high waisted bottoms and some ankle boots. Or, if you wish to create some fall time, grungy vibes (I love grunge come fall!) then simply tie a flannel shirt around your waist and throw on a pair of Doc Martens (I really want a pair!) or any other biker boot you have in your closet.
If you don't own at least one button up shirt, I highly suggest you add one or two. You don't have to spend a lot and quite often basic pieces can be found on the sale rack at some of your favorite stores, so you can snag a great one for such an awesome price! If you do have one, depending on how frequently you wear yours, you may want to add a couple more because sometimes we just don't have the time to stop by the cleaners during a busy week, am I right!?
What's one of your favorite ways to style a white button down shirt? Thanks so much for stopping by my beautiful friends and I hope you're having the best day so far!
XO,