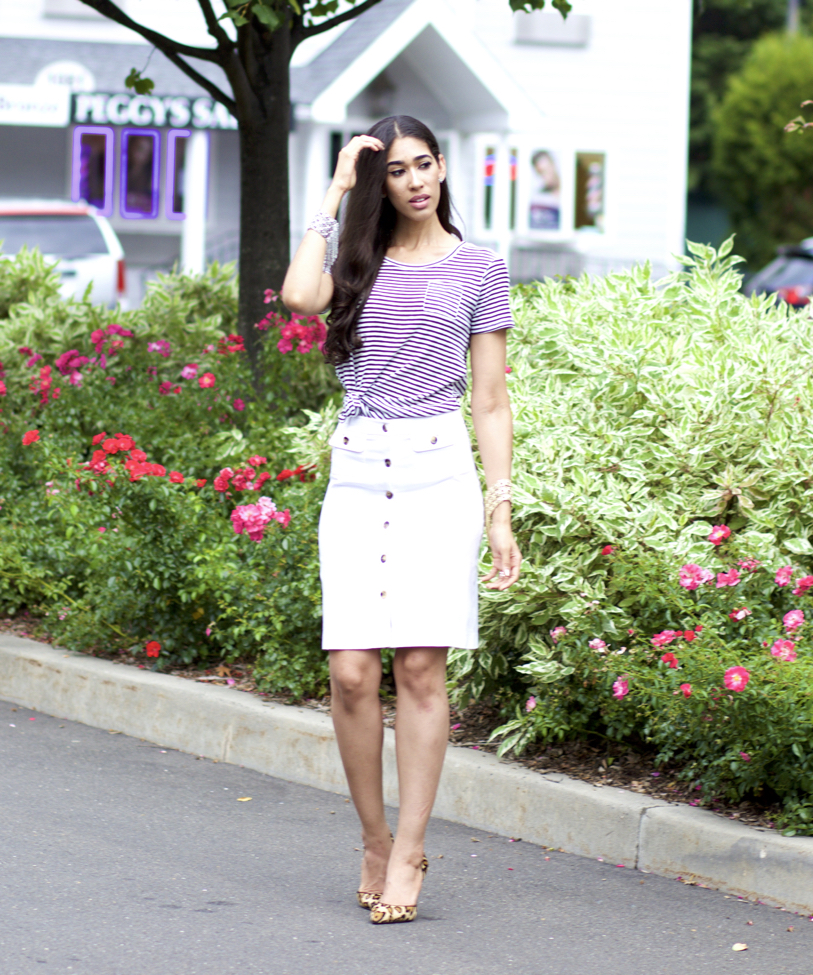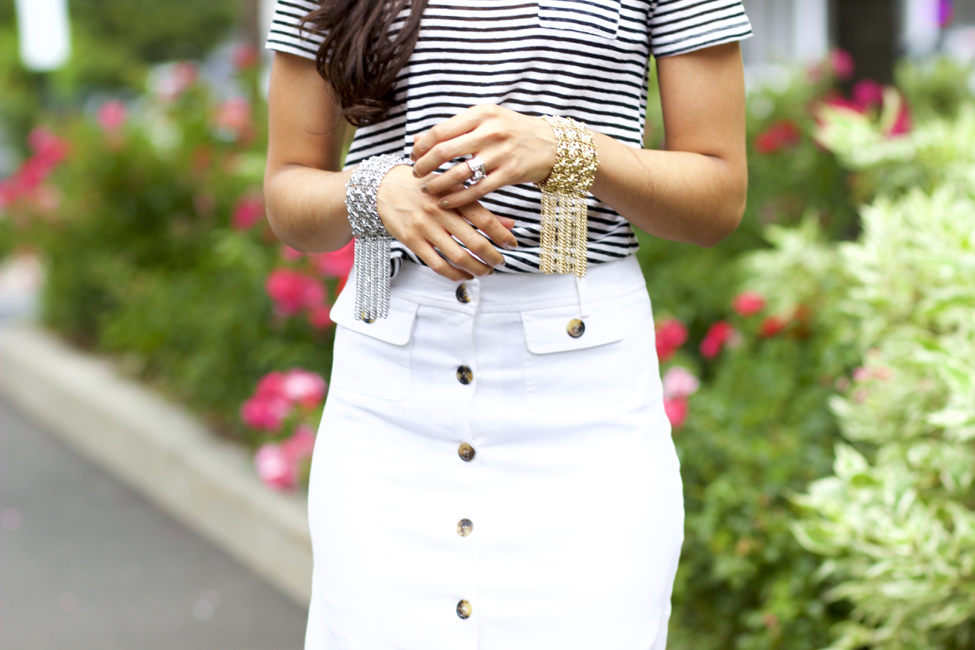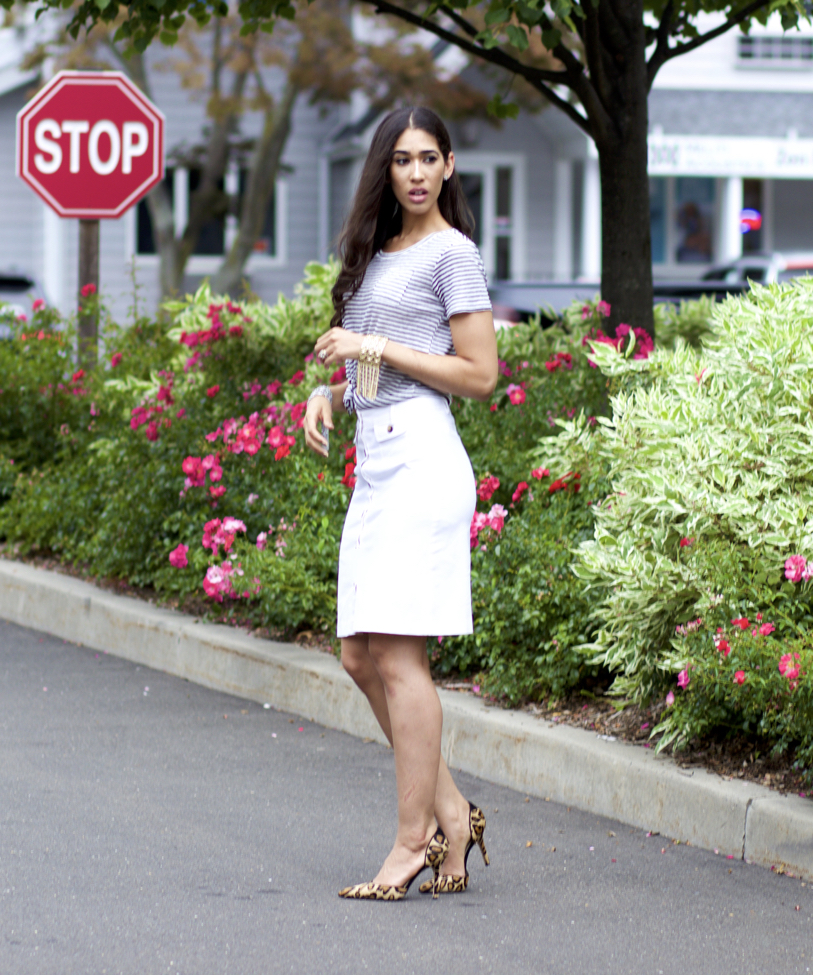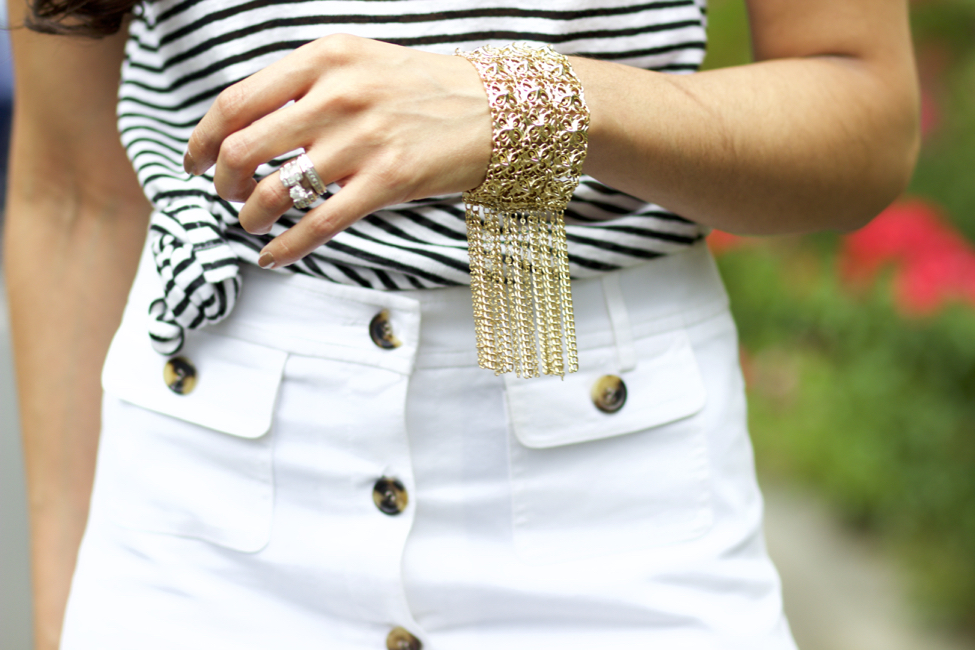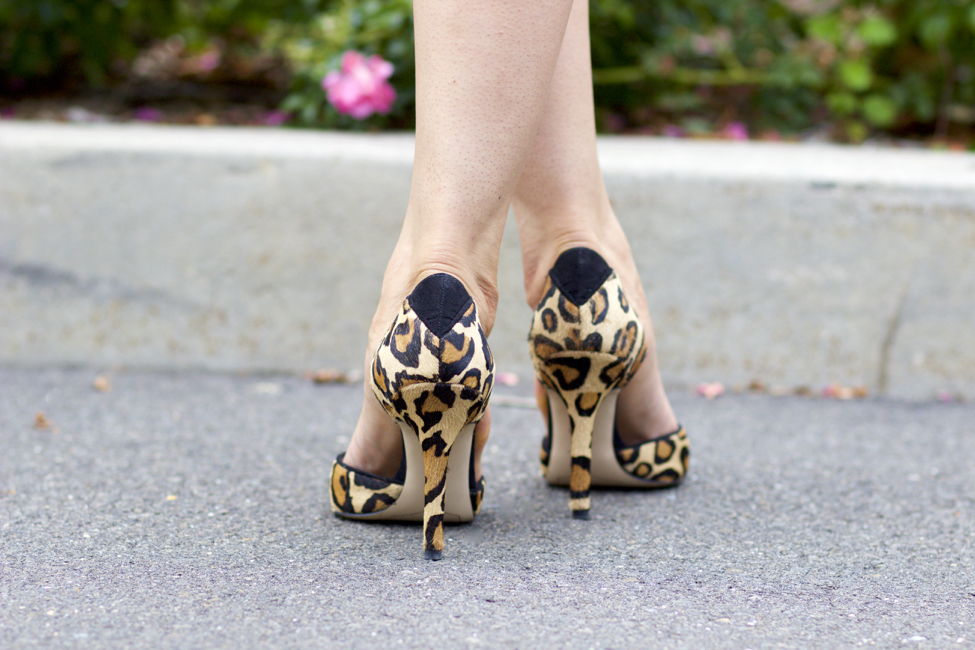 GET THE LOOK!
Shirt: Marshalls (similar HERE) // Skirt: Theory (similar ON SALE HERE) // Bracelets: c/o Kendra Scott (similar HERE & HERE) // Shoes: Sam Edelman (HERE)

Happy Monday, friends!
I hope you all had a great weekend! Mine was very relaxing and well spent with my mom, who came up from Brooklyn to spend the weekend with us. I always have such a great time with her. We're a lot alike and that once used to be the very reason for a lot of our disagreements when I was a teen, but we've come to truly appreciate one another and have grown SO close over the years. Anyone else can relate?
Today's look features a skirt that I've mentioned in a previous post and that's a button a-line. I mentioned how figure flattering it is, especially for those of us with fuller hips (typically pear & hourglass shapes) and/or those of us that want to create the illusion of longer, leaner legs.
I've also shared quite a number of times how white illuminates and can make legs appear larger as a result. A few of us chatted about this in the comment's section of those posts, in which some of you mentioned that you tend to shy away from white jeans for that very reason.
If you can get your hands on a skirt like the one I'm wearing, I'm sure you'll have a change of heart, at least when it comes to skirts. The fact that it's an a-line cut, won't make the hips appear wider with its fit and the buttons will draw the eyes up, not across! This is such a great feature to look for in any item of clothing when wanting to either appear slimmer or if you just want to avoid appearing larger than you are, it works well in both cases.
I chose a striped shirt to pair with the skirt to help visually widen out my upper body a bit, which is typically more narrow as a pear shape. This creates an overall flattering outfit, keeping everything in proportion visually. If you are wider or fuller on top, don't think for one second that you can't wear stripes, I addressed all of that in this post ;)
I also chose to combine two classic prints I love to wear, especially come fall, which I mentioned in my Fall Print Guide post. If you're new to mixing prints or just want some ideas on what you can do with the ones you love, do check that post out; I hope you find it helpful!
Are you feeling the whole 70s inspired button up skirt look; let me know in the comments! Also, I'm so happy that I'll be back to my normal blogging schedule this week, so I'll be sharing a new post tomorrow, which I hope you stop by to read! Thanks so much for stopping by and reading this post, my dear friends, and I hope your week is as amazing as YOU!
XO,