Happy Thursday, my dear friends!
Every woman needs versatile, timeless basics that help to fill in the gaps in a wardrobe, regardless of personal style, age or profession. One of these essential wardrobe staples is the striped tee. While this is a classic piece that everybody can wear, no two striped tees are the same, which also means that they don't produce the same visual effect. This all depends on a number of factors, such as: the neckline, stripe size, direction of the stripes, and base color. While your are, of course, free to wear whichever styles you so choose, styling them in a way that's flattering and comfortable enough for your liking, I'd still like to suggest some tips for finding the most flattering options. I especially want to share these tips with those of you who feel that stripes don't work for you at all or feel as though you can't get away with wearing them; I'm here to tell you, you most certainly can!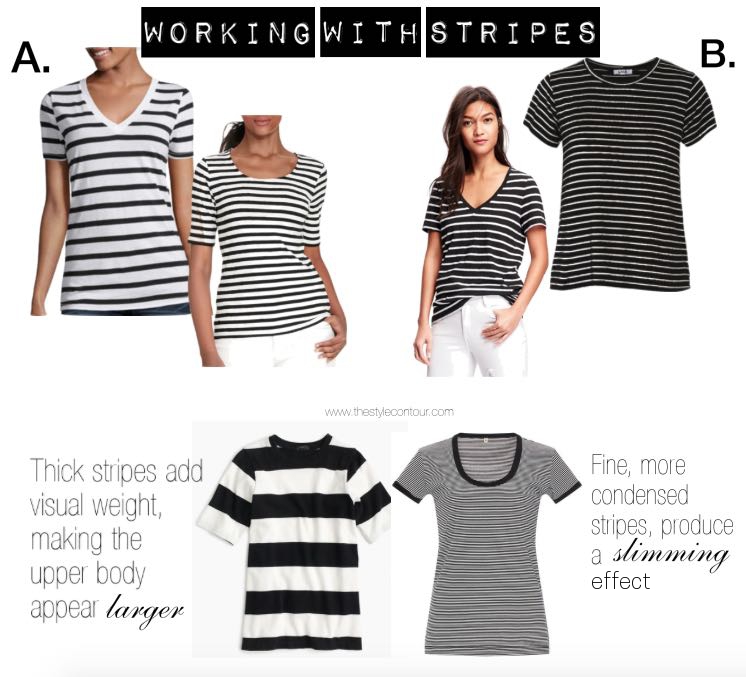 Depending on your body shape and the goal or effect you wish to achieve, the base color can either help in creating that effect or do the exact opposite. If you look at the stripes in set A., you'll notice that the base color of both of the tees are white, this has all to do with the white stripes being larger than those of the black. This style will highlight the upper body because as we know, white highlights and black conceals or minimizes. So, if you wish to create some depth to the upper body or visual dimension, then you'd select a tee with this style. Another thing to consider is that generally speaking, v-necks have the tendency to visually narrow the upper body, since it tapers in towards the center of the neckline. Now, if you turn your attention to set B., you'll notice the exact opposite in the effect that the stripes in set A. create. If you wish to conceal or visually slim the upper body, then a striped tee with a more pronounced black stripe pattern would be the best option, since it can make the upper body upper slimmer overall.
I hope you found this post helpful in selecting and wearing the most flattering striped tees for your body shape! As with anything else, you can of course wear the exact opposite of what I suggested, these suggestions are intended to simplify the styling process. You can always add other pieces to your look to help balance everything out. Since we're on the topic of stripes, feel free to check out my post, 'How to Wear 2016's Bold Stripe Trend for Your Body Shape' for a more in depth look at different variations of the classic stripe that's currently trending! As always, thanks so much for stopping by, my beautiful friends, and I hope your day is as amazing as YOU!
XO,