Happy Thursday, gorgeous girlies!
As we begin to approach the official start of summer, I thought now would be the perfect time to share with you my suggestions for which bright, bold, and neon colors would look best on your skin tone and complexion. I understand that the very word neon can cause a jolt or cringe because we automatically think construction cones and traffic signs, but I can assure you, you won't be mistaken for either ;) Hopefully this post will narrow down some brights that will make you more welcoming to the idea of venturing out into the world of all things vibrant this summer...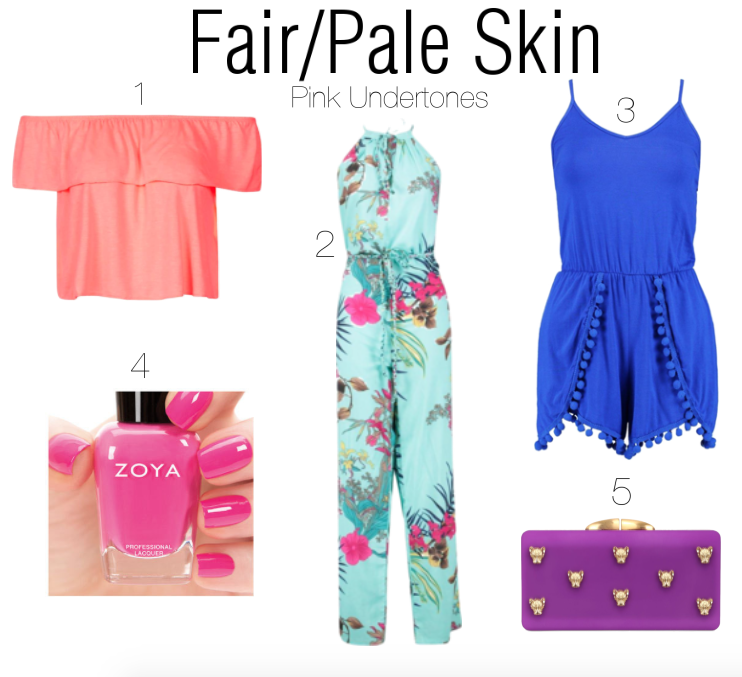 SHOP THE SET!
In general, those with fair/pale skin look great in bold blues, such as cobalt and various shades of violet or neon purple, especially if the hair is blonde accompanied with lighter eyes. Hot pink and various shades of coral look particularly great against these complexions. The reason why is that they bring out your pink undertones, which will create a natural glow or make the skin appear more luminescent. On the other hand, I'd suggest you consider avoiding neon yellow, orange or green, as these shades can create a very sharp contrast against the skin, causing you to appear even paler and washed out. Think vivid, bold and rich shades for the most flattering options.
SHOP THE SET!
Bright, true neon shades flatter those with medium or olive skin tones, since the completion sits in between both light and dark, so the contrasts aren't as sharp. That said, I suggest you explore all neons, especially yellows, oranges, and greens as they tend to highlight your yellow/greenish undertones, creating a natural glow to the skin.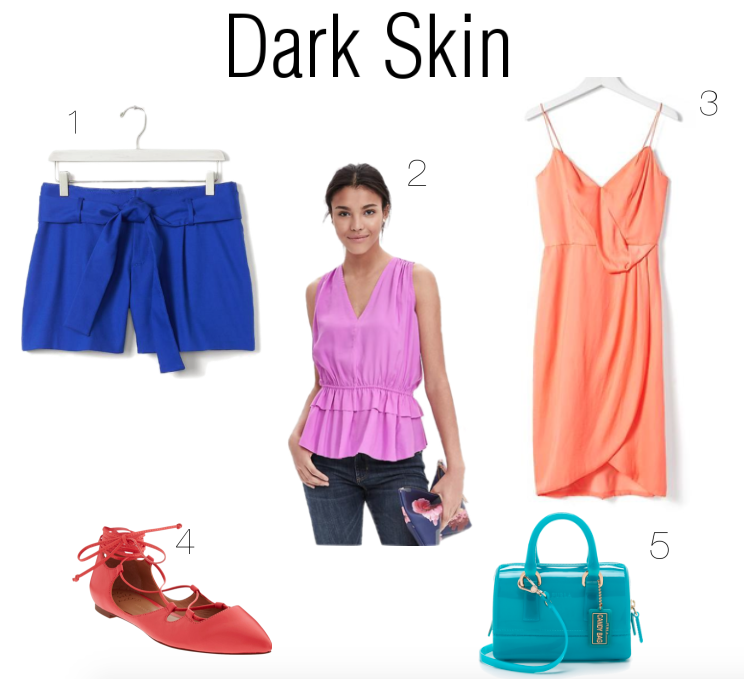 SHOP THE SET!
I absolutely love the way bold, bright colors look against dark skin, especially on complexions like Lupita Nyong'o! I think the contrast is so beautiful and vivid and instantly add a gorgeous glow to the skin. I especially love the way cobalt blue, neon violet, corals and turquoise/aqua shades look on darker skin. I personally feel, overall, the shades that would flatter those with fair/pale complexions would also flatter darker skin and vice versa. I believe the reason is that both create a contrast that allows the piece to truly pop against the skin, especially with very paler or very dark skin. In both cases, I wouldn't suggest, as mentioned in the fair/pale skin category, neon yellow, orange or green for very dark skin because, like with the pale skin, it creates too sharp of a contrast and the attention is placed more on the item you're wearing and not on you. However, it can be done in smaller doses, in the form of accessories.
I hope you all found this post helpful in selecting the most flattering bright, vibrant, neon shades for your skin tones and complexions. For more tips on wearing and styling neon pieces specifically, check out my post, 'Neon Negotiation' where I explain how to pair your neon pieces with complimenting colors, including neutrals. As well as my post 'The Best Colors to Wear for Your Skin Tone At the Beach!' Remember, these are only suggestions, at the end of the day, I'm happy when YOU'RE happy wearing what you feel good in! Thanks so much for stopping by, my beautiful friends, and let me know if you enjoy wearing bright colors during the summer months! I hope your day is as amazing as YOU!
XO,