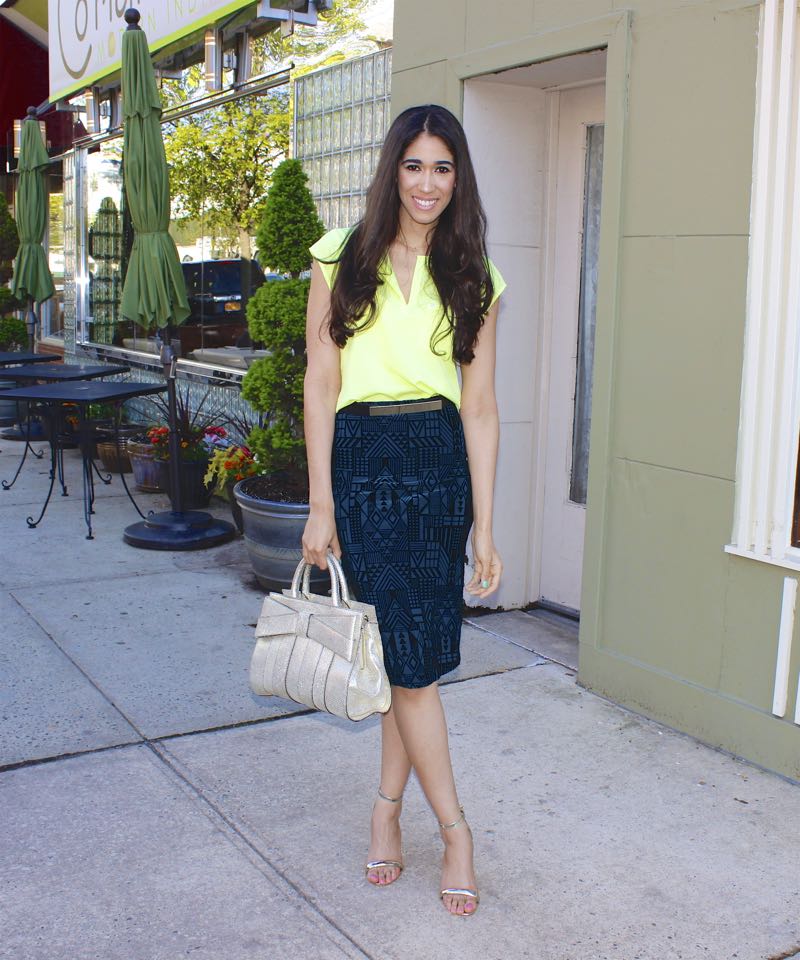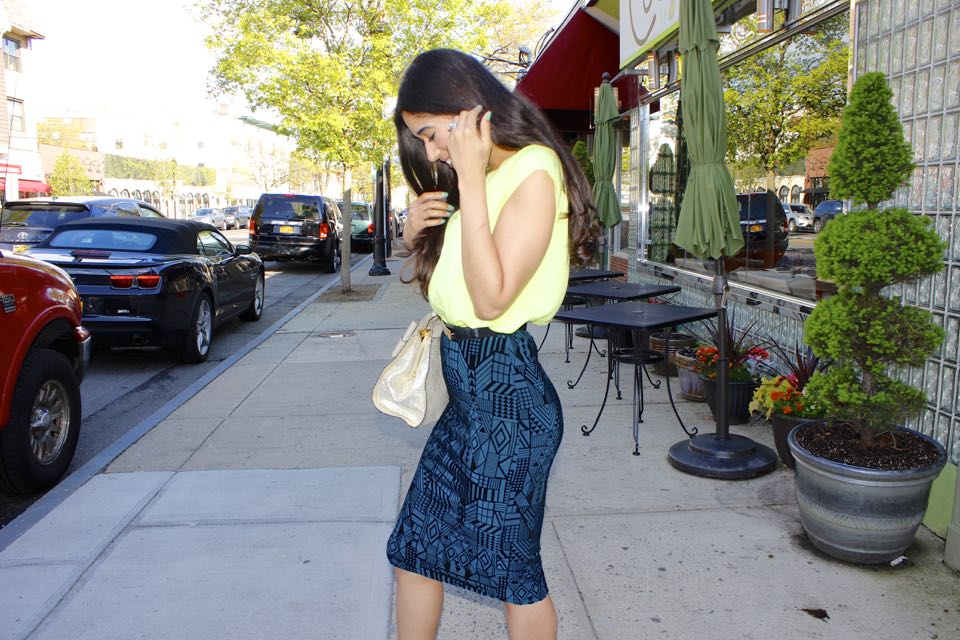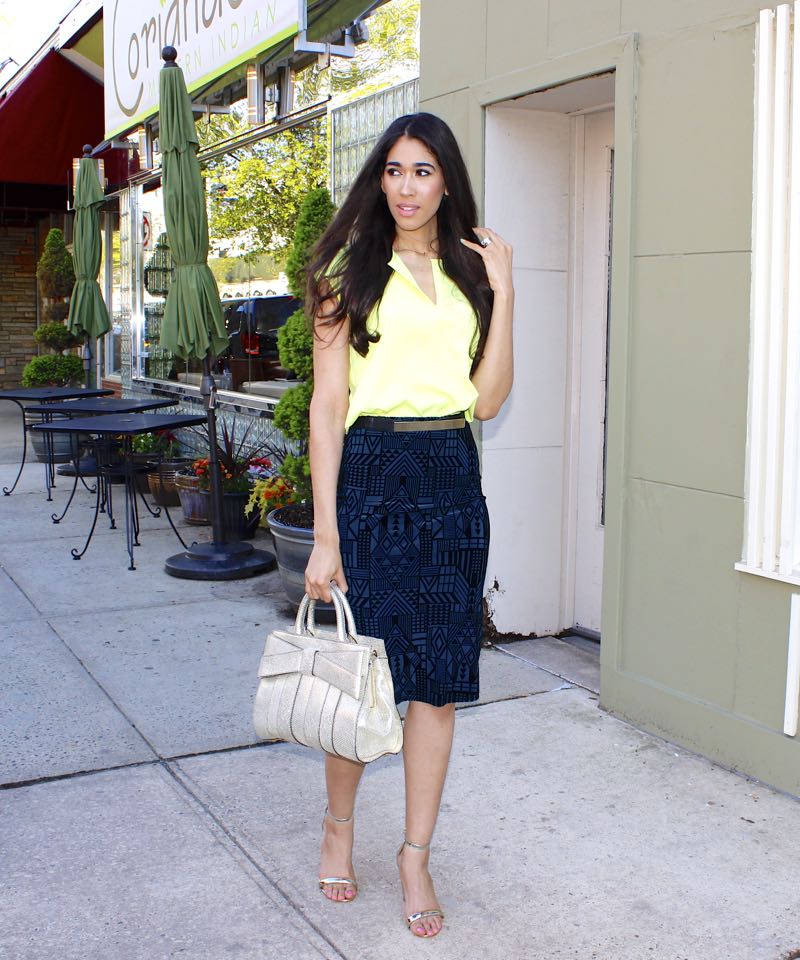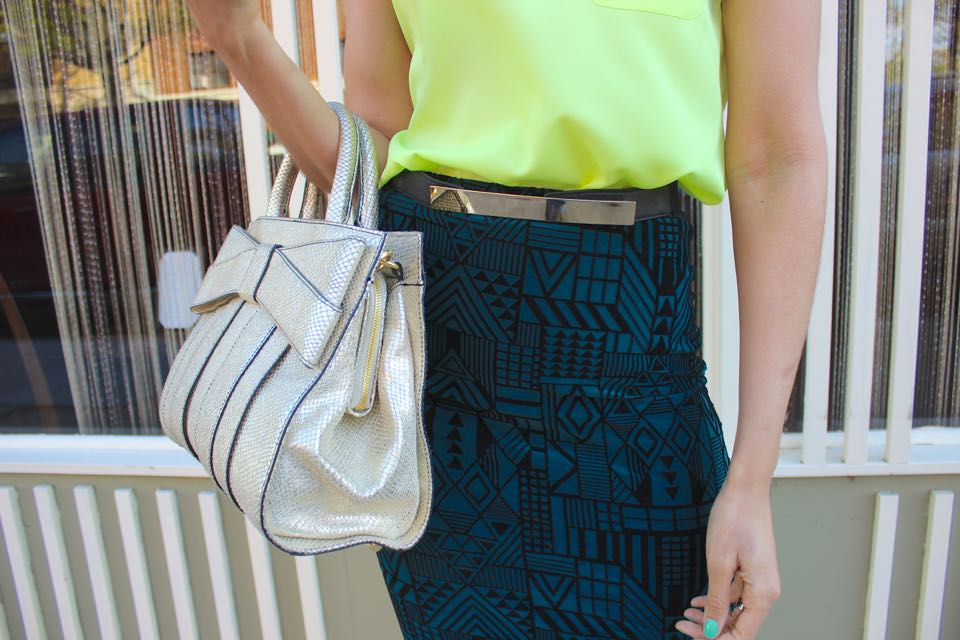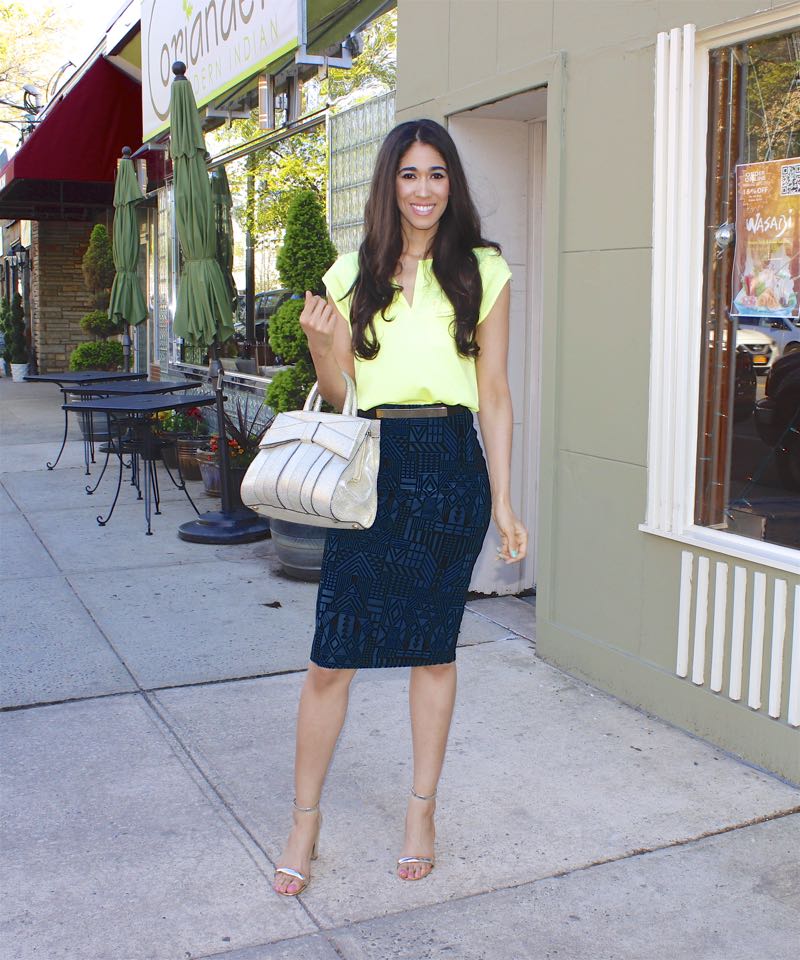 GET THE LOOK!
Top: Ivanka Trump (other colors HERE) // Skirt: Marshalls (similar only a couple sizes left HERE) // Belt: Off a dress (similar HERE) // Purse: Zac Posen (similar HERE) // Heels: Aldo (similar HERE)

Happy Monday, my beautiful friends!
I hope you all had a wonderful Mother's Day weekend! We had such lovely weather yesterday, which I was super happy about because last week it rained non stop and the temps felt more like fall, especially since it was real gloomy. I'm hoping that this lovely weather is here to stay because spring is one of my favorite seasons and I just hate feeling like I've missed out on an entire season; winter did not want to leave this year!
Anyway, my love for color is no secret, I love playing around with mixing and matching colors like a makeup lover mixes shadows, and one category of colors that can often be a bit of a challenge to style is neon. It's much easier to create a casual summer outfit with neons, but it can be a bit more difficult working with those same beloved pieces in a more practical day-to-day fashion. While I do love neon, there are some shades that I prefer more than others, one of which is yellow.
Today, I'm sharing some tips on how you can wear a neon yellow top in your closet at the office, a place you most likely least expect you'd wear it. Of course it would be more welcomed in a creative environment, but I'm sure you have an idea of what works best in your setting. I love the way neon yellow pairs with teal, I feel it really helps to tone down the intensity. It's important to consider pairing your neon piece with darker colors and hues or neutrals when in a more business-casual setting because neons can have somewhat of a visually offensive vibe, particularly in a work environment. Have you ever looked at someone wearing an intense neon piece and it hurt your eyes because it was so bright? Yeah, we don't want that! At the same time, I feel, pairing neons with black in a work setting is a no-no, simply because it creates too much of a casual feel for the work place, so I'd avoid black and consider the other neutrals, such as grey, navy or brown. To dress up the look even more, I added gold accents with a waist belt, sandals and purse. Remember, metallics serve as neutrals, so they can also be used to tone down an otherwise overly vibrant pairing, while creating a dressier vibe than beige. Plus, if you're working with such an eye catching top paired with additional color, it's a good idea to mute the rest of your accessories with a solid metal, when dressing for the office.
When it comes to skin tones and neons, there are some things I'd like to suggest you consider, as all shades in the neon category are not created equal. If you have pale or fair skin, I suggest you avoid neon yellow pieces, aside from jewelry or accessories, as they can have a washout effect. Instead, you may find neon coral or pink more flattering, as they will brighten the skin and create a lovely contrast against the skin and all shades of blonde or red hair.
As always, I hope you enjoyed this post and felt inspired by it! Tell me, do you like neons and if so, which are your favorite? I hope you're having a wonderful day and thanks so much for stopping by!
XO,