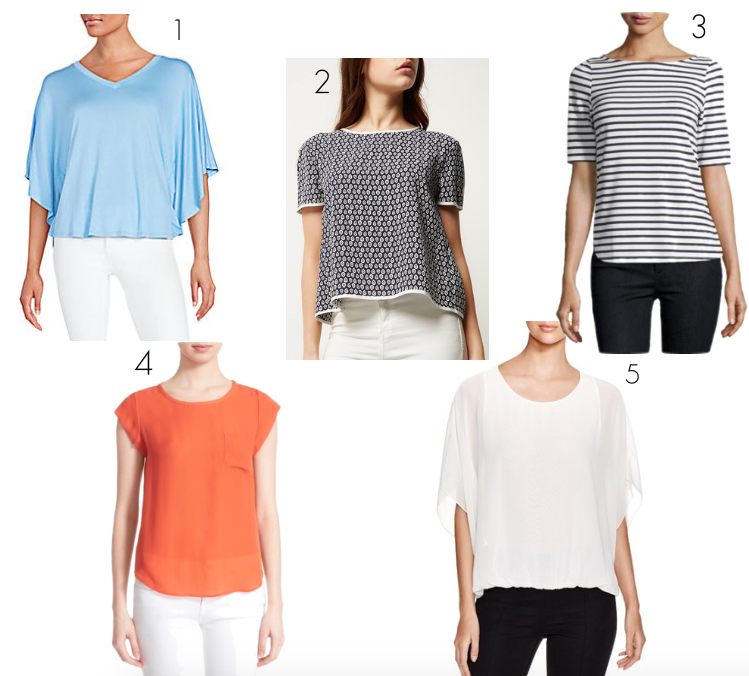 SHOP THE SET!
Happy Tuesday, beauties!
I can't tell you how many times I've spoken to women who are insecure about their arms and limit themselves in what they wear come spring and summer as a result. Aside from the midsection, the arms have got to be one of the most self-conscious areas women often want to hide and usually under long sleeved tops even on the warmest of days. Well, if that's you my beauty, it's time to put away those long sleeves that are on heavy (yearly) rotation and add some flattering short sleeved tops to your wardrobe! Yes, you read that line correctly, short sleeve and flattering can be in the same sentence and today, I'm proving it with 5 different styles: the butterfly, boxy, half-sleeve, cap sleeve and batwing. I selected images of models wearing these styles to give you an idea as to how each fall on the body, specifically the arm area. Now, let me briefly explain why these styles work for slimming the arms.
1. The Butterfly- The voluminous sleeves drape the surface of the arms, which in turn make them appear slimmer!
2. Boxy- The wide shape of the sleeves, will make the arms appear slimmer in comparison.
3. Half Sleeve- A great option for easing into exposing more arm, since the upper portion of the arm is where most feel self-conscious. The sleeves cover upper portion, but in a loose fashion!
4. Cap Sleeve- The ends of the sleeves subtlety flare out around the shoulders, while causing the shoulders to appear a little larger and the upper portion of the arm smaller. This is a style you may want to avoid if you naturally have wide, large shoulders, depending on your comfort level!
5. Batwing- Draped sleeves slenderize the arms because of the flowy style of the sleeves that drape the surface of arms.
I hope you found this post helpful, my beautiful friends, in embracing and working with your body by selecting short sleeved styles that will create a more flattering effect, giving you one less thing to worry about when getting dressed! Thanks so much for stopping by and I hope your day is as fabulous as YOU!
XO,