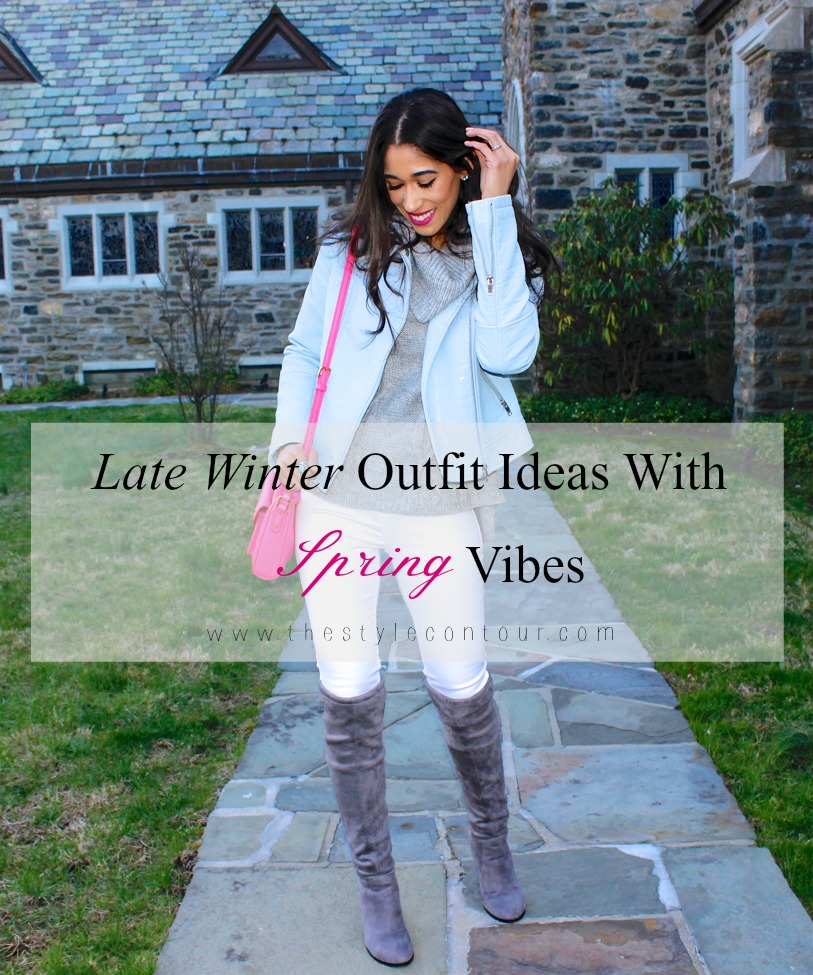 Happy Thursday my sweet friends!
It's been a while since I've written a post on a Thursday, around the time of the holidays actually. It was such a busy time and I was experiencing such chronic fatigue, due to the pregnancy that I just wasn't able to keep up. It seems as though my energy is back or at least more consistent, so I'm hoping to get back to my Mon-Fri schedule. Let's see how that goes!
We're officially at the point of the winter season where we're just tired of winter and ready for spring. This is also the time of year that the weather tends to be a little all over the place, warmer spring-like temps one day, a blizzard the next, true story. Since we can't control the elements, unfortunately, we can, however, control our styling! Today, I'll be sharing some outfit ideas that I feel are perfect for this time of year, as well as some tips on creating the spring vibe effect with winter clothing. Some of these outfits are pre-baby belly in case you're wondering where the bump went, haha. Okay, so let's get started, shall we?!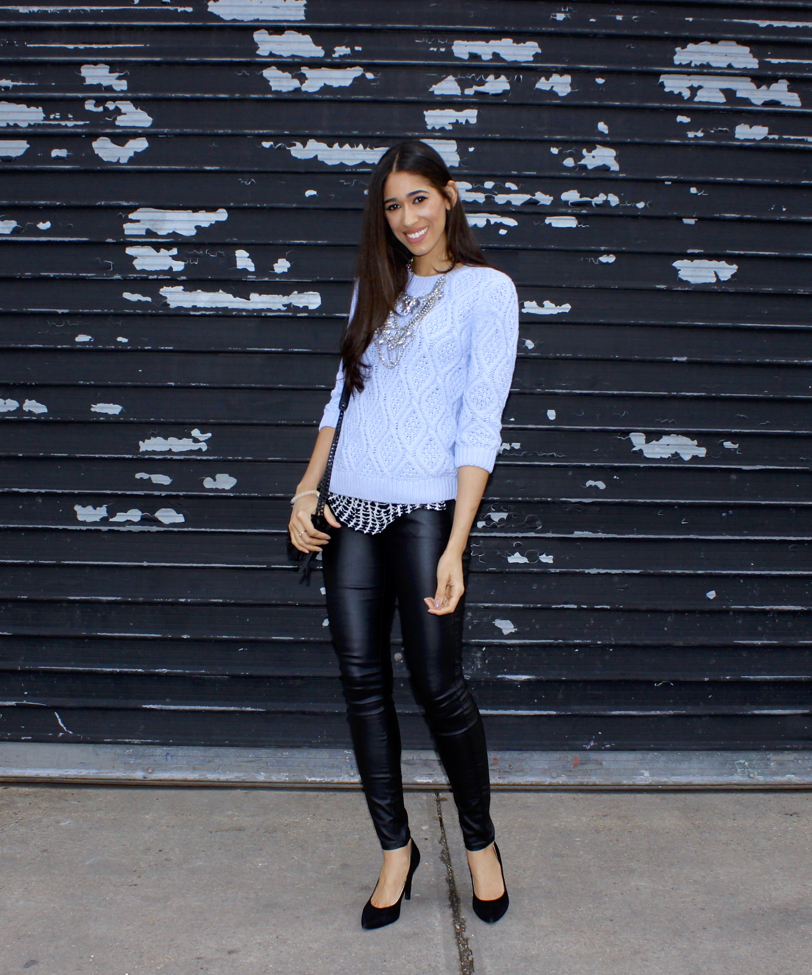 I love leather pants, be it leggings or coated jeans, I just love them! I feel they're incredibly versatile and can keep you warm during the winter. My favorite way to wear them transitioning into spring is with spring-like colors, such as softer hues and pastels, like the periwinkle jumper I'm wearing in the outfit above. The jumper will of course keep you warm, but the color itself exudes spring. For some added warmth, I layered a blouse underneath in a fun print. If you don't have a jumper in a lighter color, feel free to do the exact opposite. Try layering one of your sheer flowy longer blouses you typically wear during the spring and summer underneath a darker colored sweater. The contrast is so pretty and will give you the perfect spring vibe.
Body Shape Style Tip: The longer the blouse peeks through underneath, the longer you will make your torso appear. It's a great slimming strategy when wanting to avoid attention being placed on the midsection or balancing out a chunkier knit piece.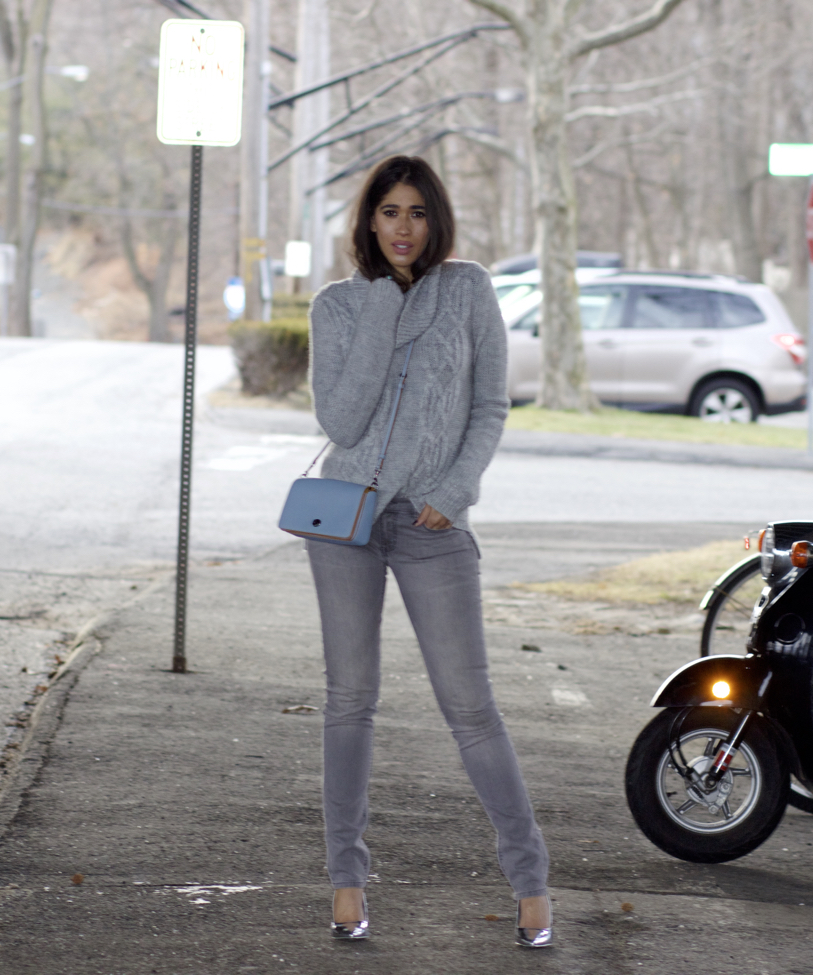 Monochrome. If you've been a longtime reader of The Style Contour, then you surely know how much I love monochrome and boast of it's flattering benefits. It instantly makes one appear longer and leaner, while look so chic all at the same time. There are a few ways to do monochrome. One way would be to work with one solid shade of a color, but mix up the textures to make it appear less one dimensional and bring it to life. The next would be to mix up various shades of the color you're working with. Depending on your personal style and taste, you may opt for a mix of neutrals or brights, the effect can really be achieved with any and all colors on the spectrum. For winter, I think grey is perfect because it has a nice calming affect. You can simply mix up darker shades of the color. Light blue accents in either your jewelry, shoes, or purse will blend perfect with the shades, since it has a blue undertone, as does grey, and it exudes spring!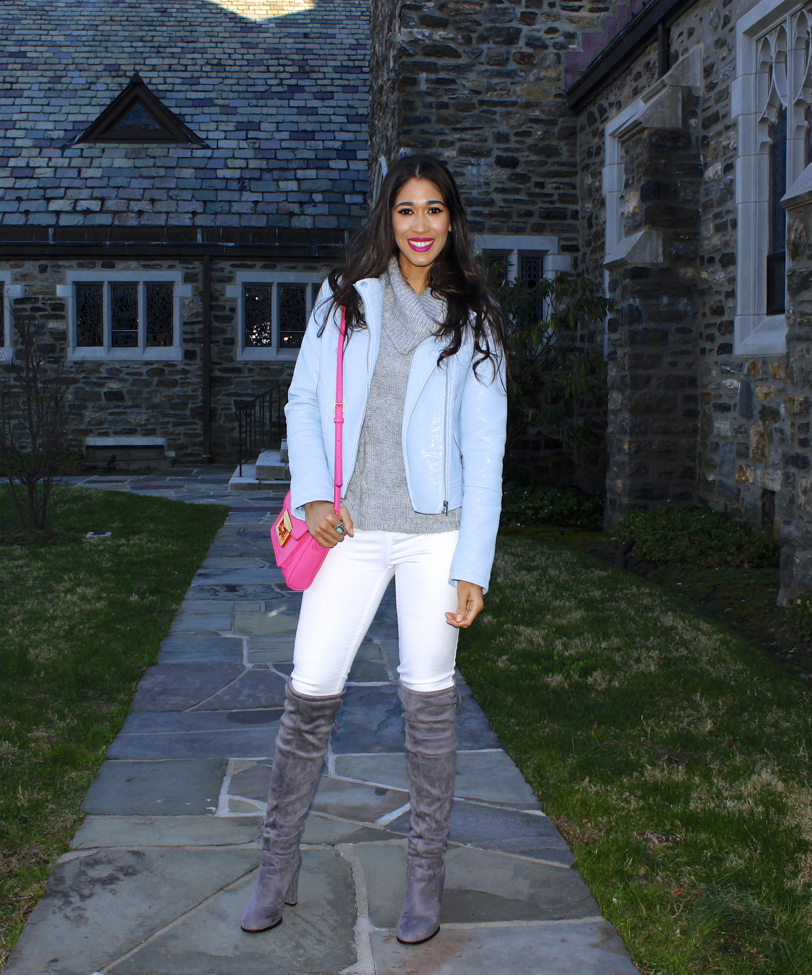 Lastly, add white. Be it white pants or a white coat (off white works, too) it will instantly brighten up your look. Add in winter essentials in colorful or neutral shades, again, depending on your comfort level. If you do choose to add a dab of color, the white will make it pop even more, so you don't need to feel the pressure to go overboard with the color, a simple lip color or purse will do. If you're scared of wearing white jeans because you think they make you appear larger, pair them with OTK boots! The boots will not only keep you warm, but they have a slimming and lengthening effect, since they cover most of your leg drawing the eye up.
I hope you found these outfit ideas and style tips helpful for creating a lively, spring-like, yet warm outfit this time of year! Whether you love and embrace bold colors or prefer neutrals, the effects can be created either way and I hope you learned that in today's post! Thanks so much for stopping by my dear friends and tell me, how's the weather right now where YOU live?!
XO,