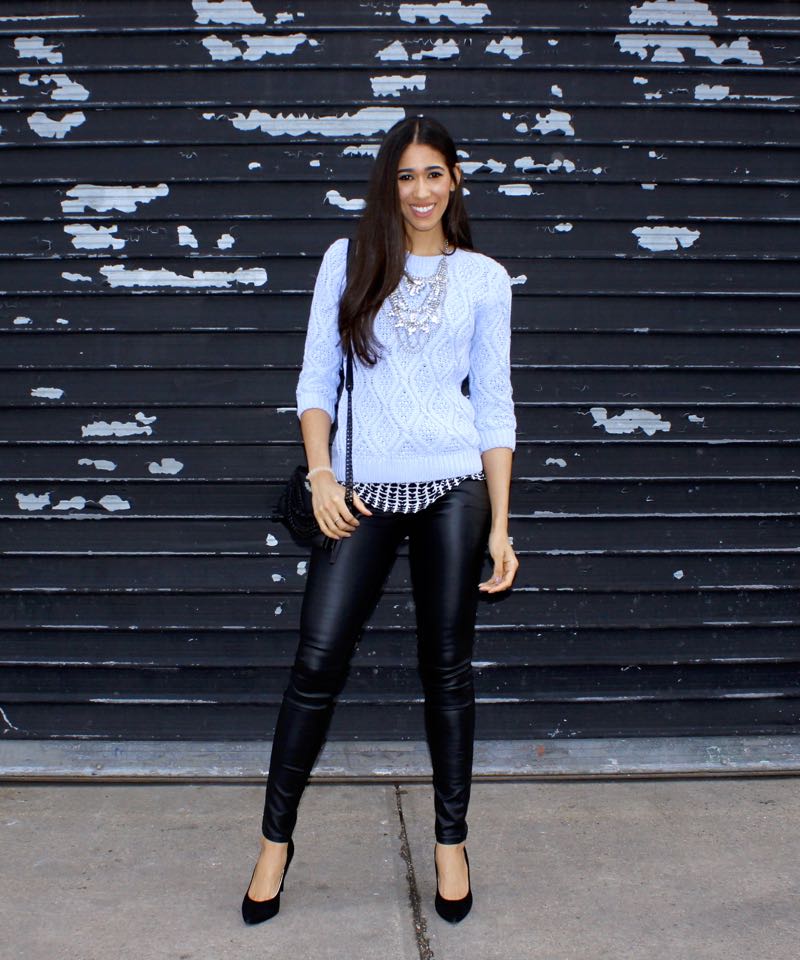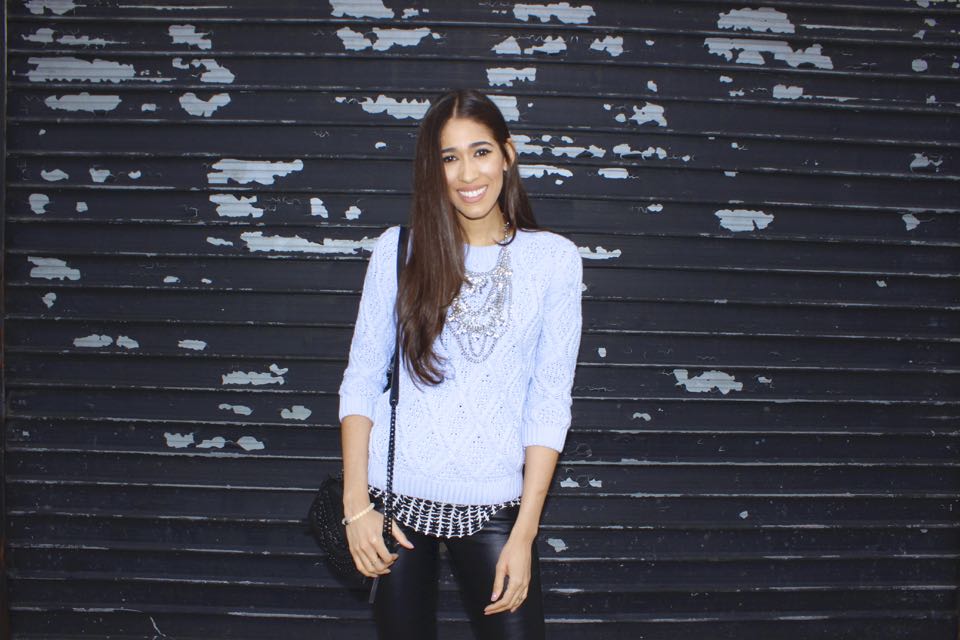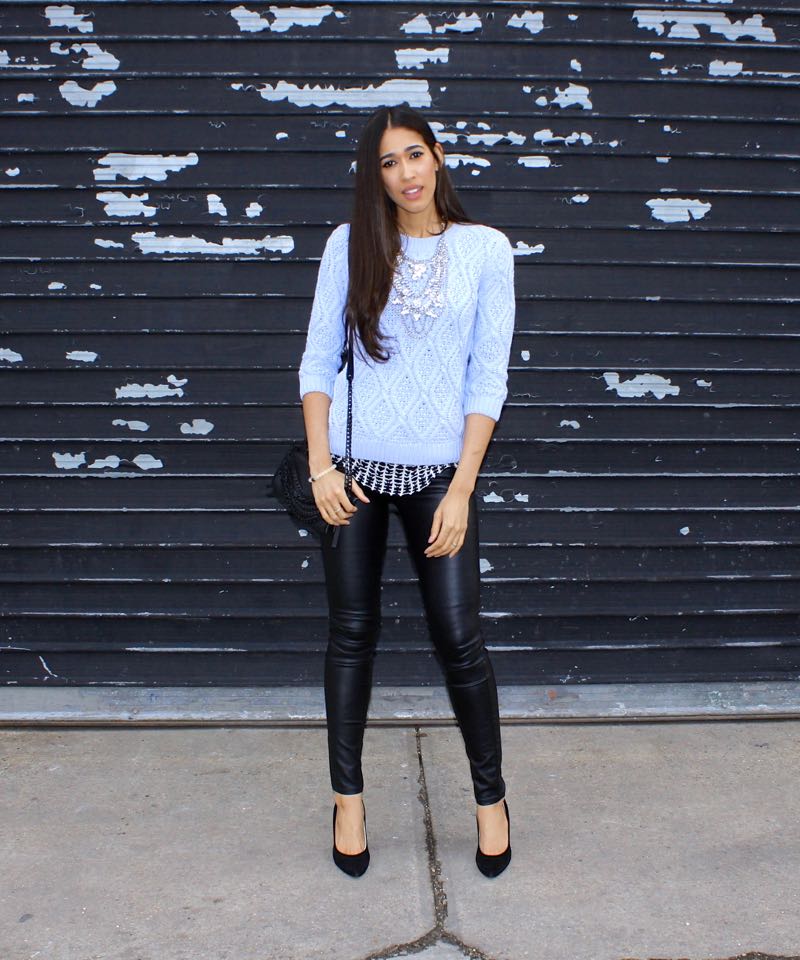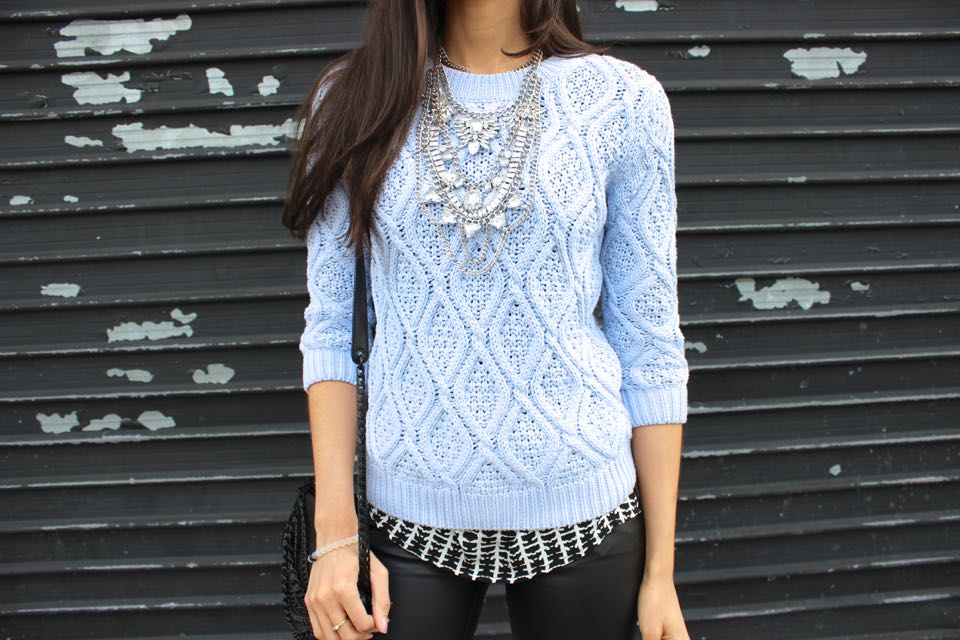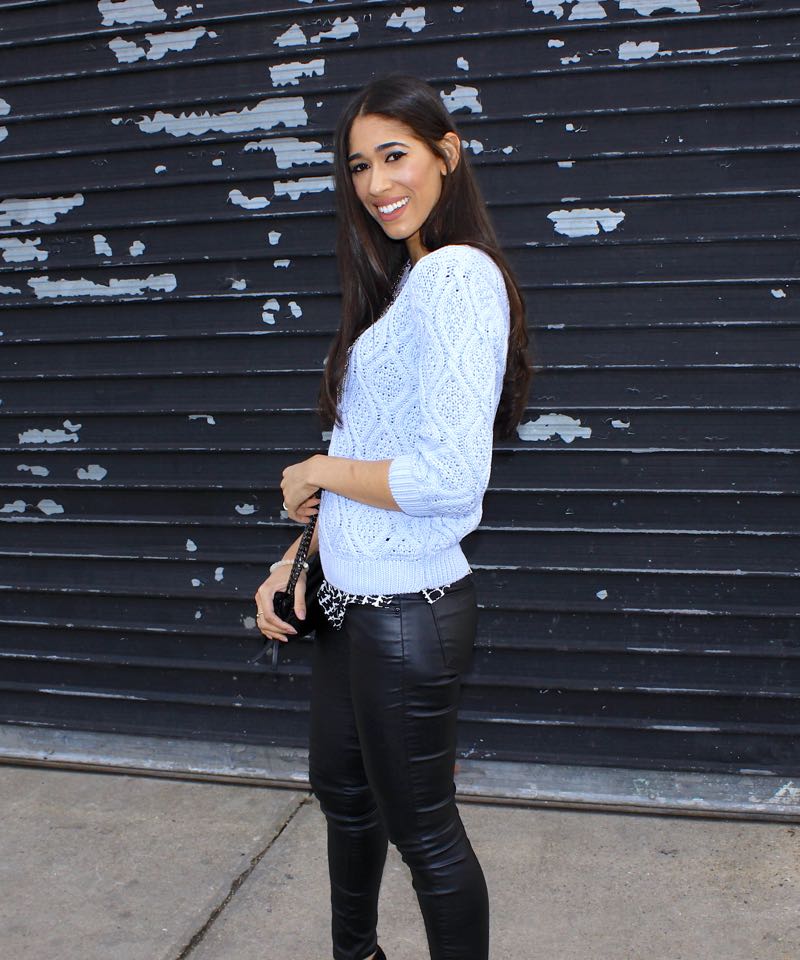 GET THE LOOK!
Sweater: Marshalls (similar ON SALE) // Shirt: c/o Piperlime Collection (similar HERE) // Coated Jeans: GUESS (similar 57% OFF HERE & ONLY $28 HERE) // Necklace: c/o Happiness Boutique (HERE) // Purse: Ash (ON SALE HERE) // Heels: Nine West (ON SALE HERE) // Bracelet: c/o Lokai (HERE)

Happy Friday, friends!
Ah, periwinkle. It's one of those colors that you just have no clue if it's considered blue or purple and depending on the lighting it could look more like the other. It's a color that I love to wear in the winter and transitioning into spring. To me, it's a very girly color and while I love to style it in a more feminine way, as I did last season (here), this time around, I was in the mood to create a more edgy look centered around it. The easiest way to harden a more feminine color or print, such as floral, is to pair it with black and if you're feeling even that much more inspired, leather or coated jeans. They help to add a bit of roughness to the girly vibe, making it suitable for either the winter season or a night time occasion, like date night or girls' night. This is also a great way to start getting yourself excited about those spring faves hanging in the back of your closet, allowing you to wear them NOW!
This particular shade is most flattering on those with a cool or neutral skin tones, since it has a bit of a blueish/grayish undertone, which is why I decided to pair it with this silver statement necklace; gold doesn't work as well this color. If you have platinum or light blonde hair, this color is yours, girlie!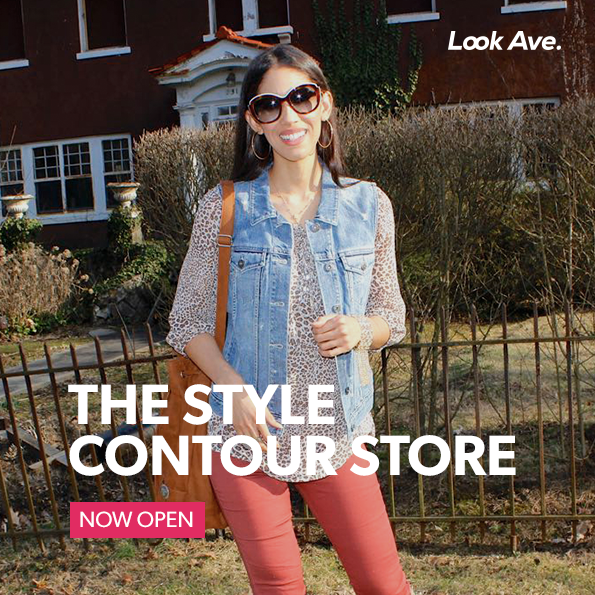 On a entirely different note, you may or may not have noticed a new addition to the tab bar menu, 'SHOP.' These past couple of weeks, I've been working with Look Avenue, a soon to launch personal styling/shopping platform where we can all shop the looks or products curated by bloggers and style influencers we love. As a member of the platform, which is free to join, you can shop looks as you would on Instagram or a blog. But what sets this platform apart, is that after a few days or weeks, blog posts get archived as new ones are published, on this platform, everything remains displayed on one page and is updated as the "shop" owners add looks and products. You can also browse by particular pieces, as you would on any store website, i.e. jackets, dresses, etc. receiving suggestions from all the bloggers on the platform, so it's also a great way to get to know new fashion & beauty bloggers, too! All products that you see on the site list the brands, stores and price of each item up front, simply by hovering over the item. Once you follow a store, you will receive update on if an item you've been eyeing is on sale or sold out. The entire site hasn't yet launched, but is set to by the end of this month. You can, however, shop, browse and follow my "store", which has launched today, here, or by selecting the 'SHOP' tab on my main tab bar!
I hope this post inspired you in working with springtime colors and prints now, in a way that still represents your edgier style, especially if you're one who tends to wear mainly black, but aren't opposed to adding just the slightest hint of color. As always, thank you so much for taking the time to stop by and I hope you have a wonderful weekend. I'll "see" you with a new post on Monday!
XO,