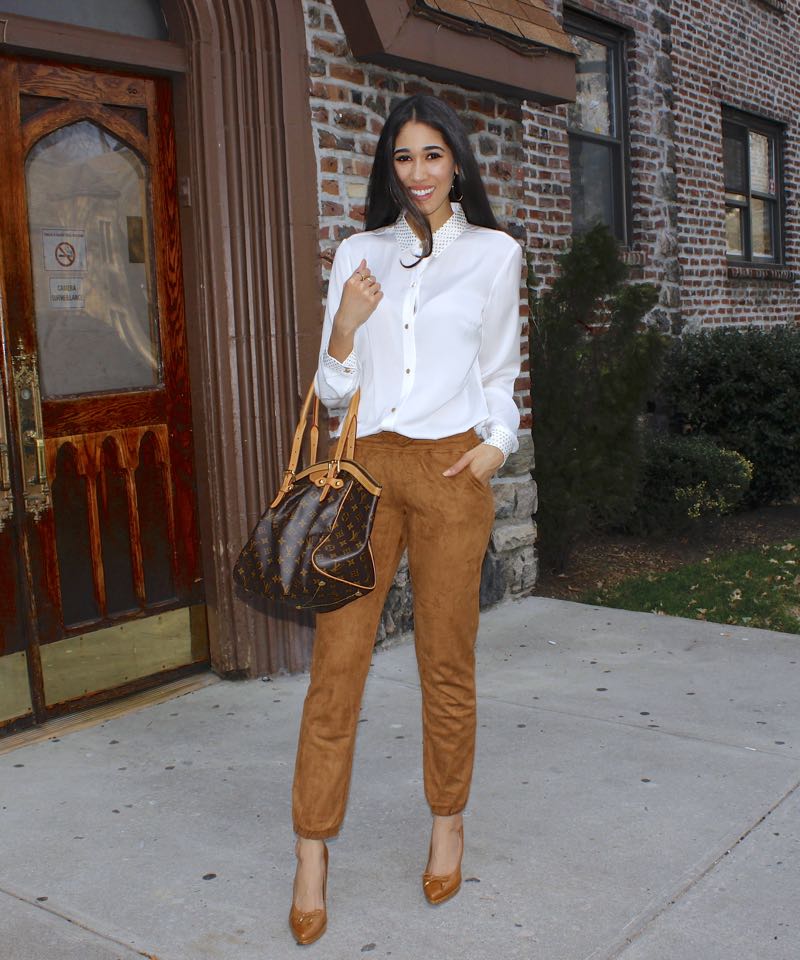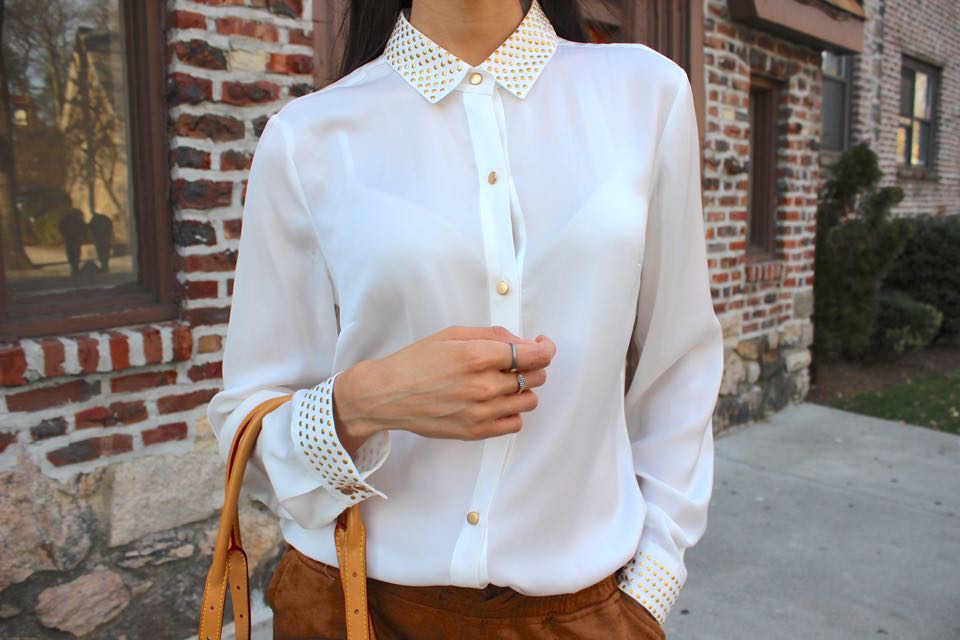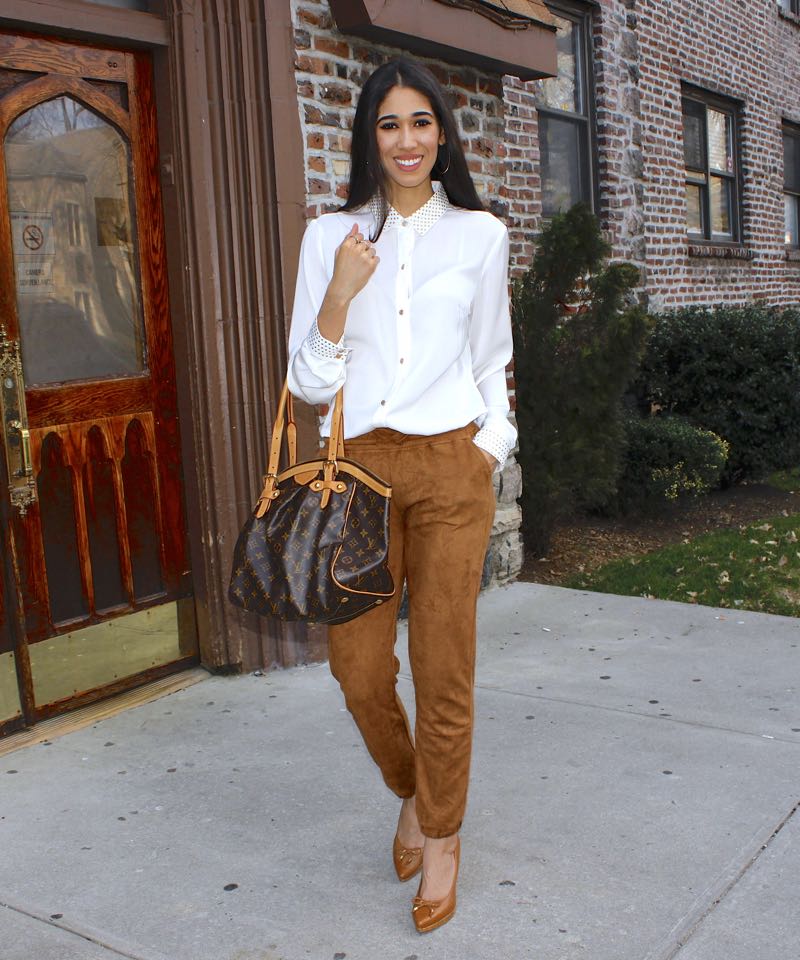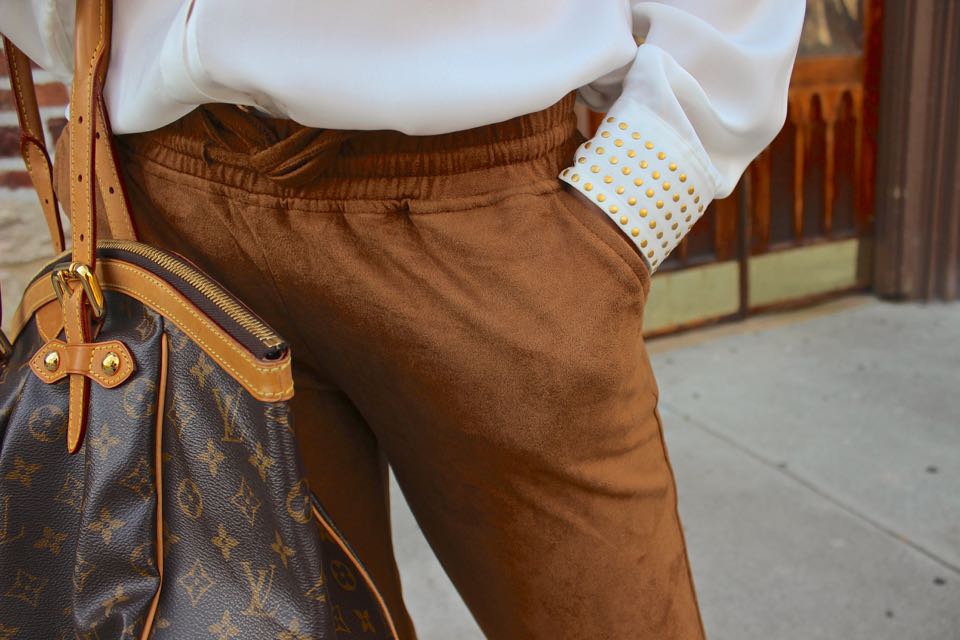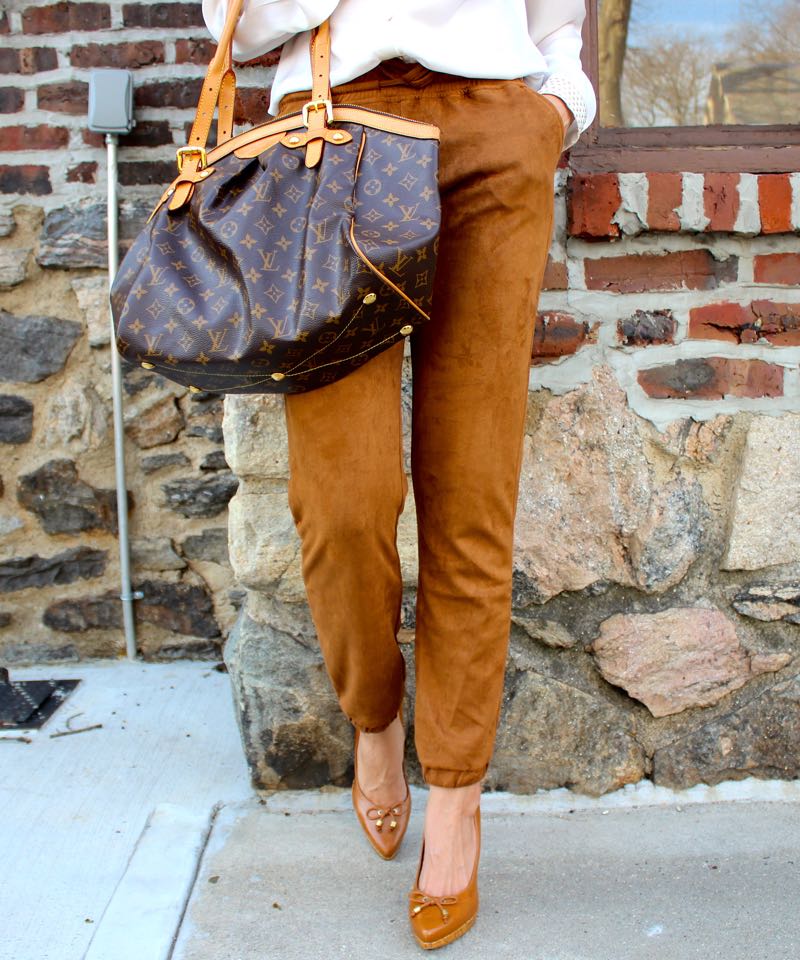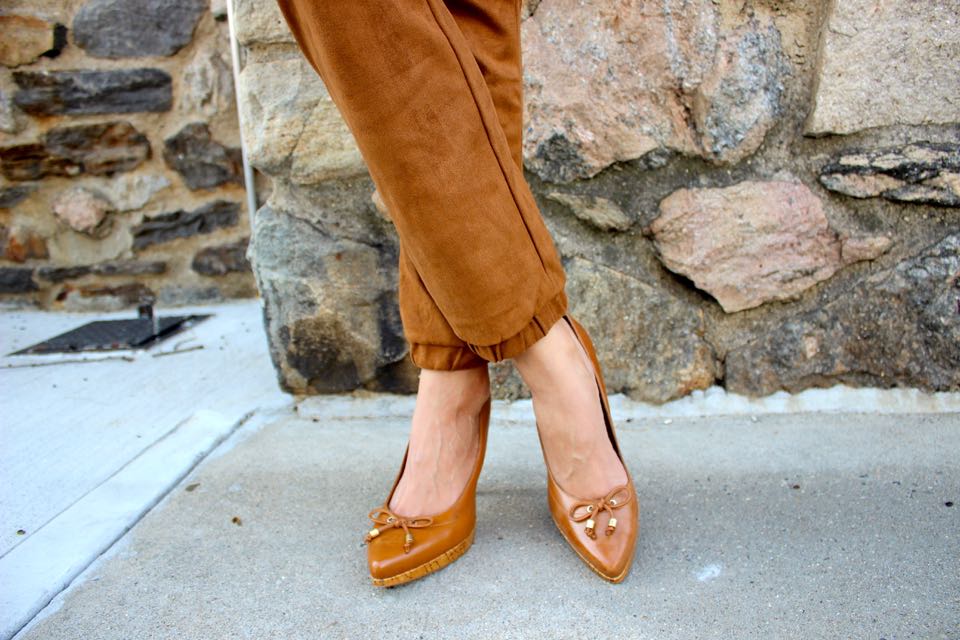 GET THE LOOK!
Shirt: New York & Company (similar style ON SALE HERE) // Faux suede jogger pants: Marshalls (similar style ON SALE HERE) // Purse: Louis Vuitton (similar style HERE) // Heels: Nine West (similar HERE)

Happy Monday, beautiful friends!
I hope you all had a wonderful weekend and are off to a great start to your Monday so far! A recurring trend this spring season is suede, which was also trending this past fall. I absolutely love this material because it's super soft and more supple than that of its analogous, more structured counterpart, traditional leather, making it a more suitable option to wear in the office during the spring. As much as I love traditional black leather pieces (worn in Friday's post, Periwinkle) I must admit, it can be a bit more challenging to wear and style in the office, since it can have a more sexy tone, making the need to pay more attention to the other details and pieces in your outfit to downplay that effect that much more important. Suede, on the other hand, has a more relaxed feel and depending on the piece (avoid button up suede skirts, they can look too casual) and your work environment, can be styled in a way that's both stylish and appropriate, requiring a bit less attention to detail.
Today's look features both the suede trend as well as the athleisure, which has also been on rotation these past few seasons. More and more brands are providing relaxed workwear pieces, inspired by activewear, that are suitable for the office, one of which are jogger pants, what I'm wearing here. Joggers are basically sweatpants, which isn't the first thing that comes to mind when we think of workwear, but depending on your work environment, there are ways of styling them in a way that's a bit dressier, like this outfit, for example. I decided to pair mine with a satin-like shirt with accented button details to help dress it up a bit; they can also be styled with a blazer to create the same effect. Whether you wear a blazer or not, I feel the safest way to pull them off at work is to pair them with a button up shirt, it just gives that professional touch to the look. The one I'm wearing has details on the collar, but you can certainly wear a solid white button up with a statement necklace, which will create the same effect.
I also wanted to mention that I find track pants to be something every body shape can confidently embrace. If you are an apple shape, they'll work with those lean and fab legs of yours, just make sure to wear either a v-neck or button up shirt for an overall flattering look. For my fellow pear shapes, most jogger styles are relaxed and are of softer fabrics, like these suede ones I'm wearing, but always look at the pocket placement. Don't go for those that have too much fabric in and around the pockets, as it will create that elephant ear effect, making your hips appear wider. As for my hourglass and rectangular shapes, they look just as great on your proportional figures! I do want to point out that if you're rectangular, you may want to consider tucking your tops in to help reestablish your waistline, but you'll find that the drawstring/cinched waist is very flattering on you overall! One last thing to consider, if you are petite, I suggest you try to match your shoes with the color of your joggers. Since these are more of a relaxed pant, it can make you appear shorter, by pairing it with a shoe within the same color, as I did here, your legs will appear longer ;)
I hope you found this post helpful and that it gave you some ideas on wearing both suede and joggers in the work place! Thanks so much for stopping by and I hope your day is as wonderful as YOU, my dear friends!
XO,