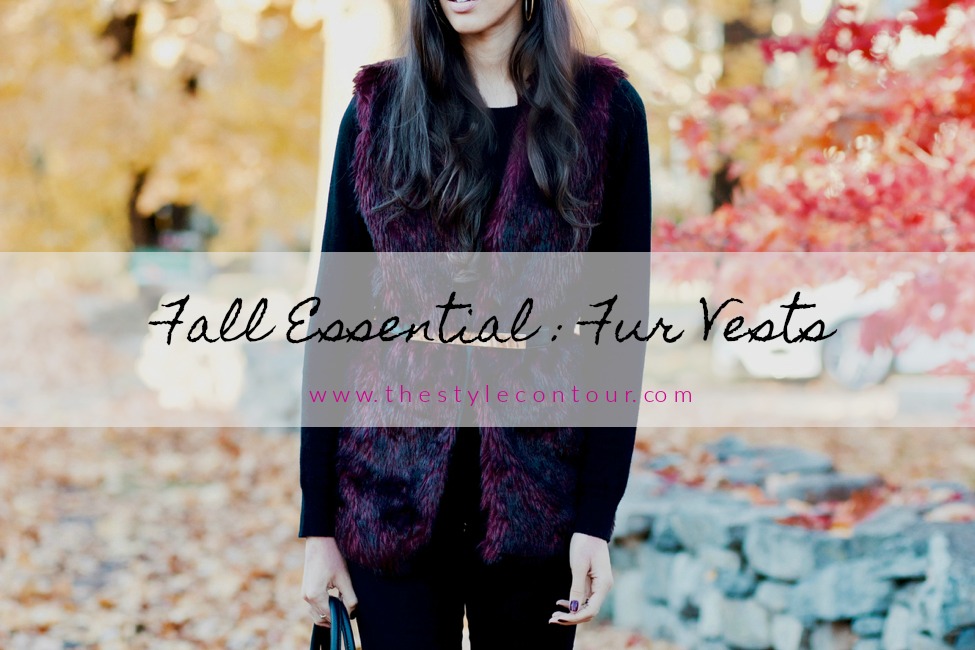 Happy Friday my gorgeous friends!
I hope you all had a great week and are ready to embrace the weekend with full force! Yesterday was Eddie's birthday! We're planning to celebrate this weekend. You guys, he's pickier than me, so getting him gifts he'll genuinely love and not just say, "I love it" in that voice that sounds more like a question is very hard. So, he usually ends up choosing his own gift and restaurant to dine (insert eye roll emoji). Since Aviah is too young to dine out, we'll most likely order in :)
Anyway, to continue on with the Fall Essentials series (read part I & II), I'm sharing another one of my personal favorites, the (faux) fur vest!
:: WHY I LOVE THEM::
Much like leather jackets, I pretty much have a fur vest obsession. I own about four in different colors and look forward to wearing them all throughout the season. I believe they're a great layering option when you want to forgo a cardigan for more warmth with a touch of glam. There's something about fur vests that exudes glamour to me, even when infused in the most simple of outfits. I also love that there are so many different color, length, and texture options (shearling or the classic fur).
:: MY SUGGESTIONS ::
As mentioned, they can be worn in place of a cardigan, serving the same purpose. I like to wear mine either with a fitted long sleeve top/turtleneck or atop a leather jacket. The latter is my favorite for added warmth and contrast in lieu of a full on wool coat. Plus, if it starts to get warmer out, you can omit one of the pieces without negatively effecting your outfit.
:: MY PICKS ::

I hope you felt inspired by this post, my dear friends! Have a wonderufl weekend and I'll see you all on Monday!
XO,