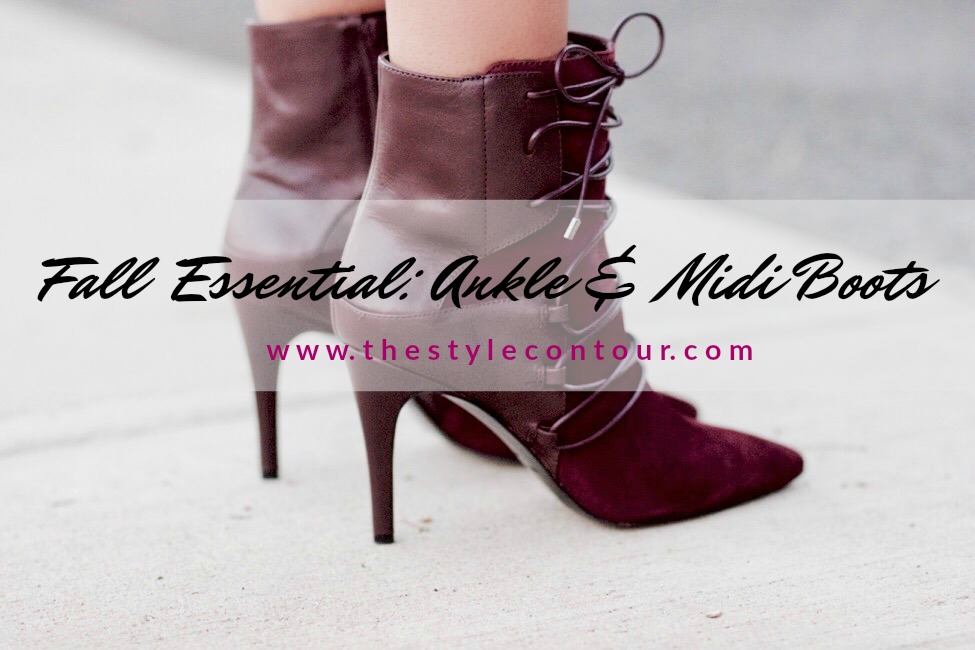 Happy Wednesday my gorgeous friends!
In case you missed it, last week, I began a series on the blog entitled Fall Essentials. The series will feature some of my personal favorite essentials for the fall season and I'm sharing them all with you leading up to fall in hopes of inspiring you to add in some of the gaps you may have in your fall wardrobe or perhaps give you some ideas and inspiration for wearing and styling them. If you did miss that introductory post, you can check it out here, it was on my personal favorite fall staple, leather jackets!
Today, we're talking about yet another favorite of mine that I have quite a few of, perhaps too many if you were to ask Eddie, but thankfully we're not asking his opinion on this topic (sorry babe) lol, ankle & midi boots!
:: WHY I LOVE THEM ::
First off, let's clarify what exactly are these boots, though one of the names may sound quite obvious. I, myself, have been guilty of labeling all boots that are below the knee ankle boots, but that's just not the case. Ankle boots hit the ankle and midi boots are in that awkward space anywhere between your knees and ankles.
Now that we've got that out of the way, what I love about them is that they make for the perfect transitional style from summer to fall. They allow for you to continue wearing your favorite summer pieces, such as: rompers, shorts, skirts, and dresses. By adding these in lieu of your favorite sandals or espadrilles, you instantly create a fall vibe (especially when worn in rich fall saturated colors or dark neutrals), while also adding a teeny tiny bit of warmth.
They're also the most flattering in terms of length for all my petite girls or anyone who wishes to create the illusion of longer legs, even more so when coupled with a pointed toe. The reason being is that more of the leg is exposed, there isn't a shortening effect. They're also great options for those who have a hard time finding boots that stay up over the calves or who have fuller calves and have a hard time finding boots that fit. As the season progresses, thick opaque tights, leggings, or denim can be worn with them for additional warmth to make them a more practical option for the cooler temps.
:: MY SUGGESTIONS ::
If you don't have either styles in your wardrobe, I'd suggest adding at least one of the two, depending on which style you like the most in terms of height. I'd also suggest opting for black above all other colors because it's the most versatile and looks amazing when worn with black skinny jeans, tights, or leather leggings/pants come winter, once again enhancing that lengthening and sleek effect.
They're also great for combining with midi dresses and skirts, particularly fitted styles. Another thing you may want to keep in mind is that rounded toes make the foot appear smaller, which you may want if you're self conscious about your feet, but they can also have the tendency to make full hips and thighs appear larger and can make one appear stumpy if they're petite.
:: MY PICKS ::
BLACK
COLORS, TEXTURES & PRINTS
I hope you enjoyed the second installment of the series and that it gave you some ideas, suggestions, or overall inspiration in preparing your closet for the season! Thanks so much for stopping by, my dear friends, and I hope you're having the most amazing week so far!
XO,