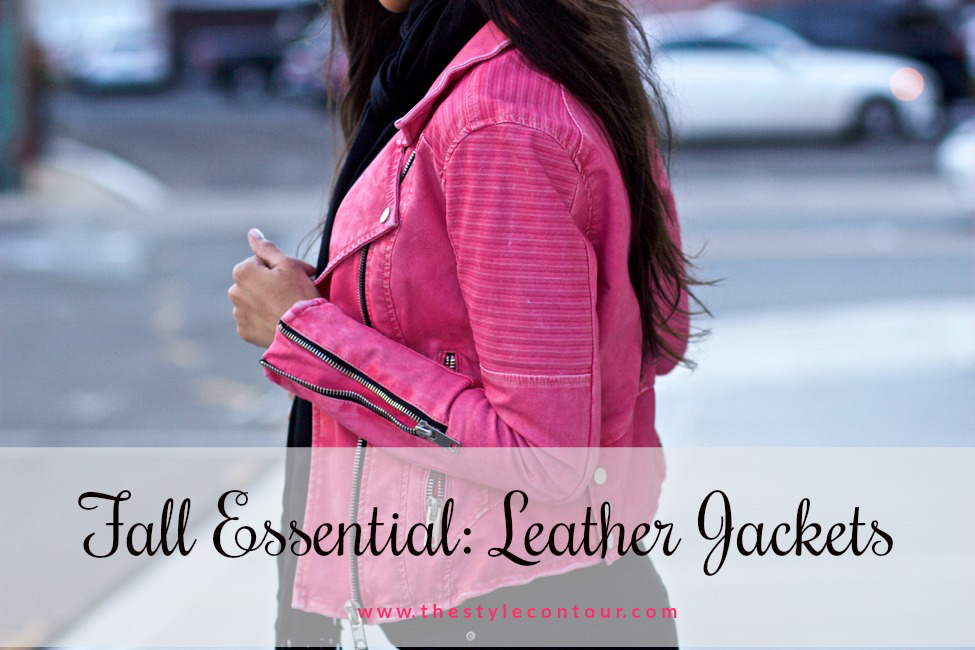 Happy Thursday my gorgeous friends!
My posting schedule is a little all over the place this week, so sorry about that! It's been one of those weeks that something keeps popping up and not enough hours in the day, we all have them, right?
Anyway, with fall right around the corner, I thought I'd start a series leading up to it, fall essentials. Everyone has a different list of what they'd consider essentials, so I'll be sharing my personal favorites and my most favorite of all, which you'd know if you've been reading The Style Contour for a while now are leather jackets! I'm a collector, they're my weakness and what I gravitate to instantly upon entering a store this time of year.
:: WHY I LOVE THEM::
What I love about a leather jacket is it works so well with any and every style and outfit, adding the perfect touch of edginess, while keeping you warm of course. It makes for the perfect layering piece. Yes, they're perfect for adding a bit of warmth on those cool early fall days and nights, allowing you to continue to wear some of your favorite summer pieces, which is pretty awesome if you ask me!
:: MY SUGGESTIONS::
My first suggestion would be to make sure you have a plain black one before all else. No embroidery, studs, spikes, etc. You want to make sure that it's not a trendy piece and one you can wear for years to come and with any outfit, it needs to be versatile. Depending on what you prefer, you can opt for one that has large zippers and buttons or one with details that are more subtle. A moto style is a bit more on the edgier side, further enhancing the vibe, while one that isn't has a bit more of a sleeker feel, perfect for all you minimalists! If you're looking to invest, a black one would be the color to do so with, you'd get the most use out of it for sure. If you feel black is too harsh or too edgy for your liking, opt for grey, taupe or camel brown as alternatives, they're just as versatile and don't give off the same edgy vibes as black would.
Once you've added a basic black or your alternative neutral, then I'd say it's safe for you to experiment and add other fun colors, prints, and details to your collection. You don't need to invest in an authentic leather either, it can be vegan, which is just as good. In fact, one of my favorite brands for leather jackets is Blanknyc and they make incredible vegan options as well as genuine leather/suede. What I love about them is that they make affordable alternatives to high end designer stlyles, like Alice + Olivia and All Saints; I'm all for desinger dupes ;)
:: MY PICKS ::
PLAIN BLACK
PRINTS + EMBROIDERY
COLORS
I hope you found my suggestions and selecitons (totally didn't mean to rhyme there, haha) helpful! Let me know, do YOU like wearing leather jackets and if so, what styles do you prefer? Plain, detailed, colorful?!
Thanks so much for stopping by and I'll see you in tomorrow's post, my dear friends!
XO,