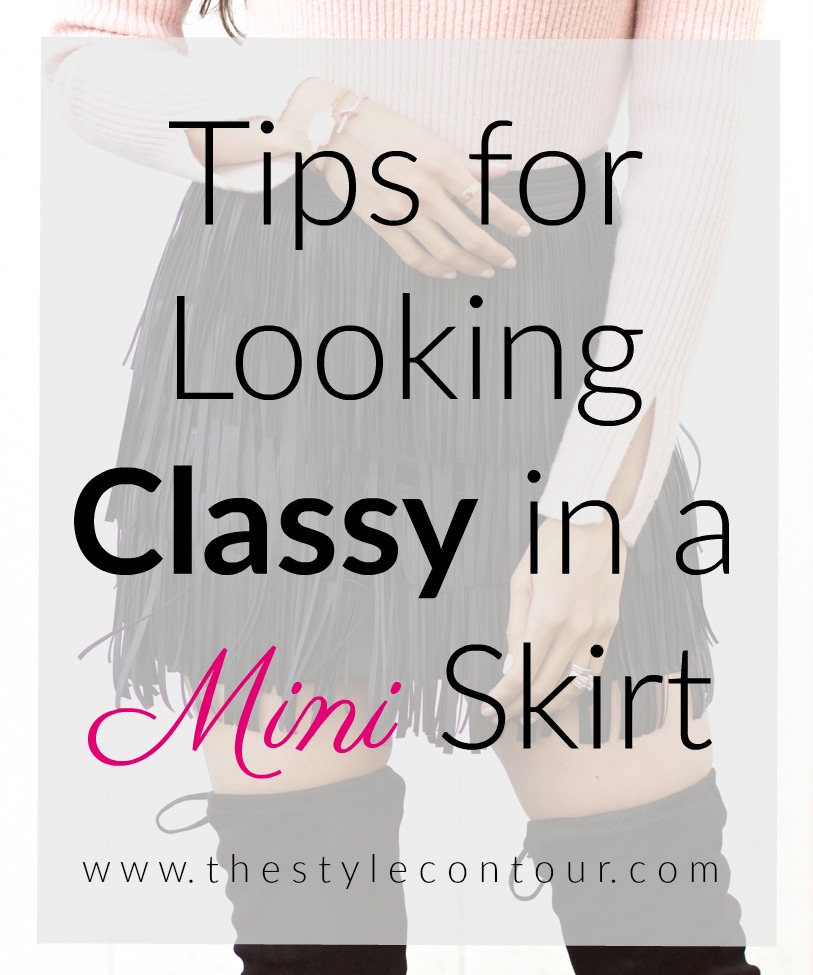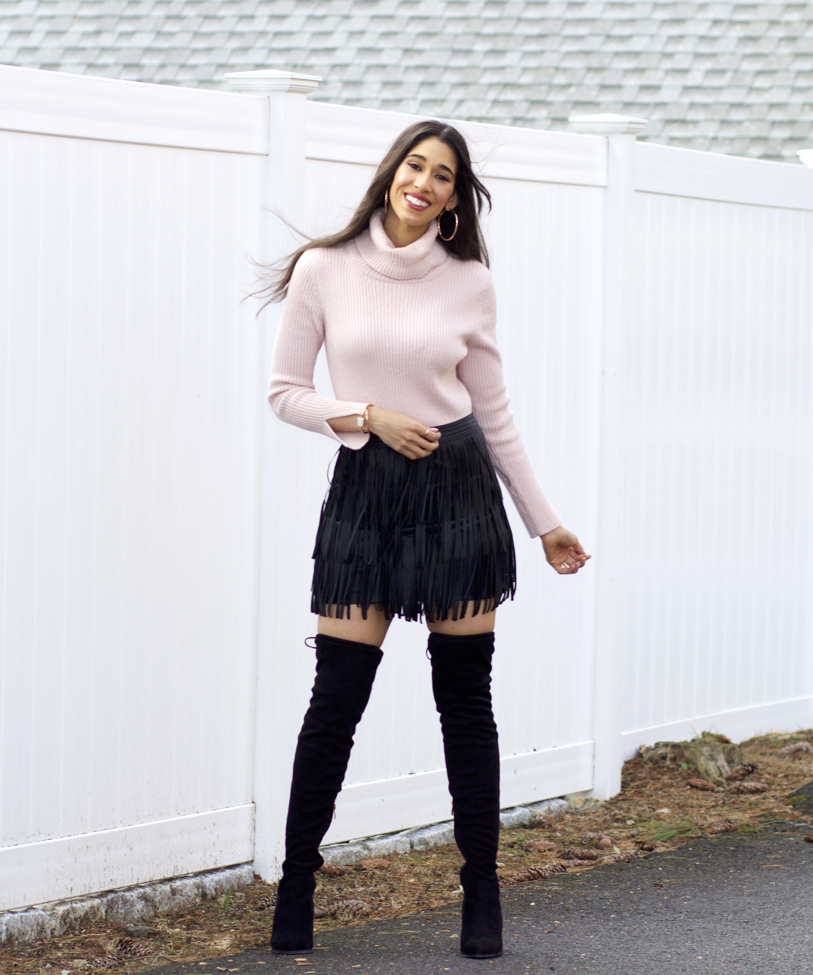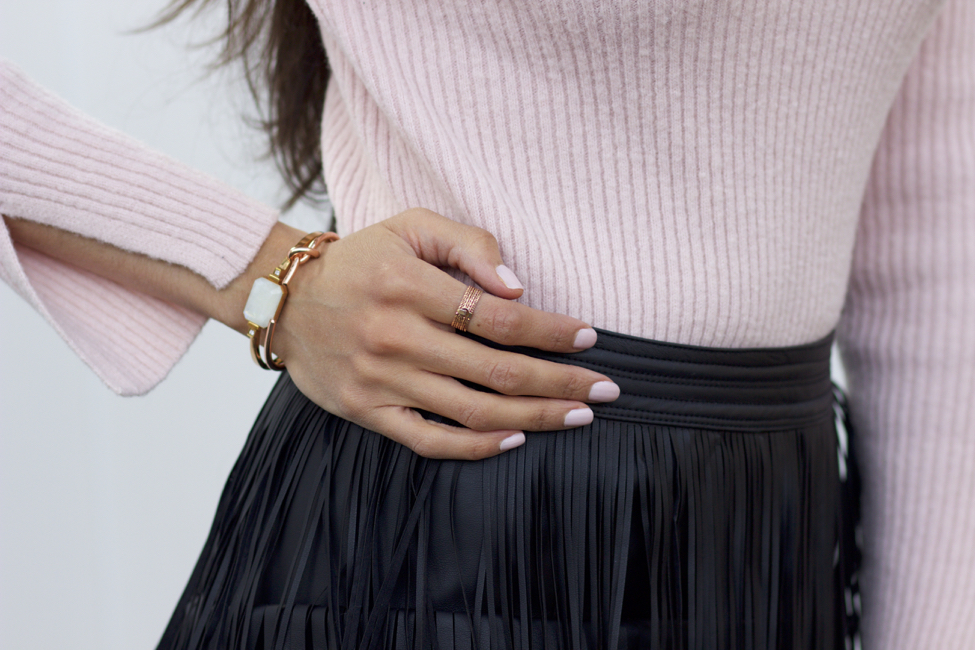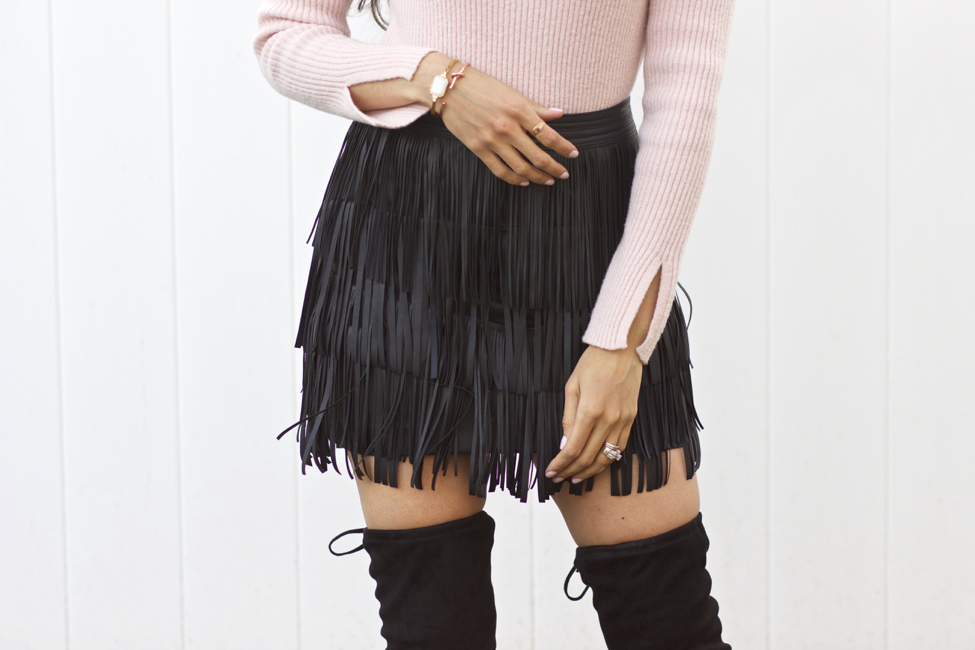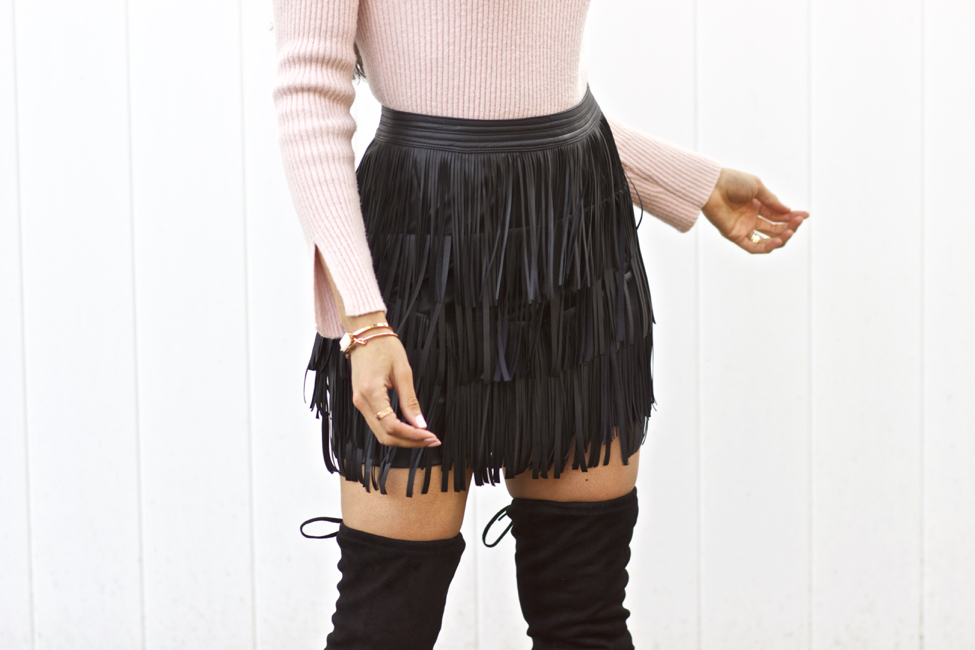 SWEATER: Similar | SKIRT: Similar | BOOTS: Similar | EARRINGS
---
---
Happy Friday friends!
When was the last time you wore a mini-skirt if ever? Okay, how often do you wear a mini? I'm guessing that many of you don't wear them for the simple fact that they're well, mini, and quite short. I can totally understand if you've avoided anythign mid though for fear of looking risque becaues they require more thought when styling to prevent such a vibe. I for one stayed clear for many years because I'd like to consider myself quite conservative when it comes to my fashion choices and the thought of exposing a bit too much doesn't necessarily appeal to me.
This is what Pinterest is for, duh! Lol! Over the past couple of years, I've seen mini's done right in a way that reads classy and stylish as opposed to a bit over the top sexy. There's a way to do sexy in a more tasteful way that's more discrete. You know, less is more and this mantra can certainly be applied to styling a mini skirt or dress even.
Here's what I'd suggest you consider:
1. GO LONG ON TOP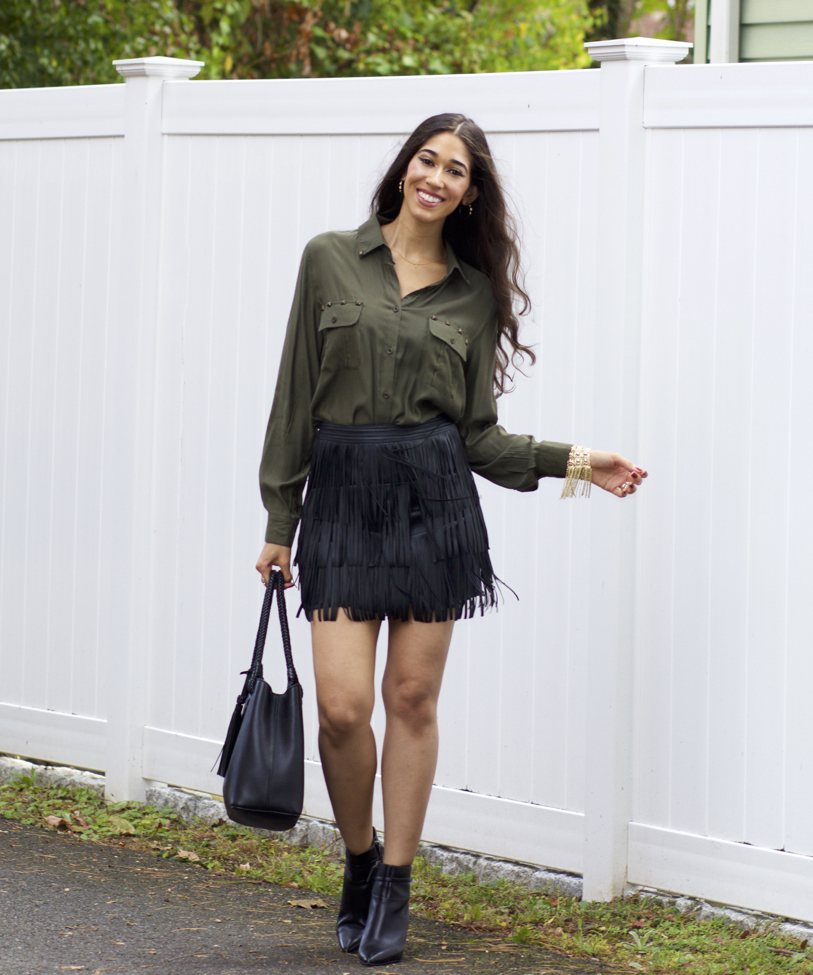 When you show less up top, showing more on the bottom won't look too daring and can be rather stylish. As you can see from the look above, I've worn a long sleeved button up with the same mini skirt I'm wearing today, paired with pointed toe ankle booties. The ankle booties come up a tad bit on the leg, which makes a difference to the overall look. It can still read strong and sexy, but in a way that's still a bit conservative and tasteful.
2. ADD OPAQUE TIGHTS IN THE COLDER MONTHS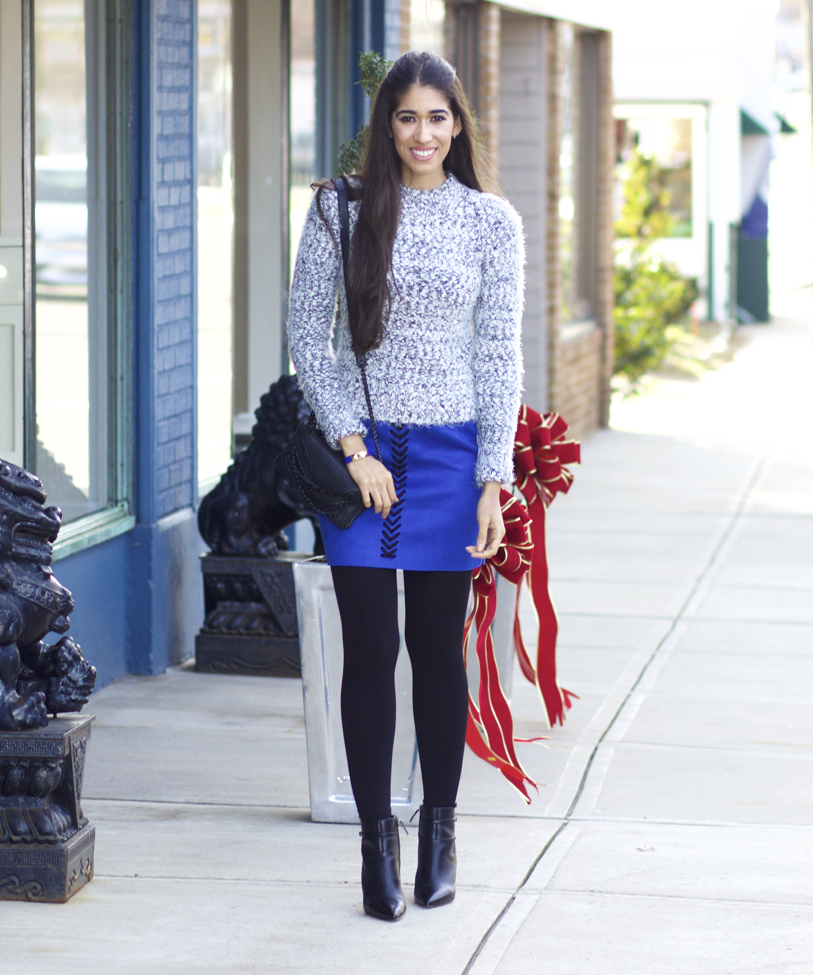 Another way you can wear a shorter number in a way that's a bit more toned down, is to style it with opaque tights and either pumps or ankle boots. I love to wear opaque tights with both shoe options, but especially with ankle boots because it creates a nice contour to the leg in a super flattering way. As you'll notice in the outfit above, the sweater I'm wearing with the blue mini is left out. By doing so, I'm visually extending the length of my torso, which will not make the mini appear uber short and counteract the lengthening effect of the black tights and boots, creating an overall balanced and aesthetically appealing look.
3. WEAR OVER THE KNEE (OTK) BOOTS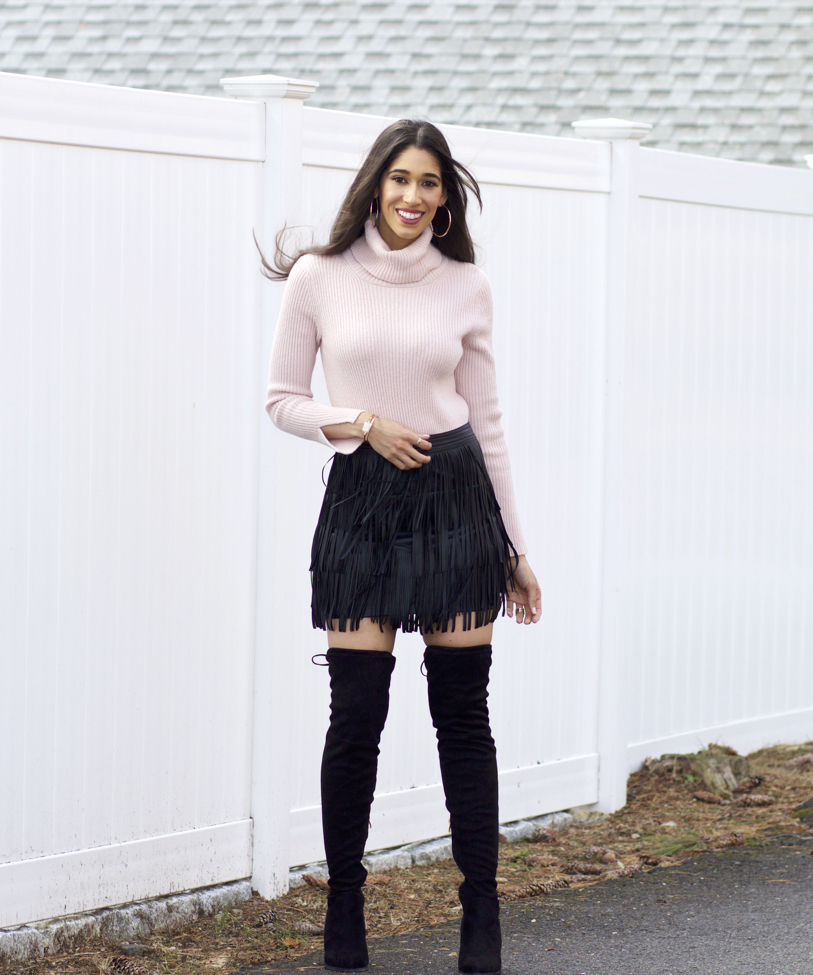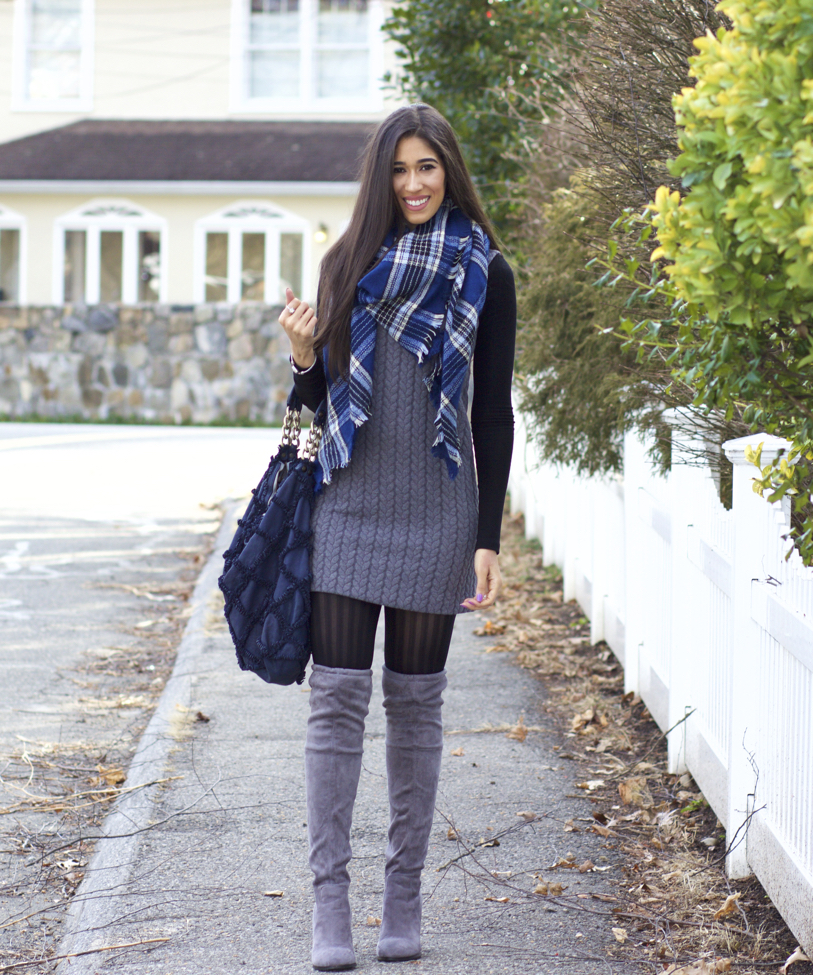 Lastly, you can ditch the tights if you so choose and the weather permits (or keep them on!) and opt for OTK boots! They'll provide extra warmth and coverage to your legs, while still allowing for you to show a little skin in between the hem of the skirt. I personally love this option, as it really reminds me of the 60s era, which is one of my most favorite decades as it pertains to fashion and style.
So there you have it! There are ways to look classy and chic when wearing a mini skirt. This isn't to say that if you don't follow these rules you won't look classy, it all comes down to your personal preference and most importantly, how comfortable and confident you feel wearing one. This is to serve as some inspiration and perhaps a little nudge to those who have dismissed them entirely as impractical. In that case, I hope I've inspired you with this post!
What are your plans for the weekend? I hope I can just take a nap. Haha, I've been saying that nearly every weekend for the past several months now, haven't I? Being a mommy is no joke! It's a pleasure, but it can be quite tiresome. Aviah hasn't been feeling all too well this past week, starting Monday. We took her to the doctor and she said she looks fine and the symptoms aren't anything to worry about, but she's been uncomfortable and hasn't had much of an appetite and I'm sure many of you mommies out there know, it's not the easiest trying to convince a 7mth old to eat!
Anyway, thanks so much for stopping by, my dear friends, and I look forward to seeing you all on Monday!
XO,