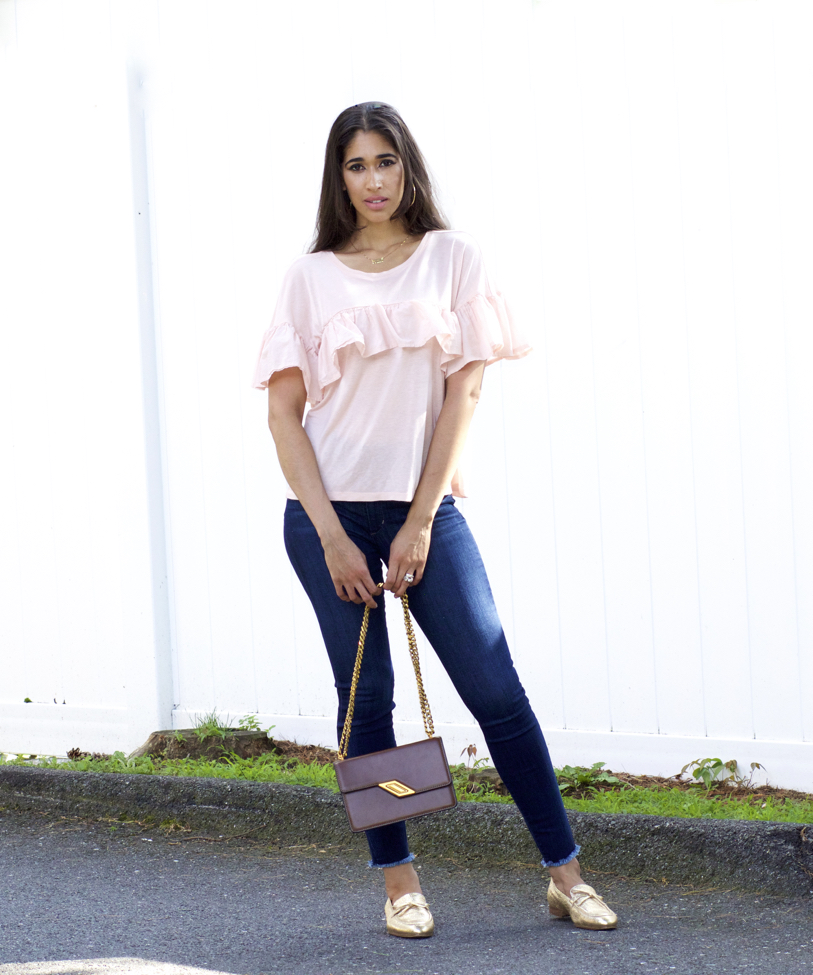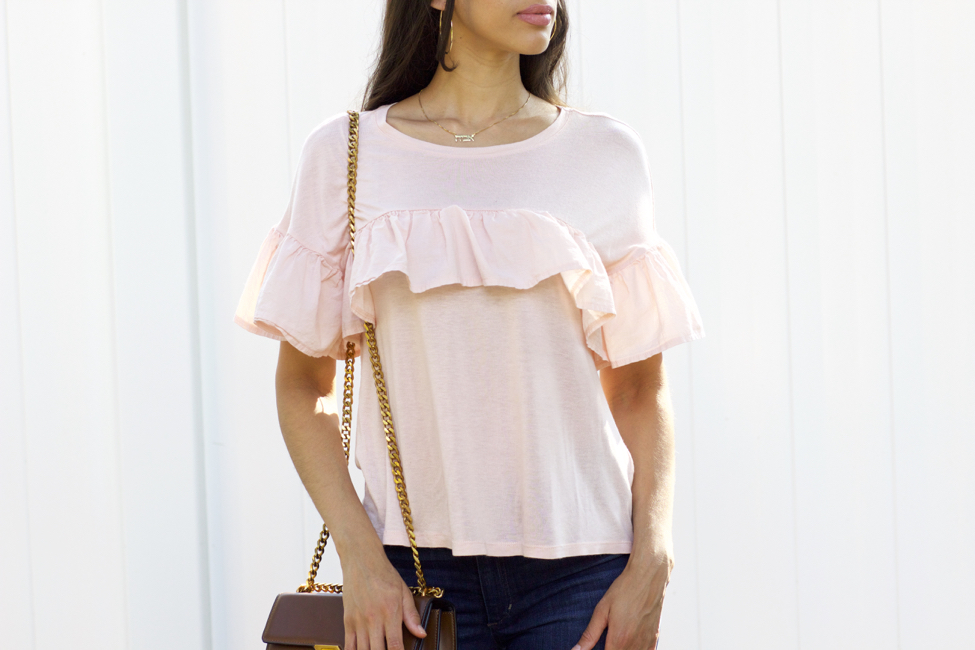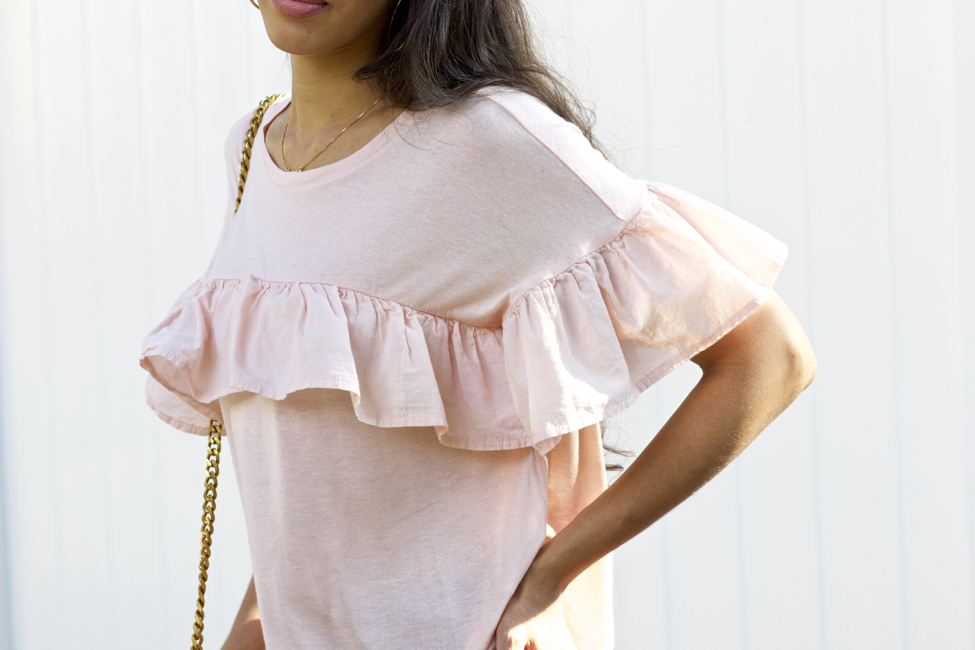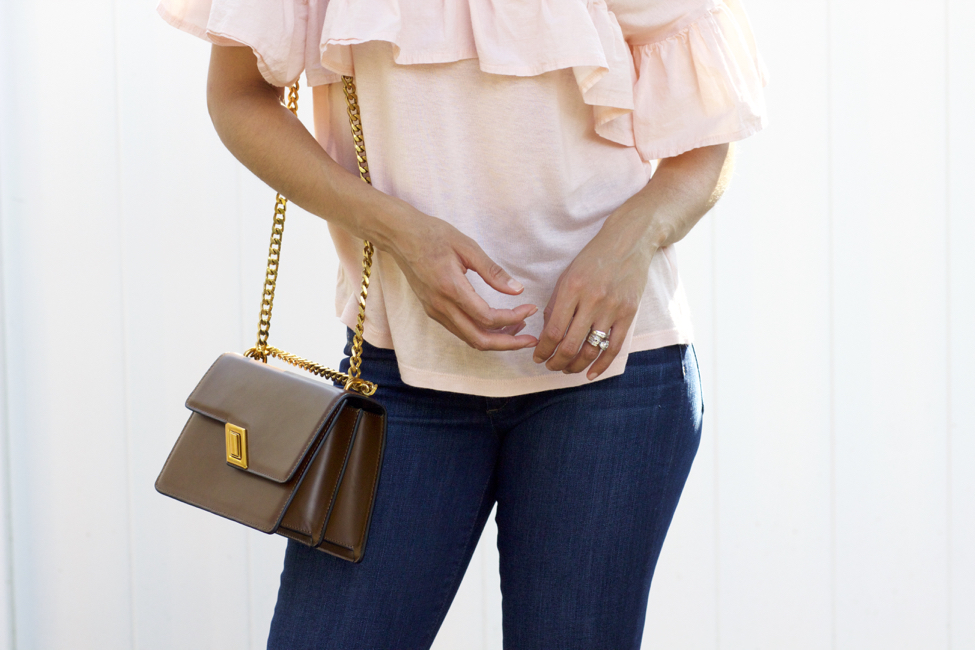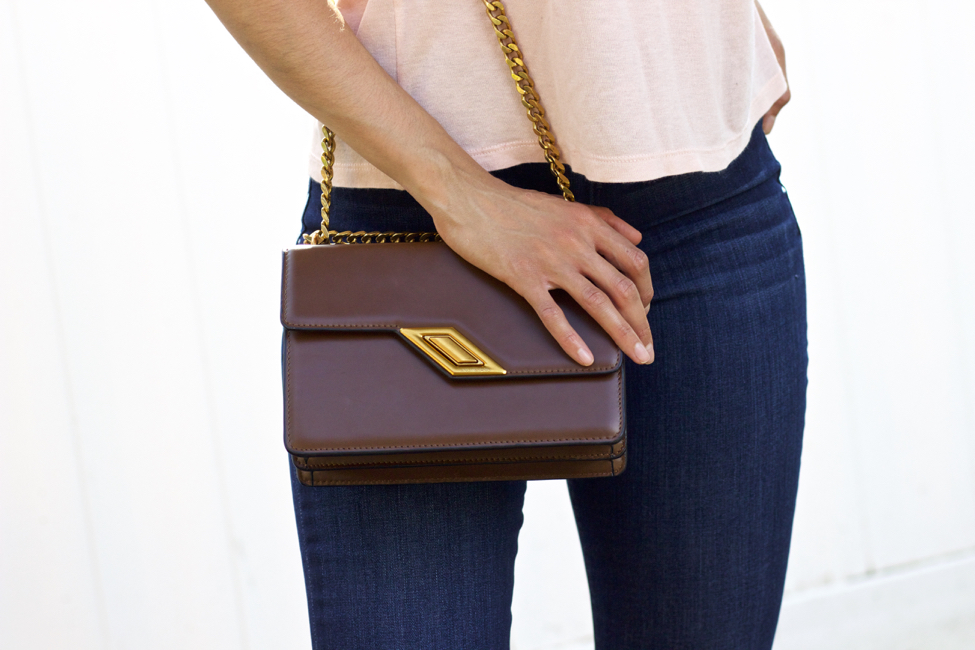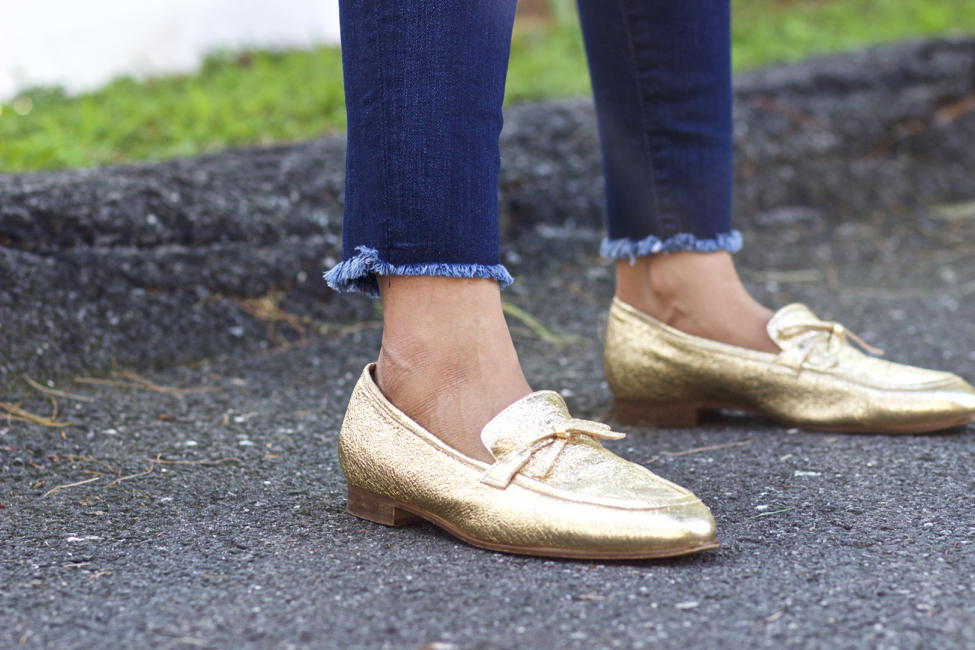 TEE: Similar | JEANS | SHOES: Similar | BAG: Similar
---
---
Happy First day of August my friends!
Where is the summer going? Where is time going for that matter and how is Aviah going to be 13 months tomorrow? She just turned one! Yes, I'm one of those moms that still goes by months. I used to think it was so funny whenever I heard moms say that, but now I understand how much growth and development takes place between 12 and 18 months for example!
Anyway, this tee may look familiar as I've worn it recently, but with white denim shorts. This time around, I decided to dress it up a bit with a pair of raw hem denim in a dark wash and gold loafers. I was in desperate need of a pair of new dark washed jeans; I'm glad I stubbled across these. They're so comfy and I love the raw hem, which adds a nice little edgy detail. I did size down for reference, since they have a good stretch to them.
A pair of dark wash jeans is an essential in my opinion. The reason is that they exude a more dressier vibe than lighter rinses, making them great to transition from work to after hours or to events where you need to be a bit dressy, yet you can still get away with wearing denim.
Since I'm speaking of a pair of new denim I've added to my wardrobe, I wanted to share some of my Nordstrom Anniversary Sale misses with you, since it ends on August 5th (see all my fave picks from the sale in my previous blog post here). This BlankNYC suede jacket, unfortunately, had to go back. I really wanted to love it, as I'm such a fan of the brand, but the color wasn't doing it for me. In the photos, it looks more like an olive/brownish color, but instead, it's more of a moss green, completely different than what the photo depicts! It's beautiful, don't get me wrong, it just wasn't what I was looking for and didn't flatter my skin tone. I did, however, purchase this gorgeous purple one from their website, which is also on sale; I can't wait to get in the mail. Fingers crossed it'll be the same color as the photo!
I also returned these leopard loafers, which I tried to convince myself to keep, but I just couldn't. They're absolutely GORGEOUS, BUT, they have a huge gap at the top of the elongated tongue, which doesn't flatter my extremely narrow feet; it just doesn't look good. If your feet aren't narrow, I'd definitely suggest, the quality is so good. Lastly, I had to return this color block sweater. I just couldn't justify adding yet another burgundy piece that I wasn't absolutely in love with, though I did keep the black version, which is so chic! If you decided to purchase it, I'd suggest you size up because it's a bit cropped.
What I also keep was this sweater, which I got in the green shade, which is GORGEOUS! I think it's a shade that would look great on all skin tones. Some of the reviews said it was neon, but that's not so. It's just a vibrant green. They also suggested to size up, but I purchased my regular size and it fit great. Unless you want an oversized look, then you wouldn't need to. I also held onto this beautiful sweater, which I purchased in the cobalt blue. For Avi, I got her this reversible coat that'll be perfect for winter. I sized up and it fits good now, but I know it'll fit even better during the winter; it's so warm and cute!
I hope you found some inspiration from today's post, my beautiful friends! Did any of you shop the #Nsale? What was your fave piece?