Happy Tuesday, my dear friends!
I hope you're having a great start to your week so far!
Have you ever gotten dressed and felt as though something were missing in your outfit? I know that's happened to be a number of times and during those times, I didn't exactly know what I should add to my look to help elevate it and make look more polished and put together. If this is something you've struggled with and are looking for some quick fix ideas or never fail go-to's, then I hope you find today's post helpful, since I'm sharing four go-to pieces that haven't failed me and I'm sure won't fail you, regardless of what situation or outfit you find yourself in ;)
BLAZER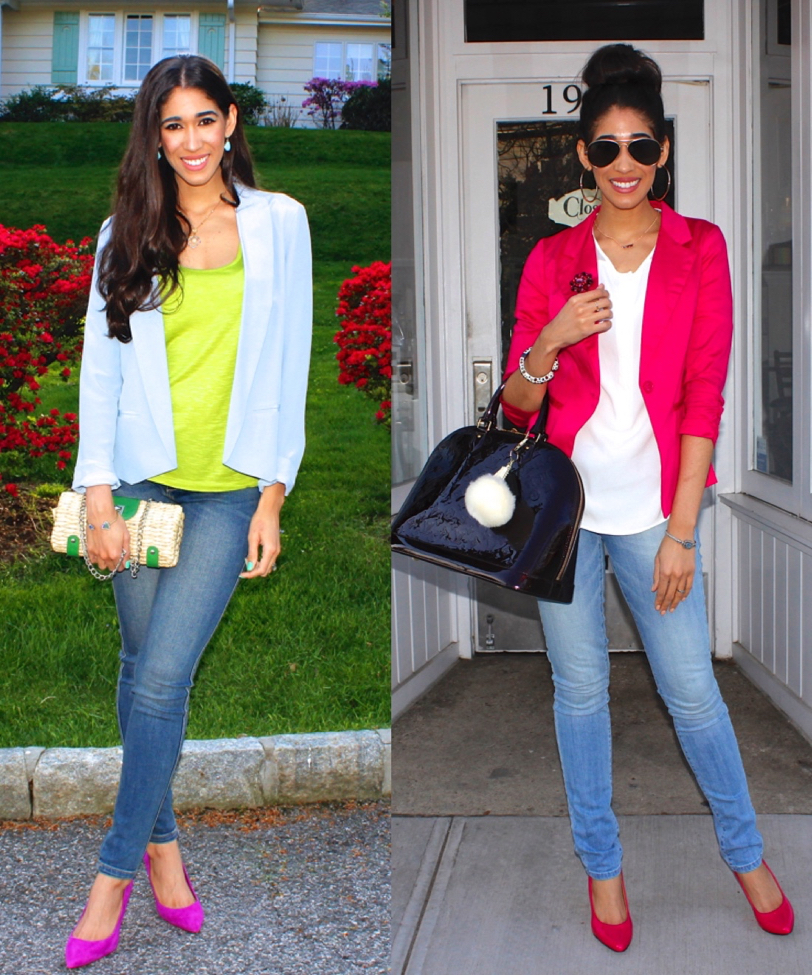 Blazers are a must have staple in every woman's wardrobe, regardless of your age or profession! If you don't have one, your homework is to purchase one asap, haha! What makes them so essential is that they're extremely versatile and will instantly pull any outfit you wear together.
I highly suggest you look for one that you feel flatters your figure, like the two I'm wearing above. Both blazes taper in slightly around the midsection, which is flattering for any body shape, as it will make the waist more defined, which would otherwise get so easily lost under a jacket! Once you have at least one style like this, you can then look for boyfriend or more relaxed styles to add to your wardrobe!
DUSTER VEST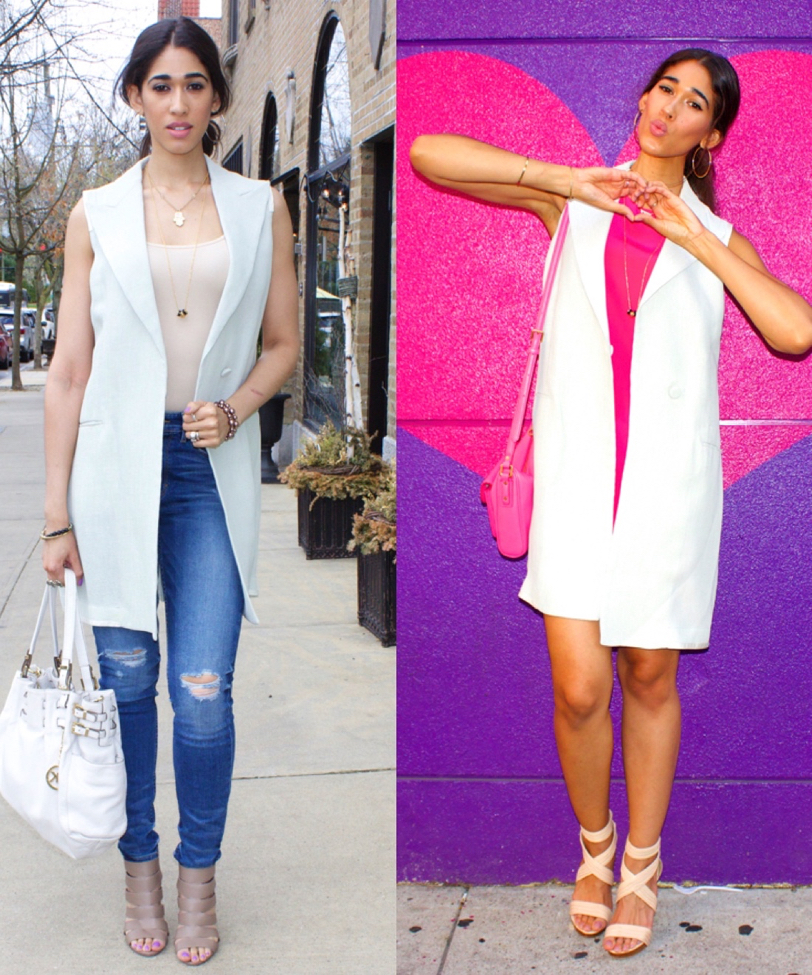 Vests can serve as an alternative to blazers during the spring, summer, and early fall months. While they can exude much of the same vibes as a blazer, this isn't entirely the case with a denim vest. I, of course, suggest you add a denim version to your wardrobe, but a more basic, dressed up version is more versatile, allowing you to wear them to work with a silk dress or with a pair of denim shorts on the weekends.
Duster vests have the tendency to create a long, lean streamline effect to the body, which is nice! Plus, it can have more of a dressed up feel, as opposed to a waistline version. If you are petite, don't think you're excluded from this style because it's longer, you can most certainly pull it off, too! Be sure to select a style that's in a petite collection or line, to ensure the proper fit and length for your proportions, to avoid appearing shorter than you are.
STATEMENT NECKLACE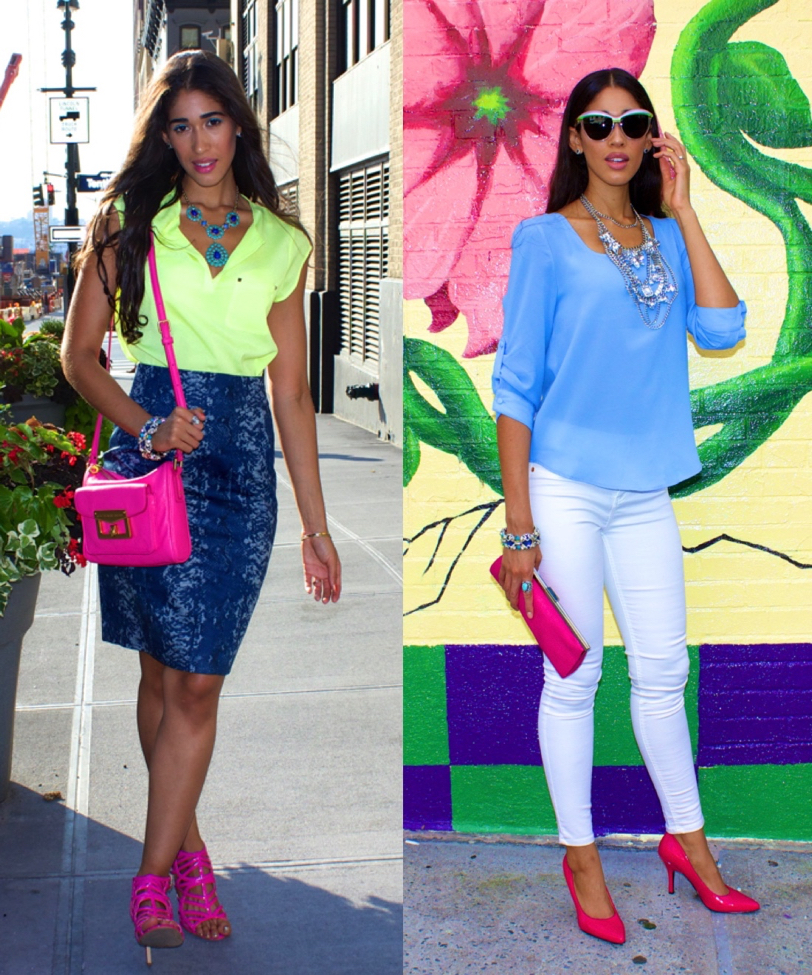 Now I know not everyone is a fan of statement necklaces and prefer more subtle, everyday wearable pieces. I get it, it's definitely more practical. However, I suggest you have at least one statement necklace that you can turn to for special events and occasions, even if that's full pearl necklace. It doesn't need to be something extremely colorful or layered, like the ones I'm wearing. My point is that a larger necklace can fill in more negative space in your chest area when wearing certain necklines, such as a sweetheart or v-neck, where the absence of a necklace is more noticeable.
Plus, it brings attention to an area that is universally flattering and that's the neck and upper chest region. No matter your body shape, height, size, or skin tone, these areas are the most attractive on everyBODY!
WAIST BELT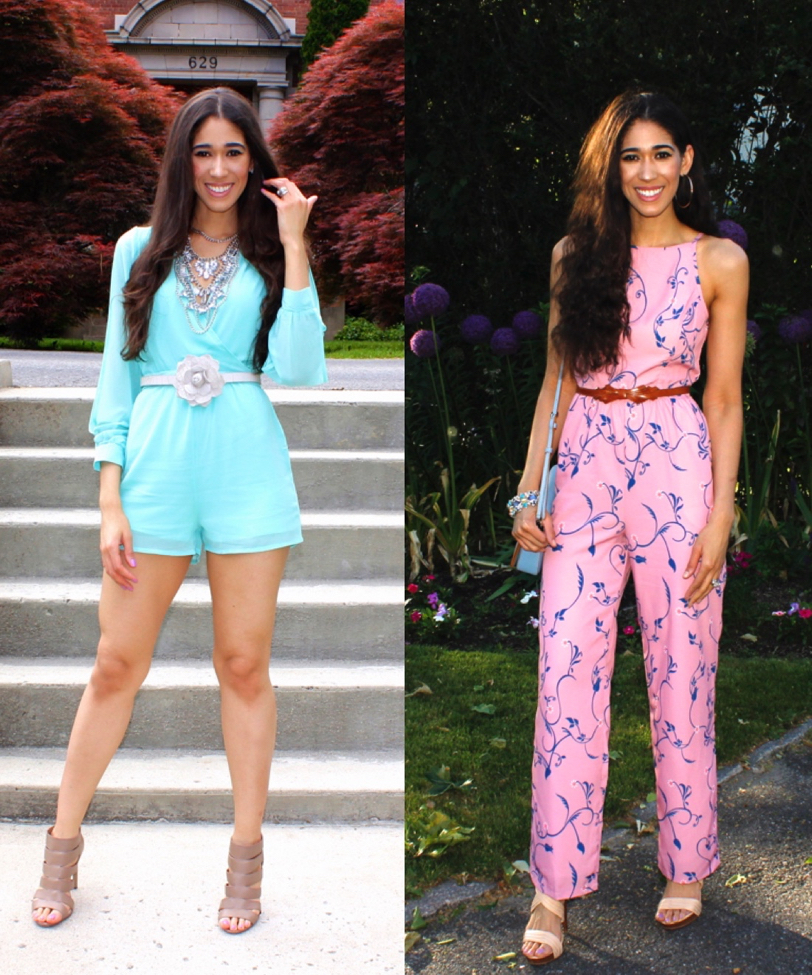 What I love about waist belts is that they can either emphasize or create the appearance of a defined waist line. I've heard so many women express frustrations about not feeling as though their waists are this or that enough. Girl, grab a waist belt and ROCK IT! Ok, honey (finger snap 2x)! I love, love, love to wear waist belts with single piece items especially because there's no way of tucking or half tucking to create a more flattering effect. There just fabric and lots of it! It not only adds either color, print, or texture to your outfit, but will visually distinguish both your upper and lower portions of the body, instead of just one long piece of clothing, which is more the case with either a maxi dress or jumpsuit.
If, however, your goal is to look taller, then I suggest you pass on the belt and add a necklace instead. With so many different sizes and options, finding a flattering belt can be a bit of a challenges. Which is where this girl comes in, you already know I've got your back, girlie ;) Check out my YouTube video where I not only explain what kind of waist belts flatter your body shape, but I discuss the best placement for your shape as well, check it out!
I hope you found this post helpful in what you can always reach for when you want to instantly look more polished and put together. The fact that some of the pieces flatter our body shapes make it that much more of a staple. When the clothes we wear fit and flatter our figures, the outfit will appear more tailored, therefore more put together! Thanks so much for stopping by and I hope your day is as amazing as YOU!
XO,