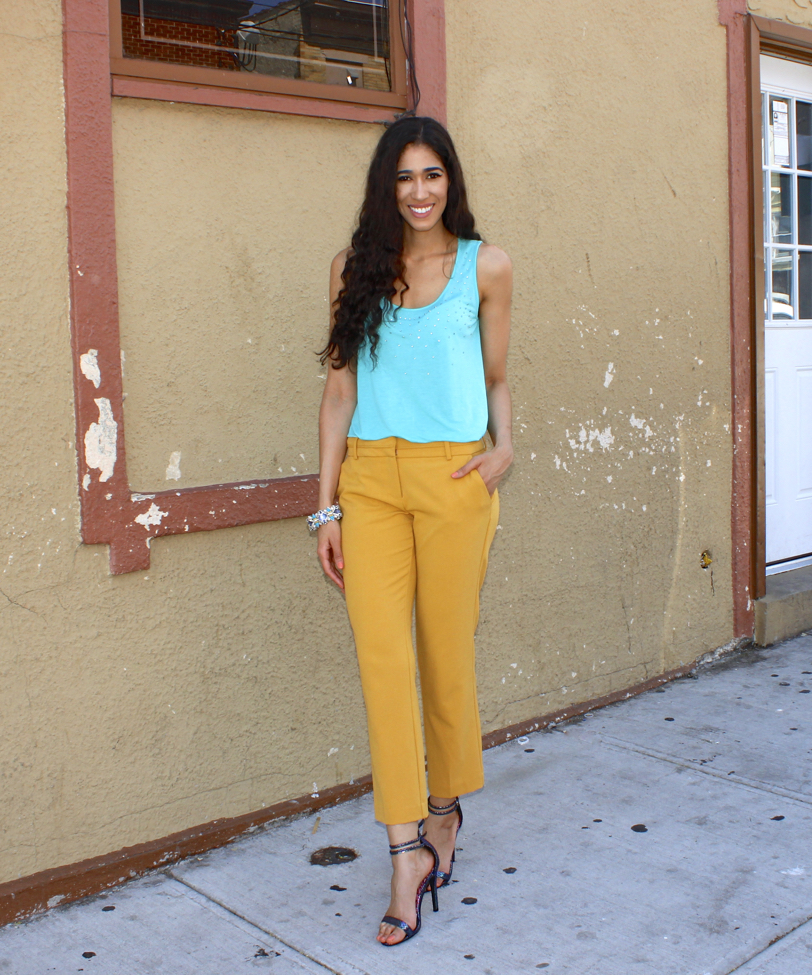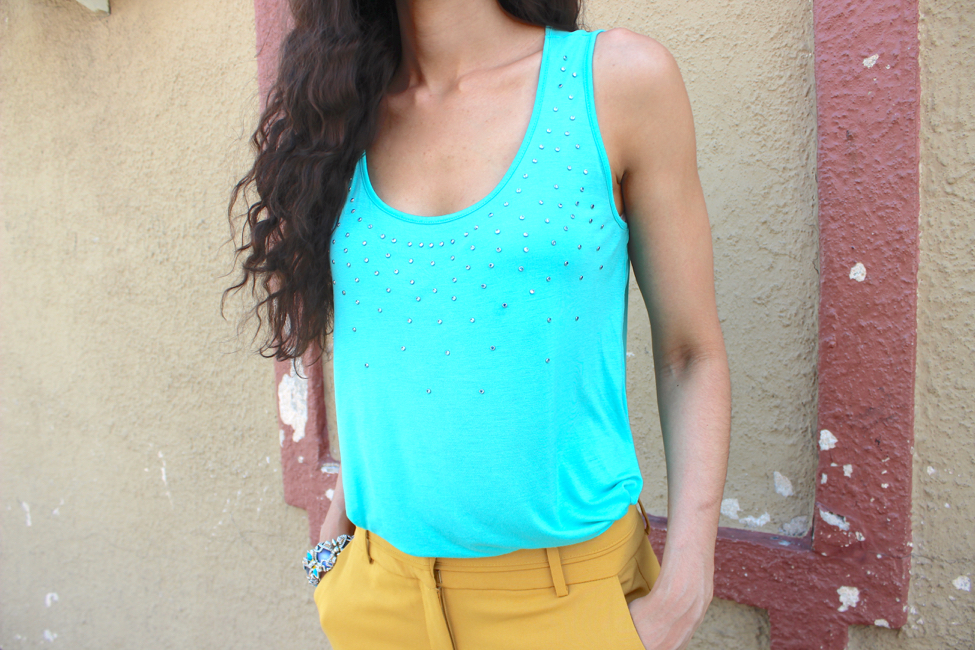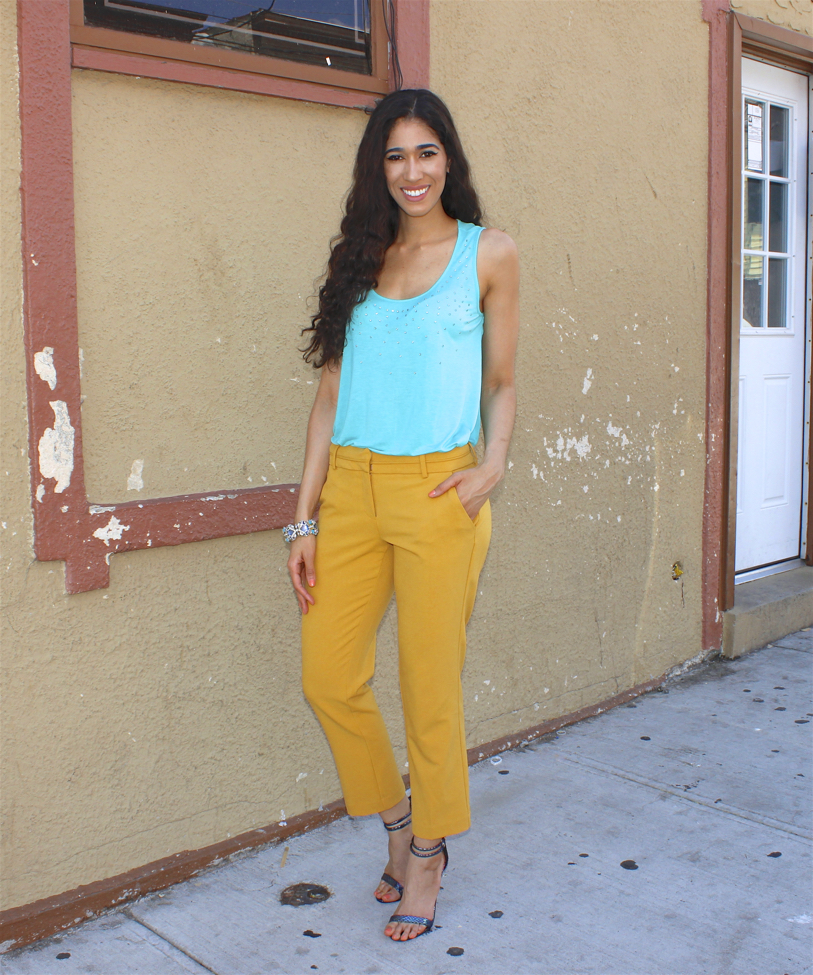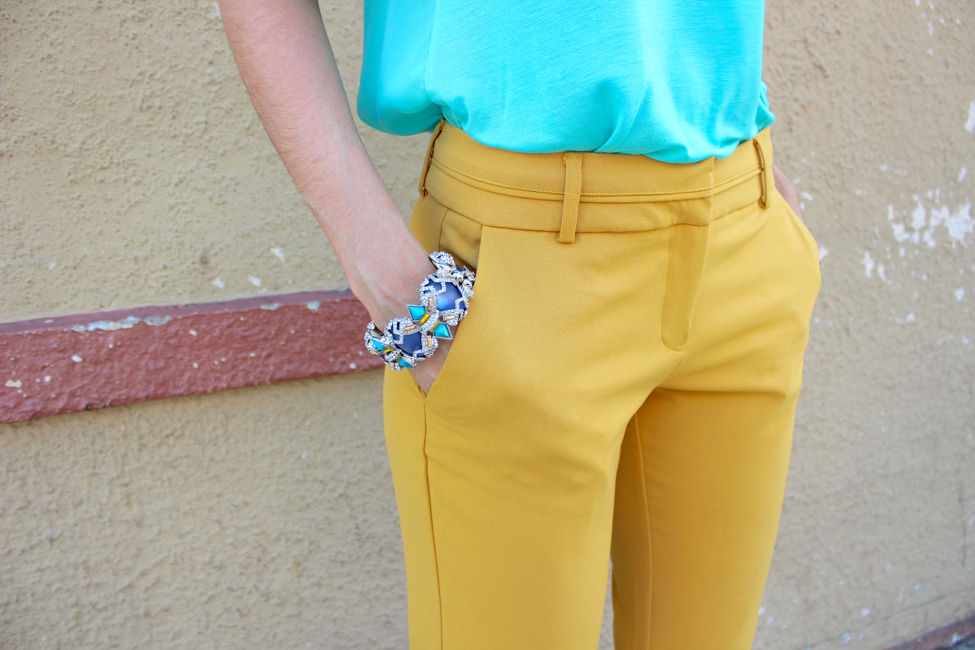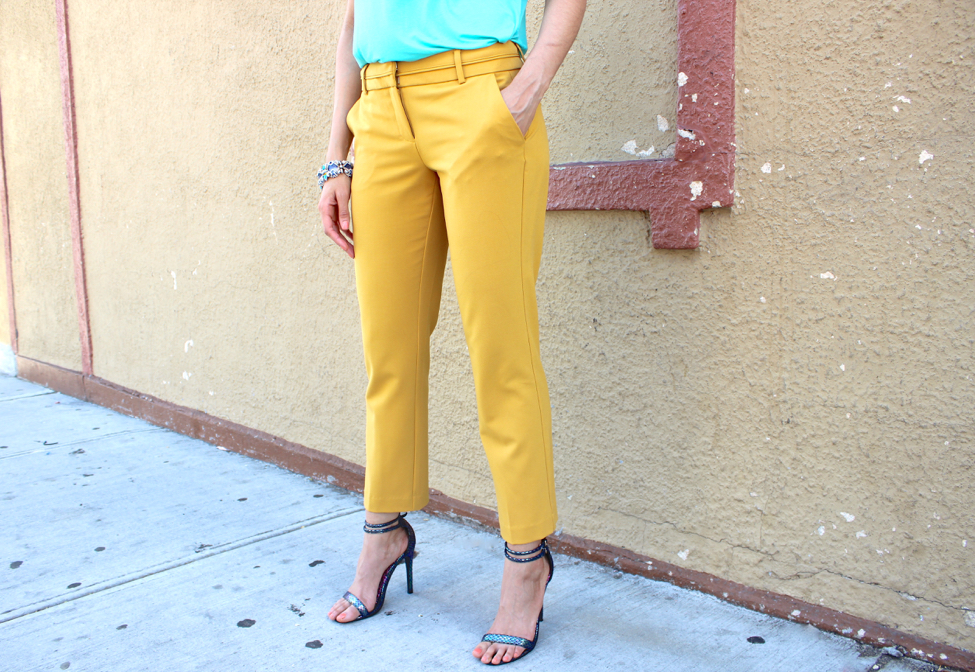 GET THE LOOK!
Tank: Marshalls // Pants: New York & Company (similar HERE) // Bracelet: Alexis Bittar (similar HERE) // Sandals: Missguided

Happy Monday, my beautiful friends!

Many of us have had the discussion of wearing our items for years and repeatedly at that, in the comment's section (don't forget leave a comment, I love chatting with you guys!) of a lot of my previous posts.
As a fashion and personal style blogger, I won't deny the fact that I do feel the need pressure at times to wear new and exciting pieces, but truth be told, I'm not a Rockefeller, though a girl can dream, haha. So, while I do add new items into my wardrobe as much as I can, I'm always looking for new and interesting ways to remix what I've had and loved for years.
A couple of ways that I feel are great to remix some of your most loved and used items to help them appear fresh and new (other than taking good care of them) would be to experiment with various textures and unique color combinations, during the summer it's mostly the latter for me.
I try not to limit myself to what can have the potential to inspire me. Most often, I'll get an idea when I'm in a rush and happen to notice a group of colors conveniently packed together in my closet and think, hmm, this color combo just might work!
Or when I'm on my down time cleaning around the house, I may come across one of my jewelry pieces, such as the Alexis Bittar bracelet I'm wearing and for some reason, look at it with a completely different eye, noticing a color combination I've (surprisingly) never tried before, in this case, mint green and mustard yellow! You know that saying beauty can be found anywhere?! It's certainly true, so really take the time to open your eyes and look around, allowing your senses to fully absorb what's around you!
I'll be honest and say that the sound of mint green and mustard yellow isn't necessarily convincing, but when actually held up together, I love the way they look and I feel they are a color combo that every skin tone can wear!
Some of us have spoken about not liking the way mustard yellow looks against the skin tone or hair color. Today I'm suggesting that if you like a color, but don't feel it's the most flattering, try wearing it in an area that's away from the face, such as in bottoms or shoes! Then combine it with a color that you feel absolutely amazing in and that works with your skin tone. Since it's closest to your face, it'll give a nice glow and prevent your hair from appearing dull and counteract the negative effect the not so flattering color can have on your skin and hair ;)
PS: For some more color ideas to pair with yellow, check out my post from The Color Series for the color here!
What are some creative ways you style some of the oldest pieces in your wardrobe to make them look new? Also, let me know how your weekend was, did you do anything fun?! Thanks so much for stopping by and I hope you're having the most amazing start to your week so far, my beautiful friends!
XO,