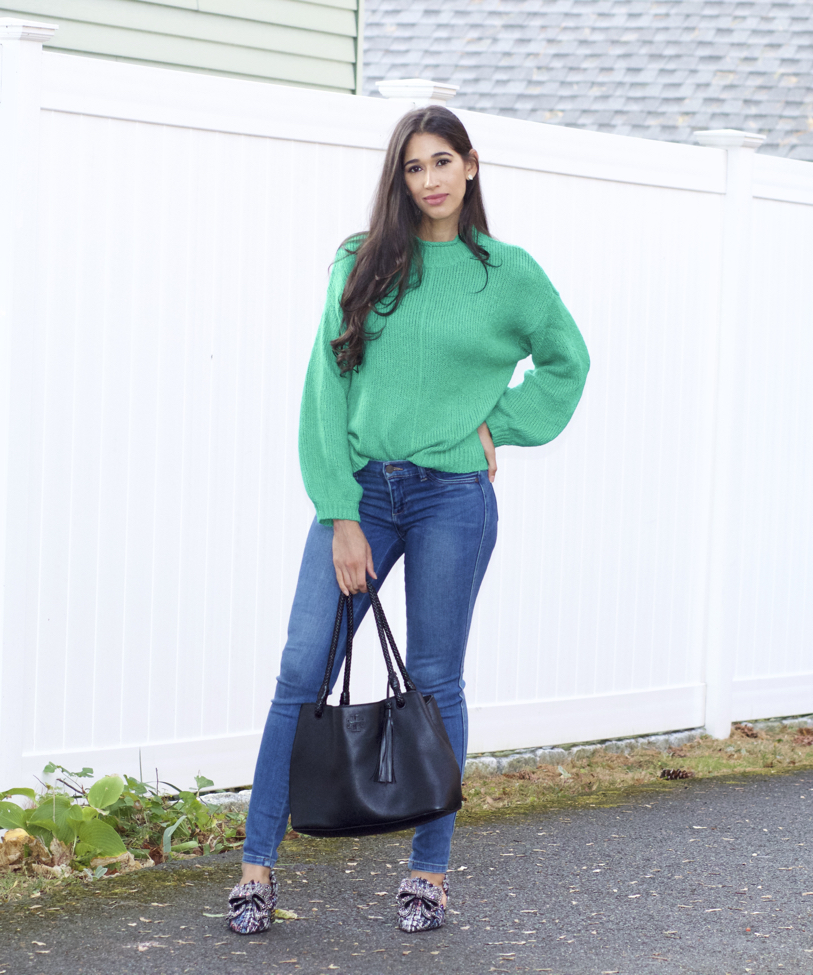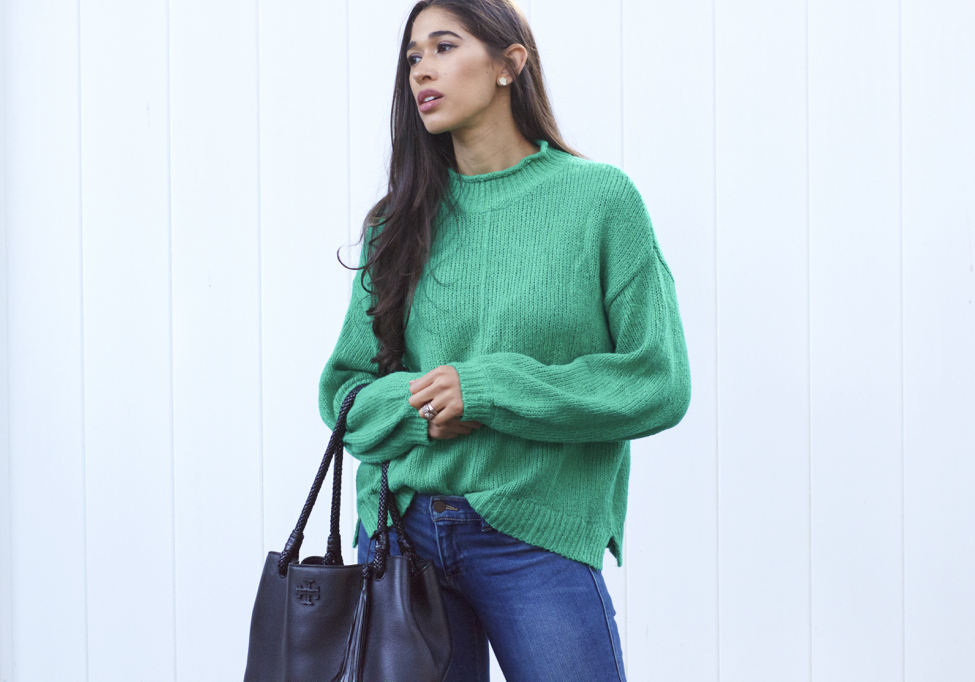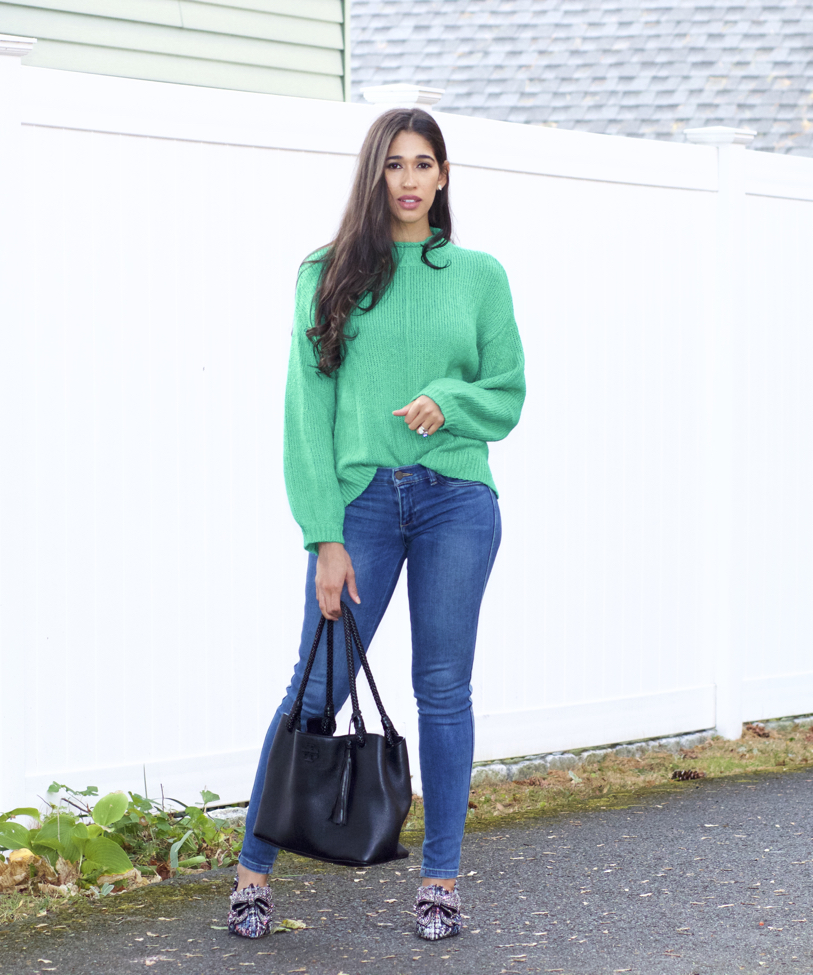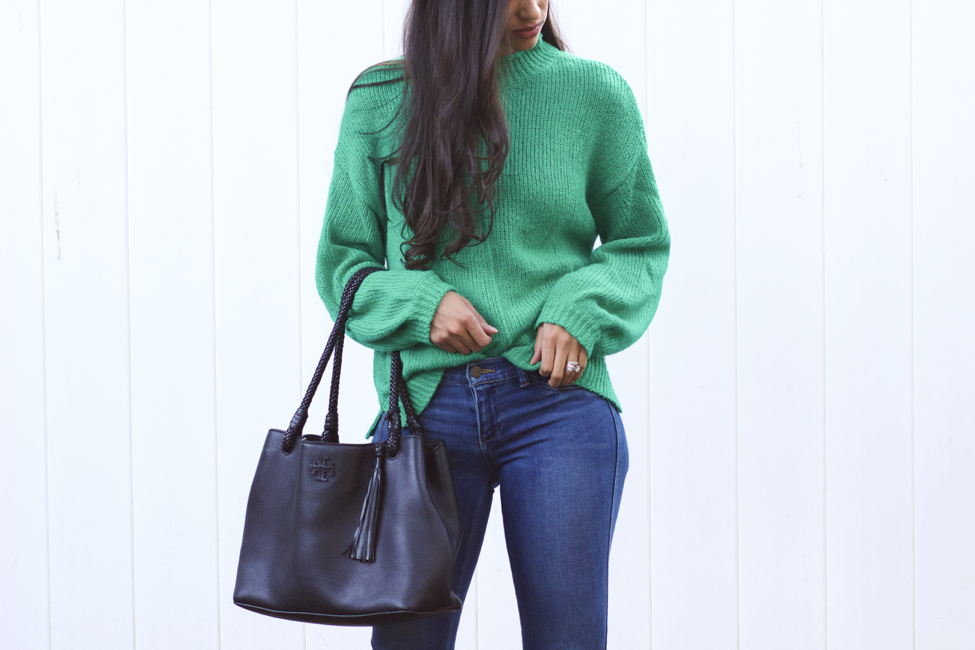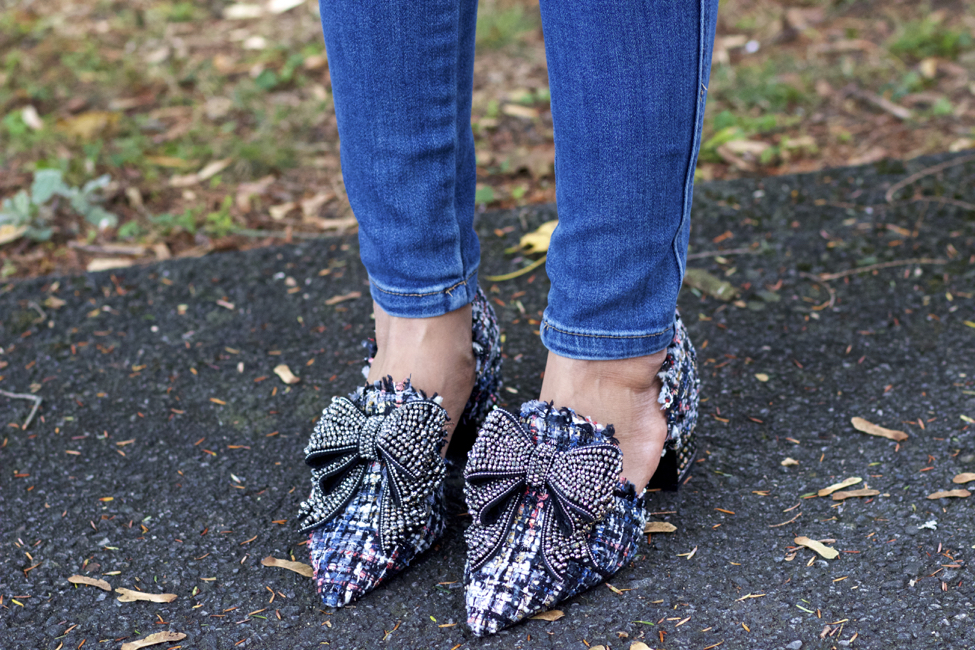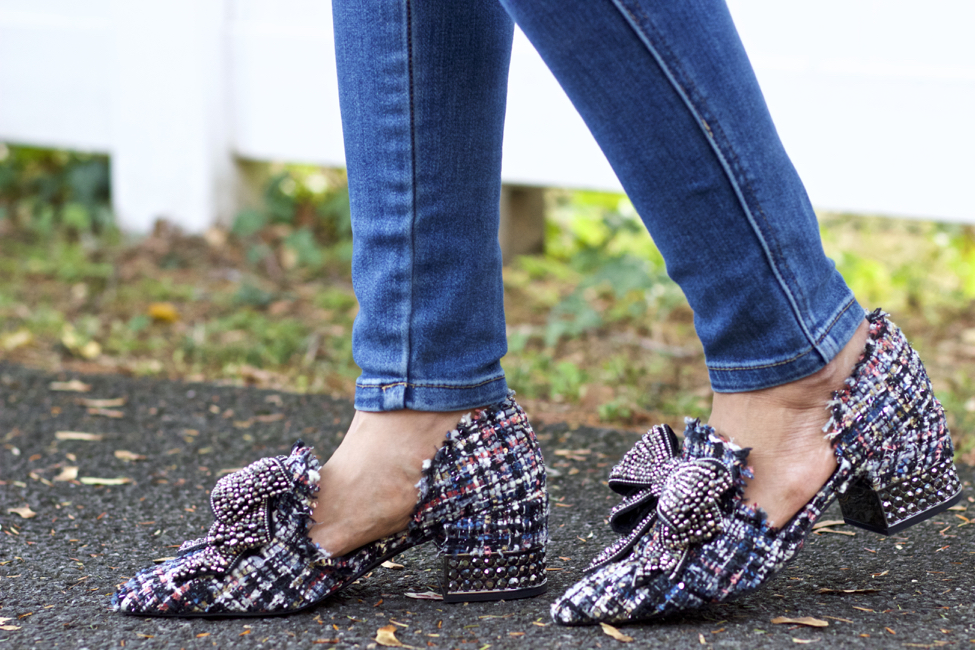 SWEATER: Similar | JEANS: Similar | SHOES | BAG
---
---
Happy Monday my beautiful friends!
I hope you all had a great weekend! You know the fall festival I told you were going to in Friday's post? Well, we unfortunately missed a huge chunk of it due to Aviah's nap time. We initially planned to push back her nap a bit for the sake of the event, but she was just way too cranky to do that. She wouldn't have enjoyed herself, like she did. We stood for about the last hour and made the best of it. We caught the tail end of the little concert they had going on and Aviah was able to eat her weight in cookies, crackerjacks and drink and entire bottle of homemade apple cider. I count it a win! Needless to say, I wasn't able to share the experience as I'd hope for on Insta Stories. Maybe the next event :)
Anyway, it's no secret that these days, I'm all about simplifying the steps I take in getting myself ready and out the door, since now I have to get three of us ready. I always get ready last because I'm bound to get dirty otherwise. In doing so, I need pieces and methods that help getting dressed quick, while looking stylish and put together, which will make me feel and look more confident. Last week I shared an easy outfit formula I often use for getting ready in the fall. Today, it's all about the shoes and not just any kind of shoes, statement shoes!
Statement shoes are pretty self explanatory—they make a statement. They have one or more details that captivates the eyes. This is your secret weapon when you're in a style rut or just simply want to take your outfit to the next level. In these past few months, I've added quite a few pairs of statement shoes to my (growing) collection. Boots, pumps, flats; I've got all of the categories covered because I love the idea of throwing on a comfy sweater and pair of jeans, knowing that my shoes will elevate the look. I don't need to rummage through my jewelry draw to find the perfect necklace. I know that I can sort of grab and go. I say sort of because a statement shoe doesn't completely take away the effort of getting dressed, it just simplifies it. Take these gorgeous bow loafers for instance, which by the way took me two whole months to track down! They're tweed and feature quite a few different colors, which can still make getting dressed easy, but they're not a solid black. If I want to create a cohesive look, I'd need to consider the colors and choose a top that's a matching or similar shade. If I want to get a little creative, I can select a color that isn't found in the shoe, but that would work, which I've done today. In other words, a statement shoe can make your life easier and that's why I feel you need one. Plus, they're versatile. You can dress them up or down, allowing you to wear them to a special occasion and with a pair of jeans. You have options.
So, if you have a pair of shoes you purchased to wear for a wedding or special event, they don't have to be kept in the box until that next similar occasion, you can wear them tomorrow to work or this weekend for brunch with a nice top/sweater and pair of jeans!
I hope you found this post helpful and that it gave you some inspiration for wearing a pair of statement (dressy) shoes you already own or nudged you to add a pair to your shoe collection. You'll most certainly get plenty of use out of them!
Thanks for stopping by, my friends, and I hope you have a great start to the week!