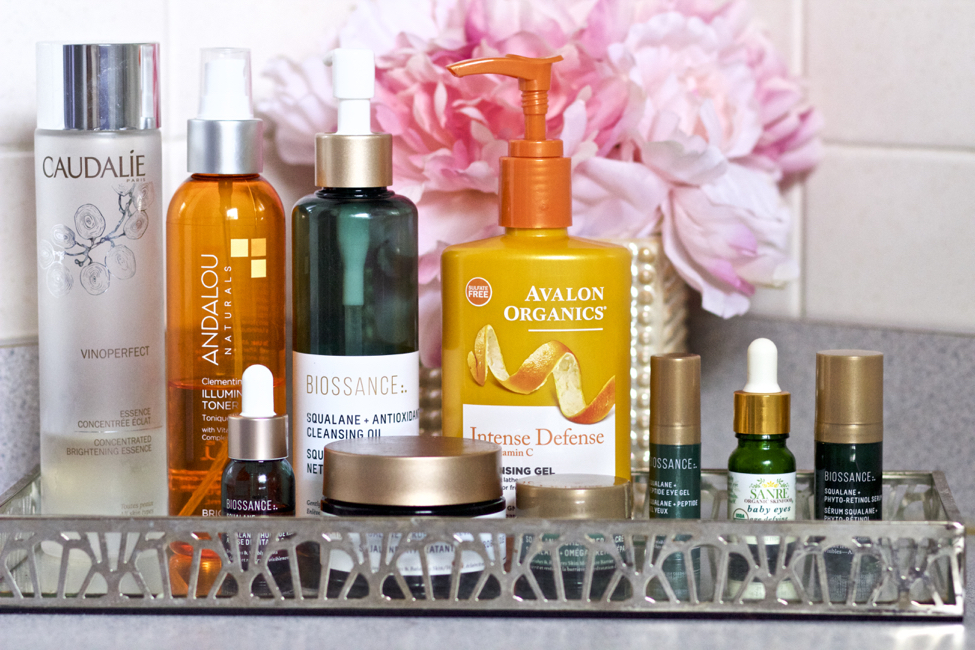 ---
---
Happy Wednesday my sweet friends!
It's been close to a year since I've last shared my skincare routine and it's pretty much changed entirely, with the exception of my face wash. It's the same brand, just a different formula. I have to be honest and say that I was a bit inconsistent with my skincare routine during my last pregnancy because my main symptom was fatigue and I just wasn't in the mood to fuss around with a ton of bottles. When I was pregnant with Aviah, I didn't really experience any skin changes while pregnant, though immediately after she was born, I got a ton of new freckles on my face, which I was fine with. With my Ariah, I noticed that those same freckles darkened and my face looked dull. There was no "pregnancy glow." As I neared my due date, while the 'Sephora Spring Sale' was conveniently going on, I thought it was the perfect time to try some products specifically tailored to brightening the skin, but that were safe and clean to use while pregnant. I didn't experiment too much with anything new, only a handful. I shared a little haul in this post. I guess you can consider this post a somewhat follow-up to that one, since I'll be mentioning my thoughts on some of those products today.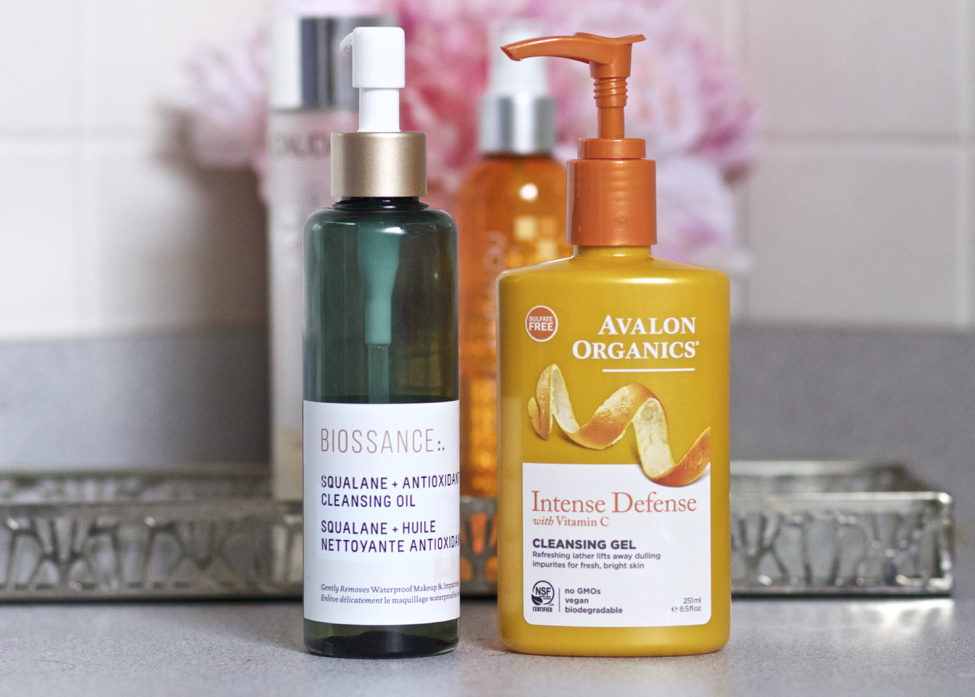 Let's begin with cleansers, since this is the first step in a skincare routine. I'm no longer using the oil cleanser I mentioned in this blog post and it's not for any specific reason other than I wanted to try something different during the sale and had heard so many great things about Biossance. I decided to try out their Squalane + Antioxidant Cleansing Oil. I was enticed by just seeing the word antioxidant; we all know how great they are for your skin. It's very easy to work with, you simply massage the oil all over your (dry) face and it will begin to break down all of your makeup or skincare products you've had on throughout the day or over night. It works great on heavier formulas, such as foundation, eye liner, and sunscreen. If I'm wearing a full face of makeup, I'll use two pumps. After messaging and you see the product(s) removed, you wash it off with water and apply your daily cleanser. I won't get into much detail on the one I'm using, since I featured it in my previous skincare post. Though it's a different formula (gel and not milk) I haven't noticed anything different.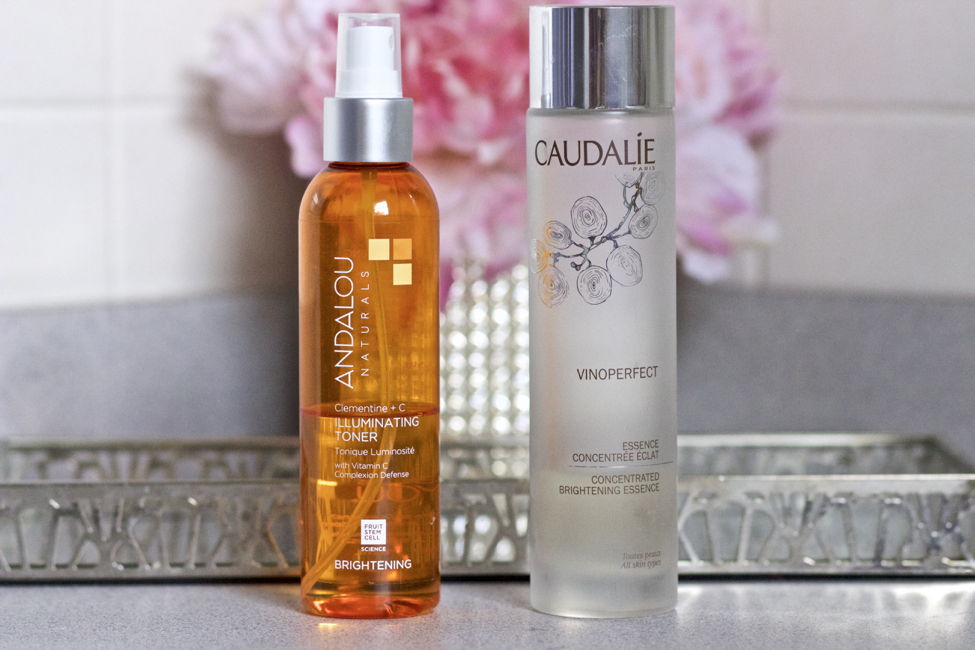 I absolutely love this Andalou Naturals illuminating toner! I saw a difference in my skin after just a couple of uses. It really does brighten my skin and doesn't make it feel striped and dry, like a lot of toners do and I'm assuming it's due to the aloe vera. It targets hyperpigmentation and UV damage, so this is a great one to try now that we've just come out of summer. I think I can accredit this being the main factor in lightening my freckles. I asked Eddie the other day if he noticed them and he said they look like the went away, that is how much it lightened them.
Now this next product is entirely new to me. I've never used an essence before and I hadn't come across many skincare routines that did either. After watching one of Jackie Aina's videos (I think it was the 20 step skincare routine) I learned about. I also vaguely heard about it being a step in Korean skincare, too. Supposedly, it's key in prepping the skin for your serum and oil. I decided to try this one by Caudalie. It works great with my toner, since it's also formulated to brighten the skin, by removing dead skin with glycolic acid. The grape seed ingredient is said to be great for preventing blackheads. If that's a skincare concern for you, perhaps you can give this a try. I've never really had blackheads, but I used to get a ton of stubborn whiteheads and I have none. In fact, I rarely even break out, so this can be what's combating those blemishes. Though it's pricey at $49, I feel it's worth it considering that I've been using it everyday, twice a day for the past four months now and have about a quarter left.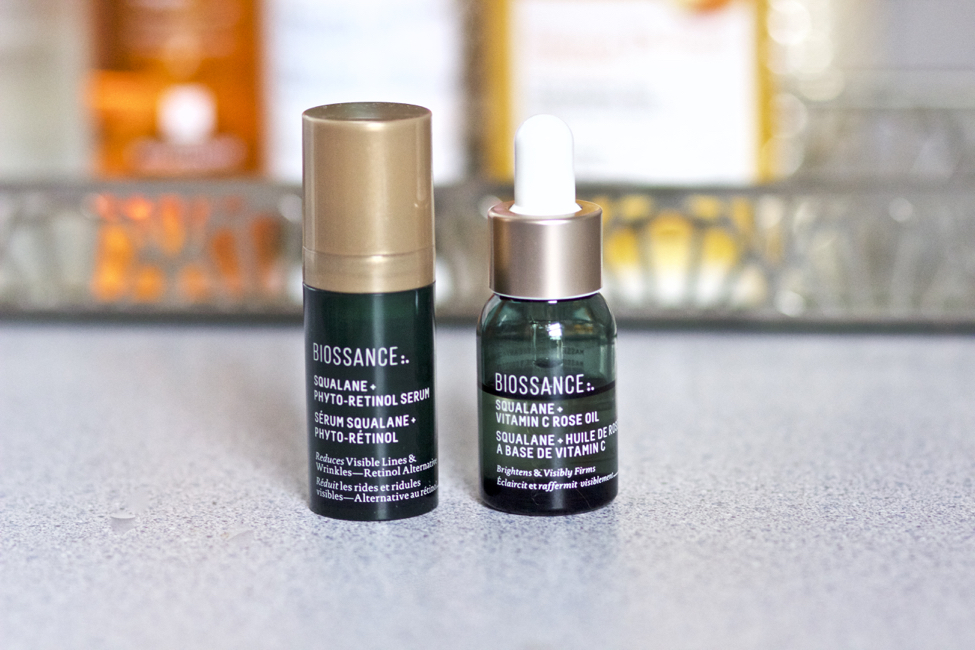 Next, we're talking about serums and oils. I purchased the Biossance Top Shelfies Kit a little over a month ago to see how I'd like some of the brand's other products, since I love the oil cleanser and moisturizer (which I'll talk about in a few). I always suggest either getting a sample, when possible, or purchasing a travel/gift set before deciding to get full sized products, if you're unfamiliar with a brand or particular line, to see how the products work for your skin. I absolutely love the Phyto-Retinol Serum. The retinol is plant derived, making it a safer alternative if you're pregnant or nursing. I typically get a little redness under my nostrils and on the apples of my cheeks and while using this, it's completely gone. I've never experienced a product that completely illuminated redness on my skin.
After applying the serum, I use the Squalane + Vitamin C Rose Oil. I can't say that I've noticed anything specific while using this one, but I do love the ingredient list and that it also targets hyperpigmentation and dullness. Though I've purchased the full size, if your oil is working for you, I don't think you absolutely need to try this one, considering how pricey it is ($72).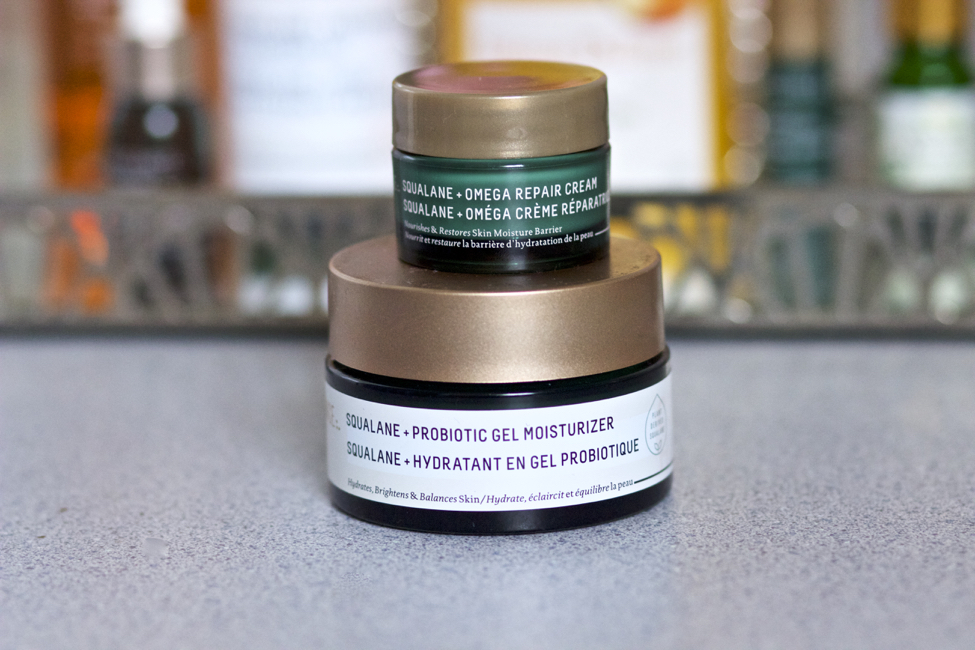 I've been using this gel moisturizer every morning since the Sephora Spring sale and absolutely love it! I was intrigued by the word probiotic, since we typically take probiotics for our gut health. It's not something I've heard applied to skincare. It's incredibly lightweight and though it says gel, it's not tacky at all. It's perfect to apply underneath makeup. By now it should come at no surprise that this is said to combat dullness, uneven skin tone and redness. Prior to using the serum, I did notice the redness under my nostrils. Perhaps this works best with the serum because on its own, I didn't notice much of a difference. I just love the somewhat cooling feeling and the lightweight texture, in addition to the ingredients ginger and red seaweed.
At night, I had been using Andalou Naturals CannaCell Dreamy Night Cream and loved and finished it a couple of weeks ago. It contains hemp oil and contains a load of vitamins (E, C, B1, B2, B3, B6) and omegas 3 and 6. I loved how soft and healthy my skin felt and looked in the mornings and I think I may go back to using it once I'm finished up with the sample of the Biossance Omega Repair Cream. It, too, contains omega fatty acids, but I'm more impressed with the line up in the Andalou moisturizer and would suggest it over the Biossance.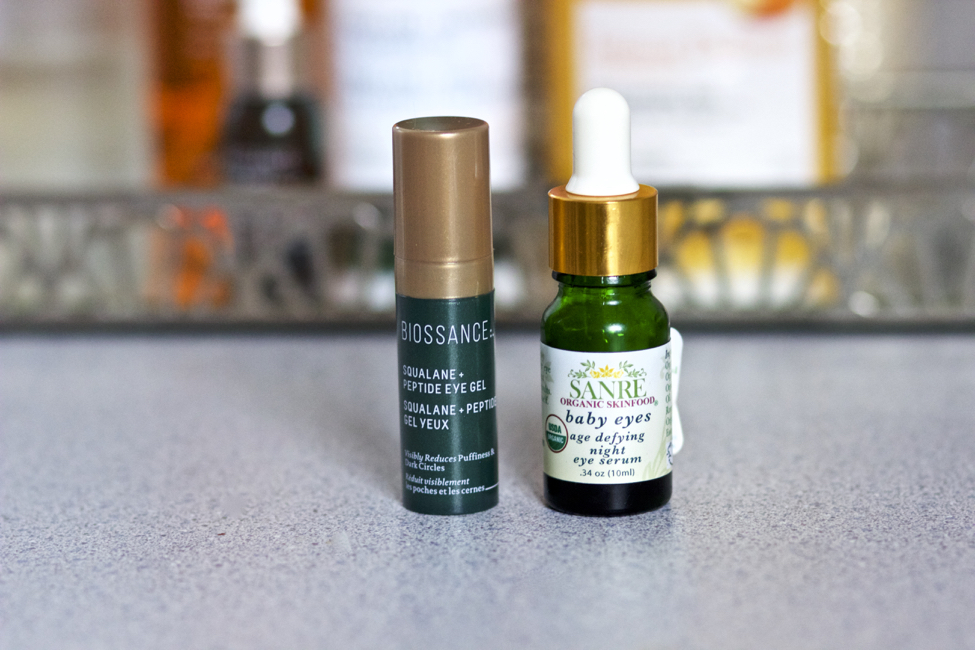 Lastly, we have eye serums. Due to that mom life, I need eye products that are going to target dark circles and puffiness. I now wake up at 5:30 every morning and go to bed at 10-10:30, so I have long days and I don't want it to show on my eyes, where fatigue is most noticeable. I have been using SanRe Organic's Baby Eyes every night for a few months now and love it. It includes collagen containing ingredients that help to regenerate, improve blood circulation and reduce the look of wrinkles. A little goes a long way;I only use one drop on both eyes, slighting rubbing in a circular motion starting underneath my eyes and moving up to my eyelids.
For a day eye "serum", I've been using Biossance's Squalane + Peptide Eye Gel. I purchased the full size because I love what this does to my eye area. I had been using my SanRae night serum for a few months before adding this into my routine and noticed a big difference, mainly my eyelids. As mentioned above, I apply my eye serums underneath the eye and that move upward over my eyelids. Since using this eye gel, my lids have become almost the same color as the rest of my face. I'm olive, so my lids tend to get brown or have a yellowish tint. I think it works great with my night serum in giving my eyes a double boost, morning and night. As the name entails, it's a gel formula, similar to the moisturizer, so it's not tacky and easy to apply. Like the SanRae serum, a little goes a long way. I also didn't notice it negatively effecting the way my eye primer and shadows stay on throughout the day, which is important if you wear makeup everyday. There's no oily residue left behind, since it's a gel formula, making it perfect for a daytime eye product.
That sums up my current skincare routine, it's certainly likely to change as I explore other brands and products. I'll be sure to share anything new I try and love. I use pretty much everything both morning and night, with the exception of the moisturizers and eye serums. If I were to suggest you absolutely try any of the products mentioned here, I'd say they'd be: the Andalou illuminating toner, Caudalie essence, the Biossance serum, the Andalou Naturals CannaCell I talked about (not shown) the SanRe eye serum, and the Biossance eye gel.
Thanks for stopping by, my friends, feel free to share some of YOUR favorite skincare products and brands or share your experience(s) with any of the products I've shared here!