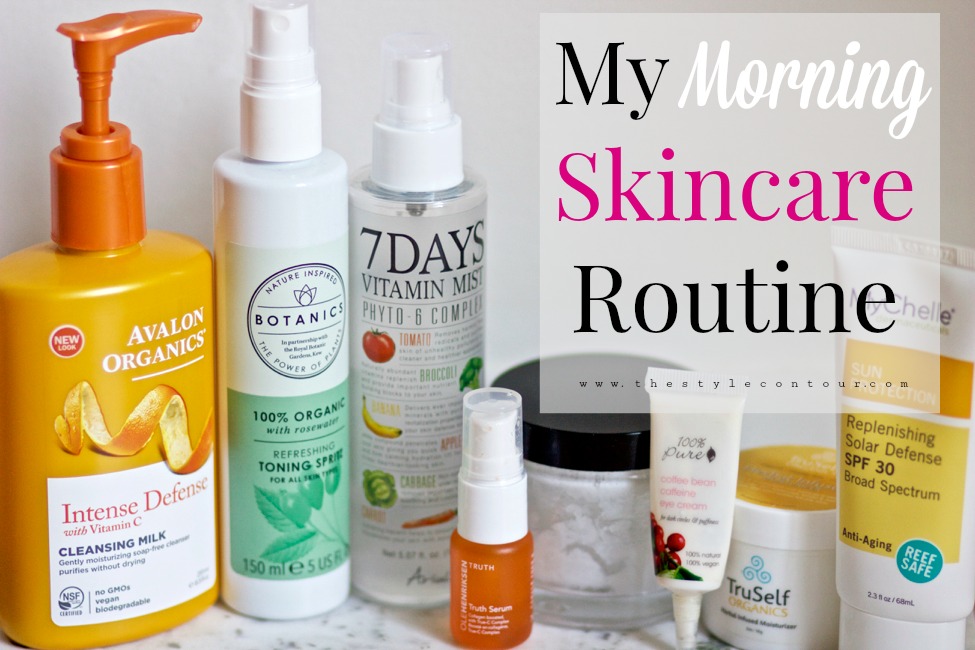 ---
---
Happy Tuesday my sweet friends!
I hope you're having a great day so far. Today, I'm sharing my current morning skincare routine. As with anything else, the use of some of these products may change at some point, especially since I like to try out new skincare when I'm out of a particular product. I enjoy reading what products others' use. In fact, this is how I'm often introduced to new brands and products. Some, I've come to know through former collaborations.
As you will notice, much of the products I'll be discussing are organic, all natural, or don't contain parabens and other harsh ingredients. This is something I tend to search out when shopping for skincare because with my science background (I was pre-med) I know that the skin is one of the fastest and easiest ways for chemicals to absorb and get into the bloodstream, causing a number of problems and reactions. I've mentioned in previous skincare and makeup related posts that this doesn't mean that every single product I use is always organic or natural, though the vast majority are.
With that out of the way, let's begin with the first step to my routine and that's cleansing!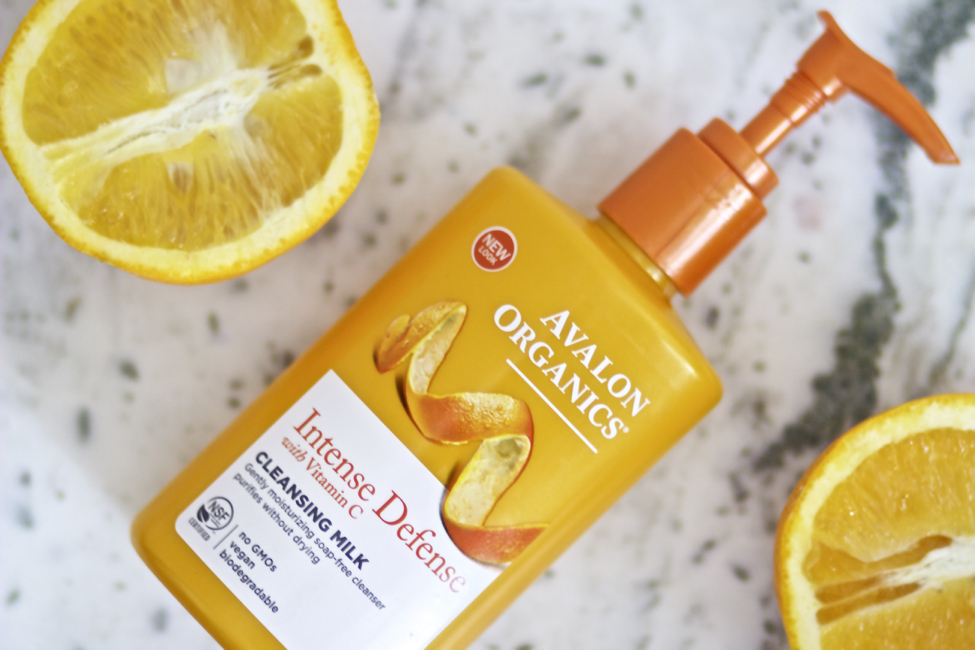 Let me first start off by saying how much I love this brand and formula. Both Eddie and I have been using Avalon Organics cleansing milks for a couple of years now. I've been using the Intense Defense in particular for several months and have loved the way it makes my skin feel after cleansing. Since it's a milk formula that doesn't contain soap, it isn't drying or doesn't leave my skin feeling tight. If you're not familiar with milk cleansers, they have a constancy similar to lotion, very creamy, and in fact look like lotion when dispensed. There have been times that I've cleansed and ended up having to come back moments later to finish my regimen (#momlife) and it's never made me feel tight and uncomfortable (I have combination/oily skin).
What sparked my interest in this particular formula was that it contains vitamin c, which I nearly always gravitate towards when it comes to skincare. Since it contains vitamin c antioxidants, it's supposed to help brighten your skin and prevent blemishes from forming. I have a darker olive completion, so when I break out and have marks that are left behind, they can often take years to fade from their dark purplish color. I will say that I didn't notice anything instantaneous with the blemishes I had prior to using this nor have the completely cleared them; I still have some stubborn ones that I had since I was pregnant with Aviah.
Another claim is the protection against free radicals. The ingredients (vitamin c, lemon bioflavonoids and white tea) are said to help neutralize them, which can cause damage and signs of premature aging caused by pollution and the elements. This, of course, was a huge interest to me because if I can have added protection against all of the elements when outside, as well as pollution, I'm all for it.
To top it all off, it smells so good. Have you ever had those Tropicana creamsicles? It smells just like it, delish!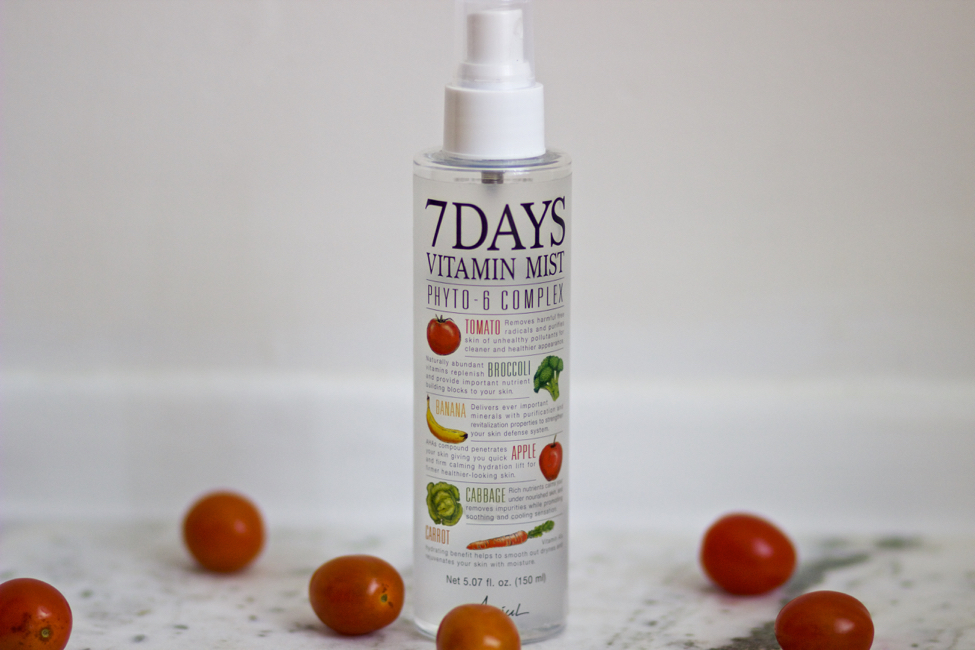 After cleansing, I apply my Botanics Rose Water Toner, which I've already reviewed in collaboration with Botanics a couple of months ago. I've since finished the bottle that was gifted and purchased a new one. I won't get into my thoughts on it in this post, since I have a dedicated post on it, which you can read here, if you're interested.
Afterwards, I apply Ariul's 7 Days' Vitamin Mist Phyto 6 Complex. I've been on this bottle since I was about 8 or 9 months pregant and I'm nearing the end of the bottle. All you need is about two sprasy to cover your face. I haven't necessarily noticed a drastic or even noticable difference since using it, but I love the fact that it contains active vitamins and nutrients found in 6 different fruits and vegitables that are so good for your skin, which are tomtao, broccoli, banana, apple, cabbage and carrot. The vitamins from the extracts are said to brighten, regenerate and protect the skin. I think it's pretty cool that you can see the benefits of each fruit or veggie that's used written right on the bottle, which also makes for really cute packaging! Another thing I love is that it's also free of parabens, mineral oil and a bunch of other toxic chemicals.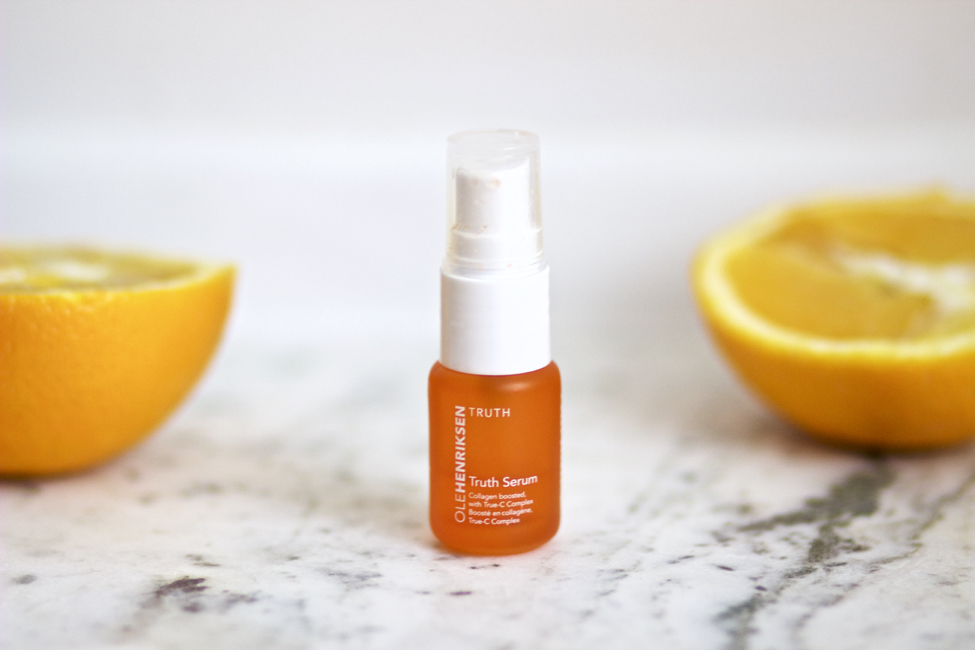 Next up is the Olehenriksen Truth Serum. I've been using this guy for about a month now and love it! I received it as a sample from Sephora when I purchased a ton of stuff during the holidays. I have a Sephora near where I live, but my niece tipped me off and told me that they give better and more samples when you order online than in store and it's true! I received so many awesome samples and brands that I know I wouldn't have gotten had I shopped in store. I don't know if it's dependent upon each location or what, but I loved that I received this serum. I actually use it twice a day (I haven't yet found a nighttime serum) and have noticed that my skin appears noticeably brighter. This is actually what it claims to do, which excites me. I love when I can actually see results that a brand claims on myself. It also claims to be fast absorbing, which I can also attest to. If you have uneven or dull skin, I highly suggest giving this serum a try. I will be purchasing it once my samples finishes up.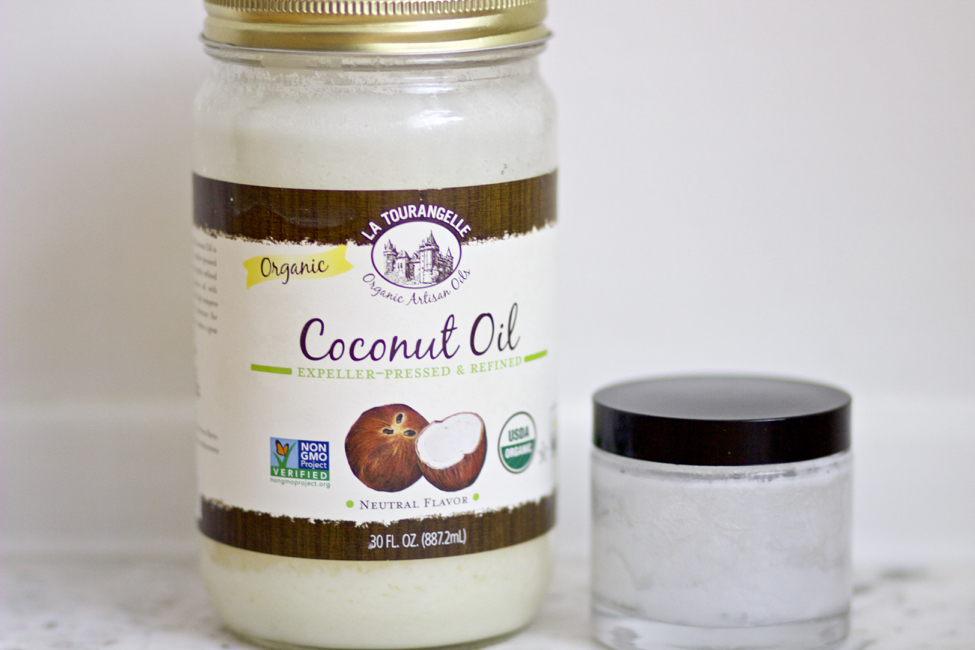 If there's one "product" that I'd say completely changed the appearance and overall health of my skin, it would be good old fashioned coconut oil. Yup, something that most of us have already in our kitchen cabinets. Something I had in my cabinet for years and never thought of using on my face. I had tried using it on my hair, but never my skin. It wasn't until I read my blogger babe Mia, of The Fashion Folks' article, 12 Ways to Use Coconut Oil, that shared some of the benefits of using it for the skin that I decided to give it a try. Well, let me just say, it cleared ALL of my acne!
You most likely don't know because I've never really talked about it, but I've struggled with acne since I was 17 years old up until the day I read that blog post. Everything I tried never worked. I went to several dermatologists and all they did was prescribe me topical gels and creams that worked...as long as I used them. I didn't like the thought of having to continuously use these medications long-term, so I pretty much gave up hope in thinking my face would ever be clear of blemishes. Since using coconut oil (I always use organic, non-GMO) I honestly can't remember the last time I had a pimple or white heads, which is what I struggled with most.
What I do is scoop out enough of the oil out of the jar when it's in it's solidified state and put it into an empty clear glass jar. I store it on my bathroom counter and have noticed that it remains sold during the winter months and is more of a liquid during the summer. Either way, it gets the job done in preventing breakouts. If you struggle with acne, I highly suggest you give coconut oil a try.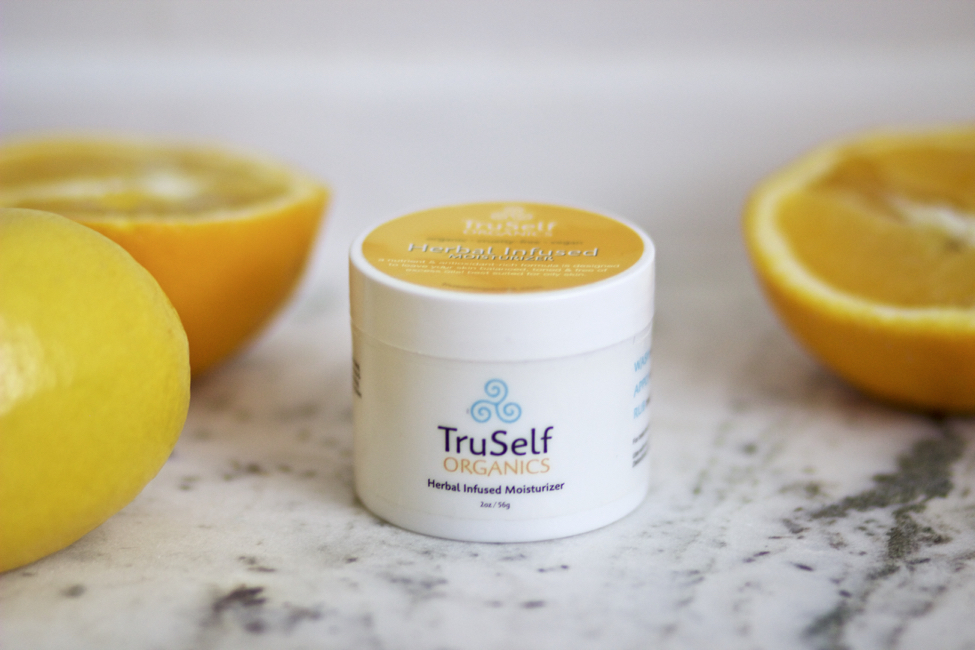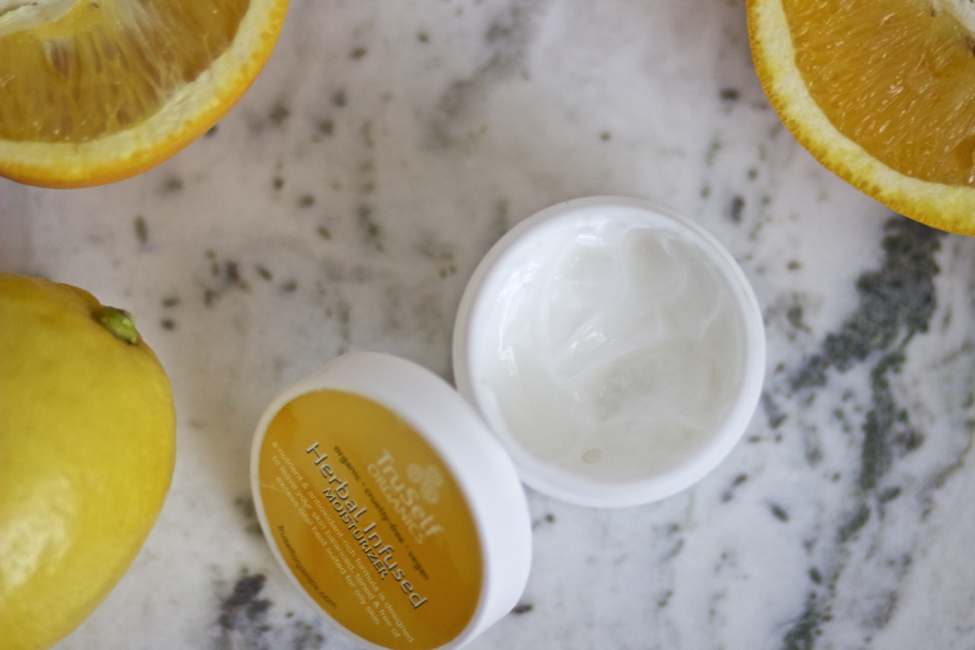 After applying the coconut oil, I apply my morning moisturizer, which lately has been TruSelf Organic's Herbal Infused Moisturizer. I received it, courtesy of TruSelf Organics, in the summer along with the clay mask, which I've reviewed back in November. Though I've been using the mask since then, it's only been recent since I've begun testing out the moisturizer and I really like it. It's formulated for oily skin, which is perfect for me since I have combination/oily skin. It supposed to help control oil product, which I've noticed it does, making it the perfect product to use after applying the coconut oil. Though it controls skin's oil production, it doesn't strip the skin, so it isn't drying.
Plus, I absolutely love the smell of it. It has a refreshing herbal sent that's perfect for the morning.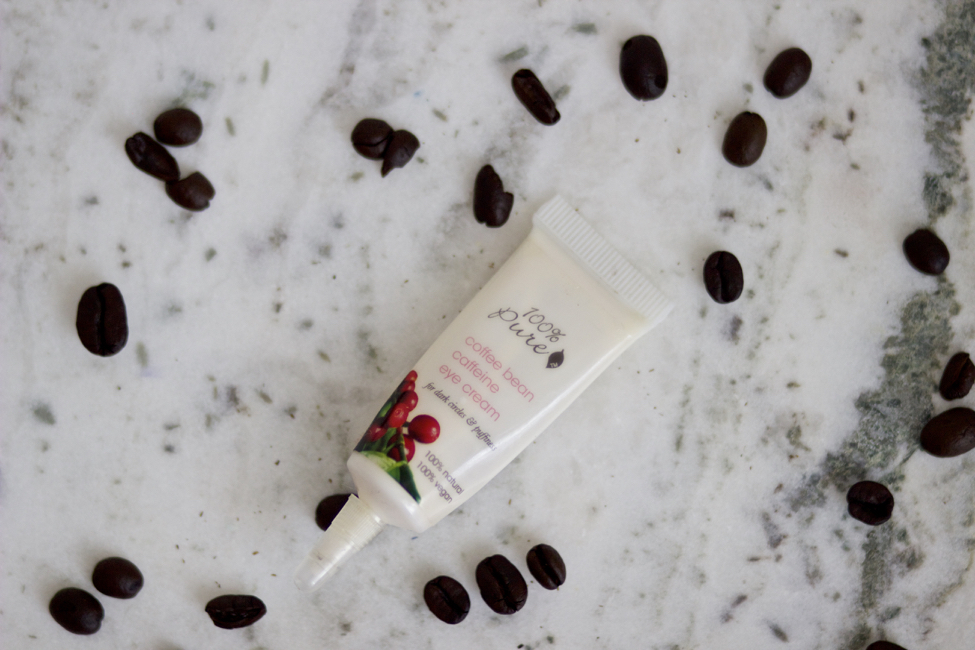 For my eyes, I've been using 100% Pure's Coffee Bean Caffeine Eye Cream for Dark Circles & Puffiness for quite a few months now. I believe I started using it right after having Aviah because I was concerned about using products that contained caffeine while pregnant. I received a bunch of samples in a gift bag at one of the shows I attended during NYFW. I love how light weight it is, making it perfect for the morning to apply under makeup. As mentioned in my review of Aveda's Wedding Masque Collection, I do get bags, but they're not puffy. I believe it's a result of using the Aveda eye cream in conjunction with this one.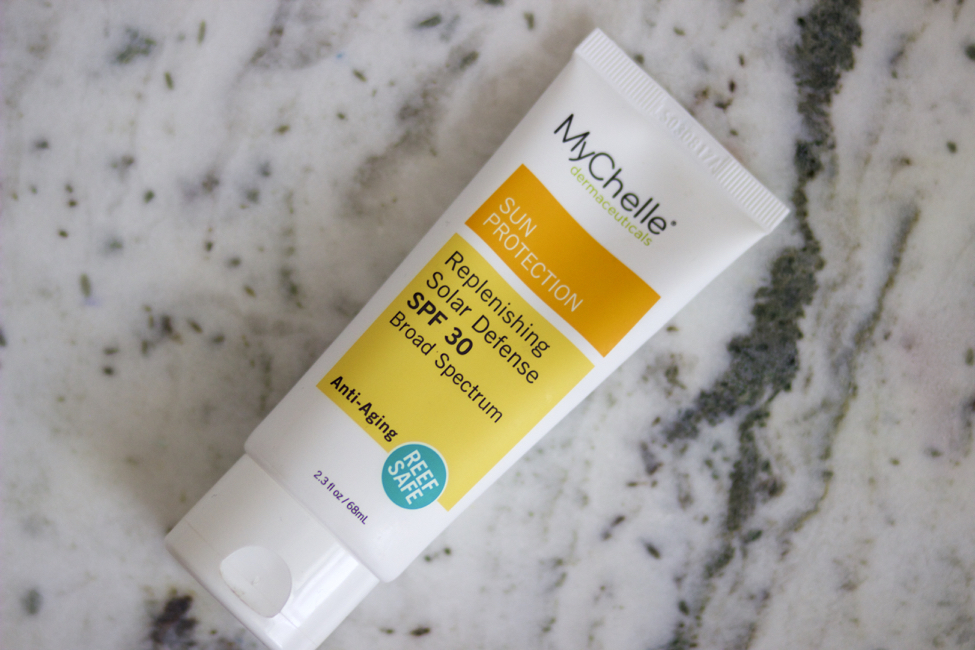 Lastly, for sunscreen, I've been using MyChelle Dermaceuticals' Replenishing Solar Defense Broad Spectrum Anti-Aging SPF 30 for about a month now. It's a mineral based SPF, which is supposed to help in premature aging. It contains red algae extract, kukui and Macadamia Nut oils to restore moisture balance, as well as reduce visible lines. I don't really have any fine lines, so I can't say I've noticed a difference with that. In fact, I haven't really noticed a difference in my skin since using it. I purchased it for the ingredient list, benefits and the fact that it's free of damaging chemicals. The one thing that I don't like is the smell. It has a bit of a fishy smell, which I'm sure is due to the red algae ingredient, but it doesn't linger or else I wouldn't be using it, lol. No one wants to walk around all day smelling like fish.
I hope this post introduced you to some new brands and products that interest you! I've been using them for a while now and love and suggest you give them a try depending on your skin's needs. Feel free to suggest some brands and products you love and use in the mornings and even though this is morning routine, please share an all natural/organic night serum, if you know of any in particular.
Thanks so much for stopping by, my dear friends, and I hope you have a great day!
XO,