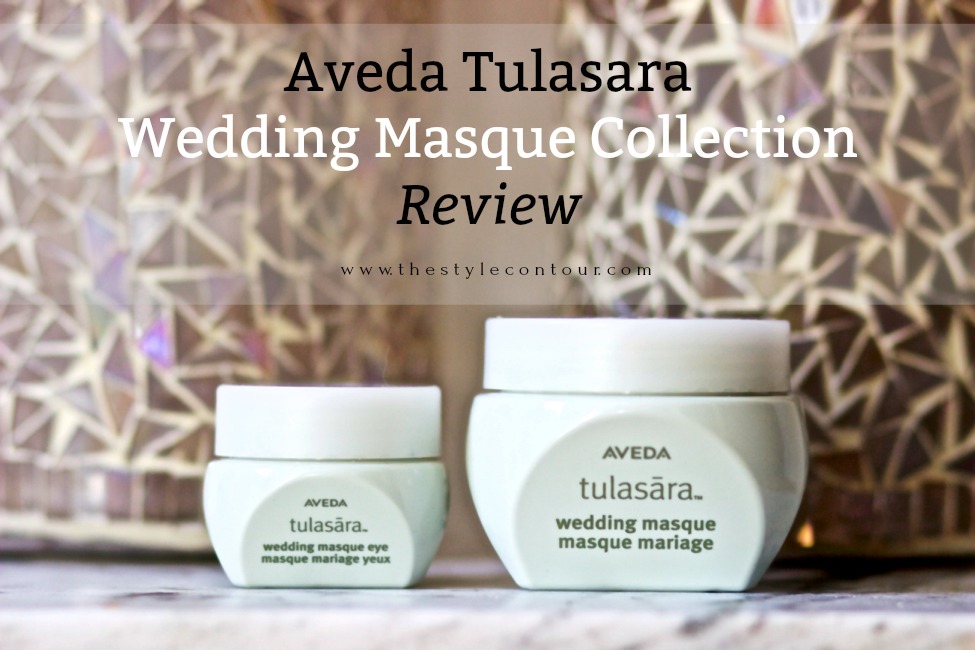 Happy Tuesday my sweets!
Today, I'm sharing my thoughts on two products from Aveda's Tulāsara Wedding Masque collection, the night and eye creams. These products were sent to me to test out back when I was pregnant with Aviah, but I didn't begin using them until days after I came home from the hospital after having her because I was in dire need of some TLC. As I've mentioned in a previous skincare post, I didn't truly begin to take my skincare regimen seriously until after having Aviah. Not only have I realized the importance of taking care of my skin, but it gives me a few minutes of some me time. It feels good to know that I'm doing something that is good for me, too :)
It's been roughly six months of consistently using both of these creams, which I feel gives me enough time to accurately share my thoughts and experience with them. I also want to mention that these two products happen to be the only two best sellers out of the entire Tulāsara collection! Now, let me share what my thoughts are on them. Let's begin with the overnight masque.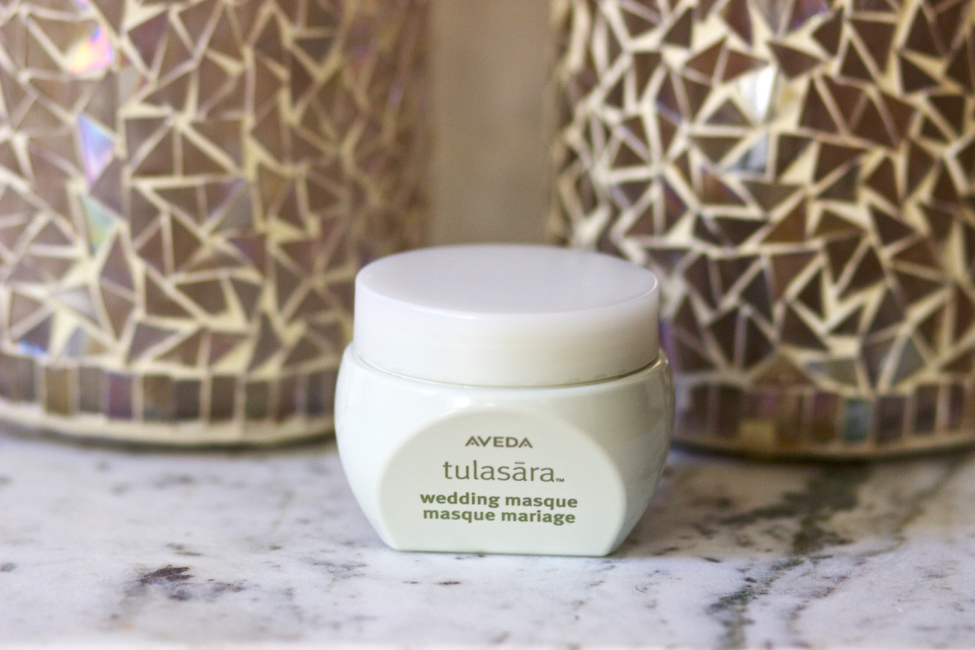 Prior to using this night (masque) cream, I wasn't using a night cream at all to be honest. I was only using coconut oil, which I'll talk about in a separate post. Though I did consider night creams, I never really knew of a great all natural or organic based cream that actually worked. I had tried a handful of brands that I wasn't satisfied with. They weren't a thick enough consistency to make me feel as though they were really moisturizing or doing something beneficial. Furthermore, I didn't see any notable results. Plus, creams that contain organic ingredients tend to be rather expensive and I was done with wasting my time and money. With that, I didn't have high hopes for this cream. I didn't think negatively of it, I just didn't have any expectations at all. I happened to rediscover it in my skincare draw and decided to give it a try. Remember, I was in search of that me time.
Well, I love it. I honestly love it. First of all, considering that I use it nearly every night (there are some nights that I don't have any energy for a skincare routine, though very few) for six straight months, you get a lot of product. The consistency is quite thick, like a lotion, which is why I'm guessing it's referred to as a masque. As a result, you don't need much. There are a number of interesting ingredients, such as turmeric and apricot seed oil (read complete ingredient list here) that claim to brighten and firm the skin and I can attest to that. My skin does look noticeably brighter and though I haven't experienced sagging or aging skin, as I'm still quite young, I do feel as though my skin is firmer. I also wake up each morning with soft and supple skin. It retails for around $65, but I promise you it's worth it. Remember, I had stopped purchasing night creams because I was done with spending a lot of money on organic skincare, but I will definitely be repurchasing this cream!
Now onto the eye cream...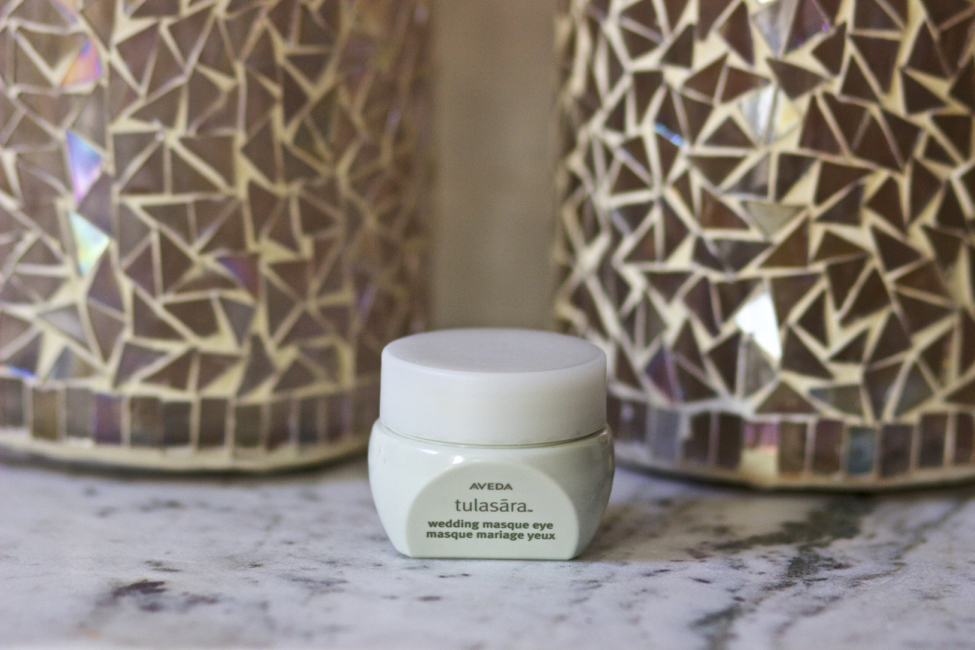 I absolutely love this eye cream! As a new mom who doesn't sleep nearly as much as I used to, starting this cream right after having Aviah was the perfect timing. I never had dark circles and as one would presume, I started to get them. Prior to using this cream, I was using a Korean eye cream that I actually do still like, but had stopped using during my pregnancy because I was paranoid about the ingredients, since everything is written in Korean. It was gifted to me by my mother who's friend is friends with a lot of Koreans who sell this product (I know, a little confusing) and so I trust using it even though I have no clue what it says on the jar, haha.
The consistency of this cream is extremely thick, whereas the face cream has more of a rich consistency. This one is a bit different. It has more of a paste/lotion/cream consistency. It's rather hard to explain, you'd have to try it yourself for you to get what I mean. It makes sense though, since it's inspired by an Indian pre-wedding ritual in which a turmeric paste is made and applied under the eye in preparation for the big day.
I don't have any dark circles and I'm sure it's due to the use of this cream. However, I do still get bags and it claims to help with puffiness. The bags I get aren't filled with a ton of fluid though, so perhaps it's because of the cream? I don't know, but I still do get them. What I love about it, though, is the fact that I don't have any signs of aging or stress when that couldn't be further from the truth, haha. This retails for around $10 less than the face cream ($55) making it quite pricey for the size of the jar (0.5 oz). Even though that's not a lot of product in terms of ounces, a little goes a long way because like I mentioned, the consistency is on the thicker side, so you don't need a lot.
If you're looking for an eye cream that would help with noticeable puffiness and you tend to have bags that are filled with more fluid, then I don't know if this would be the best option. As I've mentioned, there are times when you can still see some of my bags if I had a particularly rough night. If, however, you're looking for an eye cream that will help brighten your under eyes, I think this is worth the try.
Both the face cream and eye cream contain mostly organic, all natural ingredients and are paraben, sulfate, and phthalate free. They're also cruelty free and are made in the USA. In case you're wondering why the collection is named Wedding Masque, it's because as I've briefly mentioned, they're inspired by the Indian Haldi ceremony, a pre-wedding tradition in which great care is given to the skin in preparation of the wedding ceremony, which I found quite interesting and hadn't heard of prior to being introduced to this line.
I hope you found this post helpful and that it gave you some insight on this collection and these particular products if you were considering them. If you hadn't heard of them before, now you have some new products to consider if you were looking to try some new creams!
SHOP THE CREAMS
---
---
Have you tried any of Aveda's skincare products? If so, what are some of your favorite products?
Thanks so much for stopping by and I hope you're having a wonderful day so far!
XO,