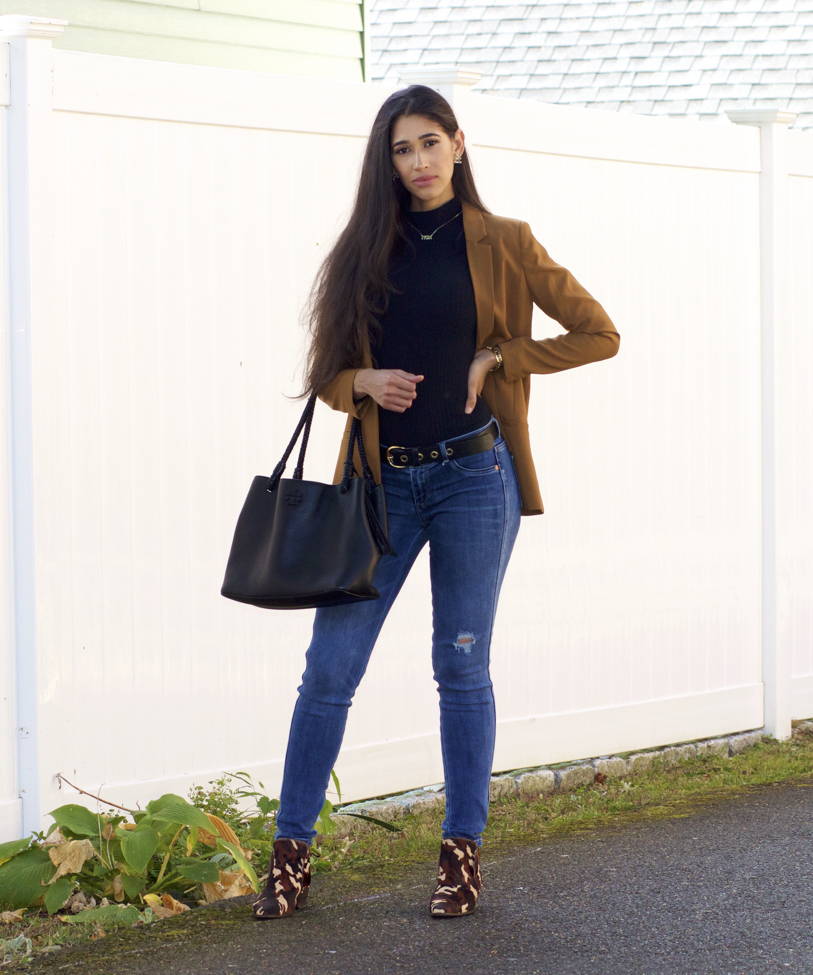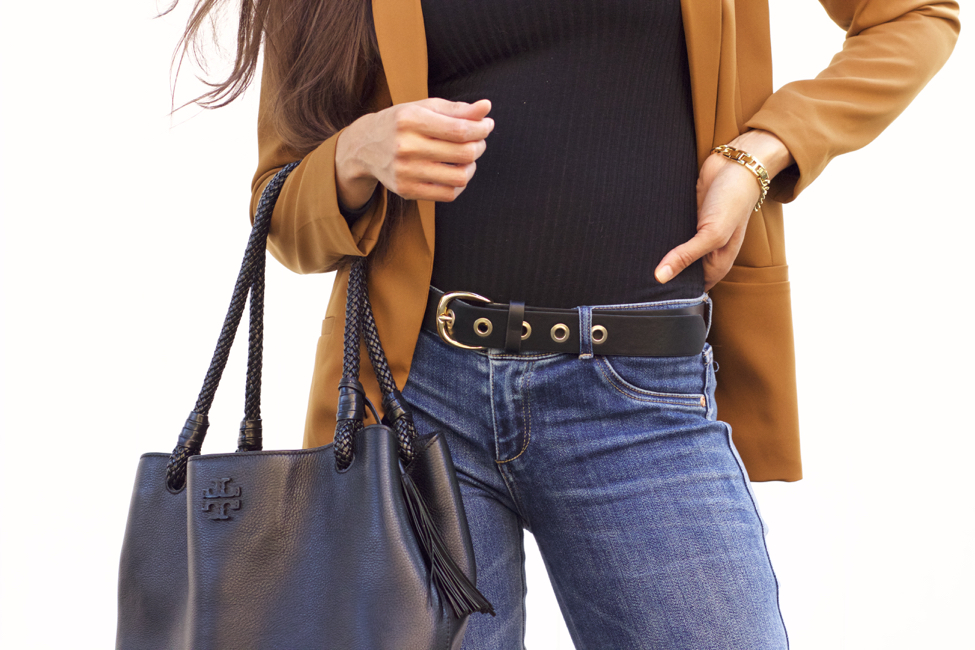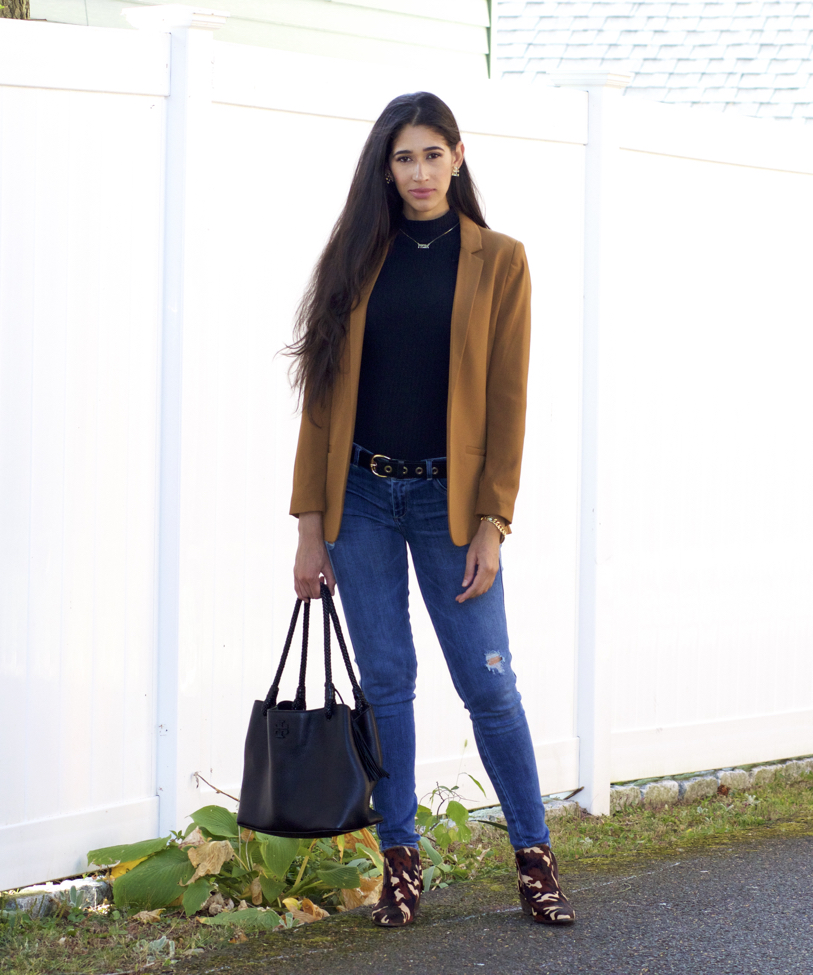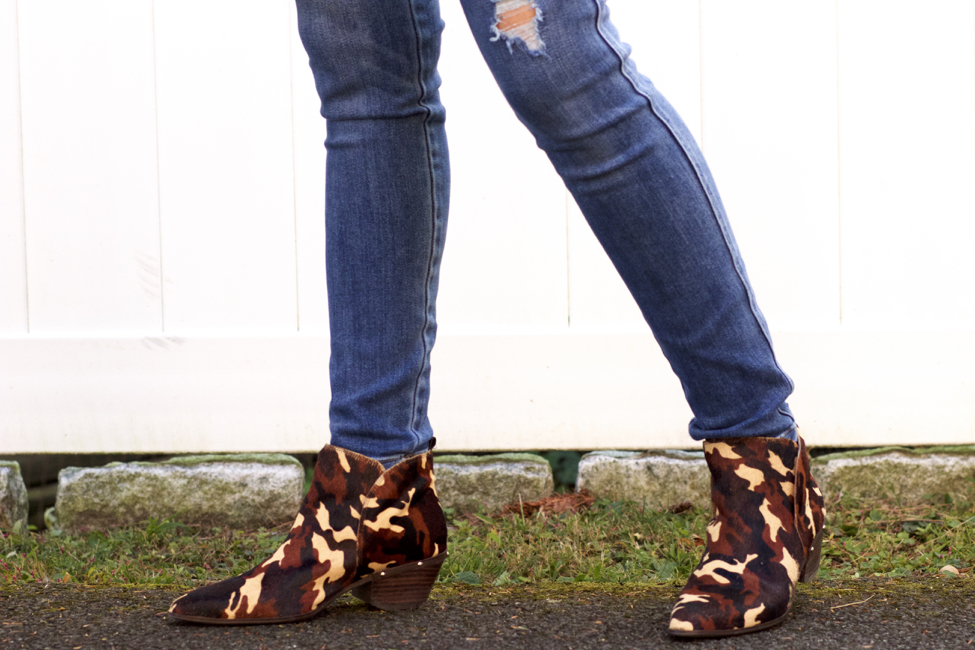 BLAZER: Similar | TURTLENECK | JEANS: Similar | BELT: Love this one BAG | BOOTS: Similar
---
---
Happy October my friends!
I know I'm a week late on welcoming the new month, but the past two weeks have been quite hectic around here. First, Aviah caught a cold, which means Ariah caught a cold as well. It's inevitable when one gets it, the other will too. I can't separate them, even if I tried, it just wouldn't happen.
I don't know if I've mentioned this (please excuse my mom brain if I did already) but Aviah had a very hard time adjusting to life with a baby sister. The first two weeks after baby arrived were pure bliss. Eddie took off and was able to devote nearly all of his attention to Aviah and of course me and baby, when I needed it. The struggle started once he went back to work and it was just us. It was like a light switch went off. Not only did she just turn two at the time (I'm rolling my eyes at you terrible twos) but she now had to share attention, whereas before, daddy was there to take her mind off the new change. She would try to throw anything in arms reach at Ariah and just wouldn't listen to me at all. No bribe worked.
Now that we're 3mths in (I still can't believe its been 3mths) she seems to be doing better. I can't keep her out of Ariah's face! She constantly wants to kiss, hug, and hold her. While I'm loving that she's loving and finally starting to accept her baby sister, it sometimes gives me straight up anxiety. So, that is how Ariah caught the cold. Juggling two little ones with a cold and Eddie working longer hours at work because of special events going on at his job, it's been a struggle, but I survived and I'm now writing this post, lol!
As for the topic of today's post, I'm sure you're often in a rush to head out the door in the mornings. On those fall mornings when you simply just don't know what to wear that'll look stylish yet feel comfortable at all times of the day when the weather changes, this is the outfit formula you need to follow.
Why? It's tried and true.
A turtleneck is a wardrobe staple. You just need one. It's the base of a layered outfit and there's something very chic about them. Perhaps it's the simplicity of them or the fact that they can add a modest, yet mysterious tone. I mean, tuck your hair inside and you'll get what I'm talking about. Love it.
You can then choose to add either a blazer, leather jacket, or cardigan on top. Any of those three are great options to provide extra warmth, but each carries a different vibe. The outer layer always sets the tone of your outfit overall, so you need to pay mind to that. Are you feeling edgy? Go for the leather jacket. Do you want to look polished and sophisticated? The blazer would best, followed by the cardigan. Keeping in mind that the longer the cardigan, the more of a casual vibe you're adding.
We're reliving the days of the statement belt. Nostalgic for those of us who experienced the early '00s. I love this one. It's similar in theory to the one I'm wearing, but it's velvet and would look great worn with either jeans or trousers for work or a special occasion. It creates a focal point and visually breaks up the upper and lower body, which is a great technique if you're tall.
Continuing on with adding a statement, I opted for these quirky camo printed western boots. If you've been a reader for some time now, you've seen me wear these countless times. They're so good! I love a good statement shoe, if you haven't already noticed. I'll be sharing more on why I think you need at least one in your shoe collection in an upcoming post, so stay tuned for that! But for today's outfit, it goes with the color scheme, which is also one of my favorites. I feel it's one that looks great on everyone and the palette itself makes for a polished look.
In summary, all you need to head out the door (during the fall) in a hurry is: a turtleneck + outer layer + skinny jeans + a belt (preferably with a statement buckle) + a pair of ankle boots. You can choose whether or not you want to wear a printed pair, that's totally up to you.
I hope you'll find this post and outfit idea helpful when putting together your next outfit, perhaps even this week :) Thanks so much for stopping by and I hope you have a great week ahead. I look forward to chatting with you in Wednesday's post!