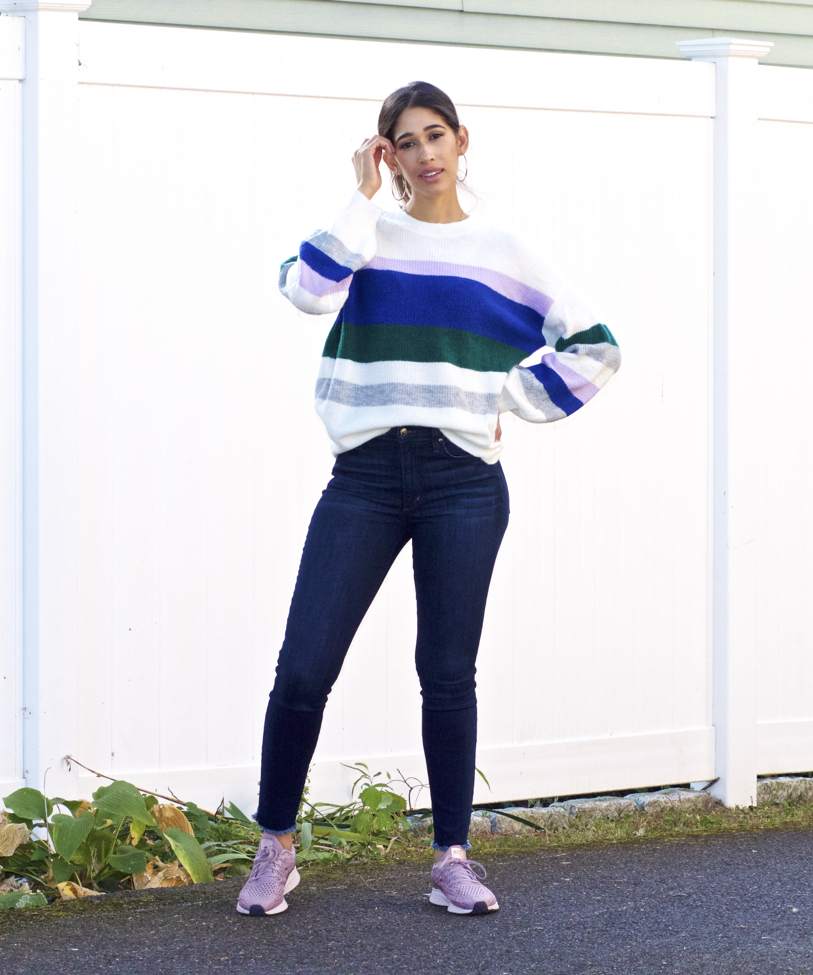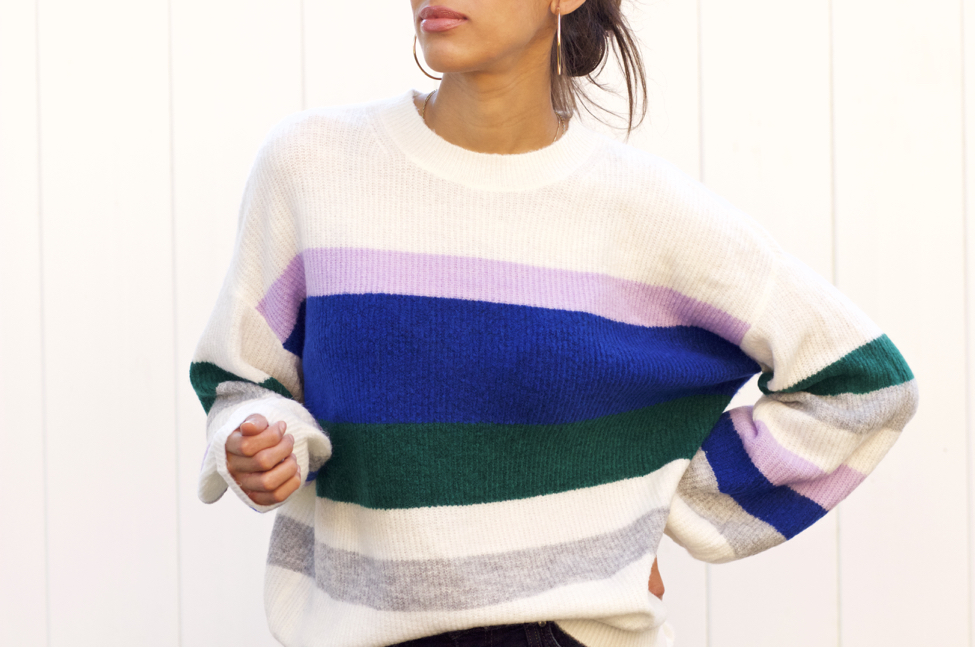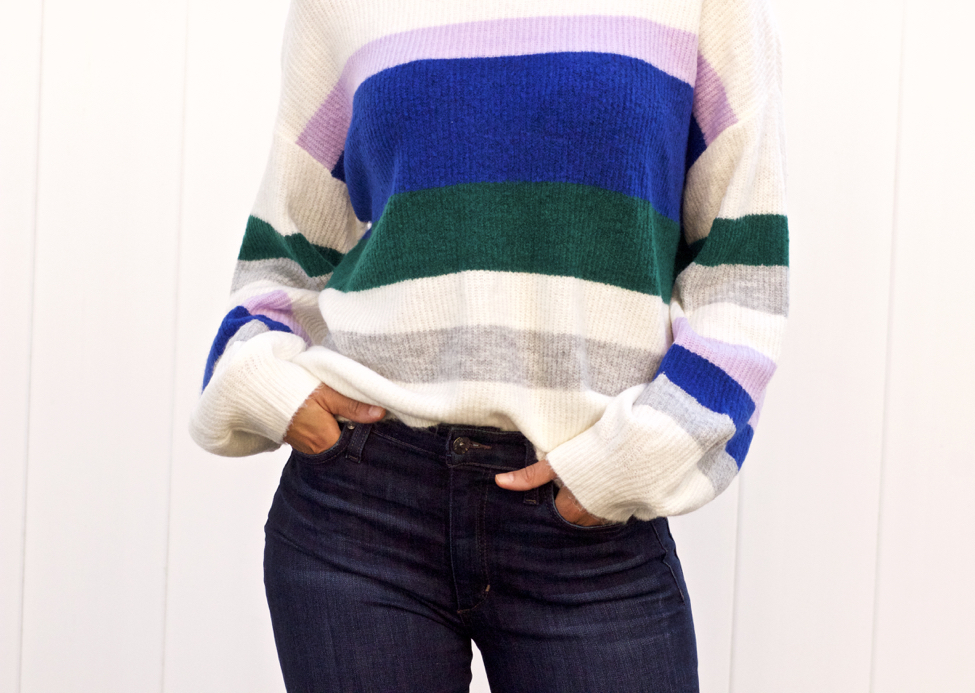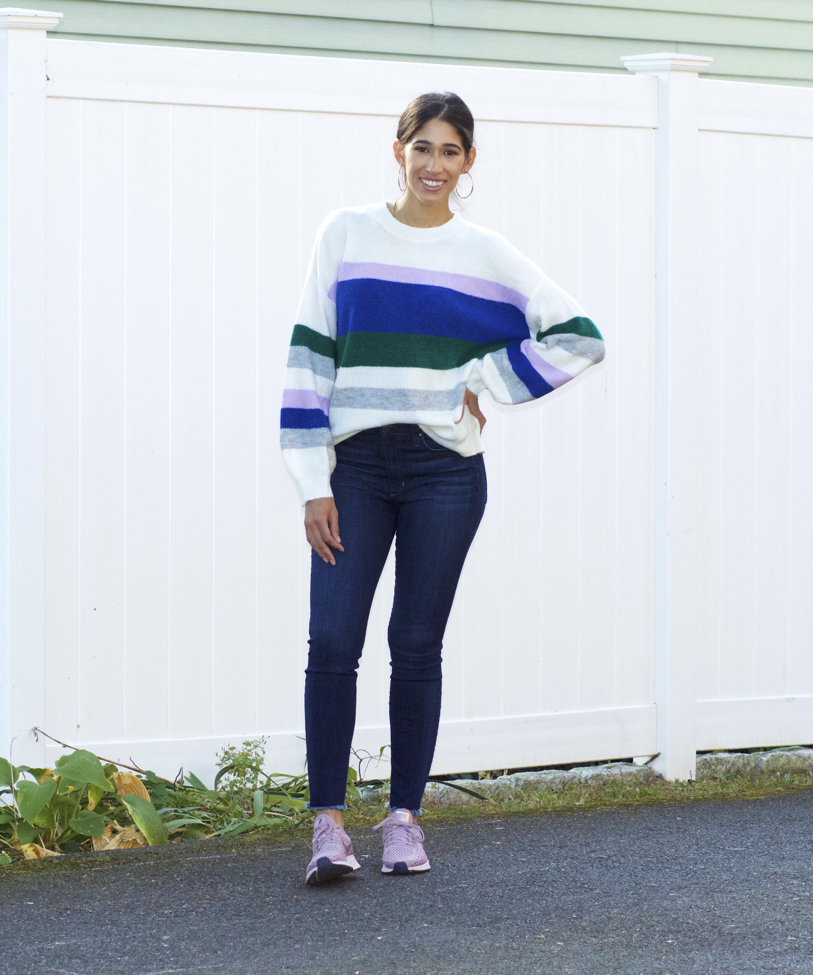 SWEATER | JEANS: Similar | SNEAKERS
---
---
Happy Friday my sweet friends!
We've made it to the end of the week! Do you have any fun weekend plans? Eddie managed to take Saturday off (a very rare occurrence, making them extra special) so we can all head to a fall festival happening around where we live. One of the downsides of giving birth in the summer is that you can miss out on all the fun summer festivals going on, so now that we got the clear for Ariah to be out in crowds, we're taking advantage and heading out to every fun event we can. I'll let you know how it goes on Monday. I'll try to share on Insta Stories, so make sure you're following me on Instagram if you aren't already!
When we have a kid-friendly event that we're headed to that will require me chasing Aviah around (she's so fast btw) I like to be cute and comfy and I most certainly need to be practical in what I'm wearing. A balloon sleeve sweater fits the bill. You all know how much I love my balloon sleeves, though I was never really into bold stripes, until this sweater. This particular color combination has sold out, but the one I've linked is the same style, but with a different color combination. I've noticed that they're always restocking though, so keep an eye out, if you like this color combo. It's so soft and light weight, keeping you warm and comfortable.
I decided to wear my burgundy and rose gold sneakers with the sweater to pull out the purple stripe and further enhance the sporty vibe the bold stripes can create. Eddie got them for me at the start of the year. I'm not a sneaker head, though a fun fact is that in high school I was a major sneaker junkie. I had all the Jordans, Huraches and Air Force 1s! Since high school, I haven't really been into them, until a couple of years ago. So, I wouldn't have discovered these myself and he insisted I get them and I wasn't opposed because I mean, how cute?! I've actually worn them a lot more than you'd think, given the color and they're super comfy! I lived in them throughout my pregnancy and wore them with cute fitted dresses to add a sporty touch, when I really just wanted to be comfy ;) I highly suggest them!
Well, I'm off to relax and enjoy the start of the weekend like everyone else! It's so weird that Eddie will be off and we can experience an actual weekend as a family, haha! Thanks for stopping by, my friends!