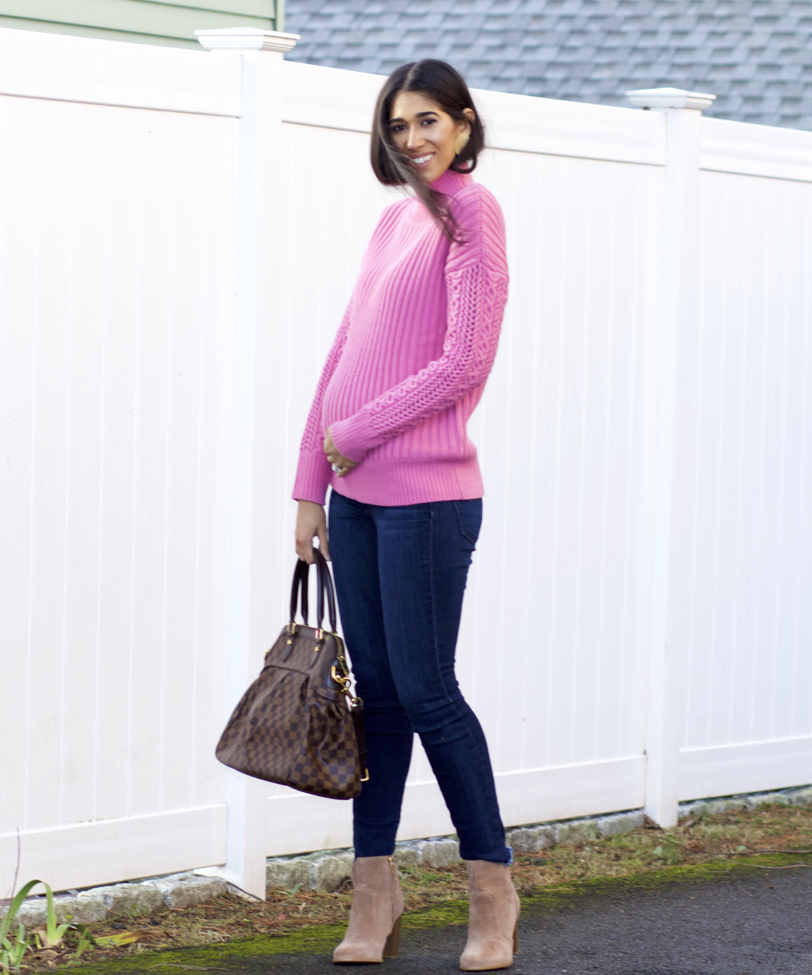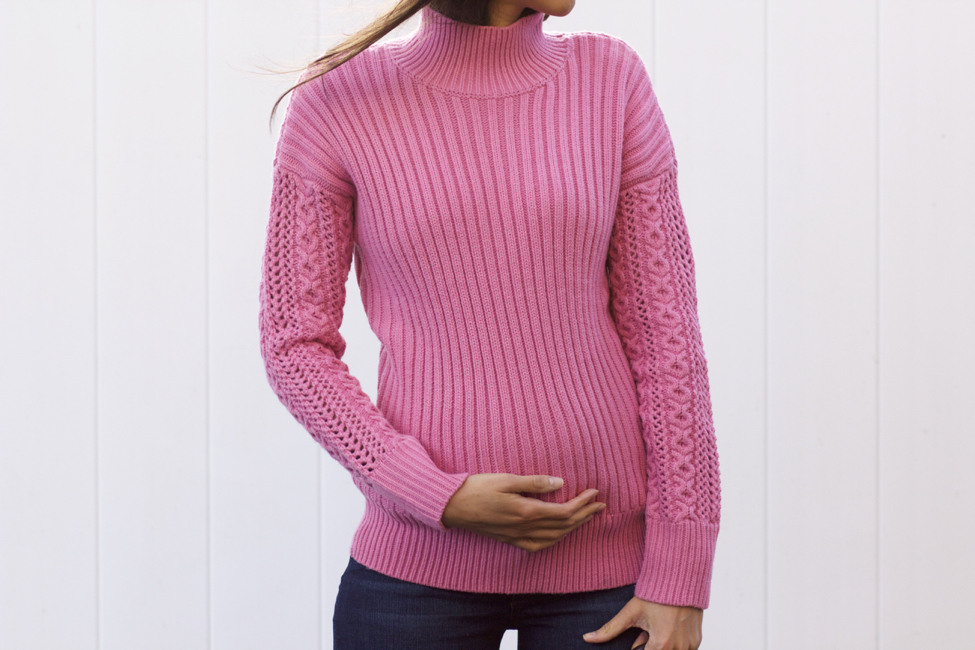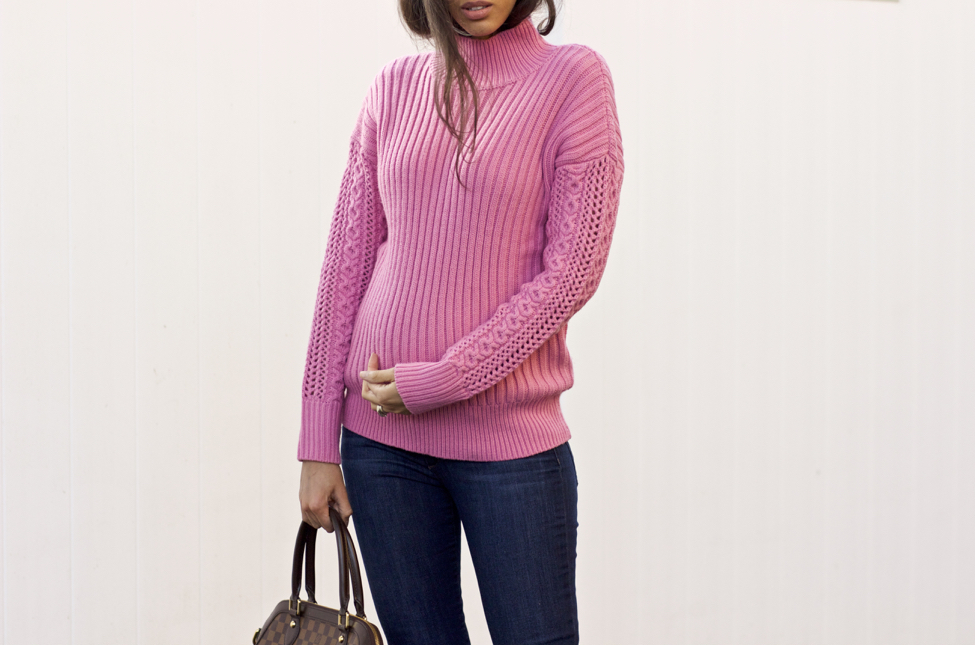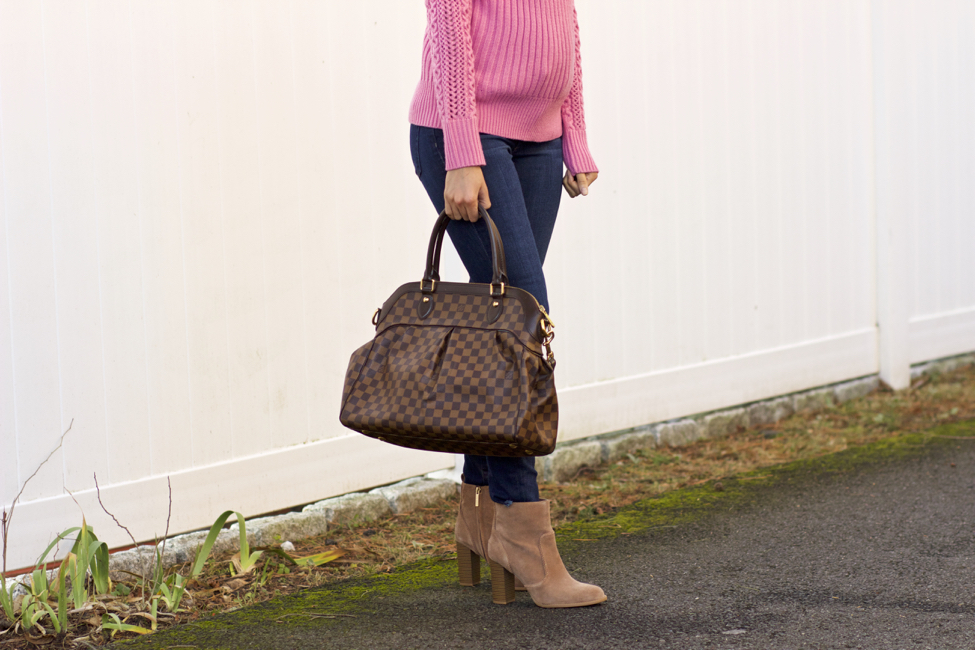 SWEATER: Similar | JEANS: Similar | BOOTS: Similar | EARRINGS: Similar | BAG: Louis Vuitton
---
---
Happy New Year my beautiful friends!
What better way to start off the new year on the blog than by sharing this very exciting news with all of you, we're expecting baby #2! If you follow me on Instagram, then you may have seen my story on Christmas sharing the news. I wanted to do a formal blog post announcing it though, since I know that not everyone had the chance to see it and seeing me with a bump out of nowhere may leave some questioning, when did she announce she's pregnant?
A few weeks ago, I shared part of the reason I've been unusually absent from the blog and social media, now this explains the other major reason. In the midst of Aviah's sleep regression, I had no idea that I was pregnant, so you can only imagine how much more tired and stressed I was. Since I was still nursing, there was no telltale signs that I was pregnant. I know this may be a bit TMI, but we're besties...some women will get their periods while breastfeeding and others don't until they stop entirely and I was the latter apparently. So I really had no clue.
I distinctively remember the the weekend we found out. That Friday I was feeling absolutely terrible. We still hadn't gotten to the bottom of Aviah's sleep troubles and I was just feeling all kinds of nauseous. I've never done this, but I called Eddie to come home early (like two hours after he got to work early) because I just felt so tired and weak. I looked at myself in the mirror and thought out loud to him, "am I pregnant?" He didn't think so, so I shrugged it off. That Sunday, my step-daughter saw me hunched on the couch and said, "I think you're pregnant, take a test." Sure enough, I was/am! I took three tests total to confirm, lol.
This pregnancy is very much different than Aviah's. Though much of the symptoms are the same (extreme fatigue) the circumstances are drastically different. Gone are the days of taking naps whenever I pleased and going to the gym at whatever time I felt energized enough to go (usually after my 4th nap). This time around, I can only get in a bit of sleep when she's napping, but then there are things to get done at that time, so it's often hard. It's no joke being pregnant with a toddler and my little one is quite active! Eddie's been amazing though. As soon as he steps into the house, he takes over completely and I knock out completely, haha.
I'm officially 3 months and into my second trimester. I've noticed that I began showing way sooner than I did with Aviah. You can see the difference yourself in comparing my pregnancy announcement with Aviah nearly two years ago here. I had to practically pop my belly out as much as I could for you to see something, lol. Which brings me to something so crazy I wanted to share with you guys. Would you believe that my due date is Aviah's birthday?! What are the odds of that? At first, I didn't know how to feel about it because I wanted my kids to have their own day and possibly month to not have to share, but that's not how it's worked out. We have no idea if it's a boy or girl, so the pink sweater isn't a clue, but we are guessing boy. Either way, we don't care, a happy, healthy baby is all that matters. Though I will be sharing a reveal with all of you once we do find out....
Any guesses?
Thanks so much for stopping by, my sweet friends, and I hope 2019 will be your best year yet. I can't wait to continue sharing content and my little space and this little journey with all of you!