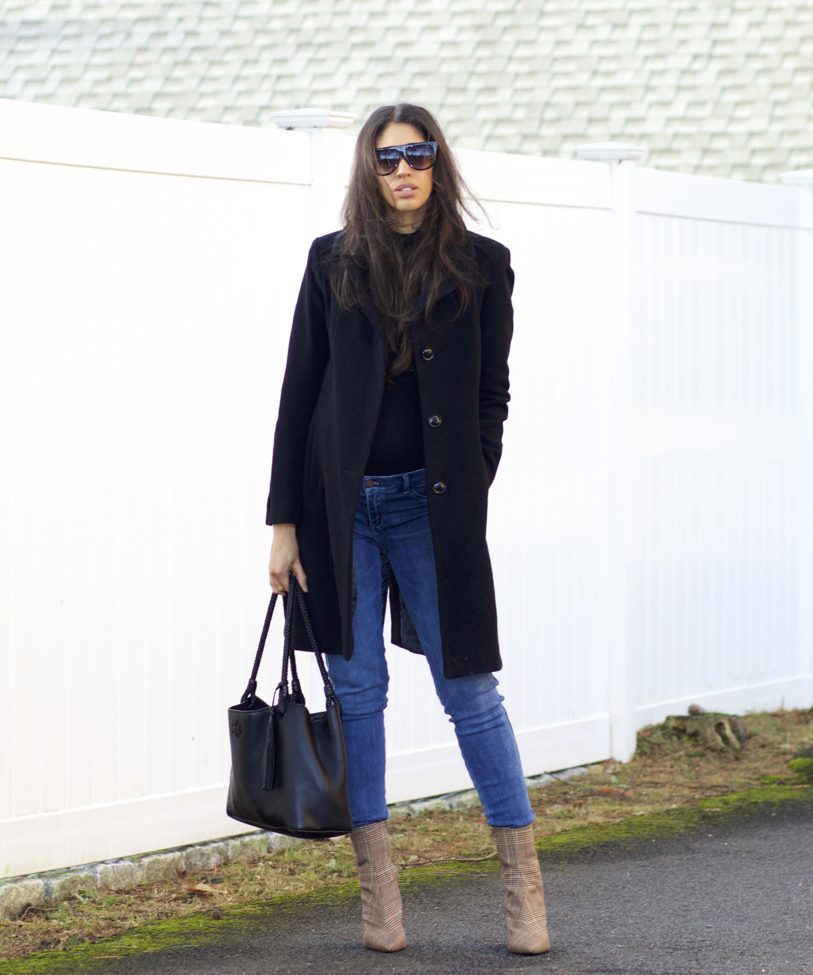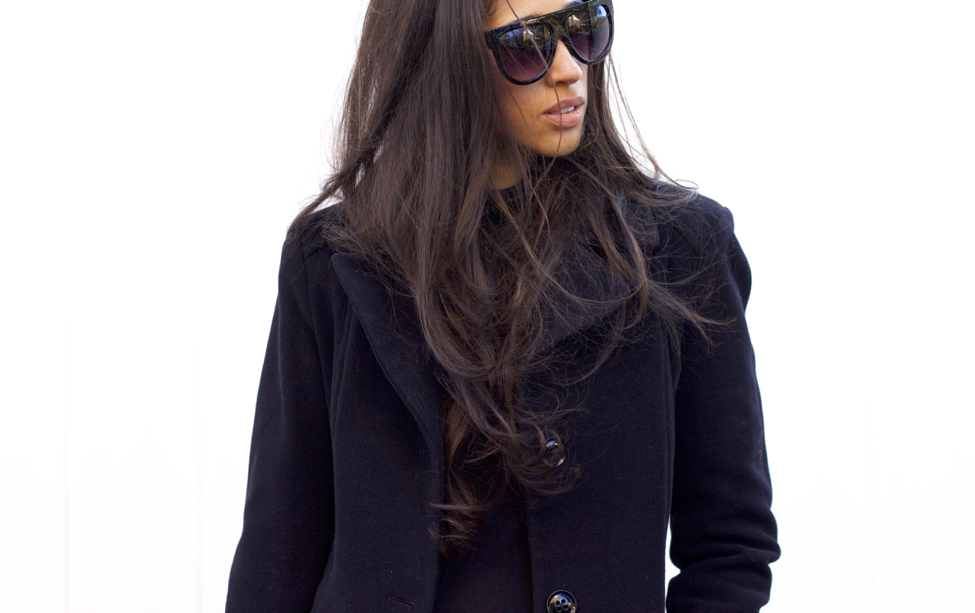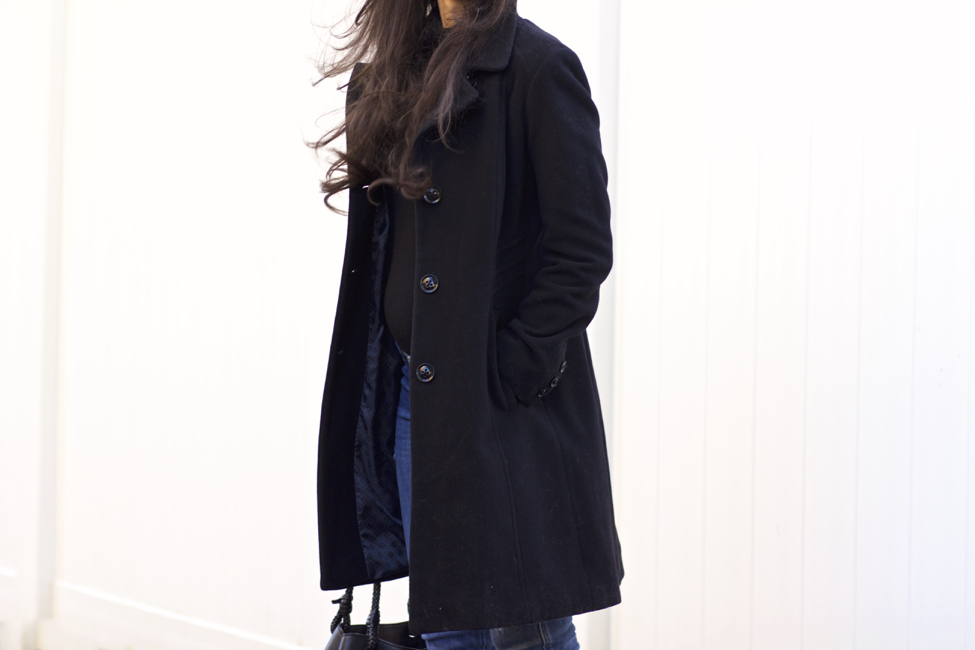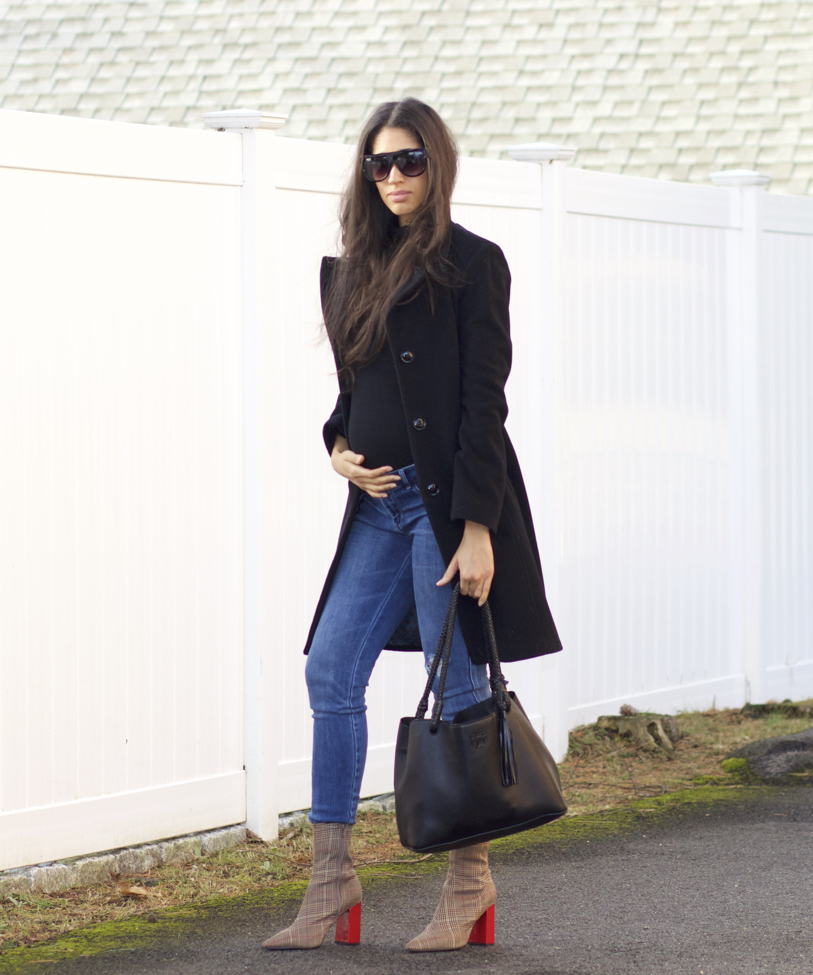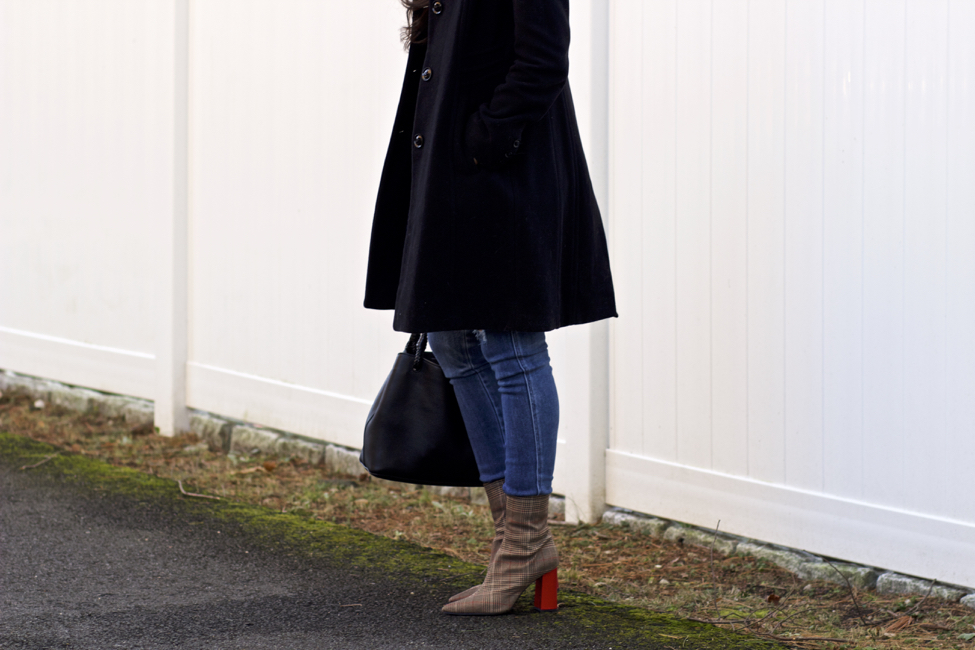 COAT | TURTLENECK | JEANS: Similar | BOOTS | SUNGLASSES | BAG: Similar
---
---
Happy Monday my beautiful friends!
Thank you all so much for your incredibly sweet and encouraging words in my pregnancy announcement post last week! You made me smile ear to ear as I read each comment. Blogging has many benefits, most of which come from the relationships and connections you make and I feel so grateful to have your love and support. It's pretty cool to think how I've started this blog several years ago and I'm now in an entirely different stage in my life that you all get to experience with me, as I share each milestone and journey.
I'm about 15 weeks and I'm still incredibly tired and the nausea hasn't gone away. Nearly everything makes me feel nauseous, though now I'm eating. For the first several weeks, I lost weight because I didn't have an appetite. It just seems as though some foods trigger me or the baby just may not like them. I was able to eat spicy foods and pizza with no problem with Aviah, but this time around, it makes me feel so queasy. Still craving the bread, but not nearly as much as I did the first couple of months, haha. Can't stand the sight of coffee, especially when it's a light brown color, it turns me off completely and Eddie needs to open a bottle of wine a mile away when he's pouring his glass because I can't stand the sweet smell. Both things I missed so much when I was pregnant with Aviah, I don't miss it at all this time around. The only thing I miss that I can't have is sushi, sigh.
I also need a maternity pillow this time around. I guess it's because my stomach is bigger earlier on this time around and I'm just so uncomfortable. The thing is HUGE! I'm still getting used to it, lol. I'm really hoping to get my energy back because anyone who knows me personally knows that I have a lot of energy, so seeing me lay on the couch and too tired to point to the corner is really just not me at all. Going to the gym has been rough, but I've been trying to push myself and plan to get back on track. I'm really beginning to feel it's a boy just because I just feel down right lousy, lol. I've heard from those who've been pregnant with boys say that's how they've felt and that overall the pregnancy wasn't so glamorous. This is the case so far with me.
Which brings me to getting dressed. When pregnant, I love to have fun and experiment, but not at this stage; I save that for when I get my energy back 100% and I have the desire to put all that effort into planning. I like simple, classic, yet chic formulas that are perfect for when you're pregnant or not. A black turtleneck and plain blue jeans is a timeless classic and looks even more chic when topped with a solid black coat. To add a bit of interest to the look, I've added my favorite boots for the season. They add a touch of pattern and color. I added these super chic glasses so you can't tell how tired I am or if I'm falling asleep while talking to you, lol. No, but really, black sunnies are always a good idea. They add a mysterious tone to any outfit.
I hope you're all off to a great start to your week so far, my friends; thanks so much for stopping by!