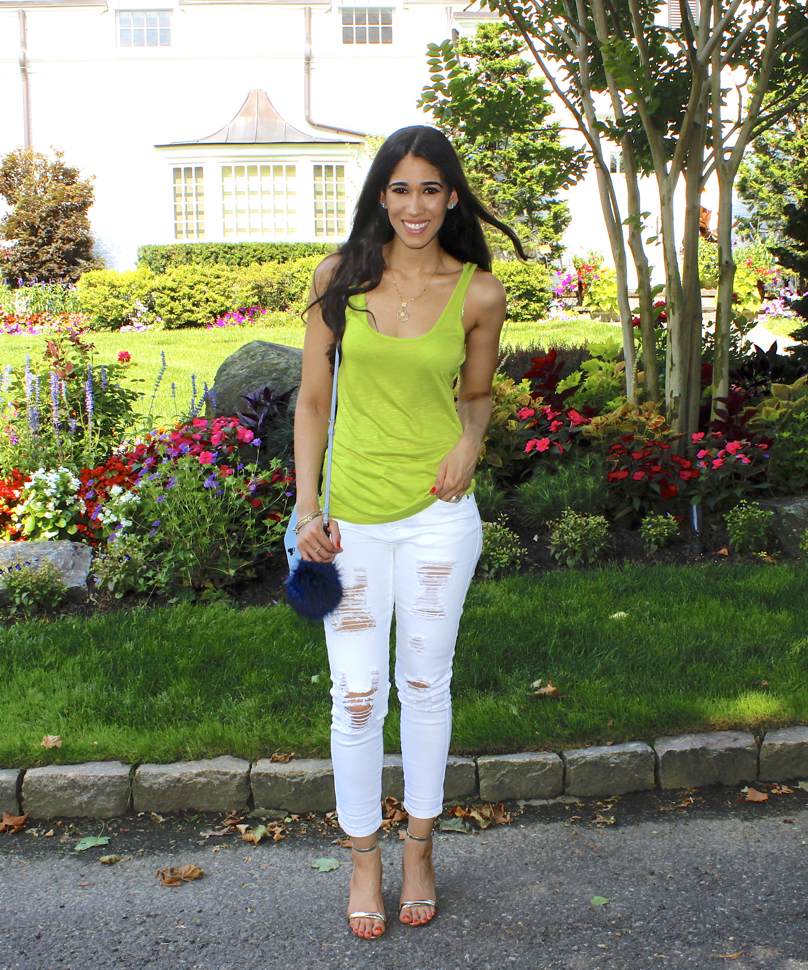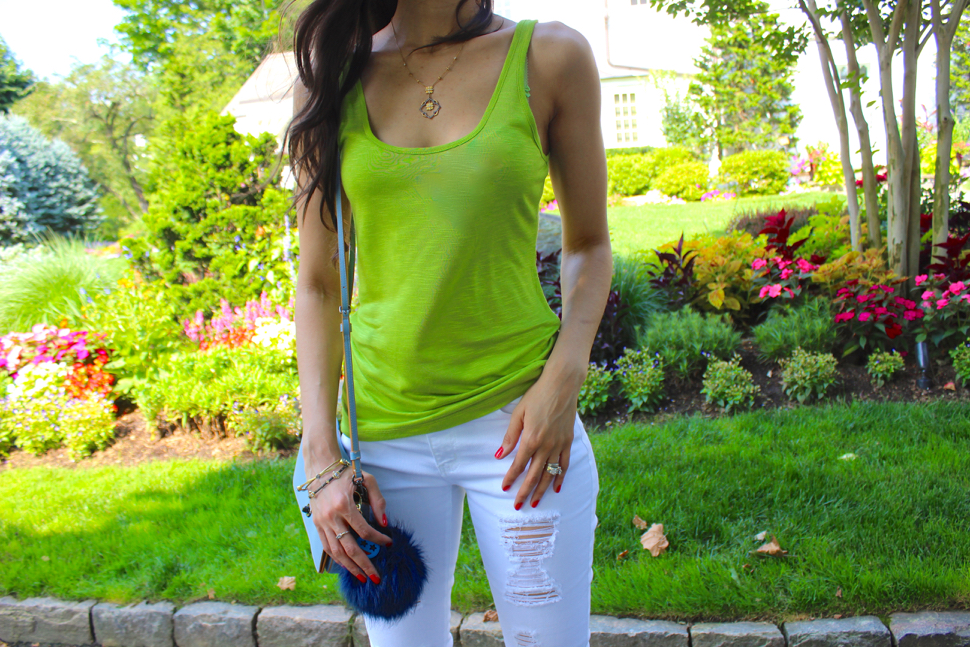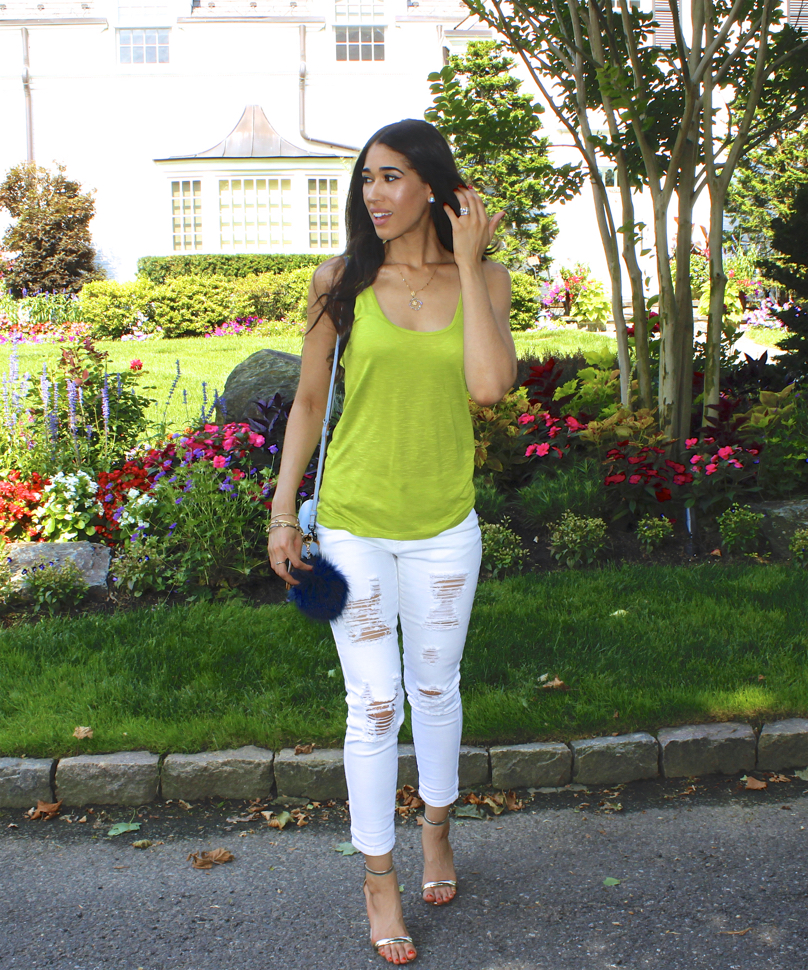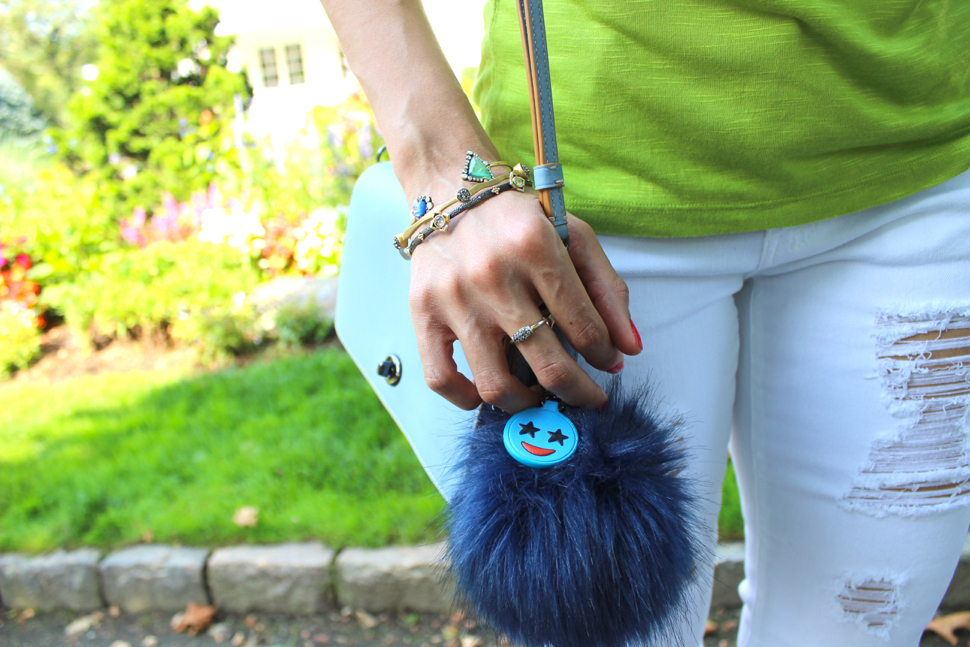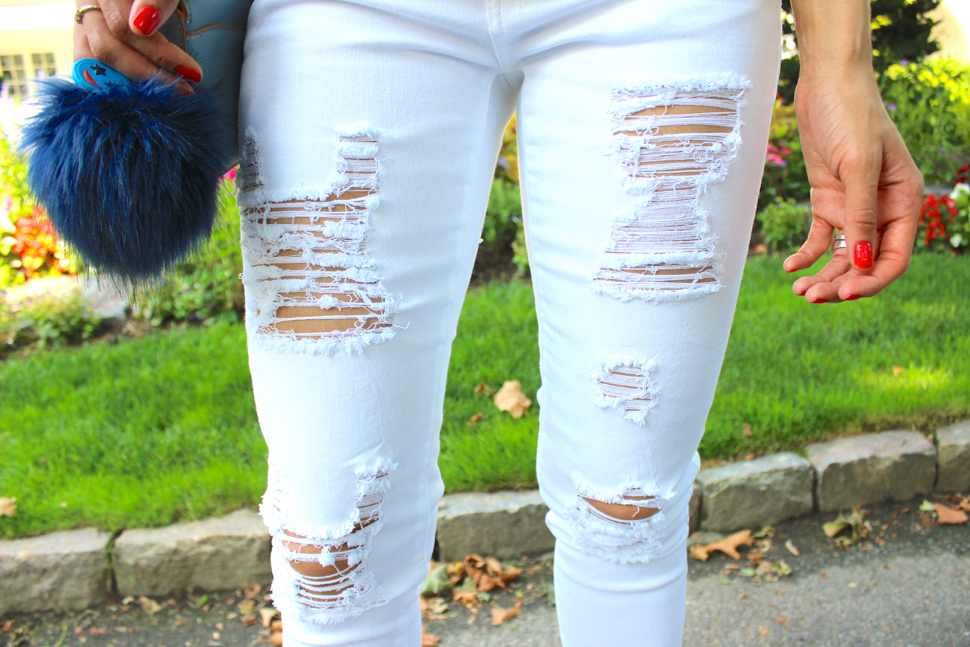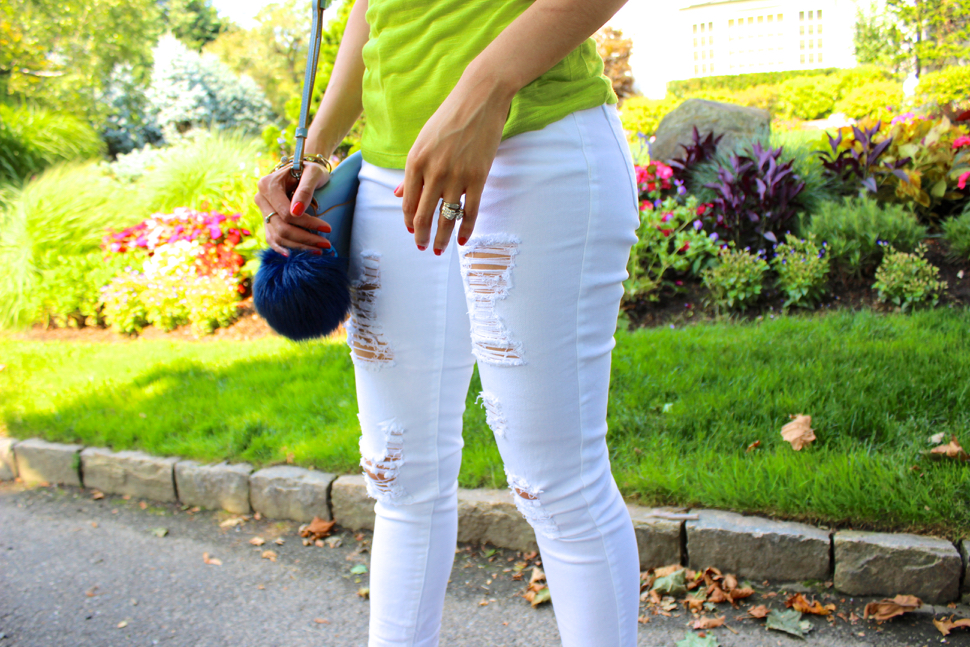 GET THE LOOK!
Tank: Marshalls (similar ON SALE HERE) // Necklace: c/o Joey J. Jewelry (HERE) // Jeans: c/o Bluefaith Denim (HERE) // Bag: c/o Coach (HERE) // pom keychain: Marshalls (similar HERE) // Emoji bag charm: c/o Coach (similar HERE) // Sandals: Aldo (similar HERE)

Happy Hump Day, my beautiful friends!
White jeans are synonymous with summer, would you agree!?
For YEARS (until a few months ago), I didn't own a pair of white jeans. I've had a pair of white high waisted pants you've seen me wear and style a number of times (HERE & HERE) but I always needed to wear Spanx under them because otherwise they'll show everything. You know, that stubborn cellulite that just doesn't want to leave no matter how many squats, lunges, or bread you give up eating? Uh huh. I, too, have it and though it's decreased tremendously since I've worked out and implemented some cardio into my routine and eat much healthier; it just won't permanently leave (insert eye roll emoji here).
When searching for the perfect pair of white jeans, I've always tried them on in the fitting room and regardless of the designer brand the tag read, they were either always see through or the fabric wasn't flattering and actually highlighted all my flaws.
So, when I had the opportunity to select a pair of denim of my choice months ago from Bluefaith denim, I searched for a pair of white jeans out of curiosity and figured I'd give them a try, since I didn't own a pair and I'm glad I did because they're super flattering!
I've already featured them on the blog back in May, but this time around, I wanted to discuss them exclusively because I do genuinely love and would suggest them to those of you who've been searching, too. They aren't at all see though, are comprised of mostly cotton, and don't showcase those flaws.
Plus, they're quite affordable, at only $43.50! If only they had a pair of skinnies, I'd get them, too, especially since I'd be able to get away with wearing them a lot more without all the distressed designs that are so obvious if you wear them often.
Since we're on the topic of white jeans, feel free to check out my post, 'How to Wear the All White Everything Look for Your Body Shape' for what I believe are some helpful tips for creating that flattering all white look (which looks perfect with a tan, by the way!).
Do YOU own a pair of white jeans and if so, what's your favorite brand and way to style them? Thanks so much for stopping by, my dear friends, and I hope your day is as beautiful as YOU!
XO,