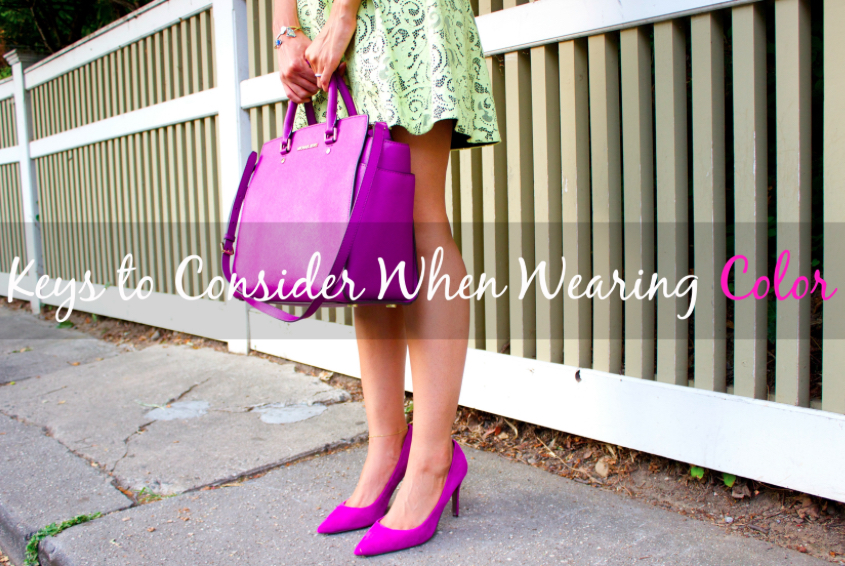 Happy Tuesday, my gorgeous friends!
Today I'll be sharing some tips on how to successfully pull off colorful outfits, either it be in one colorful piece or a full on color block outfit, like this one! I've shared tips in the past on how to slowly implement color and prints into your wardrobe starting off with the most simple, accessories.
In today's post, we're tackling clothing, assuming you've become more comfortable with the idea of wearing color or perhaps always loved the idea of it, but never gave it a try.
So, without further ado, let's get into my first key or tip, shall we!?
1. IDENTIFY AREAS OF YOUR BODY YOU'RE MOST CONFIDENT ABOUT
This ties in a lot with knowing your body shape, which comes at no surprise at me mentioning this as key #1, but it really is significant. Often times, we'll completely dismiss something that could otherwise look amazing on us, if we were to try styles that were more flattering for our particular body shape. Colors draw attention to the areas they're worn, regardless if they're neon bright or deep-rich jewel tones, they are eye catchers, so you want to wear them in areas that you don't mind the eyes focusing in on.
If you don't know your body shape, watch the video on the top right of this page and let me help you find out NOW!
2. FIT IS EVERYTHING
After you've decided where you wouldn't mind attention being placed, you want to ensure that the item is not too large or small. This is extremely important when working with colors, even more so when creating a color block pairing. If the pieces appear as they though they're overwhelming your frame, the outfit can look borderline clownish or animated, which we of course don't want!
3. WEAR COLORS THAT ARE COMPATIBLE WITH YOUR SKIN TONE CLOSEST TO YOUR FACE
Everyone has THAT color that looks great on them. Yes, you may be telling yourself no, but the odds are against you on this one, beautiful!
As with makeup, undertones can really make all the difference in the way a color looks on us. They can either wash us out or add a luminous glow, which is especially important when near the face, even more so when we choose not to wear makeup! The key is to identify which undertone you have and select colors that share the same undertone, which will compliment your skin nicely.
Check out my post on Understanding the Color Wheel to learn what colors would look best on you! The ones on the top of the circle are most flattering to those who have warm undertones (prominent green veins on wrist) and the ones on the bottom, flatter those with cool undertones (prominent blue veins on the wrist). If both your blue and green veins are noticeable, then you'd be considered neutral, meaning all colors tend to compliment your complexion (lucky you!).
4. DON'T OVER-DO IT
This one is coming from ME, the lover of all things colorful, haha! I must admit, they're have been times I had to omit pieces because it was too much! Again, we don't want that animated, cartoonish look. So, I'd suggest no more than 4 colorful items in your outfit, including accessories and ensuring that at least one item is tailored, as mentioned in tip #2.
If you're going for a color block effect, then look for a way to add in a neutral piece of some sort, either a solid neutral or metallic; I wouldn't suggest adding a print, which can further intensify the look in a way that's too overwhelming.
I hope you found this post helpful in exploring the world of color! I encourage you, even if your style tends to lend itself to a more clean, minimalistic approach, to try adding in some (unexpected to you) pops of color. Remember, fit is everything, so as long as the piece fits your shape nicely, it won't look overdone!
Tell me, what's YOUR favorite color? I'm challenging you on this one, so try not to respond with black or white ;) Thanks so much for stopping by, my dear friends, and I hope your day is as amazing as YOU!
XO,