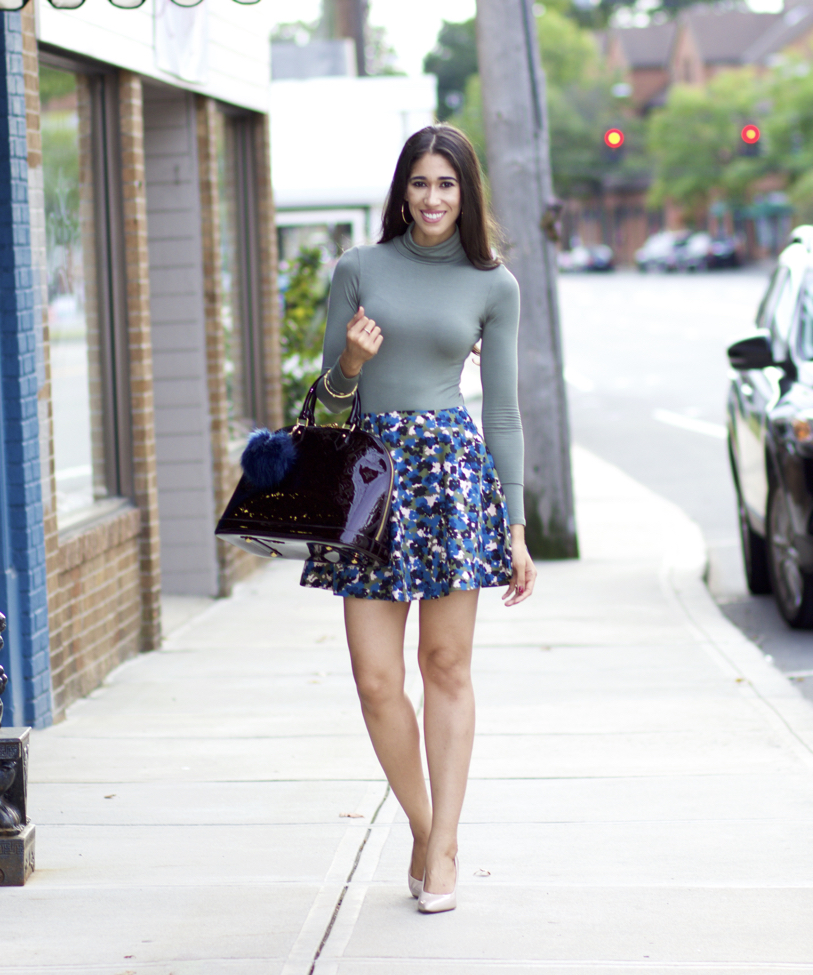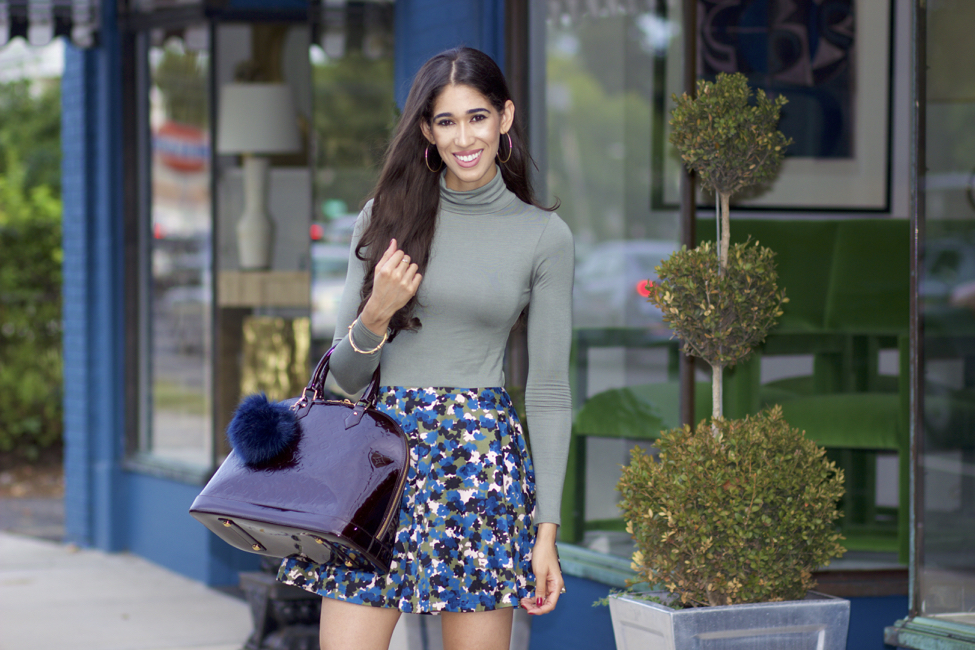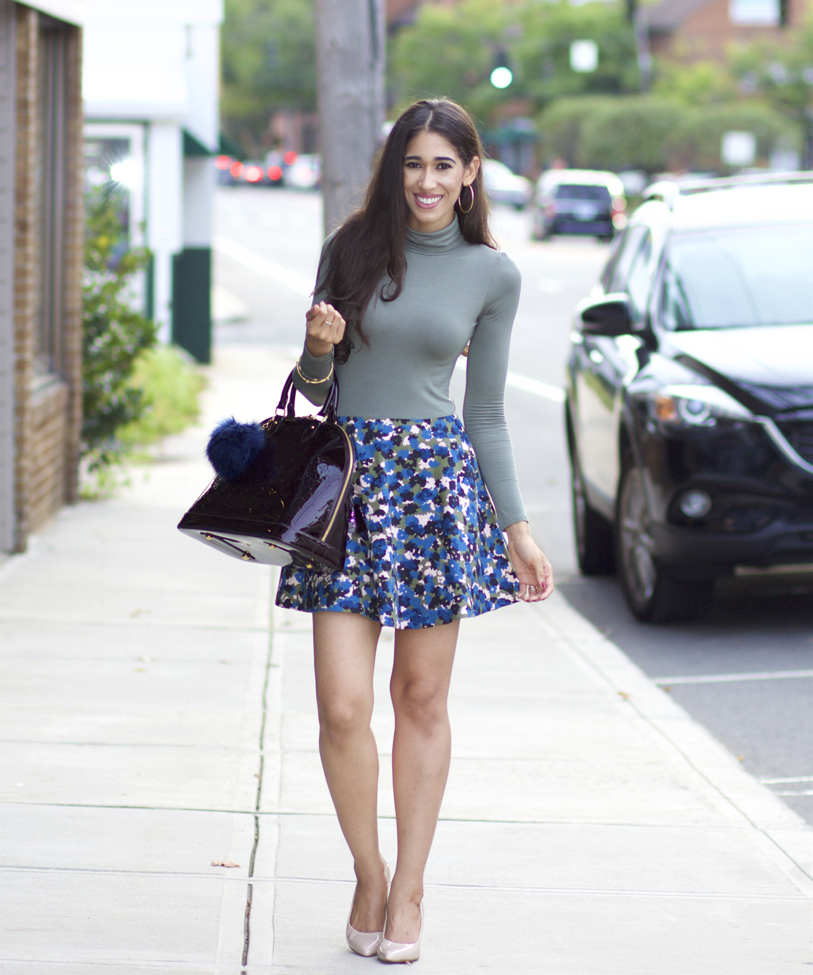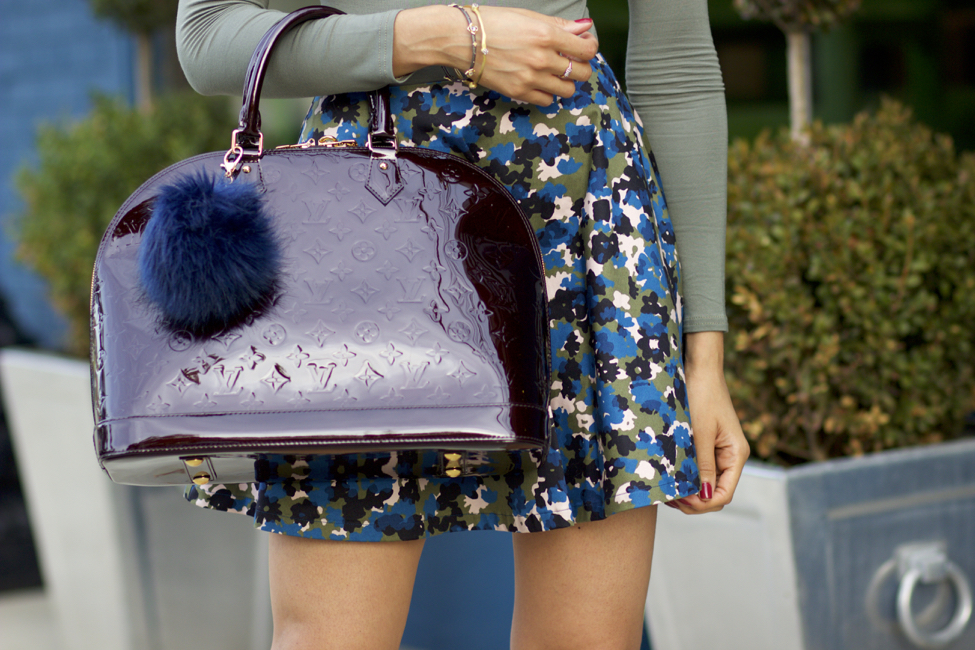 :GET THE LOOK:
---
Bodysuit: Missguided (similar HERE) // Skirt: Kate Spade (similar HERE) // Bracelets: c/o Athra Luxe & Joey J. Jewelry // Purse: Louis Vuitton // Pom Charm: Marshalls (similar HERE) // Shoes: Nine West (similar HERE)

---
Happy Monday my beautiful friends!
How was your weekend, did you do anything exciting for the first fall weekend?! Eddie and I celebrated my birthday on Saturday night with a nice dinner. We decided to celebrate it just the two of us because late Sunday night, we picked up my mother-in-law from the airport, who's visiting from Guatemala and will be staying with us for about a month. You may remember me talking about it all in this post, in which you were all so VERY supportive! The plan is that she'll be staying with all of her kids for one month each, so she'll be making her rounds, haha.
We decided to celebrate together and then next weekend, my mom will be coming up from Brooklyn and we'll celebrate again with both mommies. My birthday is this Thursday, so weekend celebrations it is and I'm totally okay with that! We have a month long celebration actually because Eddie's birthday was the 7th, mine is the 29th, and then our 8 year wedding anniversary is on Oct.7th. Yup, I got married young, at age 20!
Anyway, let's talk about today's look, shall we?! The title of the post is Feminine Flare and it's in reference to this fit and flare skirt I'm wearing. In my post Olive + Radiant Orchid, I asked you what your favorite skirt was; most replied with the pencil skirt, which is what I wore in that post, and some with the maxi and/or flare.
I can definitely understand why some of you love the flare because it's ultra feminine and for the most part, figure flattering, since they tend to have an a-line shape. One thing that used to get me so confused was when I would read the description of skirts and it would say a-line. I'd be like, what the heck is that? Lol.
Basically, if you look at the skirt as it nears the hem, it slightly flares out like the letter A does. The reason it's generally figure flattering is that if you have wider hips, the flare doesn't extend at the widest part, rather below, so it won't exaggerate the fullness. There are various styles that have an a-line shape, such as the skater. This skirt has a more relaxed, less structured fit. In other words, it's looser and more flowy, so the a-line shape isn't as notable as the one I'm wearing, but it still has the effect.
For those who don't have wider hips and wish to create some curves to the area, it can create a nice shape. It's one of those win-win pieces, which is pretty awesome, right!?
:SHOP A-LINE SKIRTS I'M LOVING:
---

---
Thanks so much for stopping by, my dear friends, I hope you enjoyed this post and have the most amazing start to your week; "see" you tomorrow!
XO,