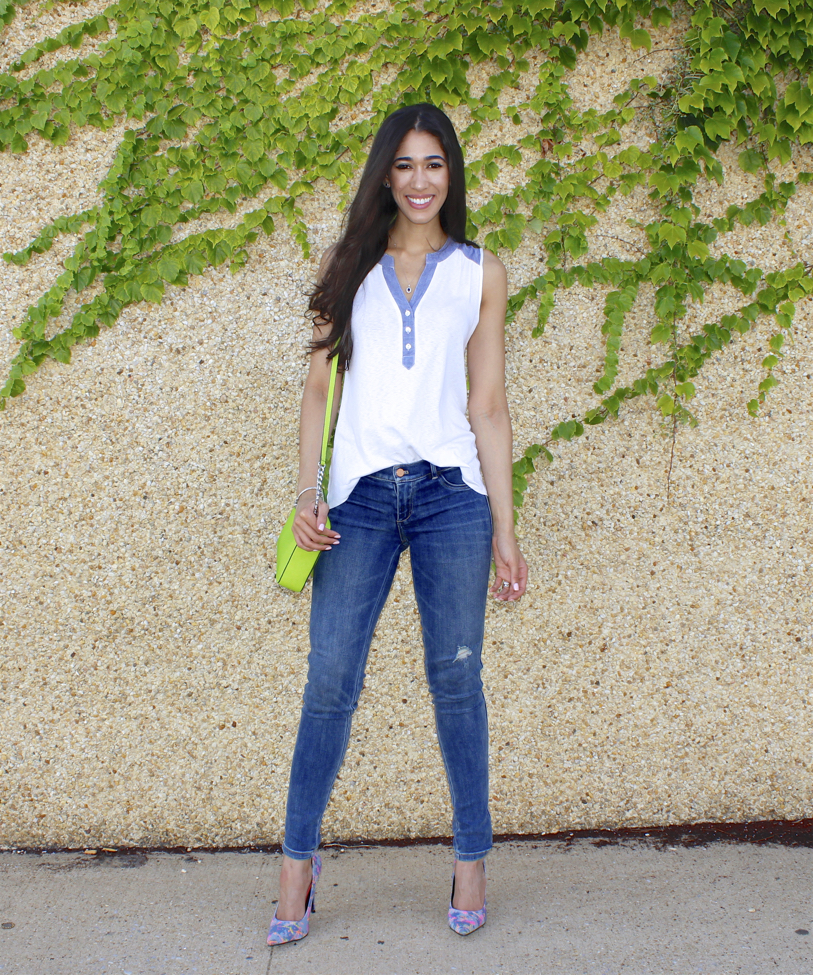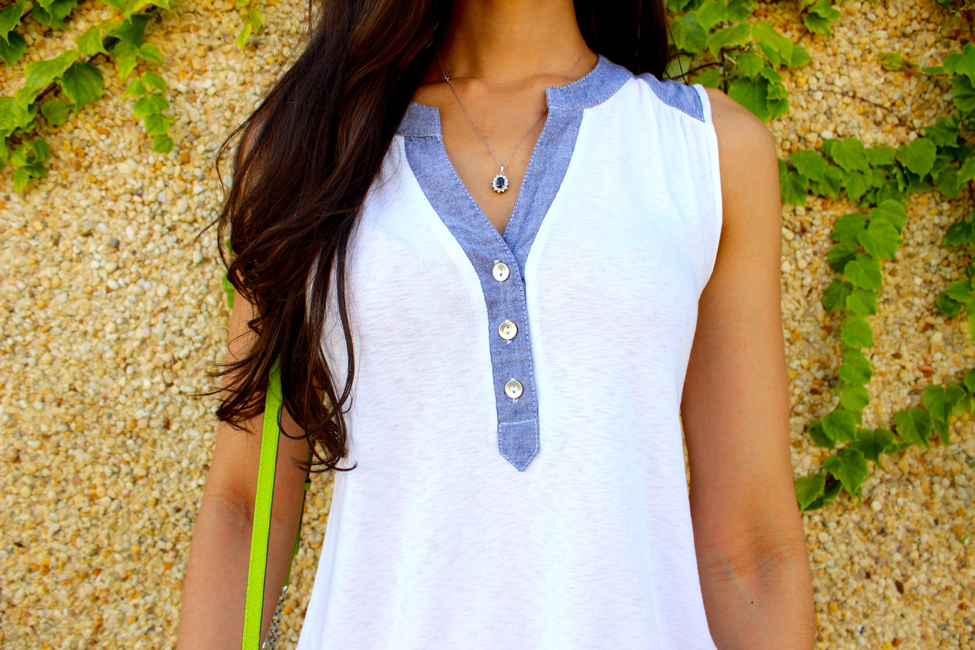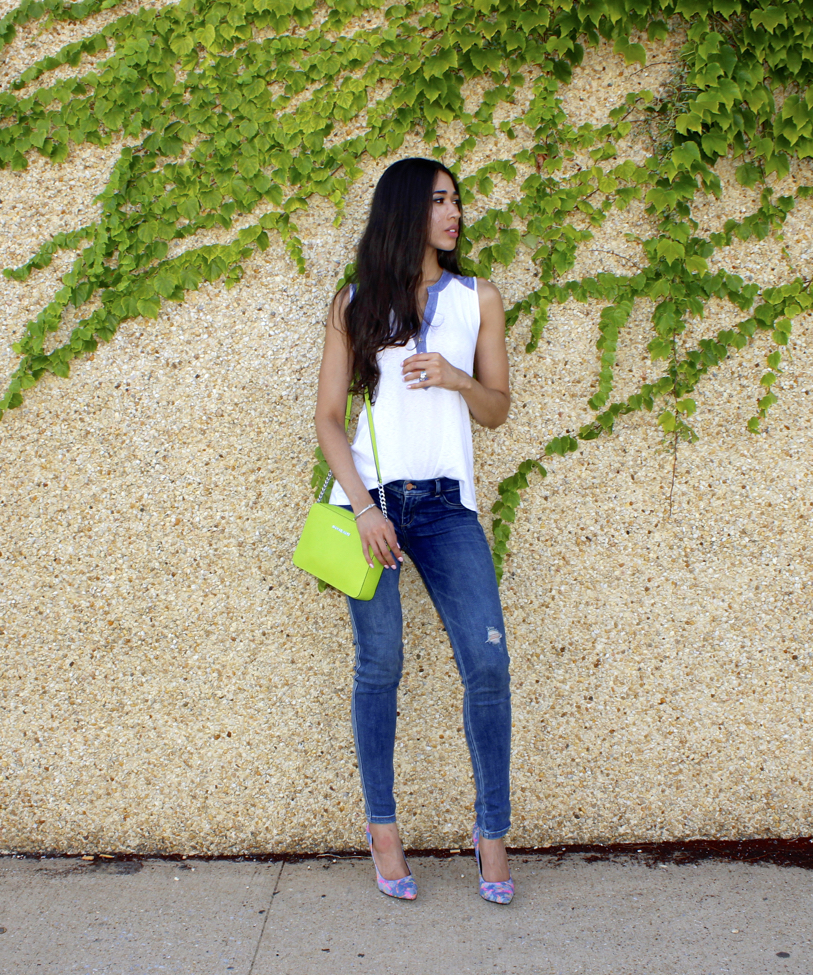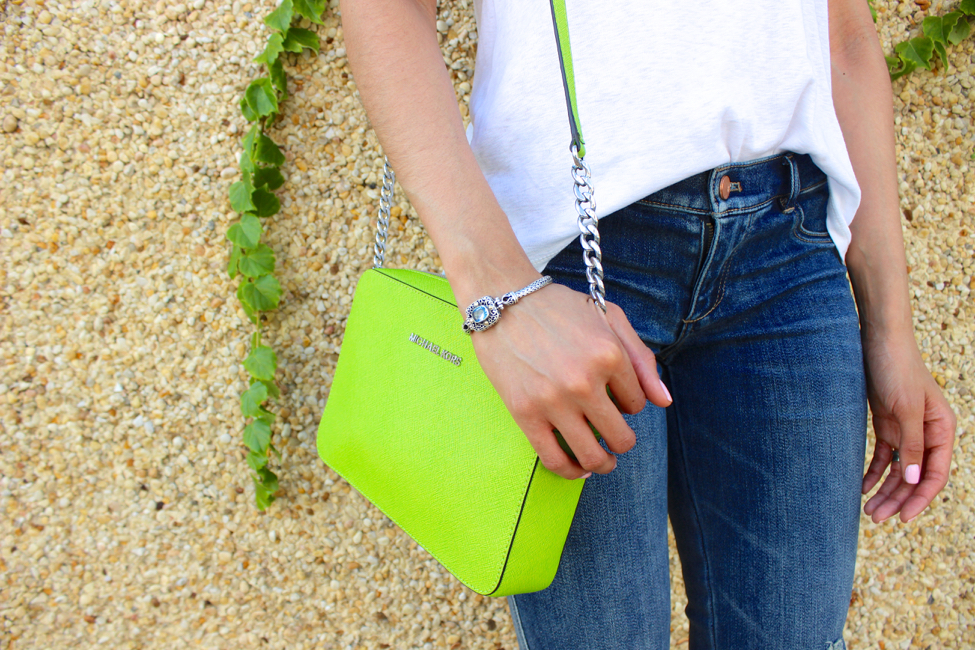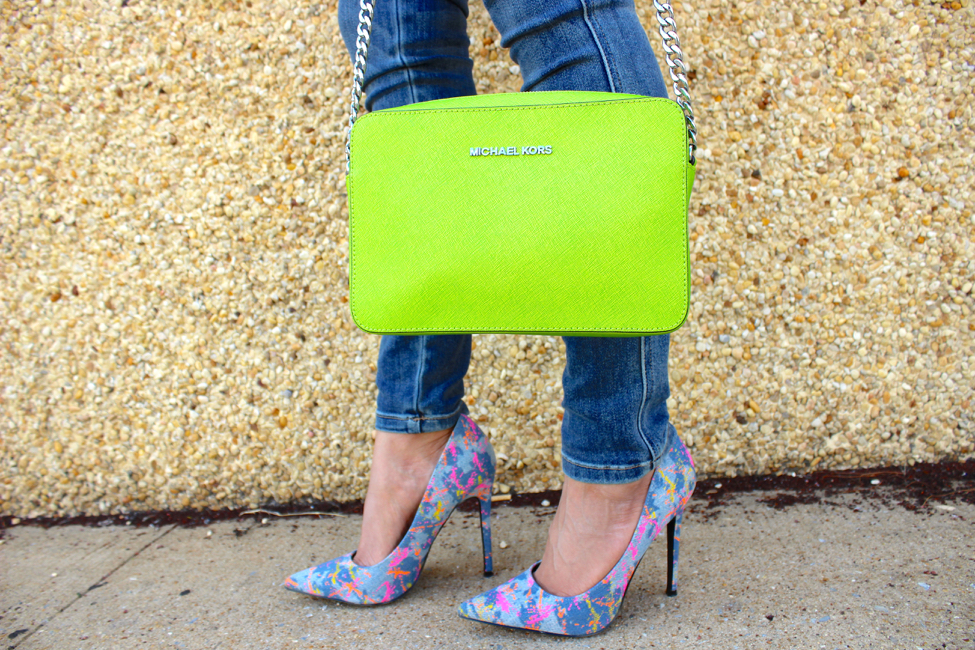 GET THE LOOK!
Tank: Cynthia Rowley // Jeans: New York & Company (different wash, same collection 59% off HERE) // Bag: Michael Kors (similar HERE) // Heels: Lulu*s (similar similar ON SALE HERE & UNDER $100 HERE)

Happy Monday, my friends!
How was your weekend? Mine was eventual, a bit happy a bit sad. Let's start with the happy. I met up with a friend from High School, whom I hadn't seen in over 10 years, for lunch on Sunday. We were literally inseparable in HS; whenever one of us was alone, everyone would ask where the other was, so it was great seeing her again and catching up on life; a lot has happened in 10 years!
Later that evening, one of my youngest cousins got married! It was great catching up with some family members I hadn't seen in a while. The downside is that I got bitten by mosquitos real bad, as I always do every summer. I'm allergic, so my legs swell and the bits turn red, so walking around on Sunday in shorts, I got a lot of stares and the whole Zika Virus situation isn't helping, haha. I know I don't have that, but people were starring...a lot!
Okay, now to the sad part. On Saturday morning, my father-in-law passed away in Guatemala. We knew it was a matter of time, as he's been suffering from his illness for a number of years, which had intensified these past few weeks. My mother-in-law hasn't been able to visit the states in nearly five years because she's been so devoted to taking care of her ill husband. Now that he's gone, it's hit her hard, and so, we're looking to have her stay with us for the next several months, so she's not alone and to be surrounded by family.
If you happened to watch my Insta Story on Thursday, where I showed the Gucci shoes I've been wearing a lot and shared where I got them, I mentioned that I was on my way to take photos for the blog. Well, later that evening, I was on my laptop doing some work, well, not really, more like watching Insta stories with my laptop open. I placed the memory card with all the blog photos taken that day and photos from my step-daughter's 8th grade graduation on the side of the laptop, because I intended on importing the pics and begin working on the posts ahead of time, like I always do.
Well, my husband was calling for me and I was in a rush to go to him, I completely forgot that the card was there, I closed my laptop and it spliced the card, I lost everything! We're kind of hoping not, though, we'll be taking it to a place that specializes in these sort of things to hopefully retrieve my step-daughter's pics. I had to re-take all the pics again yesterday; it sucks, I know!
So, it was a bit of a rough and eventful weekend for me, but there's always hope; there's a new week ahead of us. We'll be moving this upcoming weekend, which is something we're all looking forward to!
Anyway, enough of my rambling. Today's look is a full on denim x denim x denim; let's just call it Denim3. I love the chambray trim on the tank, which is subtle and adds a nice detail to the otherwise simple white top. I've worn it with other fabrics, such as faux leather, but I really love the way it looks paired with denim! I feel it really helps to bring out the chambray lining and creates a nice cohesive flow.
I wasn't able to find anything similar to the tank I'm wearing to link, but a complete chambray tank would work just as well! If you wanted to break things up a bit, you can go for a pair of white denim, for a similar feel to this look. You could also pair it with a slightly darker wash of denim (it doesn't have to be just jeans, shorts would work, too!). If you want to create a greater emphasis on top, simply wear a darker rinse on the bottom.
If, however, you want to create something along the lines of monochrome, you can opt for something that has a similar rinse to your chambray top. In that case, I'd suggest if you're a rectangular shape, you add a neutral belt to help visually section off your body for a more figure flattering option. Ditch the belt, however, if you have a short torso or short legs for an overall lengthening effect!
Lastly, I added in a pair of paint splatter denim pumps. I'm seriously a sucker for anything and everything paint splatter, I really don't know why, haha. Of course you can wear any denim inspired shoe to achieve the same effect.
Thanks so much for stopping by, my dear friends! I hope you enjoyed the post and most importantly, found some inspiration in it! I hope you have the most amazing week ahead!
XO,