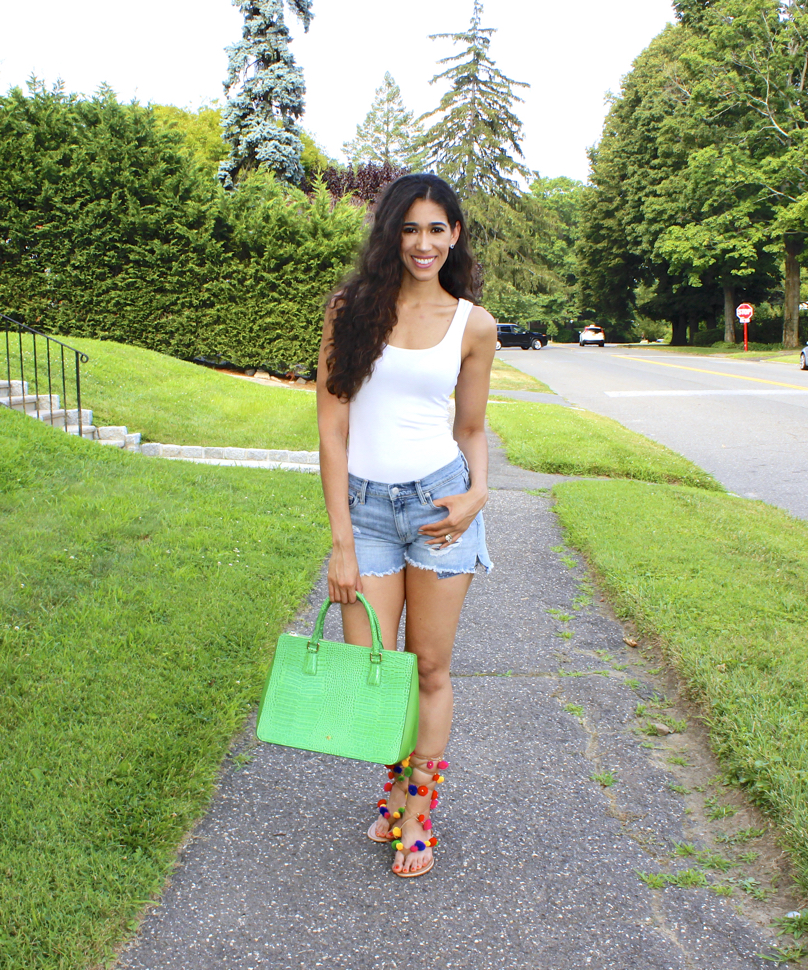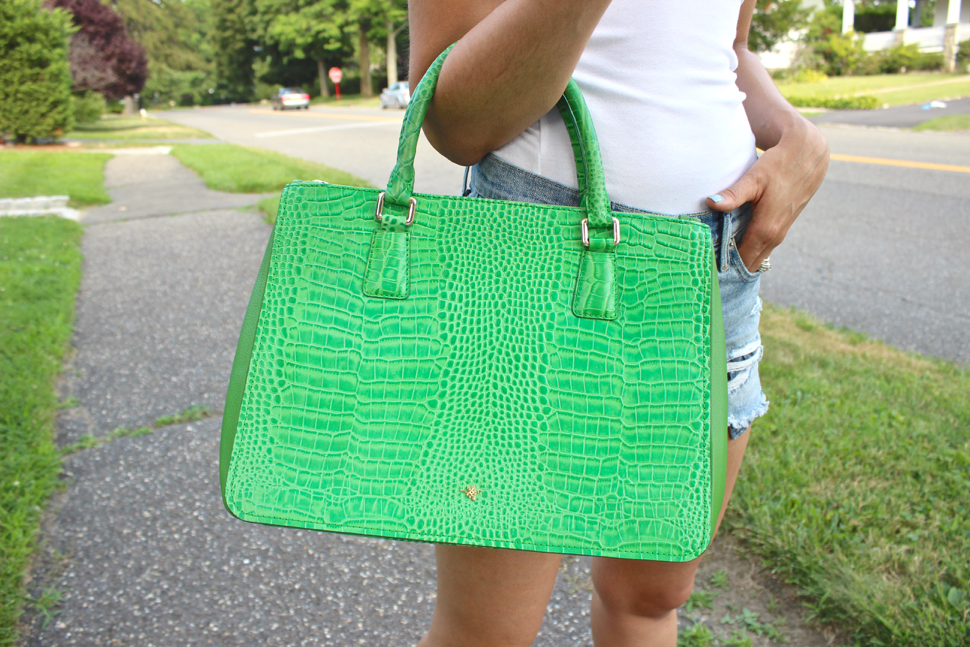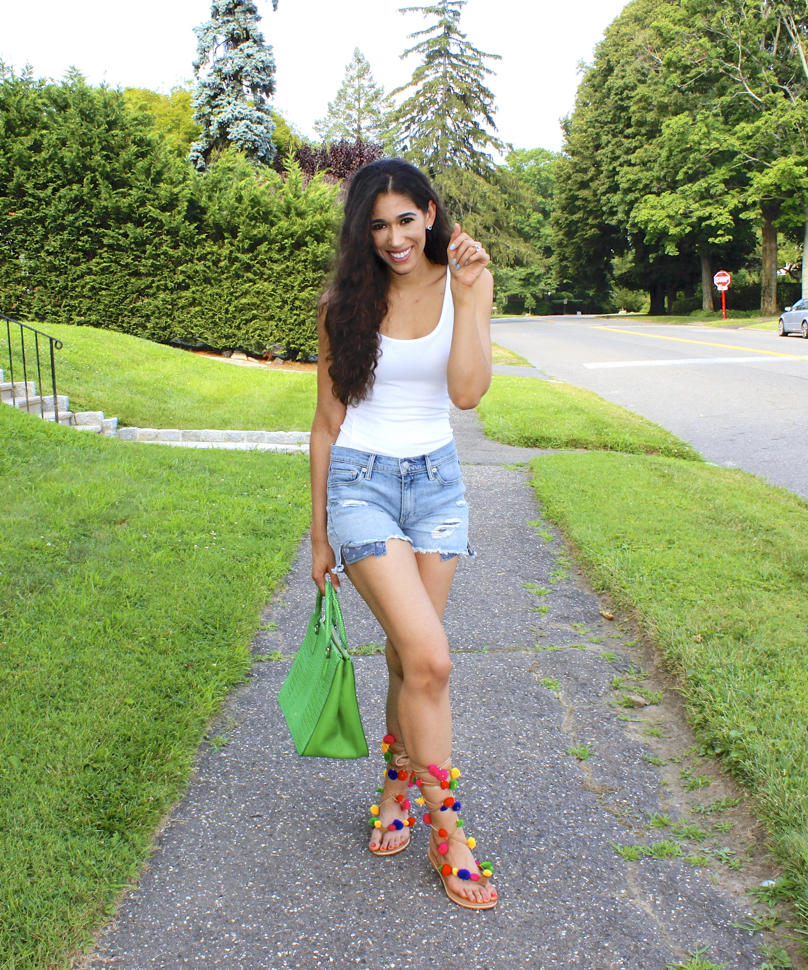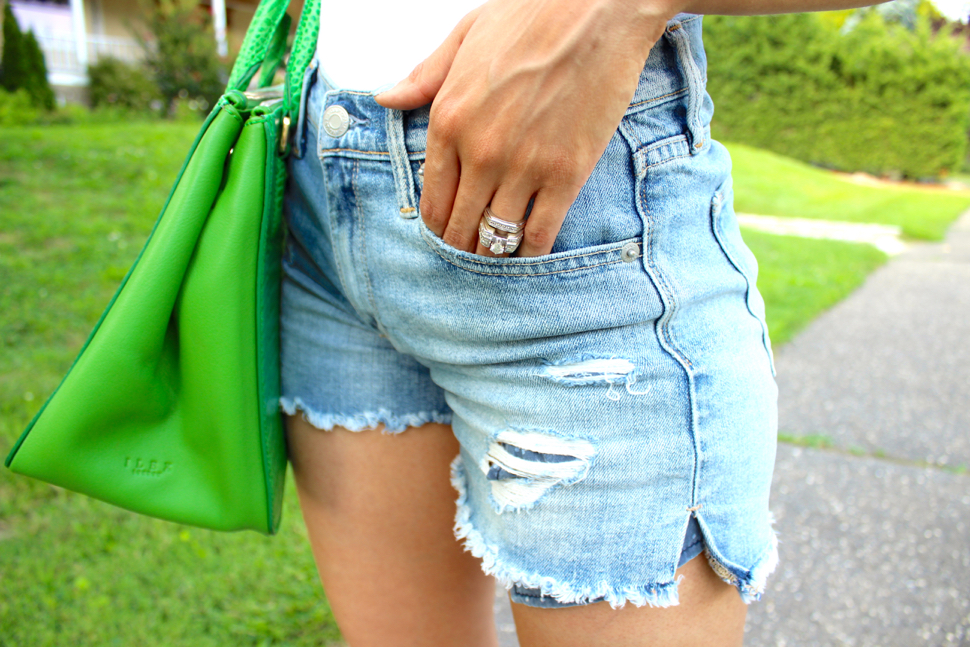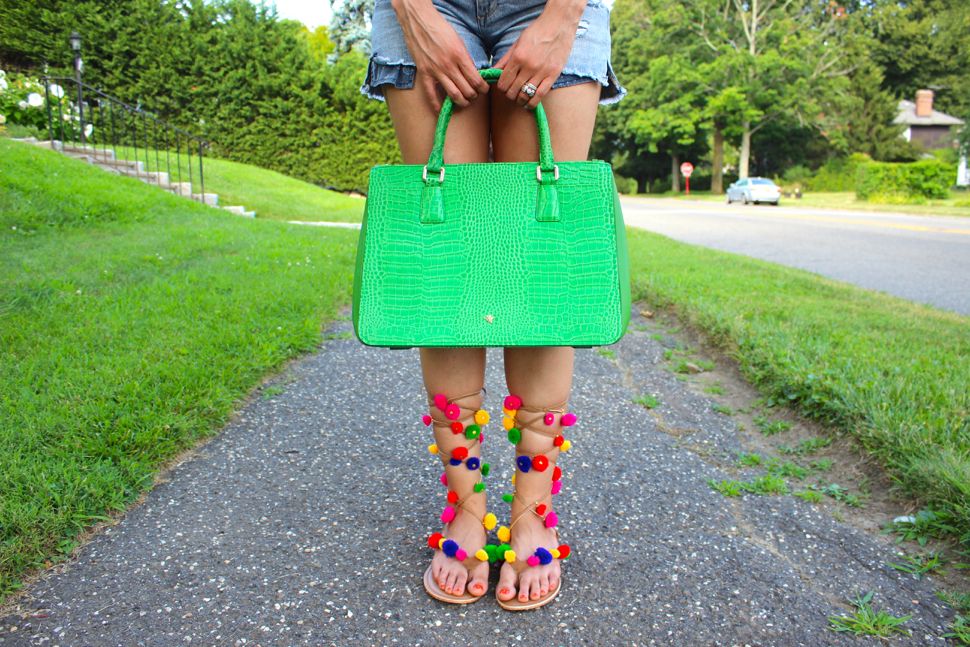 GET THE LOOK!
Tank: Cynthia Rowley (similar ON SALE HERE) // Shorts: GAP (similar ON SALE HERE) // Purse: c/o ILEX London (ON SALE HERE) // Sandals: Glamorous (similar HERE & HERE)

Happy Friday, beauties!
This outfit is beyond perfect for a laid back summer (hot) weekend. It's easy, basic, yet impactful with not much effort. Let's be real, if you have no specific plans for the day, you opt for casual, right? I know I do, I've mentioned this time and time again, though everything changes come nighttime, if we have a date night planned!
When I'm out doing my errands, preparing for the week ahead (definitely try and plan out your weeknight dinners and breakfasts, it makes the week run a lot smoother. When I don't, my weeks are SO stressful!) I like to throw on some basics, with some bold accessories to still look cute and stylish. There's really no easier way to up your basic outfit than with a colorful purse and cute sandals!
I decided to wear a green satchel, the shade is perfect for summer and matches the green pom poms on my sandals. However, if you have a really busy day ahead of you, I'd suggest you opt for a crossbody bag instead, it's more practical.
I wore these sandals out and about in the City and Brooklyn with my mom one weekend and I can't even tell you how many times I got stopped by people complimenting me on them; so much so that I was really surprised and a bit confused. I mean, they're all over Instagram and it's the city, we see anything and everything worn here, some things questionable, but that's a whole other discussion.
I say this because sometimes you may second guess getting something because you're seeing it "everywhere" online, but online isn't your reality, so get it if you love it and know you'll get good use out of it!
I love pom pom sandals because they can instantly add interest and personality to the most basic outfit and can be worn with shorts, rompers, and skirts (if they're lace ups). They also make cute options for BBQ's and festivals, too!
I do have a suggestion when shopping for your perfect pair of pom pom sandals. I have full calves and legs, I always have and I know I always will. So, when wearing lace up sandals, like these, I try to avoid lacing them all the way up because they just make them look A LOT larger, which I don't like. If you have full calves and know what I'm talking about, then I'd suggest you either do the same or opt for sandals with the pom pom details, but without the laces or those that don't lace up high to avoid the same effect.
What's you favorite way to add a little "wow" factor to your basic, weekend errand outfits? I hope you found this post helpful, my dear friends, have a great weekend ahead!
PS: It may take me longer than usual to respond to this week's blog comments, as I'm preparing to move, which is taking up a lot of my time. Thank you so much for your patience and understanding, my dear friends!
XO,