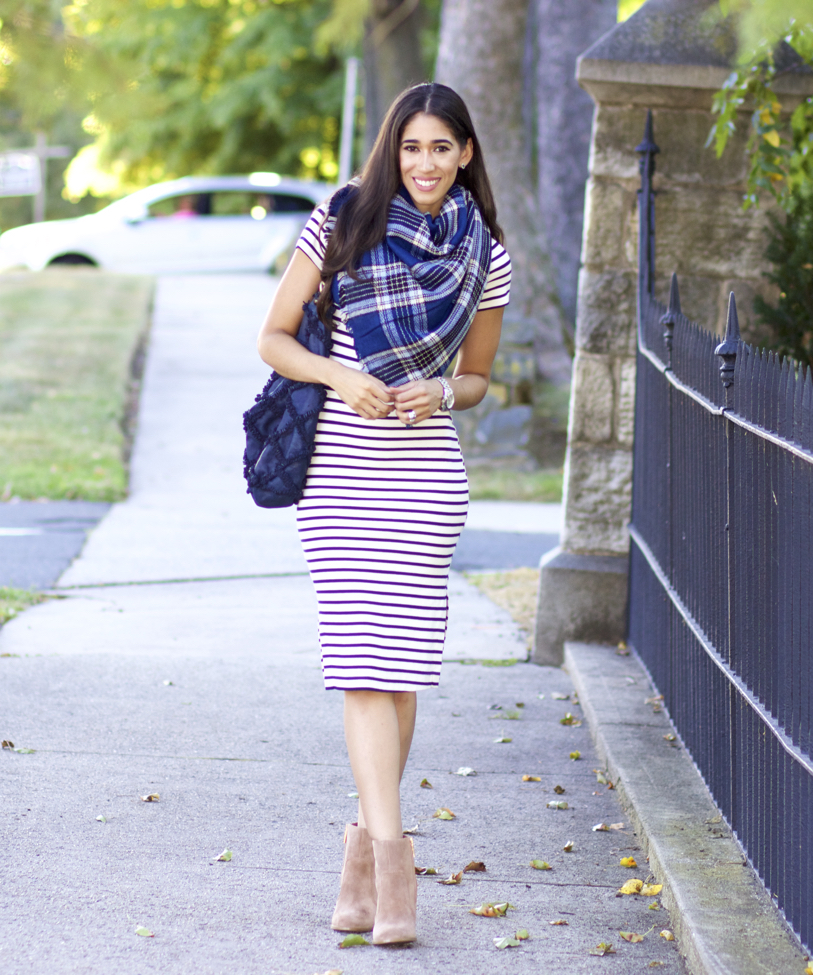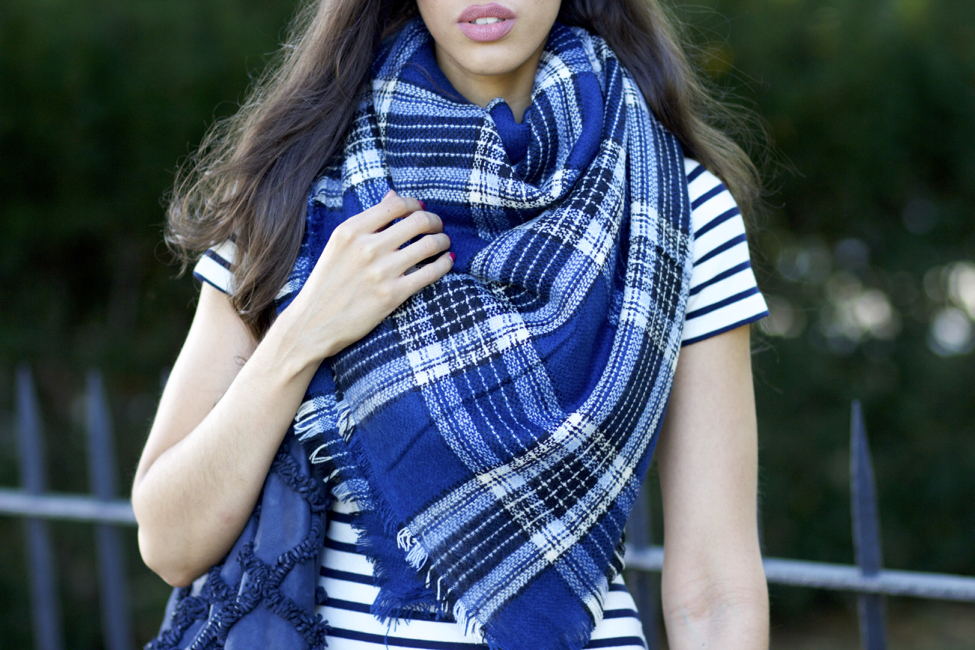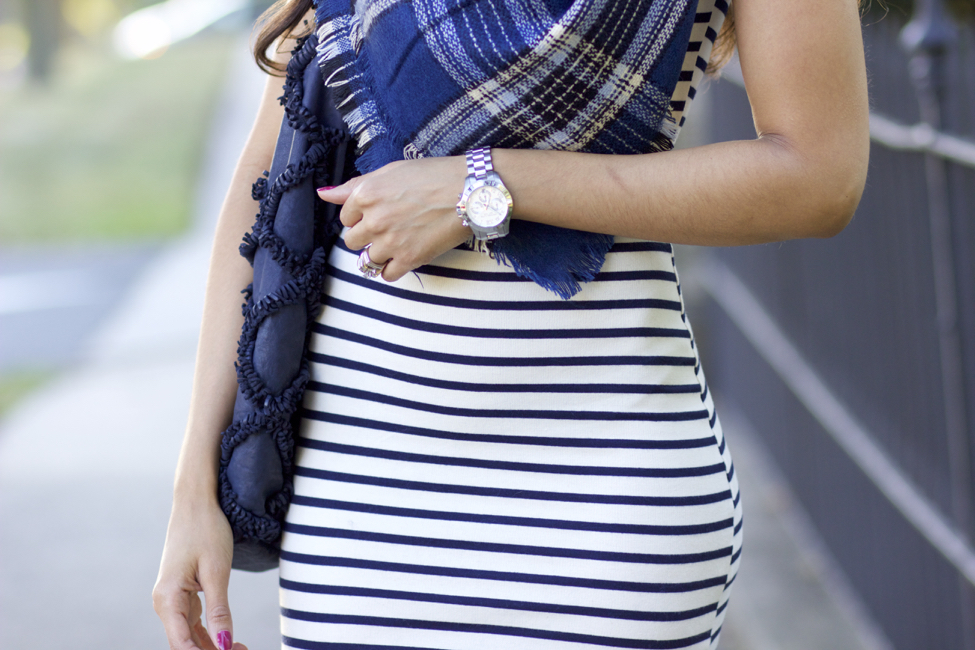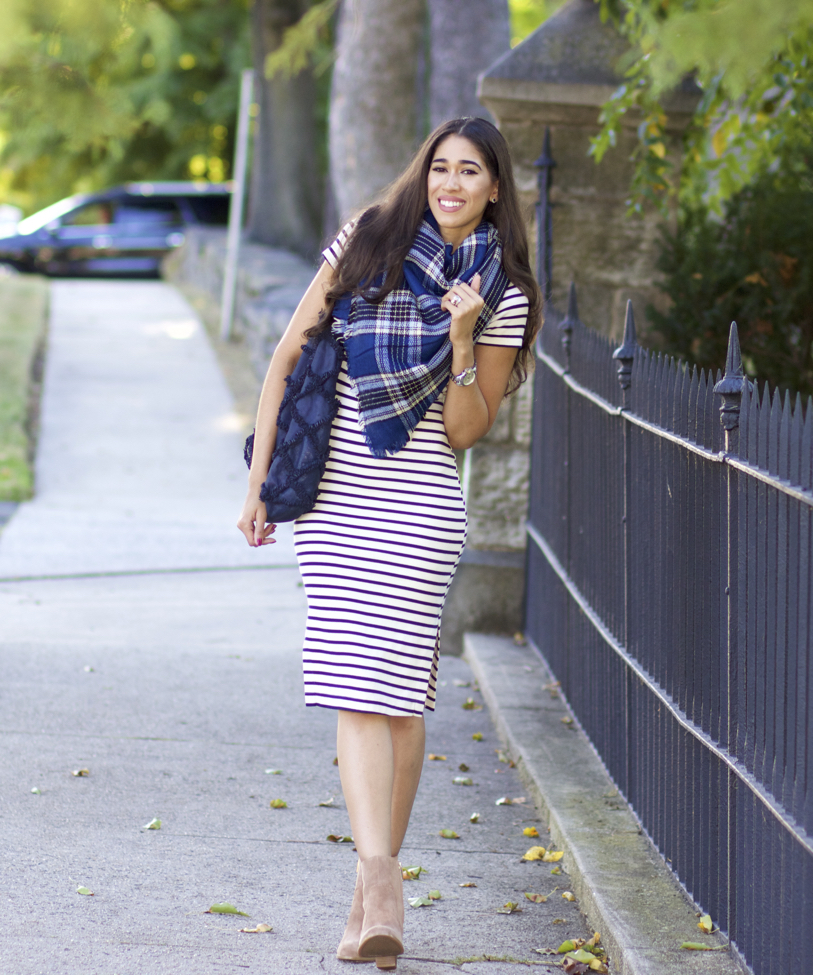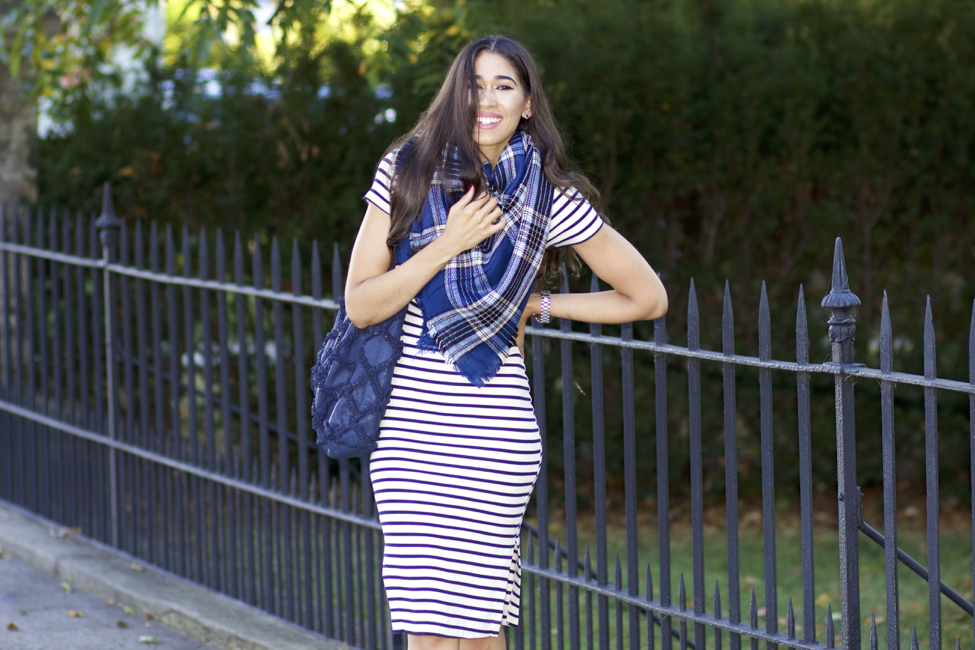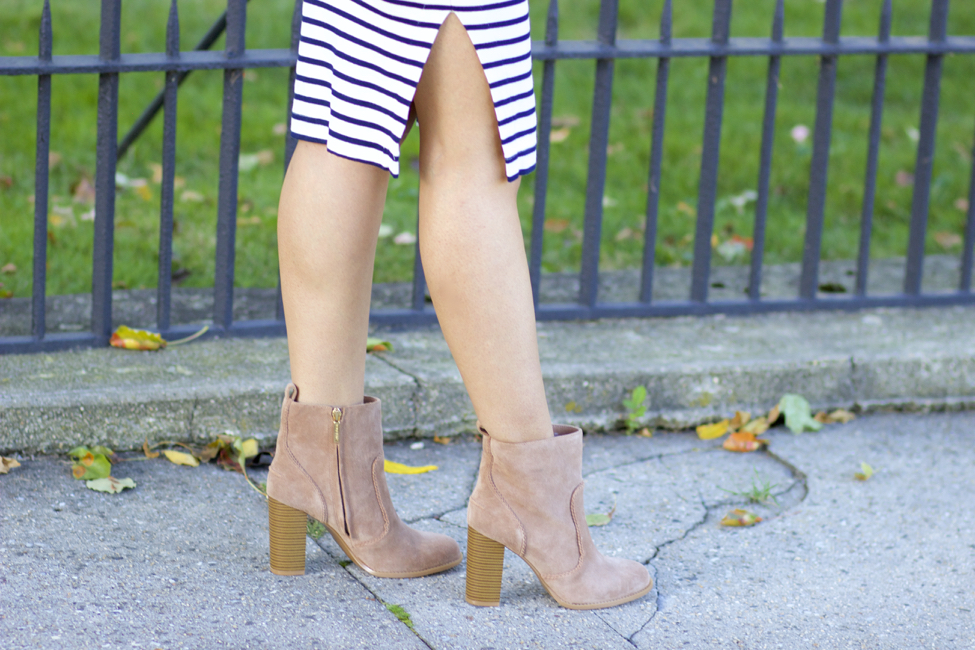 :GET THE LOOK:
---
Dress: Marshalls (similar HERE) // Scarf: HERE // Boots: Nine West (HERE) // Watch: Michael Kors (HERE) // Bag: Errelleventidue (similar HERE)

---
Happy Monday beauties!
How was your weekend? Mine way more laid back and I loved every minute of it. The previous weekends have been super fun and eventful, so I've been in need of one to kind of just take a breather, haha.
Have you guys felt the temperatures dip where you are? I have! It's been a bit chillier in the mornings/evenings and I'm really loving it. I'm all for cozy sweaters, scarves, and boots and the minute I have the chance to break them all out, I don't hesitate! It's still fairly warm hot during the day, so I opt for summer-like pieces in fall or neutral colors to exude the seasonal vibe, while still being practical, such as the short sleeve stripe dress I'm wearing today. I added a super cozy blanket scarf that can be removed as the day progresses and starts to get warmer. I've already mentioned in a previous post how much I love this scarf; let's just say I got them in all 3 colors!
When it comes to stripe dresses, specifically tube styles that are more form fitting, it can be tricky to wear when all the stripes are horizontal, as they can perfectly widen (visually) areas you wish, while doing the same to areas you may not wish, haha.
There are a number of ways you can style a horizontal striped dress in a way that's flattering, regardless of your body shape. For me, I'm a pear shape and have wider hips, so I either team this dress with a longer cardigan or add an oversized scarf, as I've done today.
The long cardigan will help to elongate the body visually, causing the eye to move downwards instead of across. The blanket scarf adds volume to the bust, counteracting the exaggeration that stripes can cause for the hips.
If you're an apple (have a larger bust, wider upper body) or rectangular shape (athletic built, little curves) horizontal stripes around the hips would be a flattering option, since they can help to draw attention to the hips, creating a widening effect, balancing out the upper body. If you wish to avoid having an exaggeration placed on your bust and/or midsection, you can add a blazer or long cardigan to create a balance visually.
I really enjoy sharing and demonstrating various ways pieces can be worn because I do believe there are always exceptions to the "rule". It all comes down to styling to make something work well for our shapes and most times, it can be easily achieved.
I hope you enjoyed the post, my dear friends, and I hope your day is as beautiful as YOU!
XO,