Happy Hump Day, friends!
I hope you're all having a great week so far! This week has started off a bit rocky for me, as we've been trying to get adapted to our new place and schedule, which is why I didn't post yesterday, as I usually would.
In fact, my schedule has a been a little all over the place these past couple of weeks and if you're a Type A person like me, I'm sure you have an idea as to how I'm feeling (uh, huh!). As I get older, though, I'm beginning to loosen myself more and go with the flow, as hard as it may be. Life has shown me that no matter how much you plan, sometimes life has a plan of its own and you have to just adapt with it, so you better right those plans in pencil, haha, and such has been the case.
I actually had intensions of sharing an outfit post as I do every Wednesday, but it poured non stop, as I was fully dressed sitting in the car with Eddie hoping it would just stop for at least 10 minutes, nope! Really?! It wasn't supposed to rain at this time, but it is what it is, which brings me to the topic of today's post, fall pieces I've recently added to my wardrobe, that I'll be creating looks with them soon enough as well as my thoughts/suggestions on some for body shapes and skin tones, which I hope you find helpful!
While packing boxes and preparing to move, I of course had to go through every.single.piece of clothing in my entire wardrobe, which was daunting, but it gave me the opportunity to see what I needed to give away and/or donate, as well as pieces I was completely lacking or needed to replace.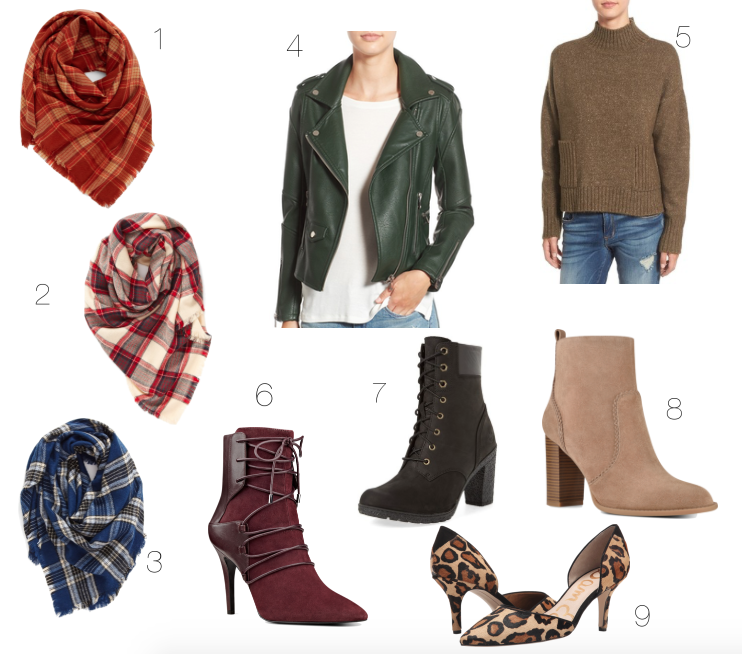 SHOP THE SET!
1 | 2 | 3 | 4 | 5 | 6 | 7 | 8 | 9
Now, I have to be honest and say that I do have a slight, okay MAJOR, obsession with leather jackets, but for legitimate reasons; come fall, I wear them all the time and they can do SO much for an outfit. You can literally wear the most basic outfit and add a leather jacket on top and it'll pull the whole look together, even more so when it's a colorful one, like this BLANKNYC style in green.
You guys, you have no idea what I went through to get this jacket, which I purchased during the nSALE. I had been deliberating on whether or not I should get it because I do have quite a few leather jackets, but the color and price couldn't be beat, especially on an item I know I will get plenty of wears out of (you can hold me to this, okay!?). Well, it kept selling out as fast as it was restocked, particularly in the green color and it still is! If you're thinking about getting it, I really suggest you do because I've yet to see a style like this under $100 and for such great quality (I have another BLANKNYC, which you've seen me wear quite a lot; i really love their unique pieces and quality!).
One thing to keep in mind, however, is that it does run a tad bit large. At first, I thought the fit was great and perhaps it was because I was just so excited to finally get it, but after trying it on with many of the other pieces in my wardrobe, I decided to exchange it for a smaller size (from small to x-small). It also doesn't fit as tailored as the photo, it's a bit more boxy, a true moto style and the silver accents are much larger. So, for a more tailored fit, I'd suggest going down a size if you are small on top, like me, and perhaps sizing up, if you have a larger bust (based on all the reviews I've read from women with larger busts).
*UPDATE!* I RECIEVED THE XS IN THE MAIL SHORTLY AFTER PUBLISHING THIS POST AND WHILE IT DOES INDEED PROVIDE A MORE CONTOURED FIT, THERE ISN'T ENOUGH ROOM UNDER TO LAYER WITH A THICK SWEATER, SO KEEP THIS IN MIND IF THIS IS SOMETHING YOU LOOK FOR IN A LEATHER JACKET. IF SO, DO GO WITH A SIZE UP, REGARDLESS OF YOUR BODY SHAPE!
While packing up my scarf draw, I realized that I only had two blanket scarves, which aren't as versatile as I'd like, one being orange and black houndstooth (styled here) and the other being black and white, but not as comfy, so I'm SO glad I purchased these 3 BP blanket scarves which are incredibly warm and huge; you really get your money's worth! They're sure to keep you warm and are so cute! If you're looking to perhaps just get one, if you have cool undertones, girl, you have to get the blue one, it will look gorgeous on you! If you have warmer undertones, the orange one will look fabulous on you! Since scarves are so close to the face, they can really enhance your skin tone and add a flattering, radiant effect.
Lastly, I wanted to talk about the two pairs of ankle boots I purchased from Nine West when they were having a great sale last week. If you've been a reader of my blog for some time now, then you most likely know that I love Nine West's shoes; I've mentioned that they were my brand of choice all throughout college when I only wore heels every single day to class for four straight years; they're THAT comfy!
The burgundy lace up one is back ordered and will ship in about a month, but I can't wait to wear them! I love the color, pointed toe, and of course the laces. They now have them in black, too, which they didn't have at that time of purchase, which is I guess a good thing for my wallet, haha. If you are petite and sometimes struggle with selecting boots that don't visually cut off some inches, then ankle boots are the way to go! Especially pointed toe styles, as they visually lengthen the leg and create a nice slimming effect as well, which if you have larger calves, like me, you'll love and appreciate!
I hope you enjoyed this post, my dear friends! I know it's a bit different than what I typically share on a Wednesday (please bear with me!). I don't believe I've ever done a haul post before and that's mainly because I don't tend to do an excessive amount of shopping, all at once for that matter, but since I was in need of these pieces and I know I'll get so much use, I got them (all on sale, except the scarves).
I do want to suggest you use RetailMeNot.com for coupon codes, which is what I did with the items I purchased at Nine West. If you sign up for their e-mails, you get a % off and it can be combined with whatever sale they're having on their site! You can always cancel your subscription later on, if you're inbox get a little too much love (I feel you!).
Thanks so much for stopping by and I hope your day is as beautiful as YOU!
XO,