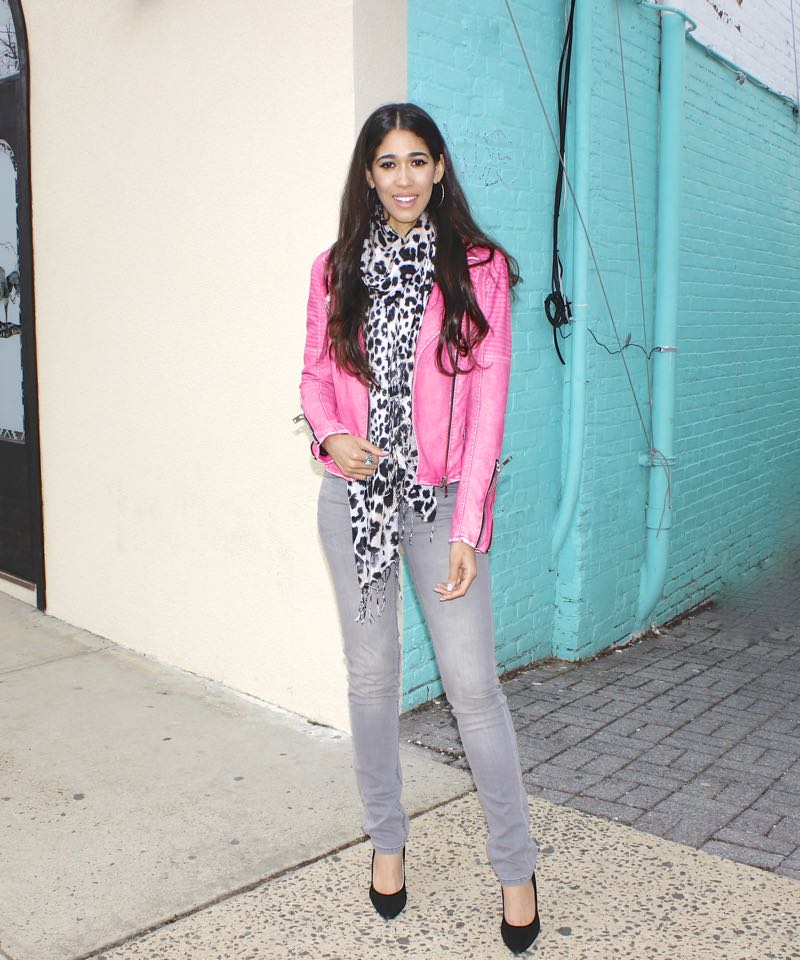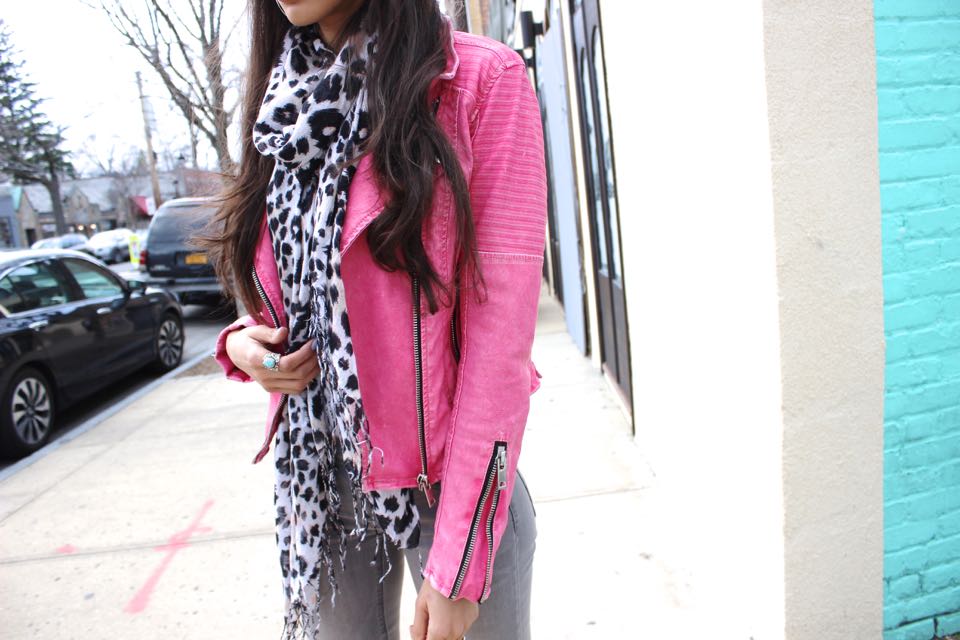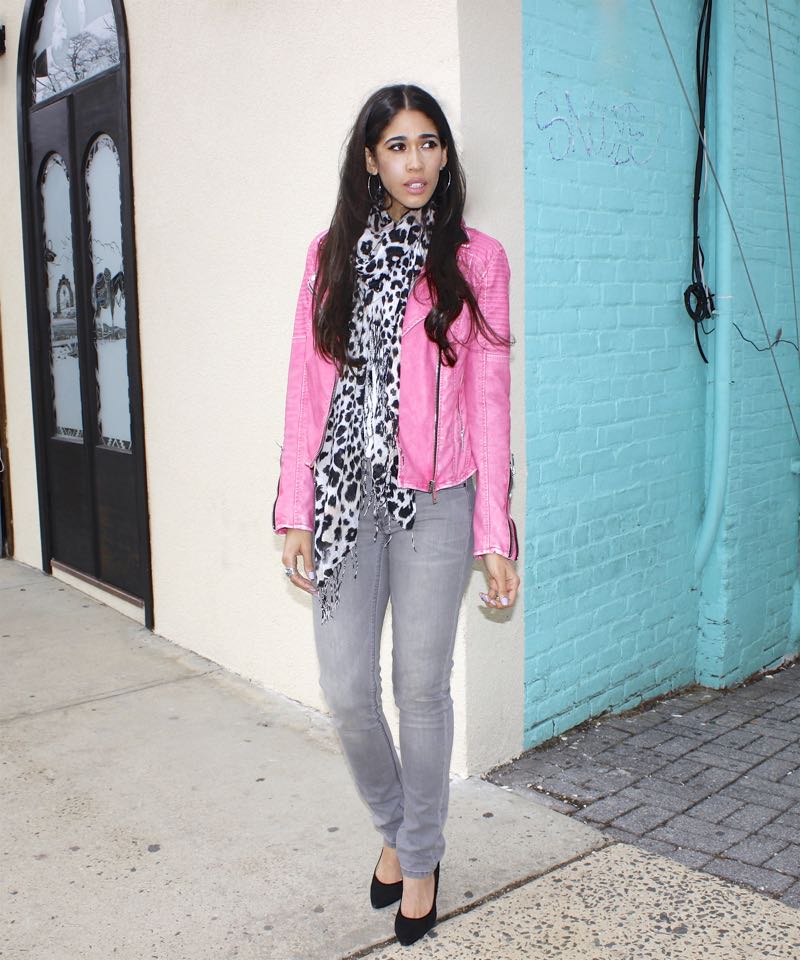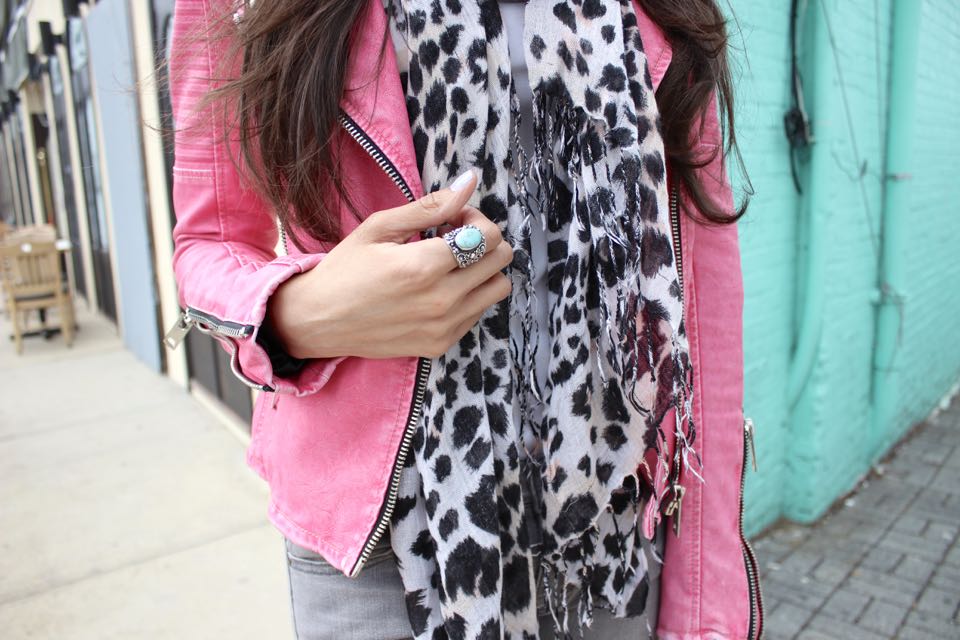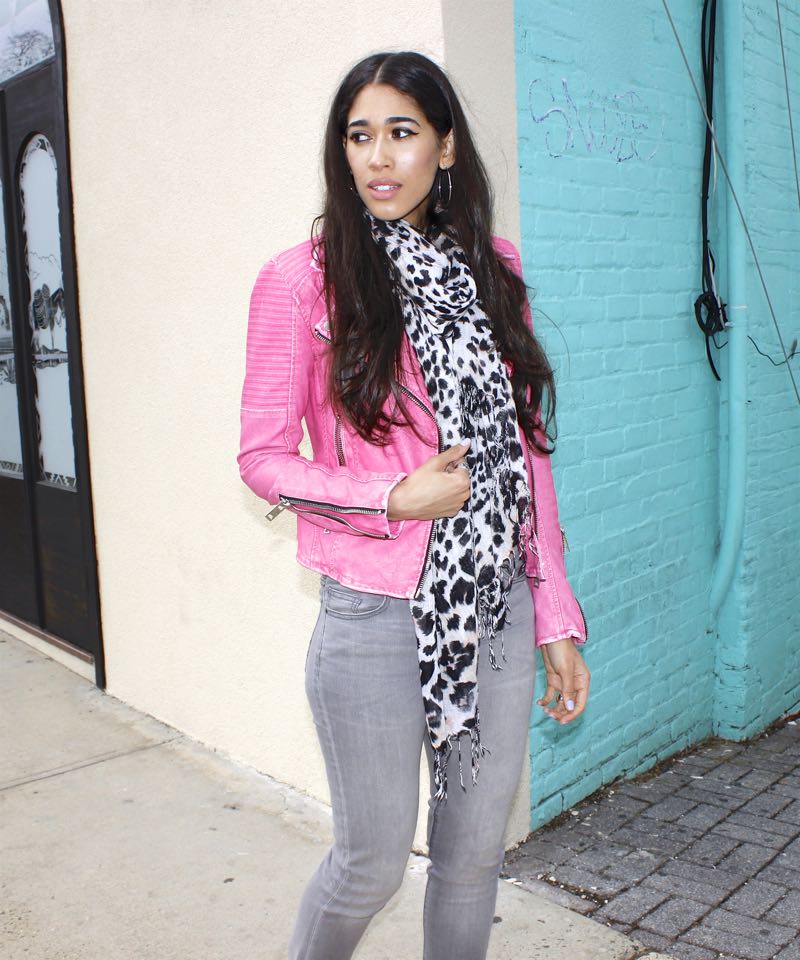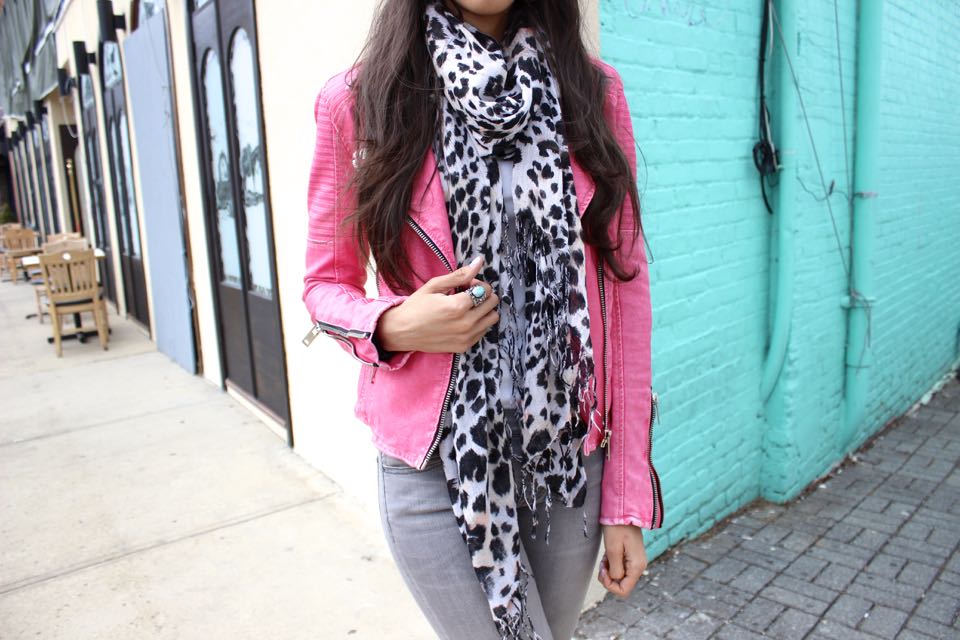 GET THE LOOK!
Faux Leather Jacket: Blank NYC (HERE) // Leopard Scarf: Marshalls (similar HERE) // Jeans: New York & Company (similar B1G1 $15 HERE) // Heels: Nine West (HERE)

Happy Friday, beautiful friends!
During this awkward time of the year, as we begin to transition into spring, when the weather is sunny and perfect (not too warm, not too cold) one day and cold and snowy the next (really?!) it can be a little challenging to create an outfit that's both spring-like in nature and that will also keep you warm. This is when I think leather jackets in lighter or more vibrant colors and prints can really help to elevate the seasonal vibe we want to exude. At this point, nearly all of us have spring fever, am I right?! Plus, they have a less intense feel compared to black, making them perfect to wear for dressed up casual day events or celebrations, such as Easter Sunday, Mother's Day, Holy Communion and Graduation; I think I've covered all of the most commonly celebrated festivities. I didn't forget about the dads, Father's Day just tends to be too hot for a leather jacket, but these days, who knows what the weather will be like come June!
There are quite a few colors out there to choose from, but based on my own personal experience, if you come across a light blue, pink or nude color and you know it's flattering for your body shape...get it! Side note, if you have a large must (inverted triangle) or a fuller midsection (apple shape), I suggest you avoid jackets that have a waterfall style or large lapels. For the inverted triangle shape in particular, try to go for a more straight cut, ideally with no lapels, and apple shapes may want avoid those that are cropped, rather look for styles that fall a little longer than the natural hip bone for a more figure flattering option.
I decided to wear this pink one by Blank nyc with grey skinny jeans and a white and black leopard printed scarf because I love the way bubble gum pink and heather grey look together; I feel they're a great color combination as we transition into spring. With that, as we begin to approach a warmer season, you can begin to switch out your black jeans for grey. As we know, black of course never goes out of style and can certainly be worn all year long, but if you want to create a bit of lighter color palette, it's a great option, aside from white.
SPRING LEATHER JACKETS

Thanks so much for stopping by and I hope you found my tips and suggestions helpful, my dear friends! Have a Fabulous Friday, a wonderful weekend and a lovley Easter Sunday to those who observe!
XO,